The US Army is working on an autonomous version of the High Mobility Artillery Rocket System (HIMARS) Multiple Launch Rocket System (MLRS), which rose to prominence in recent months after its stellar performance on the Ukrainian battlefield against the Russian Army.
'Floating HIMARS' – Ukraine Threatens Russia With Inflatable MLRS As It Stares At Crimean Kerch Bridge – Watch
Engineers at the US Army Combat Capabilities Development Command Aviation & Missile Center (AvMC) are building an Autonomous Multi-Domain Launcher (AML), which involves hardware and software modifications to the existing HIMARS so that it can be controlled remotely and driven autonomously.
"[The Autonomous Multi-Domain Launcher] represents a significant and exciting modernization improvement for the Army," Christi Dolbeer, director of DEVCOM Aviation & Missile Center's Technology Development Directorate, said in a statement issued by the US Army on August 11.
"Adding autonomy to drive mobile launchers and increasing the firing power of those launchers represents a powerful combination. I am very proud of the DEVCOM AvMC and DEVCOM Ground Vehicle Systems Center teams working together to give soldiers even greater capabilities," Dolbeer said.
New Autonomous HIMARS
The US Army's statement notes that while the concept of AML is similar to self-driving cars, the AML will possess more capabilities than those vehicles and operate in a more challenging environment.
Ordinary autonomous vehicles operate on established roadways, whereas the AML may often have to navigate some treacherous terrain while being fired upon by enemy combatants. Also, the AML will be larger than regular autonomous vehicles.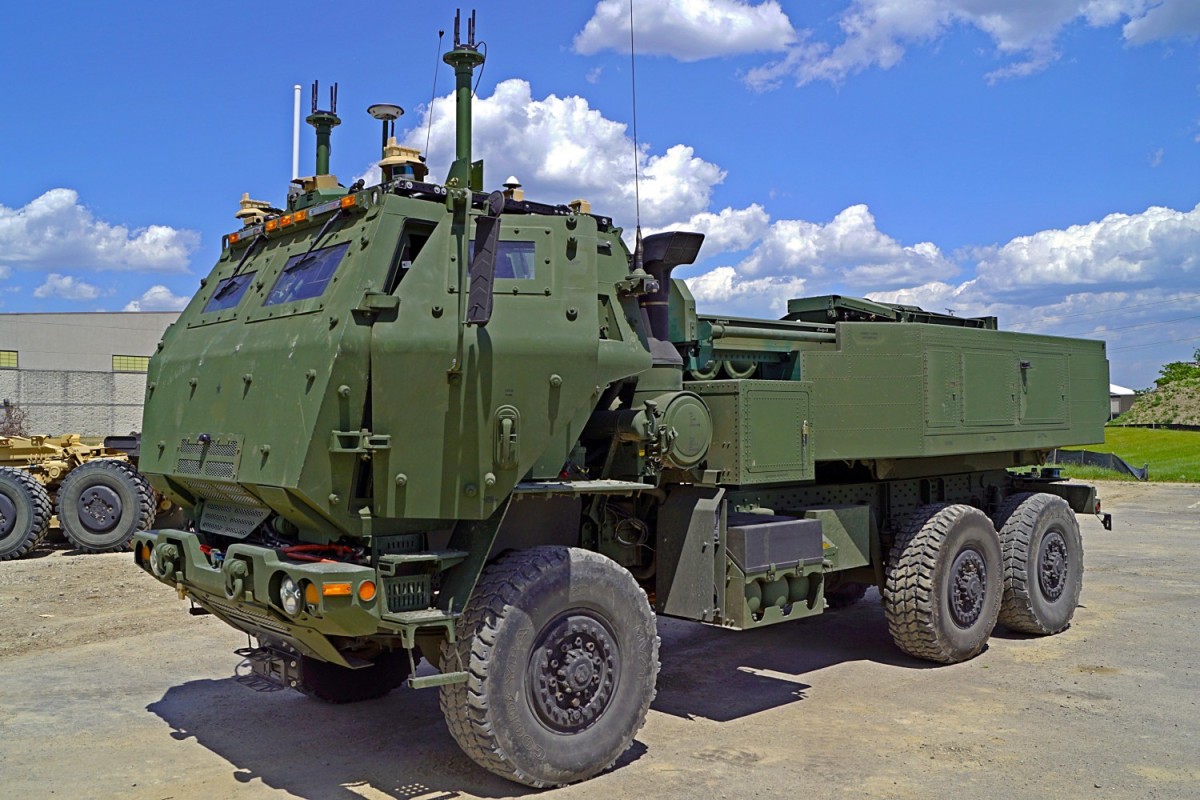 "We are talking about putting a 36,000-pound vehicle in an area where there will be humans running around," said Lucas Hunter, AML project manager for AvMC. "Tesla and other companies are working on vehicles that can sense cars in front of them and behind them; they have these nice stripes on the road that tell it, 'I am getting out of my lane.' Well, we are driving through open country, we don't have stripes — we have holes, we have cliffs," Hunter added.
The US Army said that the AML in its current form would look very different from the final system, and the later iterations will also boast a new launcher and increased firepower.
According to Hunter, AML applies a wingman concept, which spreads out capabilities, thereby increasing the number of targets the enemy has to engage with, while at the same time, the AML also increases the number of rounds that can be fired, allowing the soldiers to remain in a fight longer.
"With HIMARS, they must reload once they fire their six rounds. If you add 12 more, now they can support frontline troops three times as long," said Hunter.
The Fires Center of Excellence and the Strategic and Operational Rockets and Missiles Office is currently exploring how this new capability can be applied on the battlefield.
Last year, concept testing was carried out at Fort Sill, Oklahoma, to demonstrate how the wingman concept might look, emulating a mission with the Precision Strike Missile, which was a part of the Army's Long-Range Precision Fire cross-functional initiative and also in the AvMC portfolio.
According to Hunter, the AML represents a paradigm shift in the Army's battlefield technology and in the world of robotics itself.
"There are all kinds of situational awareness challenges that the robotics industry is just now starting to look at," Hunter said, adding, "AML, called HIMARS Increment 2, has to be able to travel wherever it is told to travel. It has to be able to tell, 'Hey, there is a cliff right here.' It has to be able to recognize whatever terrain it is on."
Also, Hunter emphasized the need for increased situational awareness passively by using sensors that collect data without emitting detectable energy like light or sound.
"Because you don't want this to light up like a Christmas tree when the enemy is looking," said Hunter.
Russia-Ukraine War Highlights Importance Of MLRS
The automation of MLRS could minimize the loss of life while simultaneously increasing the system's overall efficiency in terms of accuracy and rate of fire.
The ongoing Russia-Ukraine war has already highlighted the importance of MLRS, where HIMARS has proven very effective for the Ukrainian forces, who have used them to destroy key Russian command centers, ammunition stockpiles, and supplies.
Video recorded by locals showing an #Ukrainian attack on the Antonovsky bridge in #Kherson last night using MLRS "Himars" to hit the bridge. Video indicates #Russian #air defense shot down 13 #HIMARS missiles while five missiles managed to hit the target . pic.twitter.com/pqm1BeGHLk

— Ninjamonkey ?? (@Aryan_warlord) August 14, 2022
In the initial months of the war, the Russian Army was devasting several Ukrainian positions with its MLRS like TOS-1A, the BM-27 Uragan, etc., until Ukraine also introduced the HIMARS MLRS provided by the US.
Russian Orlan-10 UAV footage reportedly of TOS-1A thermobaric MLRS strikes on Ukrainian positions. https://t.co/k24TWVaDIzhttps://t.co/AdjlkxVvLG pic.twitter.com/SANGodXugp

— Rob Lee (@RALee85) May 16, 2022
HIMARS provides Ukraine with a rapid precision strike capability at standoff ranges without the need for air power, thereby allowing the Ukrainian military to compensate for the small size of its air force.
According to estimates by US Intelligence, Ukrainian forces have used the HIMARS to take out more than 100 "high-value" Russian targets.
Russian Army Working On A New Robotized MLRS
Meanwhile, even Russia is working on a new robotized MLRS that can be operated manually or remotely.
Vladimir Pimenov, General Director of VNII Signal, part of Rostec High-Precision Systems Holding Company, said that the company is working on robotizing a promising MLRS that could be remotely controlled without requiring the crew to be present in the danger zone.
However, the new MLRS will not be completely automated, according to Pimenov, who explained that "full" robotization of such an MLRS is inappropriate since its technical characteristics inevitably decrease in unmanned mode.
Pimenov did not specify which MLRS system would be 'robotized.' However, according to a recent EurAsian Times report, the robotization technology could be based on the automated guidance and fire-control systems developed by VNII Signal for Russia's Tornado-G and Tornado-S MLRS.