Ahead of its Victory Day celebrations, Russia launched a fresh wave of attacks on Ukrainian cities, including Kyiv and the Odesa oblast. The Russians reportedly fired eight Kh-22 (Х-22; AS-4 'Kitchen') missiles on Odesa in an overnight attack.
"As for Odesa – there were seven planes, and up to eight launches of Kh-22 cruise missiles, some of them reached the Odesa region, certain objects were hit, the rest of the missiles did not reach their targets (perhaps self-destruction, perhaps they just fall due to its aging, because these are outdated Soviet missiles)," Yury Ihnat, the spokesperson for the Ukrainian Air Force announced on national television.
The announcement by the spokesperson came after Ukraine's Southern operational command claimed that Russia had fired X-22-type missiles toward a food company warehouse and a recreation area on the Black Sea coast, which resulted in a massive fire. The photos of the warehouse attack went viral on social media.
Later, Ukraine's Red Cross said in a statement that its warehouse had been destroyed and all deliveries had to be suspended. The Ukrainian Air Force further informed that the Russian troops reportedly struck the Odesa region at about midnight with Tu-22 M3 long-range bombers from Cape Tarkhankut, or what is known as occupied Crimea.
This was part of a fresh wave of missile and drone attacks that have struck Ukrainian cities, including the capital Kyiv ahead of Russia's Victory Day celebration that marks Soviet triumph over Nazi Germany in WW2.
Earlier, the official Twitter page of the Ministry of Defense of Ukraine, 'Defense of Ukraine,' announced that Kyiv had shot down all Shahed-131/Shahed-136 drones unleashed on it.
At least 1 Kh-22 Anti-Ship Missile that was launched by Russian Aircraft over the Black Sea towards Odesa was used to Target a Warehouse in the Region which was Totally Destroyed with Fires continuing to Burn; it is not currently known what was being Stored in the Warehouse. pic.twitter.com/QJ6BQpXPH8

— OSINTdefender (@sentdefender) May 8, 2023
The use of the Kh-22 missile is significant as the Russian troops do not frequently employ it. Assessing the situation, military experts said that the Kh-22 missile has characteristics of a ballistic missile and is used by Russian troops only when it has to obliterate a significant target.
Russia used the Kh-22 missile to hit Ukraine in January this year. At the time, Ukraine's air force command claimed on Facebook that the Kh-22 missiles Russia used to attack the Ukrainian city of Dnipro on January 14 could not be shot down by the nation's air defense.
The Kh-22 is a Russian anti-ship missile that has come to be known as an "aircraft carrier killer." The missile can be equipped with a nuclear element.
After the January Kh-22 missile attack, the Ukrainian Air Force went so far as to say on the record, "The Armed Forces of Ukraine have no firepower capable of shooting down this type of missile." Media reports from January indicated that more than 210 of these missiles had been fired toward Ukrainian territory by Russia since the start of its military campaign. Not a single one has been shot down by air defense systems.
A Kh-47M2 Kinzhal is a nuclear-capable hypersonic missile. Speed 13,000 km/h, range 2,000 km. But it doesn't matter now, when a Patriot stands in its way.
Ukraine is the best test ground for the most modern Western weapons.
Ukraine excels at demonstrating the capability of…

— Defense of Ukraine (@DefenceU) May 8, 2023
"Only anti-aircraft missile systems, which in the future may be provided to Ukraine by Western partners (we are talking about systems such as Patriot PAC-3 or SAMP-T), are capable of intercepting these aerial targets," the Commander of the Ukrainian Air Force noted after the attack.
In a recent development, the Ukrainians claimed they had shot down a Kinzhal hypersonic missile over Kyiv using the Patriot missile defense system. However, there might not be a battery of the PAC-Patriot missile defense system deployed at Odesa that came under attack with Kh-22 raining down.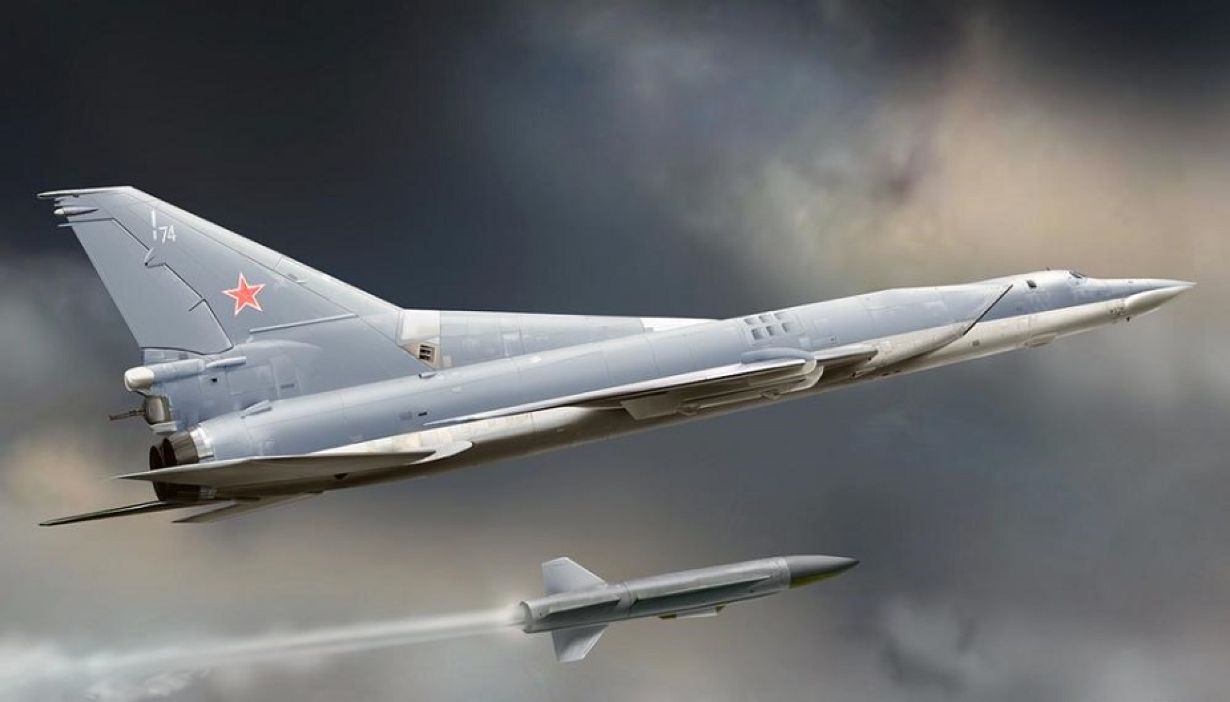 The Formidable Kh-22 Missile Feared By Ukraine
The Kh-22 Burya (Storm) was a Soviet anti-ship missile capable of launching a nuclear warhead. This was thought to be a long-range weapon when it was first presented. The main objective of the Kh-22 was to destroy US aircraft carriers and carrier battle groups with its payload.
The Kh-22 can aim at dams, bridges, and other critical military objectives. During the Russian invasion of Ukraine in 2022, the Kh-22 air-launched missiles with conventional warheads were frequently used against Ukrainian targets.
Indian Air Force veteran, military expert, and avid Russia watcher Squadron Leader Vijainder K Thakur (retd) said – the Kh-22, which has a 1000-kg warhead, climbs to 40,000 ft & shallow dives towards its target, which can be up to 600 km away from the launch point, at about Mach 3.5. Russia uses the Kh-22 missile when it wants to obliterate a target.
Typically, a Tu-22M3 flying at a speed of Mach 1.5 will launch the liquid-fueled rocket that propels the delta-wing missile. The missile then accelerates to Mach 3 and begins to drop towards its target. During its terminal phase, the missile rapidly decelerates and reaches a top speed of roughly Mach 4.
The Kh-22N missile is the Kh-22 type used frequently to strike targets inside Ukraine. Up to three of these missiles can be carried by Russian Tupolev Tu-22M3 bombers at standoff ranges.
Thakur further deduced from the fresh attack on Odesa that Russia had intensified its onslaught on the city as it is predominantly used as a launchpad for carrying out attacks on Crimea using missiles (Grom-2, Tochka-U) and drones (Tu-141, PD-2, USV). Russia annexed Crimea from Ukraine in 2014, and Ukrainian officials have pledged to reclaim the territory that Moscow illegally seized.
As per reports, the missile has given Ukraine a tough time due to the difficulty of intercepting it. The missile's launch location, height, and speed were roughly picked up by Ukrainian radar but could not be shot down. The Kh-22 can vary from its intended target by hundreds of meters but causes a devastating blow.
Contact the author at sakshi.tiwari9555 (at) gmail.com