As tactical ballistic missiles wreak havoc in conflicts worldwide, Israel has picked up some crucial battlefield lessons and upgraded its existing SPYDER missile defense to take on the threat.
Tactical ballistic missiles are short-range ballistic missiles, typically with a maximum range of 300 kilometers. While these missiles usually employ conventional warheads, some, like the Russian Iskander, can also be equipped with nuclear warheads. Due to their enhanced maneuverability, they are harder to intercept than regular air defense systems.
With its latest upgrades, Rafael's SPYDER air defense system now possesses superior Counter-TBM (tactical ballistic missiles) capability, The Jerusalem Post reported. Rafael's announcement said, "SPYDER now offers a more formidable defense against some of the most advanced threats in the aerial sphere."
The announcement was reportedly made after extensive research conducted by Rafael and its customers. It included an analysis of the lessons learned from recent and ongoing armed conflicts involving the extensive use of TBMs. For instance, Russia has extensively deployed the Iskander short-range ballistic missiles to hit targets inside Ukraine without being intercepted.
Major development in air defense!

RAFAEL's SPYDER Air Defense System is now equipped with Counter Tactical Ballistic Missile (TBM) Capabilities.

SPYDER now offers a more formidable defense against some of the most advanced threats in the aerial sphere. pic.twitter.com/nY6tm3qzEN

— Rafael Advanced Defense Systems (@RAFAELdefense) January 3, 2023
This is precisely why the United States authorized the delivery of a PAC-3 Patriot missile defense system to Kyiv. There have been reports that Russia was in talks with its ally Iran to acquire the latter's ballistic missiles – Fateh-110 and Zolfaghar. Intercepting a tactical ballistic missile could be challenging even for cutting-edge air defense systems.
According to reports, the UAE, which bought an earlier model of SPYDER (in September), and Israel both face potential threats from ballistic missiles. This threat is exacerbated for both countries in the region as Iran continues to work relentlessly on missile and drone technology.
Besides the UAE, The Philippines, the Czech Republic, India, and other unidentified countries have also acquired earlier versions of the SPYDER Air Defense system. India, for one, reportedly has 18 SPYDER-MRs along with 750 Python-5 surface-to-air missiles and an equal number of Derby Surface-to-Air missiles.
Ukraine has been requesting Israel to supply its army with SPYDER and Iron Dome air defense systems to counter Russian missile attacks.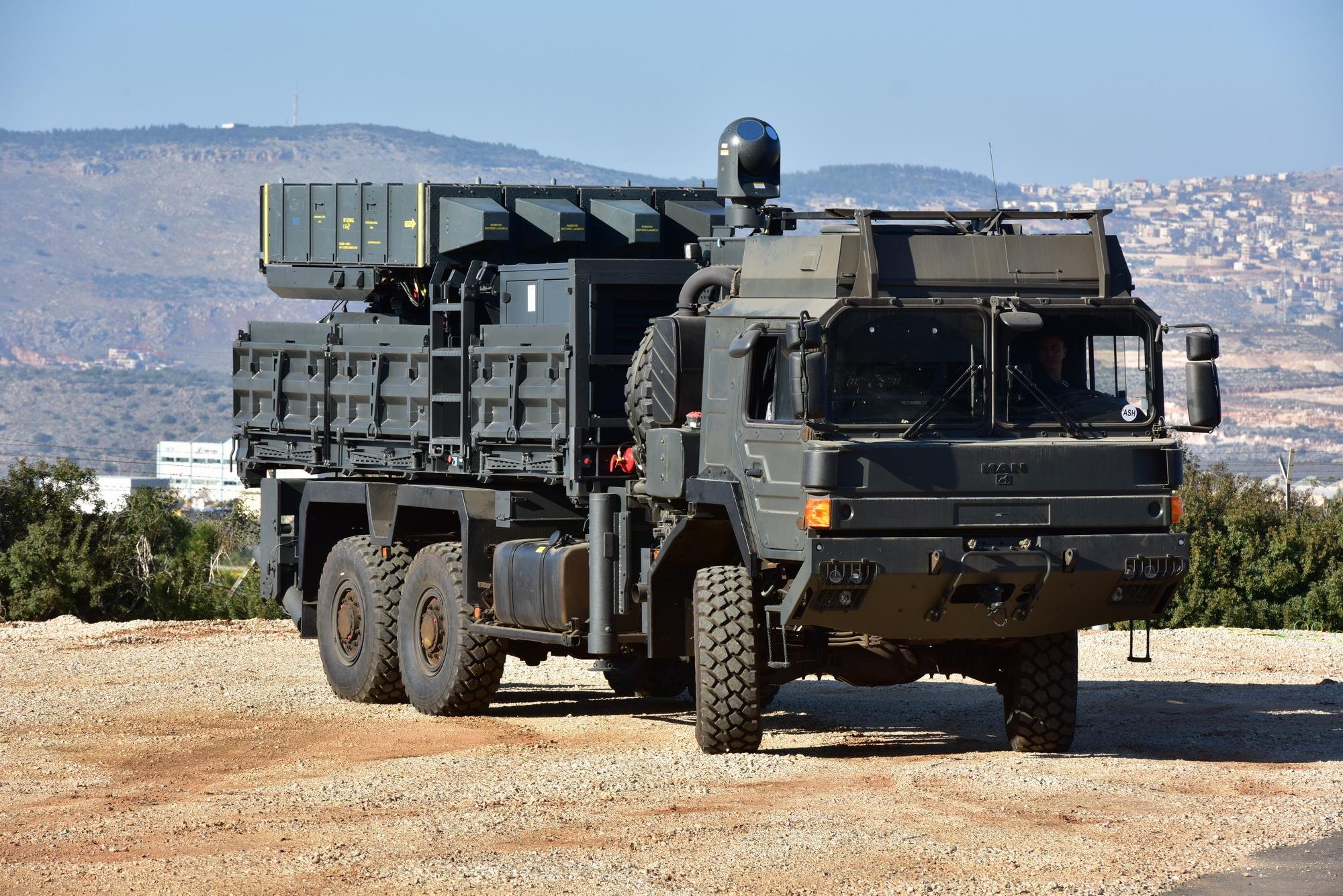 SPYDER is integrated with Rafael's advanced air-to-air missiles – including PYTHON-5 and DERBY (via Twitter)
However, due to its security consultations with Russia in Syria, Israel has refrained from announcing any military aid to Kyiv. Amid pressure from the US to provide military assistance to Ukraine, Israeli Foreign Minister Eli Cohen recently assured his Russian counterpart Sergey Lavrov that there was no change in Tel Aviv's policy.
Israel remains marred in a perpetual military conflict with Iran-backed militias and other non-state actors.
In fact, reports have gone so far as to predict that a third Lebanon war may be over the horizon, and Israel would have to face the advanced missiles and rockets amassed by Hezbollah. Against that backdrop, Israel's upgraded air defense would come in handy.
What Do We Know About The Upgraded SPYDER?
The Surface to Air Python and Derby, also known as SPYDER, is an Israeli indigenous short-range air defense system. It can engage several targets simultaneously and fire in single, multiple, and ripple patterns. It has the all-weather capability and the capacity to operate both during the day and at night.
The SPYDER unit's conventional configuration includes four mobile fire units and a mobile command and control unit (CCU). The launchers and CCU are connected via a data link, which combines information from the surveillance radar with upper-tier CCUs within a range of about 100 kilometers.
The Python 5 and Derby, air-to-air missiles modified for the SPYDER, are two different types of interceptor missiles that the SPYDER systems can fire.
When asked about the changes that allowed Rafael to combat both the threat posed by ballistic missiles and other threats on which SPYDER was already focused, Rafael said that "the new capability involves the Derby LR missile interceptor, which underwent both hardware and software upgrades, which were adapted according to customer requests and from lessons learned from operational events."
The manufacturer further added that it was critical to include ballistic missile defense in SPYDER and that it would be available as an option in the SPYDER's toolbox. This capability will be provided as a reasonably priced option to customers with urgent operational needs within the SPYDER paradigm of a tailored solution.
Moreover, "the system provides effective protection of valuable assets and first-class defense for forces located in the combat area. SPYDER's open architecture allows external components to be easily integrated and flexibly combined, affording different configurations with various ranges and capabilities based on customer needs and priorities."
Rafael said that SPYDER is the only air defense system integrated into NATO's aerial defense system. The company also noted that SPYDER already offers a quick-response, low-level surface-to-air missile system.
This low-level, quick-response, autonomous technology is used to defend forces on the battlefield by thwarting airborne attacks from helicopters, unmanned aerial vehicles, precision-guided missiles, and other aircraft.
Because of its open architecture, it can facilitate the quick and simple integration of external components in accordance with user needs. While in motion, SPYDER can detect threats and launch a 360-degree attack in seconds.
Now, with the upgrade to intercept the tactical ballistic missile, the system will bolster the air defense capabilities of its users against the highly prevalent threat.
Contact the author at sakshi.tiwari9555 (at) gmail.com