By declaring defense technical cooperation as the bedrock of their bilateral relations while sharing solidarity over facing punishing Western sanctions, Russian defense minister Sergei Shoigu's recent visit to Iran and seeing Tehran's latest ballistic missile and drones has set the stage for an unprecedented military-technological cooperation. 
This can change the face of the Ukraine war, assuming it continues for the next few years and the military-strategic dynamics in West Asia remain on the boil.
Russia already operates its own modified and locally produced version of the Shahed-136 loitering munition, the Geran-2, while Iran is negotiating the Su-35 purchase. It has also received the Yak-136 jet trainers, covering each other's techno-industrial and defense weaknesses. 
Moreover, Western electronics and chips continue to be found in Iranian drones and Russian missiles, baring the loopholes of global commerce that prioritizes business over geopolitics. This suggests a further circumvention of the US industrial trade sanctions regime, as the two might trade knowledge on their respective playbooks. 
Russia and North Korea have also come militarily closer, driven by the same geopolitical conditions, following Shoigu's visit to Pyongyang and Kim Jong-un being shown top-of-the-line Russian weapons systems in his return visit to the Russian Far East.
Such military ties lend an immense long-term and nearly irreversible advantage to the US's top three strategic rivals. 
What Shoigu Saw & Said In Tehran
Publicity material from both countries and social media showed Shoigu and Iranian Minister of Defense Mohammed-Reza Gharaei Ashtiani visiting an exhibition displaying some rare and first-time displays of Tehran's latest weapons systems.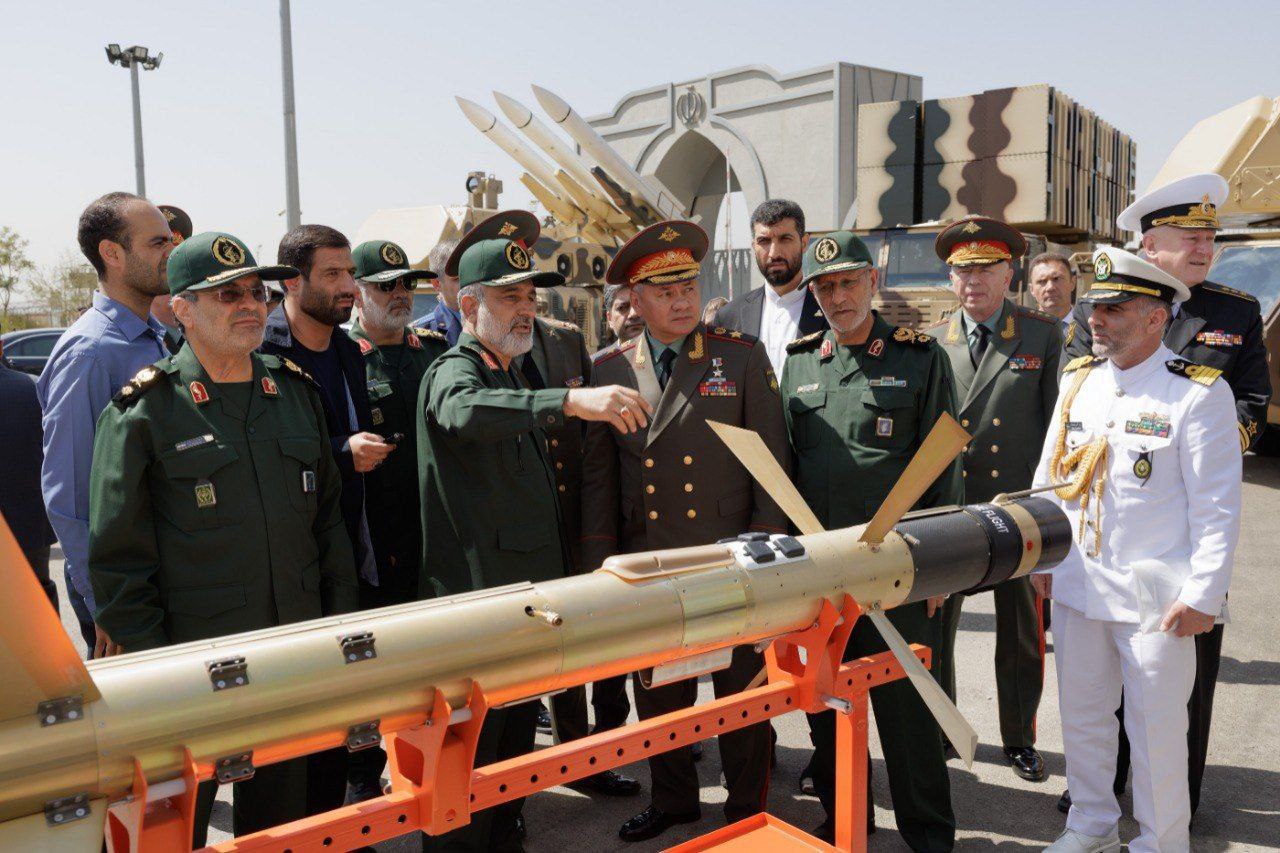 This included a first-of-its-kind Product 358 anti-aircraft loitering munition, a new launcher for the Shahed-136 launcher, an unnamed cruise missile claimed to have a range of 1,500 kilometers, and the first full-size Ababil battlefield Short-Range Ballistic Missile (SRBM).
This missile was first revealed at the Armiya-2023 defense exhibition in Russia, among many other Iranian products, that laid the foundation for the defense cooperation bow unfolding. 
Shoigu said the dialogue between Moscow and Tehran is "reaching a new level of interaction (since) they would implement the entire range of planned activities, despite opposition from the United States and its Western allies (and) sanctions pressure on Russia and Iran demonstrating their futility." 
He expressed readiness "for further joint action in the field of strengthening stability and security in the Middle East," suggesting the energized military cooperation would not be without its direct geopolitical and diplomatic elements. 
Western Asia also sees America being on Russia and Iran's opposite sides in the conflicts and civil wars there. These include Syria, Yemen, Iraq, Lebanon, Libya, Palestine, and, to a certain extent, the South Caucasus. Russian and Iranian positions can be expected to be highly coordinated, at least on issues in Iran's immediate neighborhood. 
It also signals Israel to limit its shadow war with Iran to a certain threshold, failing which Russia will likely let Tehran use its militias in Syria and Lebanon more freely. 
Shoigu stressed that "the high dynamics of the meetings confirms the general mood for further strengthening of strategic partnership in the defense sphere and military cooperation," according to the RuMoD. 
The subsequent RuMoD update was dedicated to the Iranian military wares displayed before Shoigu. An "exhibition of the Aerospace Force of Iran's Islamic Revolutionary Guard Corps (IRGC) on September 20, Shoigu saw tactical long and medium-range ballistic missiles showcased at the exhibition and unmanned aerial vehicles."
Iran Is Excited & Keen
Chief of Staff of the Iranian Armed Forces, Major General Mohammed Hossein Baqeri, said, "Supreme Leader Ayatollah Seyyed Ali Khamenei believes long-term cooperation between Iran and Russia is in the interest of both nations and a document is being drawn up in this regard." 
An imprimatur on a diplomatic course from the Supreme Leader reveals Iran's scale of alignment on global issues with Russia. It shouldn't be surprising since Putin, during his last visit to Iran, met the Ayatollah – an honor reserved for only the most special and select foreign dignitaries, signaling a paradigm shift in relations. 
This kind of technical cooperation can be assumed to be in the realm of covering each other's weaknesses in defense industrial manufacturing. For instance, one of the reasons why Russia copied the Shahed-136 into the Geran-2 was to have a cheap system that could reach ranges of 1500 to 2000 kilometers. 
Kalibr or Kh-101 cruise missiles are costly, and Russia – at least for a brief period can be assumed to have struggled to keep up production. It is a different matter that the crushing sanctions did not hurt the Russian defense industry and were able to manufacture missiles, as subsequent research and reports later revealed. 
Both Will Gain From Others' Defense Technology
"These missiles are costly, and although Russia has a very sophisticated defense industrial base, there are hiccups for any country to keep up manufacturing advanced missiles in a long drawn out war.
"Iran has mastered building and fielding cheaply made mass-manufactured drones like the Shahed-136 that are equally effective," said Dr. Syed Murtaza, an expert on Iranian and central Asian affairs, while speaking to the EurAsian Times. 
Murtaza also believes Iran and Russia will now jointly study captured Western technology and promptly trade knowledge in the area. 
"Iran had been in the process of setting up a drone factory in Tajikistan. It can undertake a part of the reverse engineering effort there while sharing its findings with Russians, while Moscow can share their discoveries on captured platforms like the Storm Shadow cruise missile.
"The arrangement might also include Russia managing to reverse engineer a Western weapon and getting it mass manufactured by Iran, benefiting both countries," Murtaza explains. 
Russia might also help Iran master missile and rocket propulsion and seeker technologies to make its missiles reach farther and more accurately.