US Air Force's F-35 stealth fighter jet has taken center stage across Europe amid Russia's invasion of Ukraine. Though both Russia and Ukraine operate powerful defense systems and warplanes, both have somehow failed to achieve complete air superiority, so far.
The Ukraine war has also raised questions about how some of the most advanced fighters jets operating in contested airspace, could play a critical role in the battle, as well as what lessons can be learned from the current war.
In an exclusive conversation with EurAsian Times, Billie Flynn, a former Royal Canadian Air Force lieutenant colonel and senior F-35 test pilot for Lockheed Martin, discusses the details of the F-35, accentuating the role it could play in bolstering NATO defenses and Ukraine-like situations.
F-35: A Fifth-Gen Aircraft
F-35, the US-made fifth-generation fighter jet is capable of air-to-air combat, assault on ground forces, perform intelligence, surveillance, and reconnaissance (ISR) operations.
The F-35 has acquired the moniker "quarterback of the skies" for its ability to gather and deliver real-time battlefield intelligence to allied troops. It is equipped with four 500-pound GBU-12 laser-guided bombs on its wings, two GBU-12 in its internal weapons compartment, and an AIM-9 air-to-air heat-seeking missile in "beast mode."
The F-35 is available in three different variants. The F-35A is intended for standard takeoffs and landings, F-35B for short takeoffs and vertical landings, and F-35C for aircraft carrier missions.
F-35 Jets: Reinforcing NATO's Defenses 
The Russian invasion of Ukraine provoked several responses from the Joe Biden administration, including sanctions and a significant boost in military aid to Ukraine. However, one particular move, the deployment of several F-35 fighter jets to Eastern Europe, was publicized. 
NATO troops had begun accumulating assets and deploying them in Eastern Europe even before Moscow's invasion. This was necessary as Ukraine shares a border with Poland, a NATO partner. 
During the peak of Russian buildup near the Ukrainian border, a dozen F-35A fighter planes and 350 servicemen from Hill Air Force Base in Utah had landed in Germany.
Six F-35 fighter planes were then flown from Germany's Spangdahlem airbase to NATO's eastern front on February 22 and landed in the Baltic and the Black Sea regions on February 24 to bolster allies as Russian forces moved into Ukraine.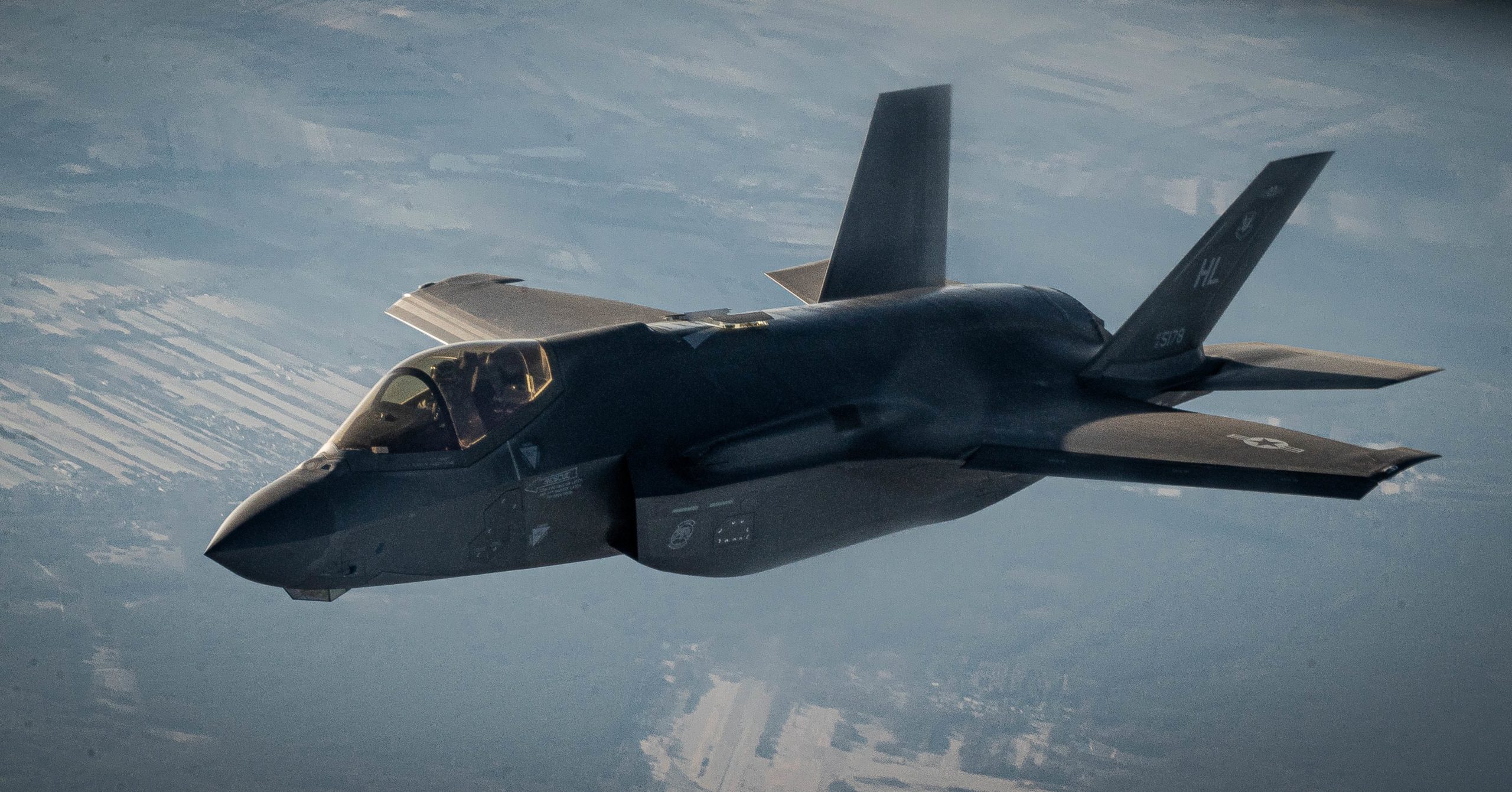 The deployment, according to the USAF, "enhances defensive posture and amplifies the alliance's interoperability." Besides Washington, western European nations are also deploying F-35s in allied nations and airspace near Russia, notably Bulgaria, Estonia, Lithuania, and Romania. For instance, the Netherlands deployed its 4 F-35 fighter jets for NATO's air policing mission in Bulgaria. 
"The deployment of the F-35 certainly demonstrates the maturity of NATO forces operating this fifth Gen platform and demonstrates that they're prepared to protect the NATO alliance flying the most lethal fighter that exists today," Flynn says. 
While many consider the F-35's capabilities in the current conflict to be limited to deterring Russia, Flynn says, "As a deterrent, I think it would be naive to underestimate the capability, effectiveness, and lethality of F-35s."
F-35 In Ukraine-Like Conflict
According to US policymakers and military leaders, there is no circumstance in which it will send F-35s to Ukraine. That such an operation would undoubtedly worsen the Ukrainian war, isn't even a matter of open debate.
However, the F-35 is already having an indirect influence on Europe, as countries assess their capabilities in the aftermath of Russia's aggression. 
One major aspect is that F-35's deployment across Eastern Europe might discourage Russian forces from expanding their missions beyond Ukraine. Nevertheless, this powerful aircraft is capable of dominating a battleground akin to what Ukraine is currently facing. 
Flynn explained the F-35's significance in such settings, saying, "the F 35 is a key enabler within the NATO forces and one of the specialty mission sets that it performs is suppression of enemy air defenses or SEAD, as we call it, the capability to destroy surface to air missiles, ground defenses, and to establish air superiority and ultimately air dominance."
"From there, the forces would be able to open corners to permit the air attacks on Russian ground forces. That's what the F-35 is capable of doing in highly contested environments like Ukraine," he added. 
While many experts have claimed in recent years that the F-35 could be detected by Russia's most advanced air defense system S-400, Flynn contends that "the F-35 was designed specifically to operate in those high threat environments and the NATO air forces that operate F-35 train specifically to this high-end mission where fourth-generation fighters could not survive."
"F-35s operate without being detected around high threat surface-to-air-missiles like S-400 to accomplish its missions if it's needed to it would detect, target and destroy those threats, but it can operate without ever being detected by them," he said. 
"We all hope that the F-35 would never be used in Ukraine, but if it does, it will be devastation on Russian forces," Flynn said.
Flaws in F-35 Fighter Jet?
The F-35 is unquestionably the most prized asset of the US military. However, its performance has been repeatedly questioned by critics. According to a testing report, engineers are currently attempting to correct 845 design flaws.
The difficulty is exacerbated by the fact that new faults are identified almost as quickly as existing flaws are rectified. Many of these "deficiencies," as the Pentagon prefers to refer to them, are related to cyber vulnerabilities. 
Flynn argued, "The F 35 is the most-watched, most-scrutinized and most-critiqued, aircraft program in history."
"It is because the F-35 is the largest development program in history that it attracts so much attention here in the US and with the international customers that might buy it now," according to the former F-35 test pilot. 
"The aircraft testing program lasted 10 years, and was the most complex and comprehensive test program in history," Flynn says.
"Zero aircraft were lost in the five years since that program. So it flew, it was a test program for 10 years. Now, five years after that it continues to gather tremendous support from the air forces that operate it."
He goes on to explain that with 8.6 million lines of software code, it's a spaceship that collects data. And it took a massive engineering effort to go from design to flying testing.
"For many years, I was F-35's Senior Test Pilot for Lockheed Martin, and it was an enormously difficult program to design flight test, and then mature," he noted.
Flynn also listed the number of countries that have ordered or are presently operating the F-35, and added, "F-35 is the world standard and it will be decades before adversaries can catch up to the capability of this aircraft. The F-35 will continue to advance his capabilities into the future." 
More Than Just A Stealth Fighter?
The F-35 is recognized for having a new generation of sensor technologies and powerful computer processing to aid in the monitoring of other aircraft and ground units.
The data link technology aboard the F-35 allows it to send intelligence data to other F-35s and ground control stations. This permits ground forces to get time-sensitive intelligence information from F-35s in the middle of an operation.
Flynn noted that the F-35 transforms not just the air forces in which it operates, but the whole armed forces are compelled to adapt how they function in terms of joint capability owing to the capabilities that it brings. 
"It's not just as a fighter, but also as an intelligence, surveillance, and reconnaissance [ISR] platform, it is the backbone of the United States Air Force for decades to come for the NATO armed forces, there are over 3000 F-35 to be built in the program of record," he added. 
He said that every nation acknowledges the necessity of low-observable technology, noting the growing number of countries developing stealth aircraft. 
Meanwhile, the F-22 Raptor is another US-made stealth aircraft, which is also one of four in use worldwide. The J-20, a Chinese fighter jet, went into major production in late 2021 but has yet to see action. The Su-57 is a Russian fighter jet that has only been used in a few short flights in Syria. 
Flynn, however, says there is no comparison between the Su-57, J-20, or J-31 with the F 22 and F 35. "Building an aircraft that looks like it has a geometrically stealth enabled platform is only a fraction of what it takes to build a true fifth Gen fighter aircraft that is not observable in all spectrum."
He also highlighted that the computing power of sensor fusion that exists in F-22 and F-35 would be an enormously complex task that Russia and China will not match for a decade or more to come. 
According to Flynn, the F-35 and F-22 have dominance not just because they are stealth platforms, but also because of the information processed by the aircraft and the data collected by the sensors.
That information is supplied to the pilot for them to be able to carry out their tasks and see everything that exists around them, as well as target them with extreme accuracy. 
He concluded by saying, "That's the key element of F-35's effectiveness, not just because it's stealthy; it is decades until a Su-57, J-20, or J-31 would ever match the capability of F 35."