Two fundamental arguments emerging from the Indian Air Force (IAF) community in defense of the MiG-21 fighter jets are the absence of new fighter squadrons forcing them to keep flying the vintage jets and the differentiation between 'obsolescence' and 'flyability' of the aircraft.
China Flashes 'Rare Footage' Of DF-17 Hypersonic Missile Ahead Of Army Day Celebrations, Pelosi's Taiwan Visit
Last week's crash in Rajasthan's Barmer involved this older Type 96 variant of MiG-21, but presumably was still flying since it was a twin-seat trainer used to prepare young pilots just posted into the Squadron after finishing their basic and advanced jet training.
Wing Commander M. Rana (38) and Flight Lieutenant Advitiya Bal (26) were killed in the accident.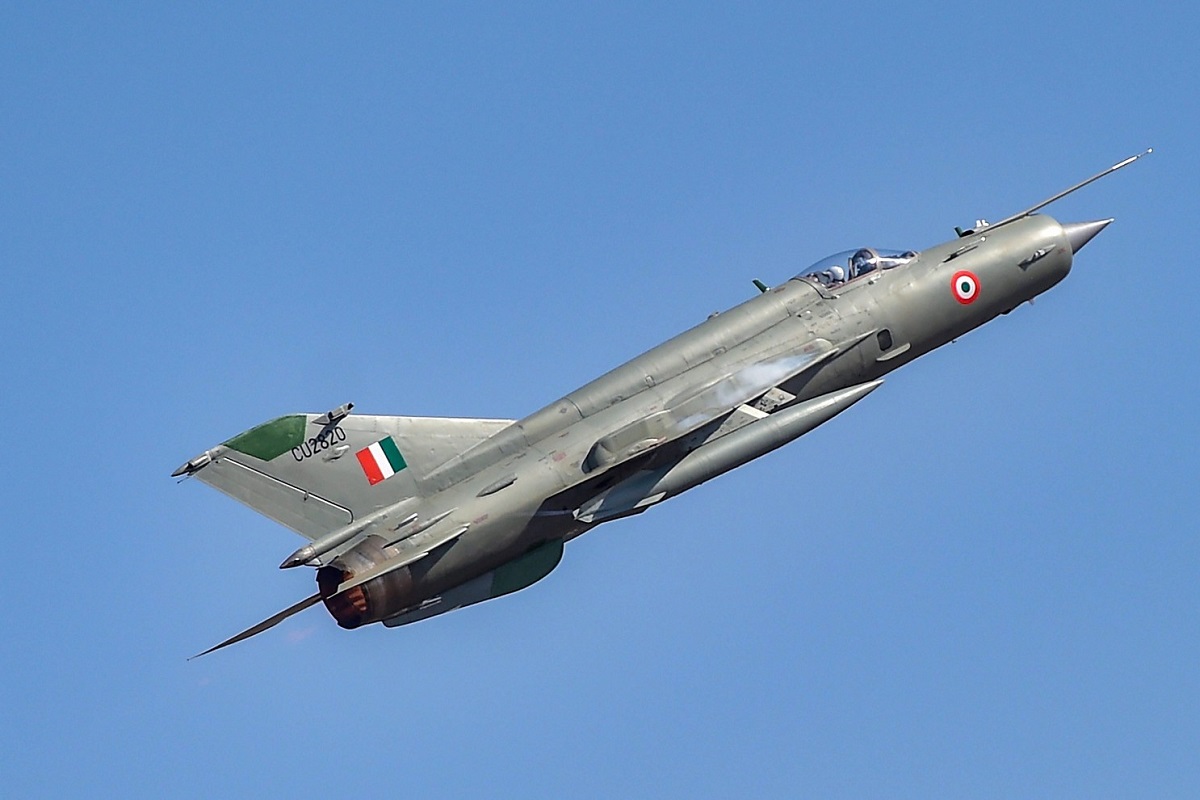 Firstly, former IAF chief, Air Chief Marshal BS Dhanoa, touched upon both aspects in an interview with India Today. Saying that he would have "liked to retire (the MiG-21) early," he could not since the air force simply didn't have the planes as procurement programs were mired in bureaucratic hurdles.
Against an ideal required strength of 42 squadrons (with 18 jets to a squadron) to thwart a dual Pakistan and China, the IAF has been making do with 33 squadrons.
Second, aircraft that have outlived their lifespan are still flyable if they are assessed to be "serviceable." This indicates that the years of wear and tear can still be mitigated by the aircraft having repairable and replaceable spares.
Once unserviceable, aircraft are also phased out, like the MiG-21's Type 96, which was retired in 2019. It was not the 'Bison' – or the MiG-21 Bis – an upgraded variant of the MiG-21 that Wing Commander Abhinandan Varthaman used against the Pakistan Air Force (PAF).
At least six MiG-21s have crashed since January last year, killing five pilots. And of the 872 inducted since the 1960s, around 400 have been lost to accidents since 1971-72, killing over 200 pilots and 50 civilians.
MiG-21: Obsolete Doesn't Mean Unserviceable
Neither are the serviceable aircraft spared since even before the latest crash, the IAF planned to phase out around 70 MiG-21′ Bisons.' This involved the Srinagar-based '51 Sword Arms Squadron', and three other Squadrons at Uttarlai, Suratgarh and Nal in Rajasthan.
Air Chief Marshal PV Naik (Retd), talking to EurAsian Times, cited inexperience with the new delta-wing design that IAF pilots weren't used to in the 1970s, after having flown jets like the Toofani, Mysteres, and the Hawker Hunter.
"For one, the MiG-21 has a rare nose intake design, while the Hunter had intakes on the wings. The delta-wing configuration lent the aircraft different flight characteristics, the initial batch of pilots were not used to. It generates induced drags at lower speeds. Also, the engine response at lower speeds is also slower," Naik added. Of his 3,000 hours of flying, Naik spent 2,000 on the MiG-21.
Rapid urbanization and construction activity around air bases saw bird hits or dust/particulate matter (Foreign Object Damage or FOD) invited into the jet's huge air intakes, contributing to some accidents.
Naik disagrees with blaming the service for not retiring the aircraft, given there was no replacement for decades. Like Dhanoa, Naik too distinguished between obsolescence and unserviceability, saying the fact that an "old aircraft is flying, means it has been found to be serviceable and flight-worthy."
"When the two pilots signed the logbook, and the jet taxied out onto the runway means it must have been deemed fit to fly," said Dhanoa.
Material failures after the plane is past its lifespan are otherwise simply unpredictable yet shouldn't be surprising. Even before entering serial production, the manufacturer (in this case Mikoyan Design Bureau or Mikoyan Gurevich) undertakes thousands of hours of what is known as 'non-destructive testing'.
Usually, until the plane starts showing wear and tear, the life of each part and component is predicted and becomes a part of the technical manuals handed to the users.
Dhanoa, who flew a twin-seater MiG-21 with Varthaman on September 2, 2019, around 15-20 days before his retirement, pointed to an illusion created by a combination of being the longest serving and largest fleet of jets in the IAF, which naturally makes them the most accident-prone.
Otherwise, the rate of accidents per 100,000 hours of flying is still low, Dhanoa claims.
Dhanoa only saw two accidents in his tenure, both of them a 'bird hit over range' in Jamnagar, where he was the flight commander of a MiG-21 squadron. But there were no mishaps during his tenure as a Squadron Commander in Bhatinda or Station Commander in Nalia for two-and-a-half years.
Solid Fighter, Radical Design, 'Unforgiving' Handling
Indeed, compared to other aircraft like the Gnat or Hunter jets of the time, the MiG-21 has a higher accident rate. But that is because the radically unique jet is "unforgiving" that "requires a lot of skill," Dhanoa added.
Retired Group Captain TP Srivastava – who had himself ejected from a MiG-21 – boasts of its versatility as a ground attack, photo-reconnaissance and air defense jet discovered by the IAF.
The Soviets designed the MiG-21 in the 1960s as a supersonic interceptor at the height of the Cold War to take out American bombers.
IAF pilots were unaccustomed to the delta-wing aerodynamics and initially mishandled the aircraft. A whopping landing speed of 366 km was another unusual feature.
The thin delta-wing resulted in a flight condition known as 'super-stall', where the MiG-21 used to sink at a rapid rate of 100-150 meters per second, losing about 20-30,000 feet within a minute.
Some of the fatal crashes have been attributed to this phenomenon, besides bird hits, FOD and dark night flying – the last one undertaken by the latest MiG-21. Srivastava and Dhanoa, however, wonder why the two pilots did not eject.
Another outlandish feature in the MiG-21, considered ahead of its time and one of the many testaments of the ingenuity and inventiveness of the Soviet defense aerospace design, was the nose intake – the retractable Automatic Moving Cone Control System.
"In my more than 30 years of flying, I never experienced engine malfunction even once," Srivastava boasted, adding that his only ejection was owing to a fire following the rupture of a hydraulic pipeline.
This was after the plane had arrived following an overhaul from Hindustan Aeronautics Limited (HAL), where the heat shield gap around the 'hot zone' was not to specification. The aircraft, however, had one of the best airframes, where not a single jet has ever broken up in the air.
The unfamiliarity with the engine's features claimed one such pilot in 1974. The trainee pilot took off on a MiG-21 Type 77 in a supersonic profile sortie and had to climb to 21 km.
At those altitudes, the wind-milling RPM of the R11F2S-300 engine is also nearly 95-99%. Not realizing that the engine had flamed out, the young pilot continued descending and by the time he ejected, it was too low for his parachute to break his fall.
The MiG-21's ability to glide fairly well even without engine power often contributes to young pilots missing that the engine has flamed out.
No Advanced Jet Trainer
Neither did young IAF fighter pilots have an Advanced Jet Trainer (AJT) for their Stage-III flight training for several years after having flown the HJT Kiran and the PZL TS-11 Iskra in Stage II.
The MiG Operational Flying Training (MOFT) was directly being done on the MiG itself.
Thus, a trainee directly went from a Kiran/Iskra cockpit which had a maximum speed of 240 km an hour, to a MiG-21, whose landing speed was 366 km.
The British Aerospace and Engineering (BAE) Hawk meant for the Stage-III Advanced Jet Training began arriving in India only by November 2007. Srivastava blames the "unaccountable" bureaucracy for the delay.
Peacetime military accidents are a professional hazard and are a hard reality as a threat to life and limb in war. Aircraft are complex flying machines, and their operation itself is an intricate overlap of many other arms of the government.
Not expecting military mishaps and an air force like India's to keep flying old jets when new ones are not available is simply impractical.
Obsolete weapons, when modern ones are unavailable, might be a liability in peace but an asset in war – which usually doesn't give prior notice.
Cold War-era Soviet weapons are hitting both Russian and Ukrainian militaries as they still possess a substantial arsenal of that bygone era. Coffins are what characterize war anyway.