Revelation of the questionable activities of a charismatic American millionaire, Neville Roy Singham, who is of Sri Lankan-Cuban descent and known as a socialist benefactor of far-left causes, is the latest example of how China is successfully conducting its political warfare all over the world and pushing its agenda.
A New York Times investigation found that Singham has been an instrument of China's lavishly funded influence campaign that defends China and pushes its propaganda.
"From a think tank in Massachusetts to an event space in Manhattan, from a political party in South Africa to news organizations in India and Brazil, The Times tracked hundreds of millions of dollars to groups linked to Mr. Singham that mix progressive advocacy with Chinese government talking points," the reports says.
In India, the NYT report talks of the news portal of NewsClick, based in New Delhi. It is said to have been financed by Singham's network. This news website's articles are "sprinkled with talking points from the Chinese government." The title of one of the videos on the website was "China's history continues to inspire the working classes."
Incidentally, NewsClick has also been under investigation by Indian agencies like the Enforcement Directorate (ED). Investigations have revealed that Singham has been the main source of Rs. 38 crore that the media portal has received between 2018 and 2021.
The NYT report says that under the rule of Xi Jinping, "China has expanded state media operations, teamed up with overseas outlets, and cultivated foreign influencers."
Apparently, "Mr. Singham's groups have produced YouTube videos that, together, racked up millions of views. They also seek to influence real-world politics by meeting with congressional aides, training African politicians, running candidates in South African elections, and organizing protests like the one in London that erupted into violence."
Of course, many important studies have been on China's political warfare in recent years. The latest in this regard is one by the prestigious American think-tank Center for Strategic International Studies, released on August 2.
In 2020, former British spy Christopher Steele of M16 compiled an 86-page report that provided details of manipulations by China to penetrate the strategic and influential communities in important countries and manipulate them to serve China's larger strategic objectives. He referred to them as Beijing's "useful idiots."
Similarly, the US National Counterintelligence and Security Center, in its July 2022 report, revealed the extensive Chinese activities to manipulate the US state and local leaders to support the policies that are favorable to  Beijing in accordance with  what  China calls  the strategy of "using the local to surround the central."
SD Pradhan, a former chairman of India's Joint Intelligence Committee and deputy national security adviser, has argued that such tactics of China have worked in India.
He says how many Indian political leaders, many of them from the opposition Congress party, have tried to aversely weaken the decision-making capability of the present government led by Narendra Modi "to create doubts in the capabilities of the ruling regime, to foment anti-leadership sentiments, and to diminish the will to fight against China.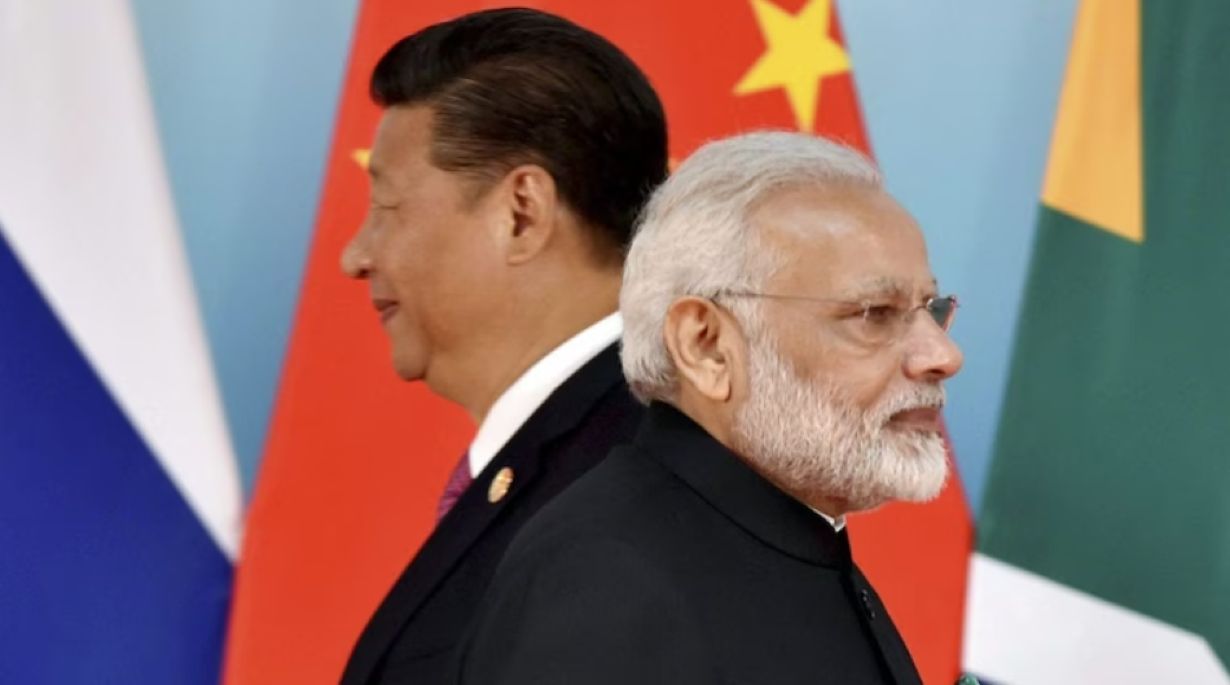 "In the case of the Congress Party, besides the normal channels of cognitive warfare, the linkage between the Rajiv Gandhi Foundation and the Chinese Communist Party could have also been used to manipulate the perceptions of targets."
For instance, Pradhan cites three dimensions in the criticisms of the Modi government's response to the Chinese incursions in Ladakh in 2020-21. First, it was intended to convey the message that "China continues to thrash our jawans at the border" to demoralize the Indian Armed Forces.
The second was to project that China has better fighting capabilities.
"The third was to create the impression that the current government has surrendered 2,000 kilometers of land to China. China has been in illegal occupation of 38,000 square kilometers of Indian territory for more than six decades. Besides, it has also obtained 5,180 square kilometers of Indian territory since 1963 through an agreement with Pakistan. It is unclear how these 2,000 square kilometers of land were added. Lt. Gen. Kalita, the GOC-in-C, stated that no land is under Chinese occupation, which is also disregarded. This figure has come from the narrative built by China".
China's "political warfare" includes what is termed "the three warfares" (Three Ws):  public opinion warfare, psychological warfare, and legal warfare.
Public opinion warfare aims to shape and influence domestic and international views of China. Psychological warfare is considered strategic in nature, influencing various economic, political, and other societal leaders not to oppose Chinese actions and even to support them. These complement legal warfare that involves foreign nationals arguing that "China is obeying the laws and is right, but our country and its policies are wrong."
Against this background, the latest CSIS study, titled "Competing without Fighting: China's Strategy of Political Warfare," is an important addition. It warns that the US and its partners, including India, have been too slow to identify and counter Chinese political warfare.
And this warfare involves sophisticated Chinese espionage activities, offensive cyber operations, disinformation on social media platforms, economic coercion, and influence operations targeting companies, universities, academic institutions, companies, government agencies, nongovernmental organizations (NGOs), and other organizations.
The CSIS report says that while all countries engage in some level of political warfare, the size and scope of Beijing's activity is unprecedented.
It gives the example of when Daryl Morey, the general manager of the Houston Rockets basketball team, expressed support for Hong Kong protesters in 2019, tweeting "Fight for Freedom," a "troll mob" was unleashed on the executive, with 170,000 tweets flooding out of China. Pro-Chinese government accounts mentioned Morey more than 16,000 times, and approximately 4,700 replies included "NMSL," a Chinese acronym meaning "your mother is dead."
The report said, "This high volume of activity is all the more anomalous given that Twitter is banned in China."
Another example the report has given is how entities linked to the Chinese government broke into the 2008 presidential campaigns of Sen. John McCain and Sen. Barack Obama to gain insight into each potential administration's China policy.
The report also points out how the FBI and Department of Justice (DOJ) have arrested or indicted numerous individuals for espionage, cyber operations, and illegal influence campaigns over the past year.
The list includes an indictment against the co-director of a US-based think tank for acting as an unregistered foreign agent for China and other actions, a series of aggressive cyber attacks against senior US government officials and companies such as Microsoft, and the expansion of Chinese intelligence collection sites in such countries as Cuba.
In addition, China has been involved in an expansive campaign to monitor, harass, and coerce residents of the United States and other countries as part of an extralegal repatriation effort known as "Operation Fox Hunt."
Fighting China
How to deal with China's political warfare? The CSIS report has recommended many measures. Four of them are particularly noteworthy:
One is to identify and exploit Chinese vulnerabilities, proactively weakening Chinese power, influence, and relationships overseas.
Two, the report has suggested, "piercing  a hole in China's Great Firewall — which blocks or censors hundreds of thousands of websites and apps — to enable the people of China to access the likes of Google, YouTube, Instagram, Reddit, Wikipedia, WhatsApp, and LinkedIn."
Three, it wants the US to strengthen the Foreign Agent Registration Act (FARA) and related efforts, such as the Lobbying Disclosure Act and the Department of Education's Section 117 disclosures, to counter Chinese and other foreign influences.
Four, the report recommends the US allies and partners do the same. It suggests the establishment of "a Multilateral Bloc to Counter Chinese Economic Coercion," composed of the United States, Australia, South Korea, Japan, India, and other countries—including in Europe.
"Participant countries should be prepared to sanction China in response to Chinese threats or actions that do not conform to World Trade Organization rules and are aimed at meeting Chinese political goals unrelated to trade. In addition, participant countries could create a collective compensation fund for losses and offer alternative export or import markets to divert trade in response to Chinese sanctions", the report says.
It emphasizes the need for "Deepening relationships with partners" as "critical" in meeting the Chinese threat.
"China also has significant weaknesses and vulnerabilities that can be exploited. Together with its partners, the United States needs to develop a comprehensive approach to compete in this arena consistent with its democratic principles and values. The clock is ticking."
Will the US allies and partners, including India, respond?
Author and veteran journalist Prakash Nanda is Chairman of the Editorial Board – EurAsian Times and has been commenting on politics, foreign policy, on strategic affairs for nearly three decades. A former National Fellow of the Indian Council for Historical Research and recipient of the Seoul Peace Prize Scholarship, he is also a Distinguished Fellow at the Institute of Peace and Conflict Studies. 
CONTACT: prakash.nanda (at) hotmail.com