The US space agency NASA and the Pentagon reportedly held a "secret meeting" on Unidentified Flying Objects (UFOs) sometime in August last year. 
Global Hawk Drones: Lockheed, Northrop In 'Big Race' To Replace US Air Force's Ageing, Obsolete UAVs?
Officially, NASA does not actively look for UFOs. It seems now the agency is under pressure from the US Department of Defense to collaborate in its "UFO/UAP program".
The US Department of Defense (DoD) established an Unidentified Aerial Phenomena (UAP) Task Force (UAPTF) on August 14, 2020. "The Department of the Navy, under the cognizance of the Office of the Under Secretary of Defense for Intelligence and Security, will lead the UAPTF," a DoD release said.
The mission of the task force is to detect, analyze and catalog UAPs that could potentially pose a threat to US national security, the release said.
The secret meeting was held virtually, The Black Vault reported,  based on its findings through the US Freedom of Information Act (FOIA).
The attendees of the "secure" video conference included International Space Station (ISS) Program Manager Joel Montalbano, Former Associate Administrator for Legislative Affairs Suzanne Gillen, Director of the Export Control and Interagency Liaison Division Margaret Kieffer, and Gold, among others.
This development comes after the US intelligence community delivered an unclassified report on the UFO matter for Congress, detailing a series of mysterious encounters with UFOs.
A preview of the report, however, ruled out the possibility of alien spacecraft or any of the US government aircraft, as seen in those images, as reported by Eurasian Times.
Earlier in June, CNN reported that members of the US House Intelligence Committee had received a classified briefing with the Federal Bureau of Investigation (FBI) and the US Navy officials to discuss what some senators termed as a "threat to national security" — Unidentified Aerial Phenomena (UAP).
MiG Vs Sukhoi: Why Indian Air Force 'Bets Big' On MiG-29 Fighter Jets Over Su-30 MKIs Against China
The UFO Task Force
The UAPTF is a program within the United States Office of Naval Intelligence used to "standardize the collection and reporting" on sightings of unidentified aerial phenomena (UAP), or the UFOs.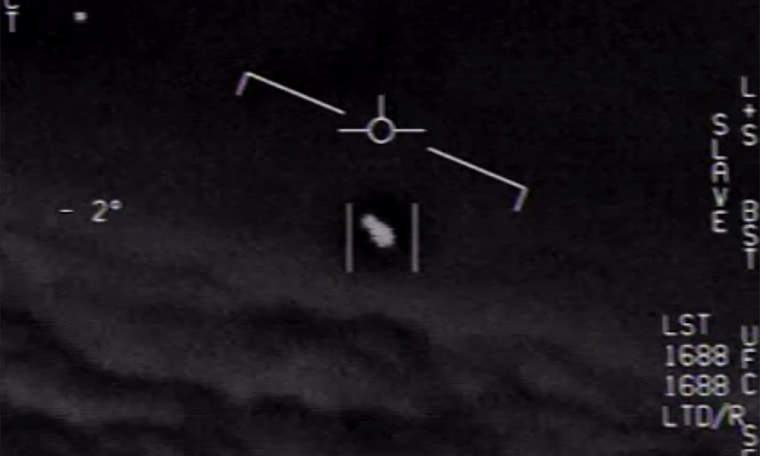 The program was detailed in a June 2020 hearing of the US Senate Select Committee on Intelligence as a successor to the Advanced Aerospace Threat Identification Program (AATIP).
Of late, there has been a broader policy shift towards the acknowledgment of UFOs as real, anomalous physical phenomena that are worthy of extended scientific and military analysis.
While it did not deny or confirm the object to be alien, in the UAPTF report, the assessment analyzed that out of 144 UFO sightings made mostly by military aviators between 2004 and 2021, 21 presented classic UFO enigmas and had advanced technology.
China, Russia Or Aliens: Why Is There A Sudden Surge In UFO Sightings Over US Military Bases?
" [The objects] appeared to remain stationary in winds aloft, move against the wind, maneuver abruptly, or move at considerable speed, without discernible means of propulsion. In a small number of cases, military aircraft systems processed radio frequency (RF) energy associated with UAP sightings," the report on those 21 objects said.
The Pentagon released three unclassified videos taken by Navy pilots of "unidentified aerial phenomena," a step that comes after years of progress towards government transparency surrounding UFOs https://t.co/rwxWufwkj1 pic.twitter.com/01KrDMSDAW

— Forbes (@Forbes) April 29, 2020
According to The Black Vault, soon after UAPTF was set up, a request was made to NASA that the task force brief NASA on UAPs in a secure setting.
"For security reasons, we will not detail the contributions of specific organizations to the UAPTF's work, nor the areas discussed with every organization as part of the UAPTF's investigations," Pentagon spokesperson Susan Gough said in an e-mailed statement to The Black Vault.
E-4B Nightwatch – US' Doomsday Aircraft Lands On A Secret Military Base Near Area 51 With A 'VVIP' On Board
Why Is The US After UFOs?
This is not the first time that the US military has been publicly involved in UFO matters. The closely guarded Area 51 is notoriously famous for being a secret facility where the US hides "captured aliens".
People around the area of southern Nevada where Area 51 is located, have reported multiple sightings of UFOs in the past and one man even claimed of working on extraterrestrial technology inside Area 51.
However, the Central Intelligence Agency (CIA) took pains in explaining that the area is actually a wartime Air Force military installation where US warplanes like U-2, A-12 and F-117 Nighthawk were tested.
Missing In Action – Why Indian Navy Has Been 'Shying-Away' From Using Its Aircraft Carriers In Major Conflicts?
Back in the 1960s, the US Air Force funded a two-year scientific study on UFOs under Project Blue Book. But the study did not find any credible evidence to link the existence of UFOs to extra-terrestrial beings.
During the Cold War years, such studies and reports, funded by state institutions, were considered a distraction and dubbed as or "information pollution" — something to be excluded, ignored or forgotten by the scientific community.
Metrocosm, a 'UFO-tracking' portal, came out with a map showing over 90,000 reports of UFO sightings dating back to 1905. It was based on data from the National UFO Reporting Center.
The debate around UFOs got revived in the US defense circles in April 2020, when the DoD released three declassified videos that showed US Navy pilots encountering what appeared to be UFOs.
But since the Pentagon established the UAP task force, reporting a UFO by military personnel is considered important data for national security.
NASA's Stand On UFOs
NASA scientists have historically kept a distance from US intelligence reports on the possibility of UFOs belonging to aliens. However, the newly appointed NASA chief seems to think differently.
NASA administrator and former US senator Bill Nelson suggested that the aircraft could belong to the adversaries of the US.
"We don't know if it's extra-terrestrial, we don't know if it's an enemy. We don't know if it's an optical phenomenon," said Nelson.
He also dismissed the possibility of an optical illusion since the "characteristics that those navy jet pilots described as they saw it move around".
According to NASA's website, the space agency does not actively search for UAPs. However, through its Earth-observing satellites, NASA "collects extensive data about Earth's atmosphere, often in collaboration with the other space agencies of the world. While these data are not specifically collected to identify UAPs or alien technosignatures, they are publicly available and anyone may use them to search the atmosphere".
Pegasus Hacking Row: China Fires Salvo At India, Israel & The US Over Pegasus Controversy
It goes on to add, "While NASA doesn't actively search for UAPs, if we learn of UAPs, it would open up the door to new science questions to explore. Atmospheric scientists, aerospace experts, and other scientists could all contribute to understanding the nature of the phenomenon. Exploring the unknown in space is at the heart of who we are."
With inputs from Apoorva Jain and Anshruta Banerjee