Less than a year after Pakistan Air Force (PAF) took a giant leap and inducted China's cutting-edge J-10C fighter jets into service, it reportedly commissioned a highly upgraded and advanced version of the JF-17, called the JF-17 Block III.
Earlier this week, some reports on social media indicated that Pakistan's most famous air squadron – 16 Squadron nicknamed 'Black Panthers' had received the first batch of JF-17 Block III aircraft.
A defense journalist from Pakistan who wished to remain anonymous told EurAsian Times that about 12 fighters were indeed inducted into service with the 16 Squadron in a very small-scale ceremony. The JF-17 is jointly developed by China and Pakistan.
After the induction report started to surface on social media, a famous Pakistani Twitter account, 'Falcon Strike Syndicate,' which regularly publishes updates on the country's military, posted a photo of the aircraft's tail. However, in the photograph that can be seen below, the serial number was likely deliberately blurred out.
Reports of an imminent induction have appeared multiple times in the last year. For instance, in November 2022, a picture of a pilot sporting an upgraded Helmet Mounted Display (HMD), purportedly taken inside a JF-17C (or Block III), went viral on the internet, suggesting the aircraft would be commissioned soon.
Black Panthers Reloaded! PAF is all set to deploy more AESA equipped air superiority fighter than its adversary.

PAF has and will always maintain its cutting edge with its indigenous efforts along with timely & smart procurement plans. Fruit tree planted in 90's is finally ripe! pic.twitter.com/Hazhyh7t9W

— Falcon Strike Syndicate (@FalconSyndicate) March 1, 2023
In addition, there were reports that the combat jet was receiving additional upgrades. At the end of the IDEAS 2022 expo, Pakistan's Express Tribune published a report quoting an unnamed Pakistan Aeronautical Complex (PAC) source as saying an "additional upgrade of the jet was underway."
The JF-17 is anticipated to replace the Pakistan Air Force's (PAF) aging fleet of Chengdu F-7 and Dassault Mirage-III/V stealth fighters. It is speculated to share some of the technology with China's J-20 "Mighty Dragon" stealth fighter.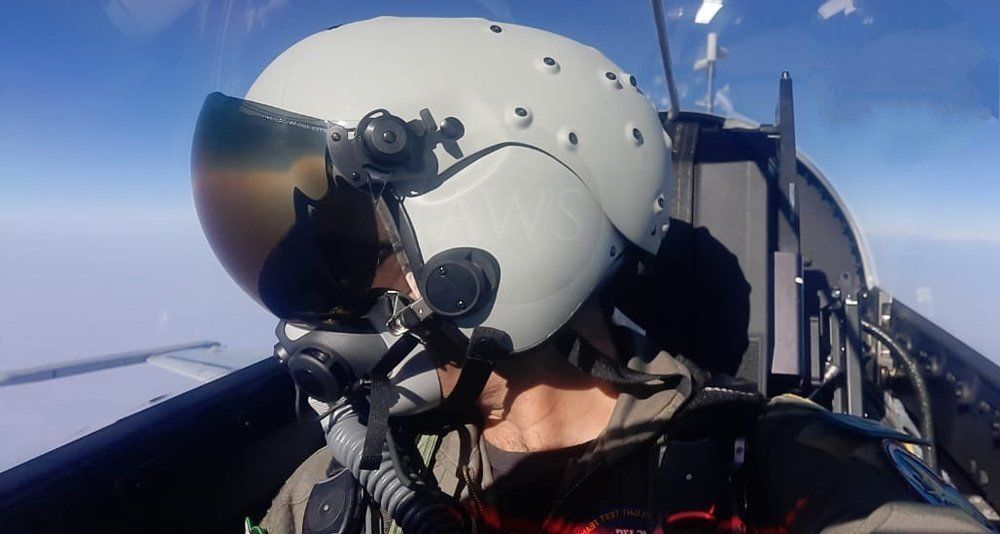 The first photographs of the first batch of the JF-17C/Block III in serial production paint scheme straight off the assembly line appeared online in January 2022, with subsequent reports suggesting that the PAF would induct at least 50 JF-17 Block III fighter jets to bolster its air power. The photos of the aircraft are now regularly published on social media.
The reports of induction are significant as it comes a year after the PAF officially inducted the J-10C fighter jets acquired from China. The J-10C is a 4.5-generation medium-sized fighter jet and is more potent than the JF-17, currently operational with the PAF.
Against that backdrop, adding a highly upgraded variant of the JF-17, believed to revolutionize the basic design of the aircraft and incorporate fifth-generation avionics and armament, would further bolster Pakistan's combat capability.
Pakistan's JF-17 Block III Fighter
The JF-17 Block 3 is planned to be constructed mainly for Pakistani defense needs as part of a joint Sino-Pakistani program. Although the aircraft has faced its fair share of troubles, the upgraded variant has been projected as a very promising combat aircraft.
It is believed that the JF-17C/Block III flew for the first time in December 2019. Two years later, in 2021, the JF-17 Block 3/JF-17C was seen carrying the PL-10E, which China touts as its most sophisticated short-range air-to-air missile.
At the time, a Chinese state-owned Global Times report quoted an unnamed military expert as saying, "With the PL-10, the JF-17 Block 3 will gain tremendous dogfight capability and have an edge even against its heavier opposing counterparts in homeland air defense." If current speculations are anything to go by, the Block III variant could eventually be equipped with the most advanced PL-15 air-to-air missile.
The JF-17C boasts noticeable enhanced features like an integrated electronic warfare (EW) suite, Wide Angle Smart HUD, extra hard points on the chin, and Missile Approach Warning Systems (MAWS).
JF-17 Block III Fighter
It receives a new electronic warfare system, upgraded avionics including a three-axis fly-by-wire digital flight control system, a helmet-mounted display and sight system, and Pakistan's first Chinese-made active electronically scanned array AESA. pic.twitter.com/TWpqkLY7UJ

— 彩云香江 (@louischeung_hk) August 25, 2021
The KLJ-7A airborne active electronically scanned array (AESA) fire-control radar is reportedly installed aboard the aircraft. Previously, there had been speculations that the JF-17 may soon receive some of the electronics, avionics, and technology used in the J-20.
Reports and images surfacing on the internet have suggested that the assertions may not entirely be untrue, even though it's unknown what extent of technology the JF-17 Block III and J-20 might share.
Global Times says the new jets boast improved "high off-boresight" capability. The "aircraft can fire from whatever position, and its missiles will adjust thrust, speed, and trajectory to hit targets."
Further, certain reports claimed that the fighter known to possess "J-20 DNA" is one of four fourth-generation classes created using much of the technology developed for China's J-20 fifth-generation fighter.
Furthermore, military experts in Pakistan and China have repeatedly emphasized that the upgraded variant would qualify as the world's most powerful lightweight fighter jet.
With Pakistan's arch-rival India focusing efforts on developing a fifth-generation fighter jet and exploring options to acquire a multi-role fighter soon, the induction of an advanced variant of the JF-17 fighter jet could prove to be a significant addition for the PAF.
Contact the author at sakshi.tiwari9555 (at) gmail.com