Pakistan celebrated its 'National Day' on March 23, with its armed forces showcasing their predominantly "Chinese firepower" during the military parade in Islamabad.
The annual event is held to commemorate the 1940 'Pakistan Resolution' for the establishment of a separate homeland for the Muslims of British India. 
Pakistan's military displayed its multifaceted capabilities as well as recently-acquired weapons. Interestingly, all of these major inductions came predominantly from its closest ally and 'Iron Brother', China.
In the past few years, Beijing has been stepping up its defense cooperation with Islamabad, from the sale of fighter jets to modern frigates, in a bid to put pressure on India.  
J-10C Fighter Jets
Since its acquisition, Islamabad had repeatedly claimed that it would demonstrate the 'Rafale-challenger' J-10C's prowess during Pakistan Day. Last December, Pakistan's Interior Minister had stated that these jets would perform a fly-past during the National Day parade. 
In line with this, an F-16C Block 52, escorted by a pair of newly inducted Chinese J-10C fighters, kicked off the aerial display. The Pakistan Air Force (PAF) recently inducted the first batch of six advanced J-10C fighter planes into service. 
On March 4, this single-engine 4.5 generation combat aircraft landed in Pakistan from China. Later, these jets were inducted into the PAF's No 15 'Cobras' Squadron during a ceremony at PAF base Minhas in Kamra on March 11. 
Chinese experts previously said that the deal regarding this jet was crucial for both countries in terms of enhancing Pakistan's combat capabilities, marketing China's aviation equipment, and adhering to both countries' regional security interests. 
According to reports, Pakistan was interested in acquiring the Chengdu J-10 to challenge India's 4.5th-generation Rafales.  
The J-10C isn't the only fighter plane that China has given to Pakistan. The JF-17 Thunder, which was produced in collaboration with China, is another major fighter jet in Islamabad's arsenal, and it is a major strategic component of Pakistan's air power. Furthermore, it was recently reported that Pakistan will get 50 new JF-17 fighter jets this month. 
SH-15 Truck-Mounted Howitzer
The Chinese-supplied SH-15 155mm truck-mounted howitzer was yet another significant piece of military equipment on display during the parade. Early this year, Islamabad acquired the first batch of artillery guns.
The modern artillery is installed on a 6×6 Shaanxi truck chassis with an armored cabin in the front and one 155 mm gun-howitzer in the rear. The SH-15 is regarded as a supreme "shoot and scoot" artillery weapon capable of firing nuclear shells.
With a maximum reported firing range of around 53 kilometers, the SH-15 is Pakistan's longest-range tube artillery system, allowing the country to standardize on a single caliber alongside its M109 and M198 howitzers supplied by the United States.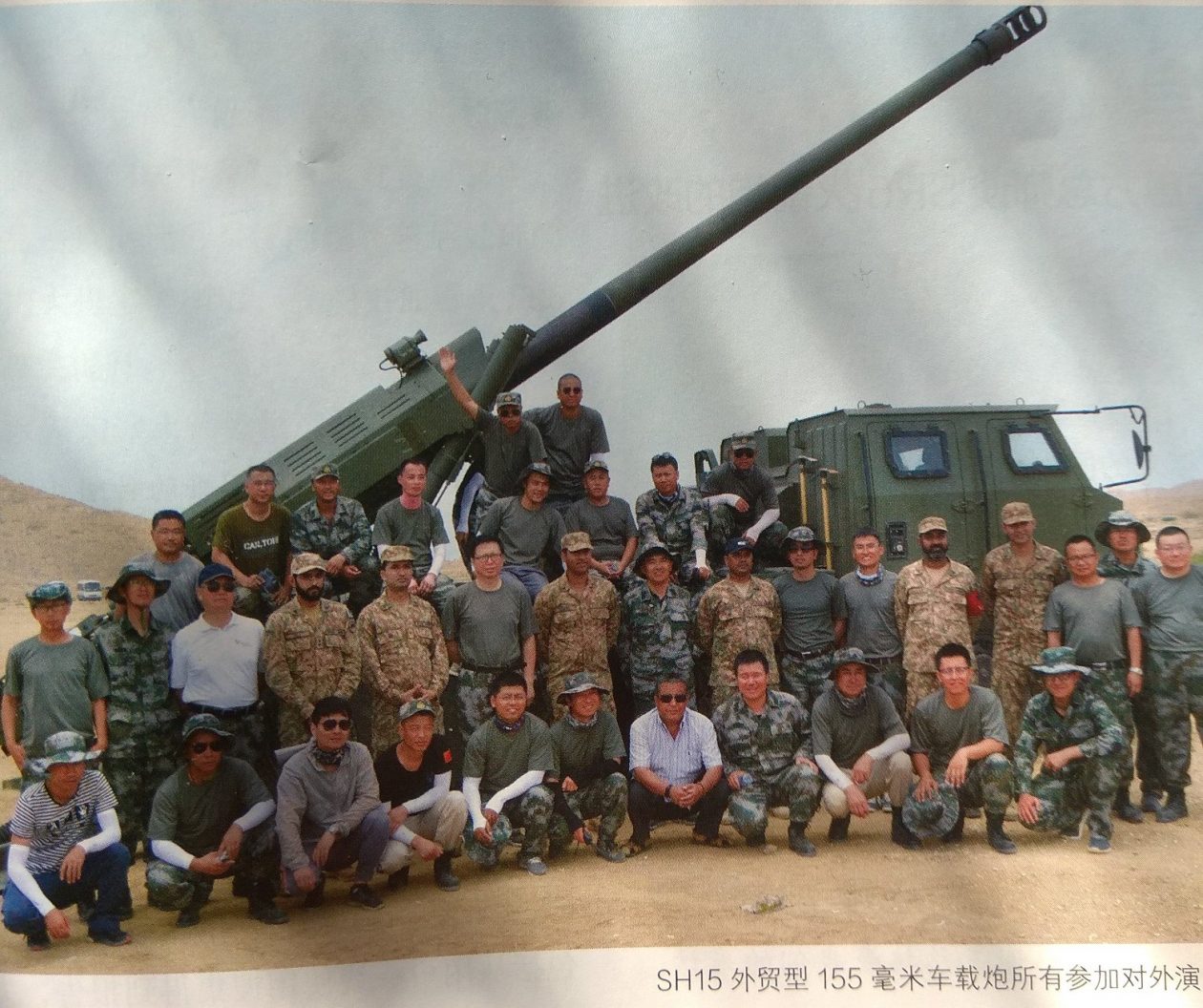 Since it is lightweight compared to a tracked howitzer, it can be more easily deployed in the mountainous region. The Pakistan Army bought the wheeled self-propelled howitzer as part of a massive initiative to modernize its artillery units. 
Experts believe that Beijing supplied this cutting-edge weapon system to Pakistan as part of a Sino-Pak alliance to confront Indian K-9 Vajra howitzers. The defense cooperation between Pakistan and China, could be perceived as a threat to India, whose military has long strategized to deal with two-front war threats.
HQ-9P Long-Range Missle
Another Chinese military hardware that Pakistan prominently featured in its parade was the HQ-9P long-range air defense system. This weapon system has long been viewed as a potential threat to Indian helicopters and planes operating near the border.
Last year, a variant of the Chinese-made HQ-9 surface-to-air missile system was integrated into the Pakistan Army's air defense unit, which it has apparently stationed along the LoC, the de facto border with India in Kashmir.
The HQ-9, also known as the 'Red Banner-9', is equipped with an HT-233 passive electronically scanned array (PESA) radar system with a detection range of 120 kms and a tracking range of 90 kms.
Type 120 low-altitude acquisition radar, Type 305A 3D acquisition radar, Type 305B 3D acquisition radar, and H-200 mobile engagement radar are all part of this system. The HQ-9 air defense system can be comparable to the Russian S-300 and the American Patriot air defense systems in terms of performance.
The HHQ-9 has been deployed in Vertical Launch System or VLS tubes by China's People's Liberation Army Navy (PLAN) in a Type 052C Lanzhou-class destroyer.
China has also devised and built an anti-radiation variant of the missile system. Fang Dun-2000 (FD-2000), which simply translates defensive shield, is the export designation for the air defense version. China Precision Machinery Import-Export Corporation developed it. It has anti-stealth capabilities.
Meanwhile, the HQ-9A variant of the missile is equipped with modern electronic equipment and software that improves accuracy and kill probability. It has a larger range and features an additional seeker.  
This new ground-to-air missile defense system reportedly has a target range of over 250 kms and can reach a height of 50 km. HHQ-9A and HHQ-9B are the missile's naval variants. The HQ-9C is currently being developed. It is anticipated to have fully active radar homing capabilities. 
Besides Pakistan's three armed services contingents, the parade included troops from allied countries such as Turkey, Saudi Arabia, Azerbaijan, Uzbekistan, and Bahrain, media reports said. 
Moreover, foreign ministers from the Organization of Islamic Cooperation, who were in Islamabad for a meeting, attended the parade. Chinese Foreign Minister Wang Yi and Turkey's Chief of General Staff Gen Yasar Guler were among the dignitaries present at the function.