The US Navy has finally given a peek into what roles and functions it expects from the Large Unmanned Surface Vessel (LUSV) that it plans to integrate into its fleet.
Its USVs, like the Ranger and Mariner, have been exercising even with foreign navies such as Japan while firing Standard Missile-6 (SM-6) from its main hold. 
A Request for Information (RFI) from the Naval Sea Systems Command (NAVSEA) sought industry feedback on specifications for the LUSV, which the USN hopes to operationalize between 2025 and 2027. The vessels independently undertake surface warfare while acting as extended missile magazines for larger ships. 
Drone boats are an effort towards an emerging concept of naval manned-unmanned teaming, where small, mid-sized, and large unmanned ships undertake routine tasks and take the load off large surface combatants.
The aim is to have a more extensive, unrestrained, and focused fleet before China's People's Liberation Army Navy (PLAN) in the western Pacific and operate in its Anti-Access/Area-Denial (A2/AD) bubble. 
Drone Boats To Fight China 
The USN has seven large and medium USV prototypes in its custody or on contract as technology demonstrators (RD). On September 27, the USVs Mariner and Ranger exercised with the Japan Maritime Self-Defense Force (JMSDF) in a first-of-its-kind drill.
Before that, in September 2021, the Ranger also launched an SM-6 from a modular launcher. The SM-6 has a secondary surface strike (both anti-ship and anti-land), utilized in the Mid-Range Capabilities (MRC)/Typhon program.   
At an even broader level, the Mariner and the Ranger are part of the USN's Ghost Fleet Overlord project, which envisages using the unmanned surface vessels (USV) for logistics and possibly even weapons firing roles and other routine tasks, freeing up the larger destroyers and frigates for more complex missions.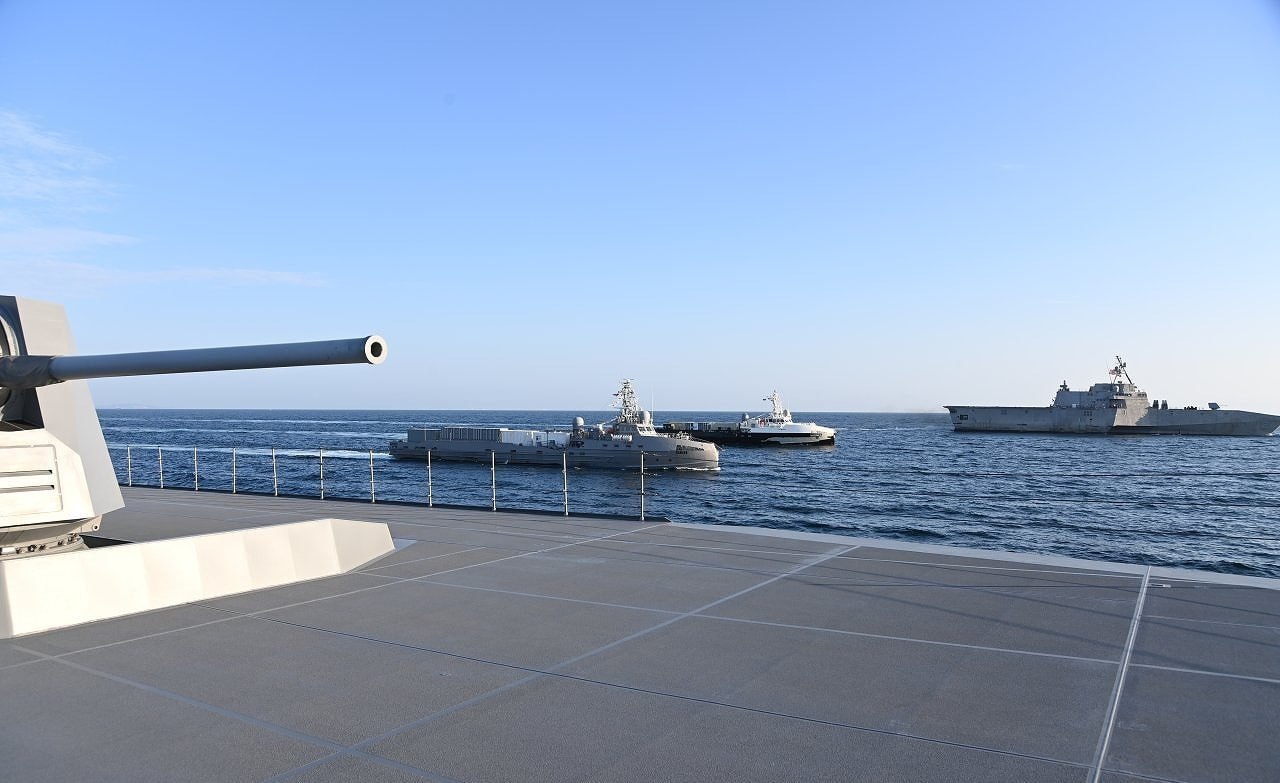 The USVs can also be used for anti-submarine warfare (ASW), amphibious landing, logistics, littoral combat, mine countermeasures (MCM), convoy protection, harbor patrol, and air-defense functions. It would be essential to note that Ghost Fleet Overlord is a minor component of more comprehensive ideas like Distributed Maritime Operations (DMO), which were developed to compete with China in the western Pacific. 
The People's Liberation Army's (PLA) long-range anti-access/area-denial (A2/AD) missiles undoubtedly constitute a significant threat to the US military by prohibiting it from ever approaching Chinese coastlines. Therefore, the US strategy would likely hinge on dispersing, coming, and striking China inside its A2/AD bubble. The use of USVs would make that function easier.
US Navy's Market Query
According to the RFI, the query is "for purely market research purposes" and distinct from a Request for Proposal (RFP) that involves final contracting. "The LUSV will support Distributed Maritime Operations (DMO) and provide the Joint Force with an adjunct missile magazine capability and capacity." 
Its "primary missions include the support of Anti-Surface Warfare (SUW) and Strike Warfare (STW)." This entails the LUSV undertaking anti-ship fires independently — where the level of human intervention and crew presence on the unmanned boats is undetermined. This is while simultaneously holding extra missiles for a giant warship as an "adjunct magazine," which the crew on the manned vessel can trigger remotely. 
"LUSV is a high-endurance, affordable asset capable of weeks-long deployments and trans-oceanic transits. LUSV will be built to commercial American Bureau of Shipping (ABS) versus military standards. As an adjunct magazine, LUSV will operate with Carrier Strike Groups (CSG), Expeditionary Strike Groups (ESG), Surface Action Groups (SAG), and individual manned combatants," the notice read. 
See the game-changing, cross-domain, cross-service concepts the Strategic Capabilities Office and @USNavy are rapidly developing: an SM-6 launched from a modular launcher off of USV Ranger. Such innovation drives the future of joint capabilities. #DoDInnovates pic.twitter.com/yCG57lFcNW

— Department of Defense 🇺🇸 (@DeptofDefense) September 3, 2021
Program Might Be Problematic
However, this leaves a lot of questions, given the conflicting nature of the two roles of a surface combatant and an "adjunct magazine," which would require a radically different set of hulls.
The USV must carry many missiles as its armament while another section holds the extra missiles for the giant warship. 
The USV Ranger can be seen to be able to accommodate only one containerized Mk. 41 launcher. It is not conceivable how that might inform the development of a LUSV that can perform both functions (surface warfare and adjunct magazine). 
Moreover, having unmanned vessels as a part of the fleet provides an electromagnetically rich target for a technologically advanced nation like China that has made consistent strides in electronic hardware, communications technology, and computing sciences.
Long-range data links exchanging targeting data between the USVs and their linked manned ships are vulnerable to jamming and interception.