In an unprecedented move, a Russian state-backed television channel has simulated a horrific nuclear strike on Europe, warning there would be "no survivors".
The move comes as a reply from Kremlin to the former British Army chief who warned that the Ukraine conflict could spiral into a Third World War.
Moscow also appears to be in a rush to showcase its success in Ukraine ahead of the Victory Day celebration on May 9.
The host of the show simulated nuclear attacks on Paris, Berlin, and London, stating that the bombs would destroy these cities in less than 200 seconds. The missile to be used — according to the host — would be the Sarmat ICBM.
While lending support to UK's military aid to Ukraine, former British Army chief Lord Dannatt had said, "are we going down a slippery path that could take us into a more general war to be overdramatic, or very dramatic into World War Three?!", Express had reported.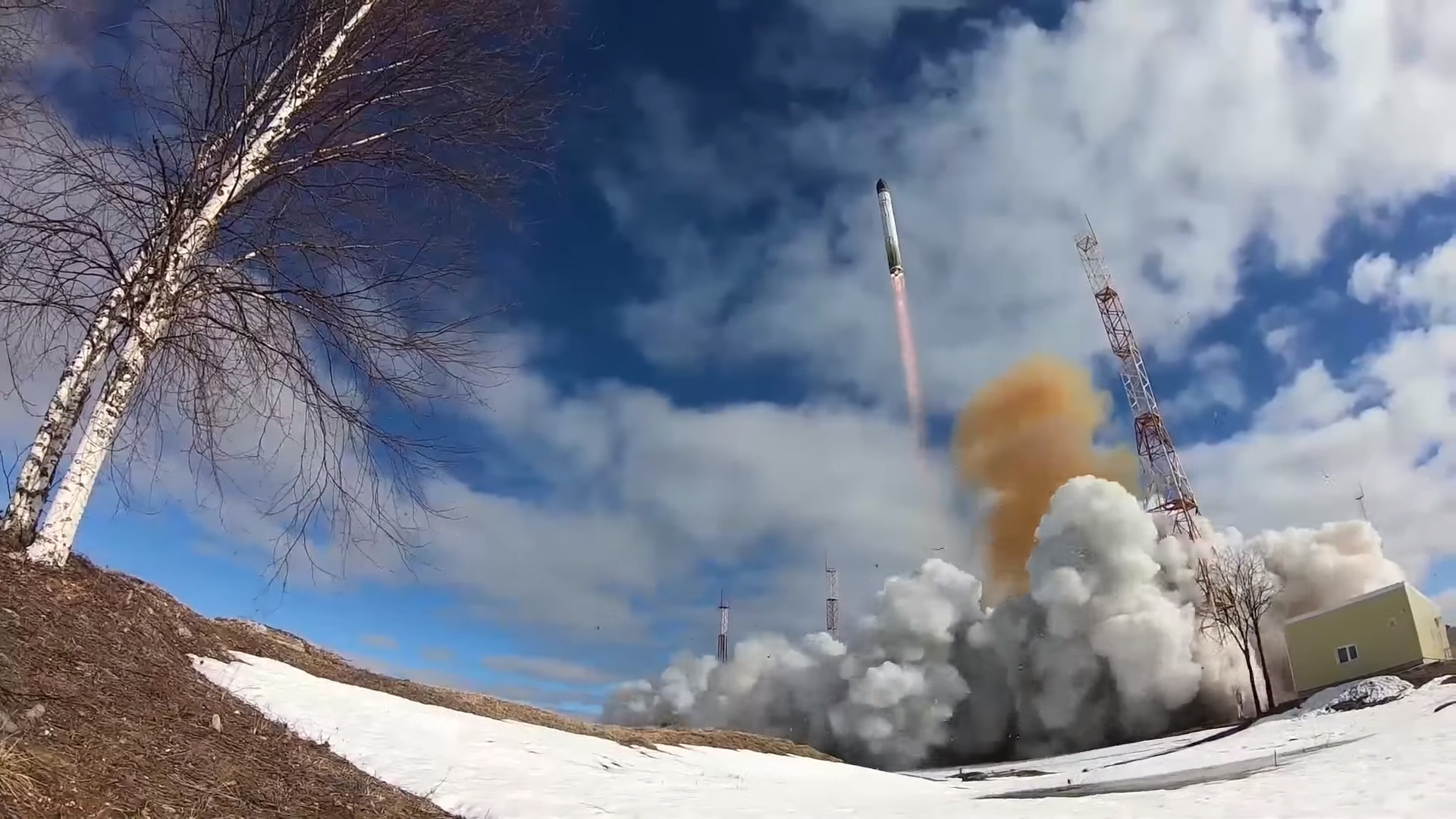 As tensions rise in Ukraine's ongoing conflict, there has been a rising fear that the rest of the globe will be drawn into the conflict. Earlier, when sanctions were imposed on Moscow, Russian President Vladimir Putin had activated his Strategic Nuclear Command, raising concerns about the possible use of nuclear weapons.
Further, the nuclear threat from Russia has since not been ruled out in the West which became evident when Representative Adam Kinzinger announced recently that he had moved a resolution, which if authorized, would allow the US military to enter the war in the event of Russia using Weapons of Mass Destruction, including biological, chemical and nuclear weapons.
Despite its indirect messaging to Ukraine and the West about a potential nuclear strike, Russia has declared on more occasions than one that it did not intend to use nuclear weapons.
Russian Foreign Minister Sergei Lavrov recently announced that Russia was working to prevent a nuclear war while exuding confidence in his country's ability to adequately retaliate to a potential western attack.
Nuclear Strikes Simulation On Television
The scary assertions about Russia's nukes were made on one of the country's most famous television shows.
Olga Skabeyeva and Evgeny Popov hosted the show, and visitor Aleksey Zhuravlyov declared, "One Sarmat [missile] and that's it – the British Isles are no more."
"But we are serious people," said Skabeyeva, who has been dubbed the "Iron Doll of Putin TV" for her criticism of opposition groups, warned, and she was assured that he was "saying that sincerely. They're accusing us of state terrorism."
Russia had recently tested fired its nuclear-capable Sarmat Inter-continental ballistic missile amid increased lethal aid to Ukraine. The first Sarmat intercontinental ballistic missile (ICBM) regiment could enter service as early as the end of 2022 in Uzhur, Russia, where the infrastructure at the Uzhur Rocket Division is already complete.
As the Kremlin propaganda show progressed, host Skabeyeva pointed out that the UK was also a nuclear-armed state and in case of a war, nobody would survive.
The show then presented a diagram of how the missiles could be launched from Kaliningrad; a Russian enclave sandwiched between Poland, Lithuania, and the Baltic Sea. It stated that a nuclear assault could destroy Berlin in 106 seconds, Paris in 200 seconds, and London in 202 seconds, The Mirror noted.
This map was broadcast on Rossiya-1. It shows that a Russian Sarmat based in Kaliningrad can nuke Berlin in 106 seconds, Paris in 200 seconds and London in 202 seconds. pic.twitter.com/KOwe9RdkOY

— Samuel Ramani (@SamRamani2) April 29, 2022
While a nuclear warning is certainly unprecedented, it is not the first time that Russia has issued an armed threat against the West in general and the UK in particular.
Russian President Putin had declared only a few weeks ago that his country's hypersonic missiles could "breakthrough all current defenses" and that they would be ready to lay siege to the United Kingdom "by autumn."
In March, Russia became the first country ever to use a hypersonic missile in combat as it fired its Kinzhal on a military facility inside Ukraine. The move had drawn widespread global condemnation.
Russian warnings to the UK are indicative of its disenchantment with British arms flowing into Ukraine, including some lethal ones that have caused massive losses to the invading Russian troops.
The UK has dispatched anti-tank weapons, anti-aircraft weapons, long-range artillery, and armored vehicles, just to name a few. The western assistance flowing into Ukraine has allowed it to resist a decisive move by the invaders, which has irked the Russians who aspire to swiftly seize the Eastern Ukrainian territory of Donbas.
As the war drags on, Richard Sherriff, the former NATO chief, has cautioned the West that it needed to "gear itself up" for a probable "worst-case scenario" with Russia. This came amid allegations that top military officers are urging Putin to declare all-out war on Ukraine during the country's upcoming Victory Day parade.
With Kremlin's nuclear threat, the tensions are only expected to get worse in a conflict that is now in its third month and has led to thousands of casualties and unprecedented human destruction.