President Alexander Lukashenko announced that Russian-origin Sukhoi Su-24 'Fencer' jets used by the Belarus Air Force would be modified to fire nuclear weapons. Lukashenko was visiting the S. Vavilov Minsk Mechanical Plant, the management company of the BelOMO holding company, which produces optical devices.
Why Super Power US Needs Allies & Partners To Counter Upcoming Super Power China In The Indo-Pacific
"We once announced with Putin in St. Petersburg that we are re-equipping Belarusian Su-24 planes so they can carry nuclear weapons. Do you think we're just talking? Everything is ready!" he said, adding that Belarus is ready to respond to threats from the West adequately. He also warned that if the Western countries escalate, "no helicopters, no planes will save them."
Lukashenko's provocative statement comes as Russia's military intervention in Ukraine enters its seventh month. Russia has taken nearly all of the breakaway Donbas and is expected to take over the pro-Russian Odesa and Kherson in the south.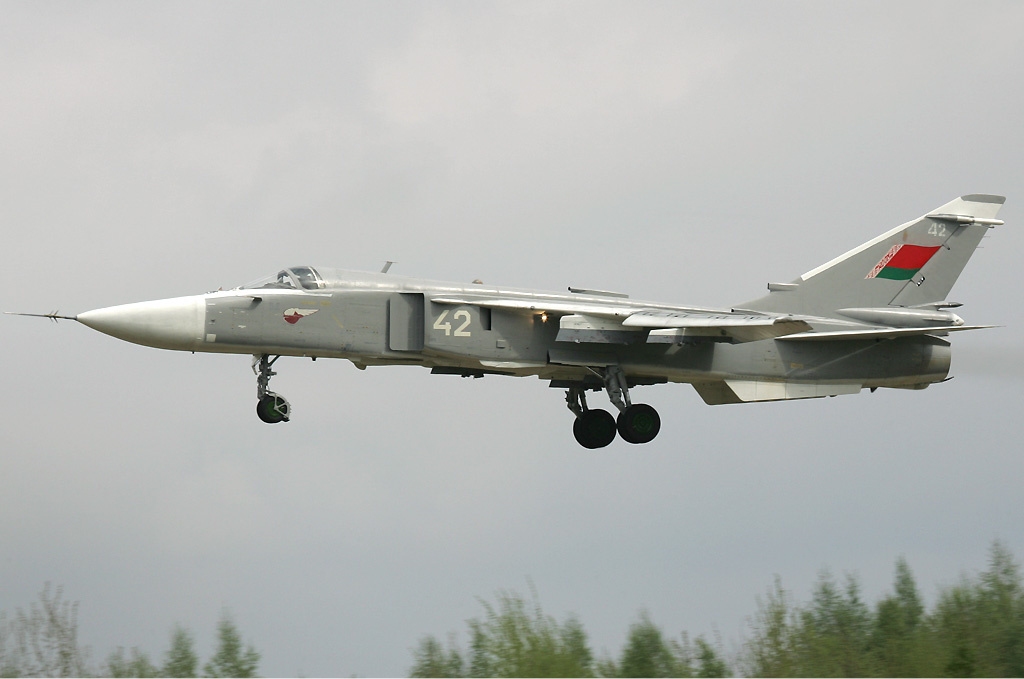 The US and Europe have shown no signs of abating the conflict by encouraging peace talks, where the former has continued weapons sales to Ukraine. Lukashenko believed he was the target of regime-change protests in 2020-2021, which he claimed were covertly backed by the US.
While Belarus has not directly participated in the war by militarily aiding Russia with men or material, it has allowed its territory to stage Russian military incursions into northern Ukraine. It, too, has been hit by hard-hitting western sanctions following its crackdown on protestors, which has kept Lukashenko in power and solidified his pro-Russian position.
Nuclear Capable Sukhoi Su-24
Su-24 (Fencer) is a Soviet jet bomber with variable geometry or swing wings, where the main wings can retract to the front and back. This regulates airflow around the aircraft, thereby airspeed and even maneuverability, giving the pilot a tool beyond just the engine for such kinematics.
In response to the American F-111, some other Russian swing-wing aircraft include the MiG-23 and the MiG-27, both used by the Indian Air Force (IAF).
Like the Sukhoi Su-34 fighter-bomber and the F-111, the Fencer has a side-by-side seating arrangement. More than 900 Su-24s were produced, and the aircraft is also in service with the air forces of Azerbaijan, Algeria, Kazakhstan, Libya, Syria, Sudan, and Ukraine, besides the Russian Air Force and Navy.
The all-weather, day and night capable jet was designed to penetrate enemy air defenses and destroy ground and surface targets. Russia also produced reconnaissance and Electronic Warfare (EW) variants of the Su-24. Belarus is believed to be using the Su-24M variant.
The Su-24M has a maximum speed of 1,550 kilometers an hour, a range of over 3,000 kilometers, and can fly at the height of 36,000 feet with a maximum rate of climb of 29,527 feet a minute. Powered by two Saturn/Lyulka AL-21F-3A after-burning turbojets, each produces a thrust of 11,200 kilograms. Fuel is accommodated in fuselage integral tanks.
According to Air Force Technology, two external tanks with a capacity of 3,000 liters each can be suspended from the center-wing section, with one 2,000-liter external fuel tank suspended from the fuselage.
This upgraded Su-24M (Fencer-D) is a far more capable aircraft that entered service in 1986 with newer avionics, an Orion-A forward-looking attack, and terrain following radars. It also had a Kaira 24 laser and TV sighting system, which allowed it to fire Precision Guided Munitions (PGM).
The Fencer-D has a retractable air-to-air refueling probe above the nose and can carry a fuel tank for 'buddy refueling' purposes in the center-line belly.
Belarus Might Not Be Bluffing!
Belarus is likely to gain Russian-supplied nuclear weapons, even though it does not have a domestic nuclear weapons program, in a bid to deter Europe and NATO.
On June 25, Putin and Lukashenka met in St. Petersburg, where the former said that Moscow would supply Minsk with Iskander-M missile systems, adding that delivery would take place within a few months.
The Iskander-M is a mobile guided-missile system with a range of up to 500 kilometers. It has been used extensively as a tactical battlefield weapon against Ukrainian targets with conventional warheads.
This lends credence to Lukashenko's claim about making his Su-24s nuclear-delivery capable, consistent with its previous "military-technical cooperation" with Russia.
"It's not a good idea to escalate things with Belarus because that would be an escalation with the Union States (of Russia and Belarus) which has nuclear weapons. If they create problems…the response will be immediate," he said.
Lukashenko, however, "honestly" admits that "at the moment, they (Ukrainians) are not escalating the situation at the border." Belarus is also armed with Su-25K, Su-27, and Su-30SM fighters, which are believed to have been transferred from Russia.