Major world powers imposed a slew of new sanctions on Russia soon after President Vladimir Putin ordered a full-scale invasion of Ukraine in the early hours of February 24.
India being a major importer of Russian weapons, EurAsian Times talked to many experts to understand if curbs on Russia would have any impacts on existing deals between Moscow and New Delhi.
According to a 2020 report by the Stimson Center, an American think tank, 86% of India's weapons are of Russian origin. Between 2014 and 2020, India purchased 55% of its weapons from Russia.
In the wake of the western sanctions on Moscow, some defense experts expressed fears that India's military faced the "grim and worrying prospect of interrupted and interminably delayed Russian defense kit, critical to ensuring operational readiness", said an article published by The Wire.
"They said such disruptions acquired 'grave ramifications' at a time when India faced a collusive threat along its disputed northern and western borders from nuclear rivals Pakistan and China, operating in tandem," it added.
However, Russia had earlier assured India that while Western sanctions would cause anxiety and mistrust, Moscow was looking forward to implementing its "big defense plans" with New Delhi. However, as newer sanctions keep coming in, the possibility of a broken supply chain becomes inevitable.
India is procuring the S-400 air defense systems from Russia, some of which are stationed in Punjab in north India to thwart a potential attack from, both China and Pakistan. It also recently signed a contract for AK-203 rifles with production slated to begin in India soon. Any delay could leave the Indian infantry at borders with China and Pakistan, high and dry.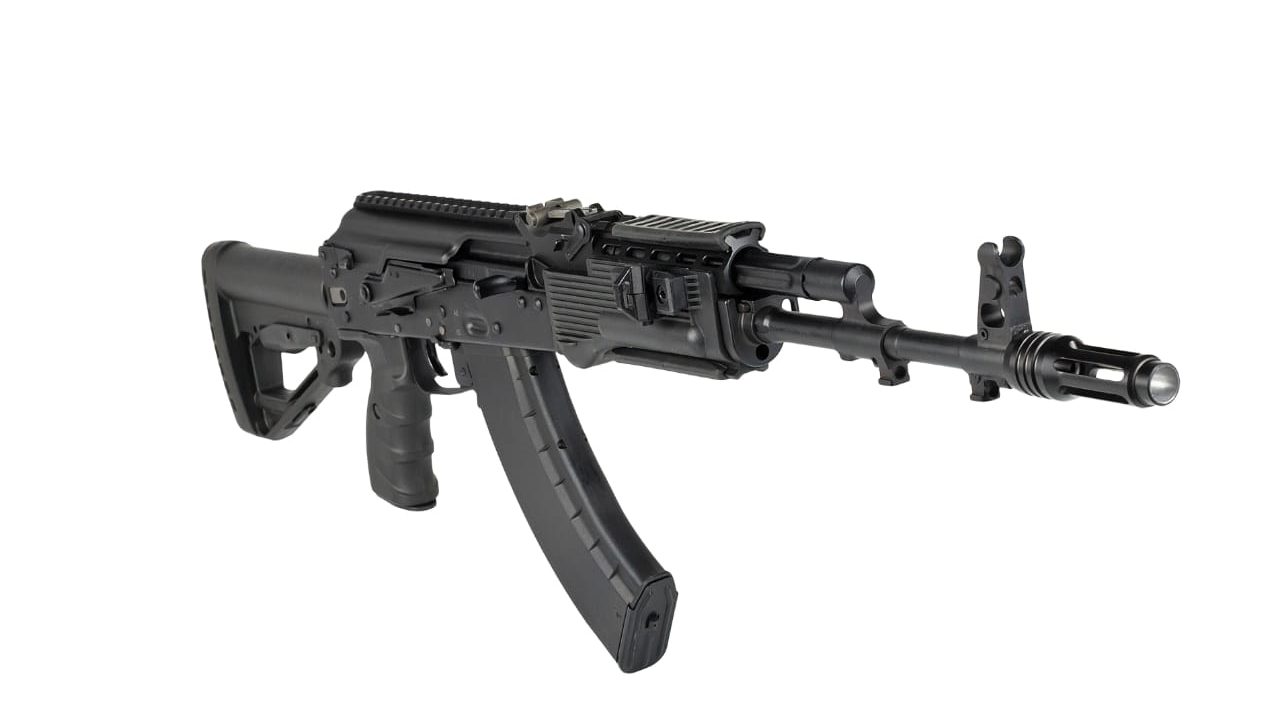 India is also procuring warships from Russia and the most difficult, according to officials, is the $950 million contract signed in 2018 for the supply of four sophisticated Talwar class stealth frigates to the Indian Navy. The battleships are supposed to be powered by gas turbine engines supplied by a Ukrainian firm. The Russian invasion makes the process complicated.
However, the most worrisome could be the BrahMos. Sanctions imposed by the United States and Europe on Russia could jeopardize India's recent $375 million BrahMos cruise missile export contract with the Philippines.
The missile system's engine and seekers were likely provided by Russia's NPO Mashinostroyenia (NPOM), which created a joint venture with India's government-run Defense Research and Development Organization (DRDO) to design, upgrade, and produce BrahMos.
And, if embargoed, it could jeopardize India's first large overseas deal, which was announced by the Ministry of Defense (MoD) to increase the country's defense exports to $5 billion by 2025. Other countries like Indonesia, Thailand, and Vietnam have also shown interest in the missile. In case of technical and supply chain-related impediments, it would be a disaster for India.
The new round of sanctions is expected to target large Russian banks to prevent them from transacting in dollars. Additionally, western exports to Russia – computers, microchips, software – would also be banned.
How Do Sanctions Affect India?
Squadron Leader (retd) Vijainder K Thakur, a military analyst and former IAF Jaguar pilot, clearly said these sanctions would not affect India.
"I don't believe the new sanctions will impact India's existing weapon system procurements from Russia. For instance, our S-400 procurement doesn't involve USD transactions & BrahMos Aerospace is an Indian (majority holding) company.
"As far as logistics and maintenance of defense equipment procured from Russia go, India & Russia are increasingly relying on localized production of spare parts and maintenance joint ventures with Indian majority holdings.
"One interesting aspect of the Russia-Ukraine conflict would be that India had been sourcing a lot of spares for Soviet-era military equipment from Ukraine because Russia had upgraded its equipment to use Russian subcomponents only. Now it will only have to deal with Russia only.
"In order to shield itself from future CAATSA sanctions, India & Russia are already avoiding USD sanctions. It is likely, that in the days ahead, India & Russia would also have to avoid Euro transactions." 
Under the Countering America's Adversaries through Sanctions Act (CAATSA), the US is continuing to talk to India about the risks of sanctions for its acquisition of the S-400 missile system from Russia. However, it hasn't made a decision "with regard to this transaction", the State Department said in January this year.
The US continued to "urge all countries to avoid major new transactions for Russian weapon systems," whether it was India or any other country, according to state department spokesman Ned Price.
Washington had imposed sanctions on its NATO ally Turkey for going ahead with its purchase of the S-400 air defense system and also expelled it from the F-35 consortium. However, experts and observers had until now been optimistic about a waiver of sanctions for India, given its strategic significance for the US in containing China in the Indo-Pacific region.
"For the moment, India's biggest worry is the CAATSA exemption which is yet to come through. If the US decides not to exempt India from the CAATSA sanctions for buying Russian S-400 systems, it would be a major setback for India. How some of the other US/Western sanctions against Russia would impact India is unclear as of now.
But there is little doubt that a prolonged military standoff would negatively impact India-Russia defense cooperation", said Happymon Jacob, Professor of National Security in School of International Studies, Jawaharlal Nehru University, New Delhi.
According to Joseph P Chacko, a military author and defense analyst, "The Russian military export arm Rosoboronexport has nearly abandoned the US currency. India and Russia now trade in Rupee and Roubles and sometimes in other currencies like Euro. The arrangement ensures that the Russian payments will be settled even if Russia is cut off from the SWIFT gateway.
"The US financial sanctions do not affect India-Russia arms trade. But CAATSA is the law that can potentially affect Russian weapon supplies to India and has not been used so far.
Another important aspect is that the Indian arms purchases contribute hugely to Russia's arms exports but is minuscule compared to the contribution to the Russian GDP. Even the total Indian annual trade with Russia is under $10 billion. Why should the US lose an anti-China ally for such small reasons?"
The comments from experts indicate that the decision of India and Russia to relinquish trading in dollars could potentially become a saving grace for the Indian military, which faces a two-front war threat from Pakistan and China.
Even though New Delhi shares a close defense relationship with Washington and has received several weapon systems from it and other western countries like France, the Russian armament cannot be substituted in the Indian military and an unhindered supply and production of systems remains indispensable for operational preparedness.
Russian materiel awaiting delivery to India includes four S-400 surface-to-air (SAM) missile systems, four Admiral Grigorovich Project 1135.6M frigates, the leasing of one more Project 971 'Akula' (Schuka-B)-class nuclear-powered submarine (SSN), and the provision of 20,000 Kalashnikov AK-203 7.62x39mm assault rifles, which were part of a deal signed.
In addition, India had reached agreements with Russia to supply it with a variety of missiles, including man-portable Very Short Range Defence Systems (VSHORADS), ammunition, and ordnance for use by the Indian Army (IA), which has been locked in a standoff with China's People's Liberation Army (PLA) in eastern Ladakh since May 2020.