Ukraine appears to be edging closer to achieving its longstanding goal of obtaining Western fighter jets, with the potential transfer of US-manufactured F-16 Fighting Falcons and Swedish SAAB Gripen fighter jets anticipated within the next few months. 
After months of persistent appeals to strengthen the Ukrainian air force, President Volodymyr Zelenskyy's visit to the Netherlands and Denmark yielded promising results.  
It has been announced that once pilot training reaches satisfactory levels, the Netherlands and Denmark could collectively provide a total of 61 F-16 fighter jets to Ukraine.
Expressing steadfast solidarity with Ukraine's quest for freedom, Denmark's Prime Minister, Mette Frederiksen, declared her nation's commitment to contributing 19 jets. 
She outlined a tentative timeline, aiming to donate six jets around the new year, followed by eight more the following year, and the remaining five in 2025. 
F-16s will instill fresh confidence and motivation in both warriors and ordinary citizens. They will produce fresh results for Ukraine and the rest of Europe.

I thank you once again, dear @MinPres Mark, @Statsmin Mette, your teams, and the peoples of the Netherlands and Denmark. pic.twitter.com/ffSdtMHkfI

— Володимир Зеленський (@ZelenskyyUa) August 20, 2023
Frederiksen highlighted that more than 70 Ukrainian crew have already reached Denmark to undergo training on F-16 aircraft. 
On the other hand, Netherlands' Prime Minister Mark Rutte refrained from specifying the exact count of the Dutch contribution. However, he noted that the Netherlands has 42 F-16s in its air force. 
The country is already replacing these aircraft with more sophisticated US-manufactured F-35 fifth-generation fighter jets. 
During a shared press briefing with the Ukrainian president at the Eindhoven Airbase, Rutte said, "Today we can announce that the Netherlands and Denmark commit to the transfer of F-16 aircraft to Ukraine and the Ukrainian air force."
He added that the aircraft will be transferred from existing stockpiles once the requirements for such a handover have been fulfilled. 
Zelenskyy preferred not to comment on the probable dates for the conclusion of the exercises and the subsequent aircraft transfer. 
Furthermore, Zelenskyy also shared a photograph in which he and Mette Frederiksen can be seen seated inside the cockpit. He confirmed that a deal had been established to bolster Ukraine's air defense capabilities.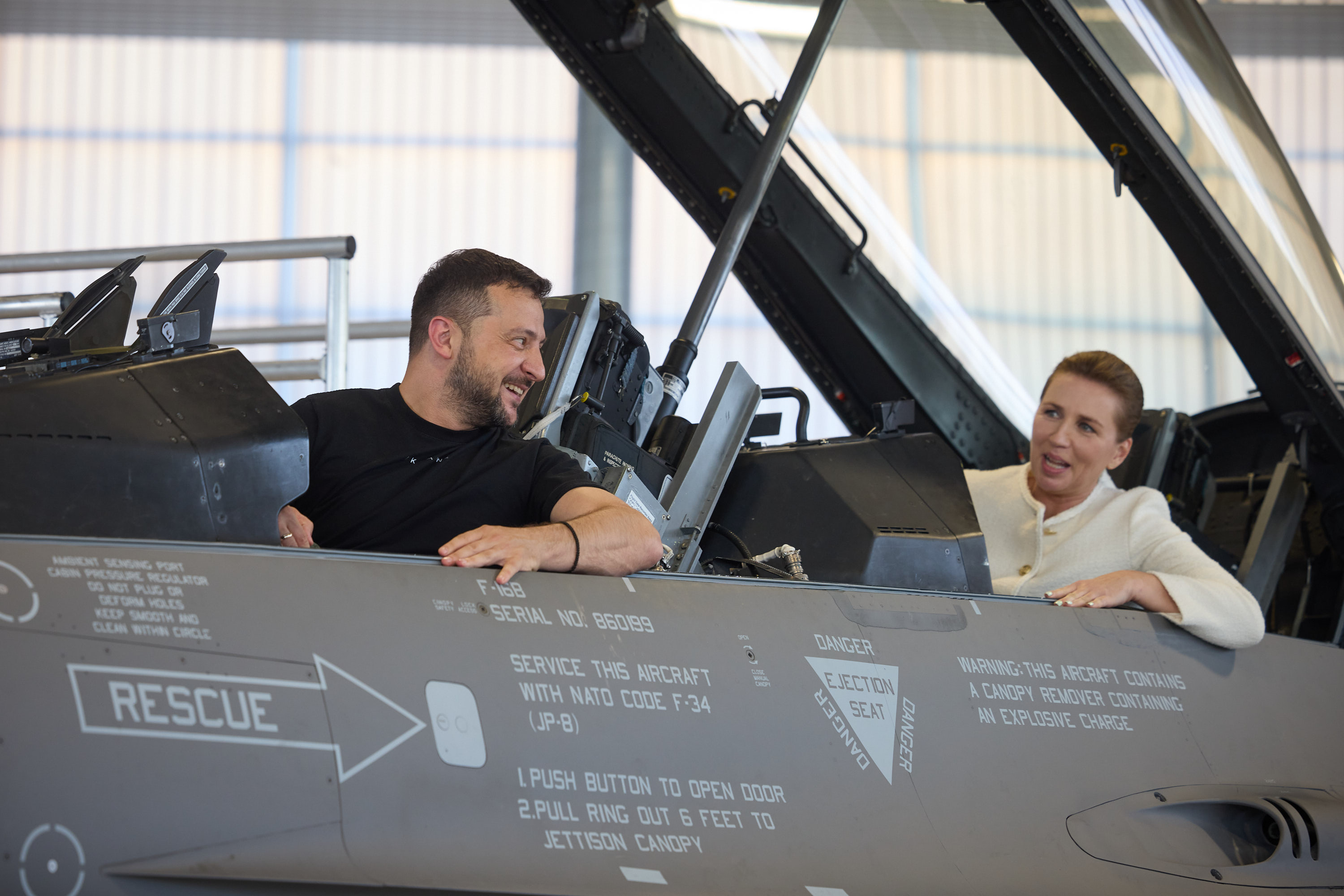 Besides that, in contrast to Rutte, Zelenskyy exhibited a more resolute stance regarding the quantity he anticipated from the Netherlands.
He said, "Mark Rutte and I reached an agreement on the number of F-16s to be transferred to Ukraine once our pilots and engineers have completed their training. Forty-two jets, and this is just the beginning."
To fulfill the prerequisites for the F-16 transfers, Ukrainian pilots must first undergo at least six months of training on the aircraft, following the conditions established by the US.
The recent decision by the Biden administration represents a significant reversal, as over the past year, it had declined to authorize any aircraft transfers or training due to concerns about potential escalation with Russia. 
This shift signals a fresh sense of urgency from Washington in expediting the deployment of fighter jets to the frontlines, driven by escalating apprehensions about the pace of Kyiv's counteroffensive efforts.
Swedish Gripen To Appear In Ukrainian Skies
Ukraine is seeking to arm its Air Force with Swedish Gripen fighter jets, often touted as a better-suited option due to their compatibility with the country's rugged and constrained infrastructure. 
On August 20, Zelenskyy also declared that the Ukrainian military had commenced engagement in test flights involving the Swedish Gripen combat aircraft. 
He said: "We are trying very, very hard to increase the capabilities of military aviation. This is one of the hardest tasks, but I am sure: we will accomplish it."
He further elaborated, stating that Ukraine has now achieved a breakthrough with respect to Gripen fighters, describing them as "cool and modern Swedish combat aircraft."
Through a gradual process of negotiations, Ukraine is steadily advancing towards the point where "Gripen fighters will appear in our sky," he added. 
Designed with utmost efficiency and dependability in mind, these fighters belong to the light-to-medium weight category. The capabilities of Gripens are strategically crafted to enable swift maintenance even in remote settings, managed by compact teams, predominantly comprising conscripted ground personnel.
The very essence of their design revolves around facilitating widespread deployment in the most rigorous and prolonged wartime scenarios, especially within severe cold environments. 
Propelled by a single F404-derived engine, these aircraft exhibit notably efficient fuel consumption compared to choices. 
Given the aircraft's limited user base and numbers, Ukraine may encounter challenges in managing logistics and maintenance operations effectively. 
Furthermore, Zelenskyy engaged in discussions with the Prime Minister of Sweden and delegates from various Swedish parliamentary parties. Zelenskyy also highlighted that Sweden is partnering with Ukraine to manufacture CV90 armored vehicles in the war-torn country.