North Korea says it has test-fired long-range cruise missiles, with Kim Jong-un hailing the successful exhibition of the country's tactical nuclear strike prowess.
The test, which took place on Wednesday, aimed at "enhancing the combat efficiency and might" of cruise missiles deployed to the Korean People's Army "for the operation of tactical nukes," state media KCNA reported.
According to reports, the nuke-capable missiles traveled around 2,000km over the sea, according to KCNA, and the missiles hit their targets.
Emphasizing that the missile test was another clear warning to "enemies," Kim Jong-un said the country "should continue to expand the operational sphere of the nuclear strategic armed forces to resolutely deter any crucial military crisis and war crisis at any time and completely take the initiative in it."
Earlier, North Korea claimed that it conducted a joint air-attack drill overseen by Kim Jong-un on October 8 with 150 of its warplanes, NK News reported.
The images from the alleged exercise that flooded social media showed fighter jets, including Su-25, MiG-29, MiG-23, MiG-21, and MiG-19 — all Soviet-era archaic fighter jets.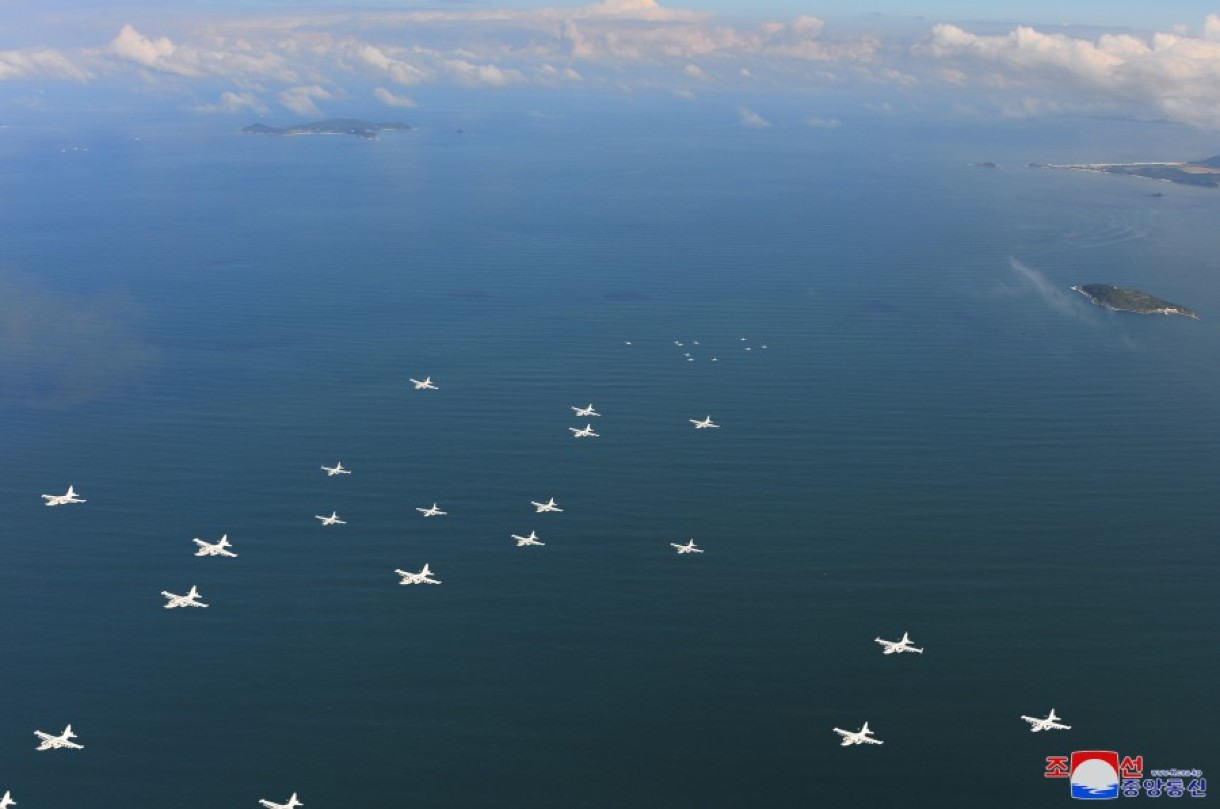 According to the report, North Korea alleged that the Republic of Korea (RoK) military knew about the planned flight and scrambled F-35A fighters from its Air Force. However, since the DPRK kept the planes north of a "special reconnaissance line," South Korea did not make these maneuvers public.
North Korea ?? claims 150 combat aircraft involved in large-scale combined air-attack drill on 8 Oct.

Su-25, MiG-29, MiG-23, MiG-21 & Mig-19 visible. pic.twitter.com/FWqWU63uNZ

— Joseph Dempsey (@JosephHDempsey) October 10, 2022
This disclosure comes after the RoK military announced on October 6 that twelve North Korean military aircraft flew in formation and ostensibly carried out a fire exercise in retaliation for previous military exercises between South Korea and the United States, as previously reported by Yonhap News Agency.
At the time, Joint Chiefs of Staff (JCS) informed that the group of eight fighter planes and four bombers staged the formation flight north of the inter-Korean air boundary at around 2 pm. They were believed to have practiced air-to-surface firing.
According to the DPRK's party daily, the aviation corps carried out missions of close raids and bombing flights and the missions of striking an islet, which was claimed to be the enemy's military base.
Breaking: 12 North Korean warplanes fly in formation, apparently stage air-to-surface firing drills – South Korean military

— Faytuks News Δ (@Faytuks) October 6, 2022
The South Korean military sent their planes to an unspecified area to demonstrate an "overwhelming" show of force, even though that line is far north of a no-fly zone that the two Koreas agreed to in 2018, as well as another recon line known as the Tactical Action Line (TAL).
According to military experts, small-scale aerial exercises like the one on October 6 and substantial DPRK flights close to the air boundary like the one on October 8 are unusual. This is especially true when US strategic assets are present in the region.
A few hours after North Korea tested an intermediate-range ballistic missile (IRBM), the US and ROK militaries conducted a similar exercise, using a fighter jet to drop "precision" bombs on mock targets. The two together referenced Seoul's Kill Chain doctrine, which outlines procedures for attacking North Korean launch sites and command and control structures before an impending attack.
However, a more concerning precedent that has made the entire region and the United States erupt into chaos is the state media releasing the first pictures of a recent barrage of launches showing the supreme leader Kim Jong-un overseeing 'tactical nuclear drills.'
Nuclear Scare In Korea
North Korea has claimed that its recent missile launches were in reaction to joint naval drills between the United States and South Korea. They were "tactical nuclear" exercises personally overseen by leader Kim Jong-un.
In the early hours of October 9, North Korea launched two ballistic missiles, making it the country's eighth launch in about two weeks. State broadcaster KCNA stated that Kim Jong-un oversaw the drills involving ballistic missiles carrying dummy nuclear warheads directed by "tactical nuclear operations units."
The various tests replicated attacking military command centers, essential ports, and airports in the South, according to KCNA. "The effectiveness and practical combat capability of our nuclear combat force were fully demonstrated as it stands completely ready to hit and destroy targets at any time from any location," the report said.
"Even though the enemy continues to talk about dialogue and negotiations, we do not have anything to talk about, nor do we feel the need to do so," KCNA quoted Kim.
Since state media no longer routinely comments on launches, analysts said that the KCNA statements about Pyongyang's recent tests indicate Pyongyang is worried about the recent US-led joint drills.
It is pertinent to note that North Korea has reportedly finished preparations for a new nuclear test, which would be the nation's seventh and first since 2017. Officials in Washington and Seoul have been issuing warnings about this for months.
At a crucial party convention in January 2021, Kim said that developing tactical nukes —smaller, lighter weapons intended for battlefield use — was his top priority. The tactical nuclear drills have set alarm bells ringing not only in neighboring South Korea, which would come under attack first but also in Japan, which saw a missile flying over it last week, and the United States.