North Korea's overall military capabilities and its development of nuclear warheads have been a talking point for years now. However, its latest claim of having acquired hypersonic glide vehicles has caused panic in the neighborhood and among Western countries.
North Korea on January 5 released a photo of a test of a hypersonic boost-glide vehicle. However, this isn't the first time that North Korea has tested its hypersonic technology.
In September last year, it claimed to have successfully tested a hypersonic boost-glide vehicle, and in October, it displayed what appeared to be the same weapon, called the Hwasong-8, at an extravagant military expo in Pyongyang.
The latest test is of a new missile that was initially presented at that expo and has a different glide vehicle configuration, according to North Korean officials. This test was performed even as the nuclear talks with the US remains stalled.
2nd Hypersonic Test In Less Than 6 Months
The "hypersonic glide warhead" split from its rocket booster and maneuvered 120 kilometers (75 miles) laterally before "precisely hitting" a target 700 kilometers (430 miles) away in the latest test, according to the state news agency, KCNA.
It said the missile displayed "multi-step glide leap flight and strong lateral maneuver". The test confirmed components such as flight control and the aircraft's capacity to operate in the winter.
According to the KCNA article, "successful test launches in the hypersonic missile sector have strategic significance in that they speed a task for modernizing the state's strategic armed force."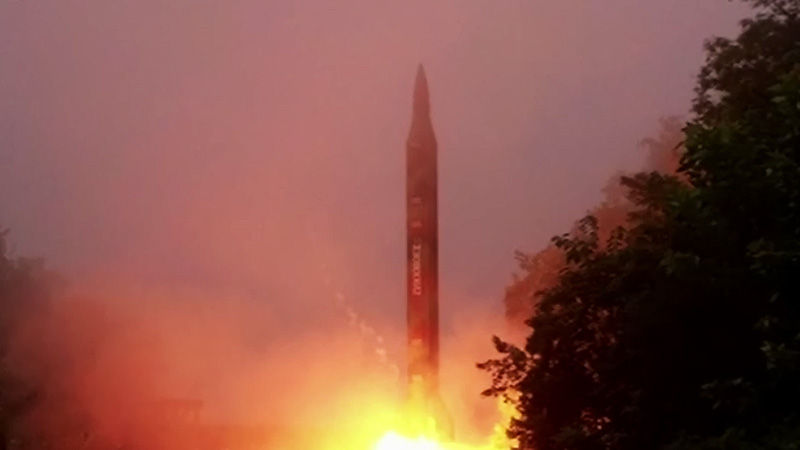 The explicit mention of 'strategic armed force' by the state news agency could raise concern among its adversaries. North Korea has been aggressively investing in the development of nuclear-capable ballistic missiles.
The unequivocal criticism from South Korea, Japan, and the United States is indicative of the threat posed by a nuclear-armed North Korea with hypersonic capabilities.
The glide vehicle used in the January 5 test is not the same as the one seen in the September 2021 test and at the arms expo a month later. This one has a cone-shaped (conical) lifting body whereas the other had a wedge-shaped one.
China's DF-17 and Russia's Avangard systems both adopt the latter of the two forms. However, the US uses conical-shaped systems according to experts.
The new North Korean missile is liquid-fuelled and features an "ampulized" rocket booster. Ampulization is a Soviet-era concept that refers to factory-sealed liquid-fuelled rocket motors that are considerably easier and safer to handle.
Apparently, this concept makes it easier to deploy and fire the missile swiftly, minimizing its vulnerability to pre-emptive strikes.
Actual Capability or Mere Propaganda?
Experts, however, have expressed skepticism about North Korea's hypersonic test, if at all, it was true and not mere propaganda.
"A hypersonic missile that can defeat advanced missile-defense systems is a game-changer if a nuclear warhead is mated to it," Drew Thompson, a former United States Defense Department official and a visiting senior research fellow at the Lee Kuan Yew School of Public Policy at the National University of Singapore, had said after the September test. But he expressed doubt about the latest test, "That's a huge if. Having it and wanting it is not the same thing.".
#UPDATE North Korea successfully tested a hypersonic missile on Wednesday, its first major weapons test this year, said a state media report. KCNA said it "precisely hit" a set target 700km (434 miles) away. pic.twitter.com/7uyiH14b5h

— Mowliid Haji Abdi (@MowliidHaji) January 6, 2022
In its announcement, North Korea went into great detail, claiming to have a high level of mastery over hypersonic boost-glide vehicle technologies. Without access to confidential intelligence acquired by South Korea, the United States, and Japan, it's difficult to say how much of it is true.
Manpreet Sethi, Distinguished Fellow and Head of the program on nuclear security at the New Delhi-based Centre For Airpower Studies (CAPS) told The EurAsian Times — "There is no real way of verifying DPRK's claims except for experts to study the pictures released of the missile test and make assessments based on that.
There is also no real reason to doubt that DPRK has been steadily making advances in its missile technologies. Hypersonic missiles will give DPRK the assurance of being able to penetrate the missile defenses, the THAAD, that the US has placed over South Korea and Japan. These missiles will be able to evade the defenses and cause nuclear damage.
Also, important technology this test demonstrated was the maneuverability of the warhead after detaching from the missile. This also will be a significant development towards defeating missile defenses.
When asked if the US has often underestimated the hypersonic weapon development and focused squarely on ballistic missiles and other strategic weapons, Sethi told The EurAsian Times — The US too has been working on its hypersonic missile capabilities. It is very aware of the developments taking place in its adversaries, China and DPRK, on this front.
In fact, it is also working now on hypersonic missile defenses in order to blunt this advantage. However, this is not going to be easy, is clearly pulling the major powers into an arms race and will also eventually lead to the weaponization of outer space."
It's important to note that those who dismissed the regime's rush to develop an ICBM earlier were proven wrong.
Earlier, when China had carried out its shocking hypersonic test in June last year, CNBC had said that China's missile might fly above the South Pole, citing two anonymous sources acquainted with the development. For the United States, which has missile defense systems aimed at the northern polar route, this might be a significant obstacle.
Now that North Korea has tested its hypersonic strength for the second time in less than six months, it could be even more worrying for the United States and its allies.
Further, there are several concerns surrounding the support that North Korea could receive from a very covert and sophisticated network that potentially adds to Washington's concerns.
"North Korea has been part of a proliferation network. Several countries, including Pakistan and China have been feeding the network. All kinds of nuclear goods and services are transacted in it.
In 1998, Pakistan is believed to have tested a plutonium bomb for the network. Later, North Korea tested a 'hydrogen' bomb/ boosted fission device for the network. There is no surprise if the proliferation network helps North Korea in assembling a hypersonic weapon," Rajiv Nayan, Senior Research Associate at Manohar Parrikar Institute of Defence Studies and Analysis told The EurAsian Times.
Countries That Boast Hypersonic Power
New information on the United States Air Force's highly classified Mayhem hypersonic air vehicle program has surfaced. According to reports, it will be equipped with a modular experimental design that can be modified to carry one of two types of payloads for strike missions or a sensor package that will allow it to undertake "responsive" intelligence, surveillance, and reconnaissance, or ISR, sorties.
Earlier, reports had suggested that a third hypersonic test by the United States had also resulted in a failure. So while countries like North Korea, Russia and China claim to have hypersonic weapons, the US has until now lagged behind on that front.
However, last September, the US Air Force had successfully tested the Hypersonic Air-breathing Weapon Concept (HAWC) vehicle. The US Department of Defense (DOD) had announced in 2020 that an unarmed hypersonic weapon was tested in Hawaii. The test of the hypersonic glide body was reportedly a success, according to the Pentagon.
The country that has made spectacular strides in augmenting its hypersonic weapon development in recent times is China. Last year, it conducted a test of a hypersonic glide vehicle that circled the globe and missed the target from a very close distance.
Later, it was learned by the Pentagon that the glide vehicle also fired a submunition into the South China Sea — a capability that neither the United States nor Russia seems to possess.
It has since unveiled or announced advanced wind tunnels that power the hypersonic flight. Even though China has denied any nuclear character associated with its hypersonic missile, suspicions have remained.
The Russian MoD published some statistics on test launches of the #Tsirkon #hypersonic missile:
– "Approximately 10 launches" carried out by the Northern Fleet's (NF's) Admiral Gorshkov FFG.
– "Two test launches" carried out by the NF's Severodvinsk SSGN.https://t.co/rF3iKKyZW6 pic.twitter.com/Euv3MQmFqq

— Guy Plopsky (@GuyPlopsky) January 3, 2022
Another country with hypersonic missiles is Russia that recently test-fired 10 Zirkon hypersonic missiles from a frigate and two from a submarine that Putin hailed as "a big event in the country's life". In one of his most bellicose statements in 2018, Putin promised a slew of new hypersonic weapons, claiming they could target practically any point on the globe and bypass a US-built missile shield.
Russia also possesses the advanced 'Avangard' Hypersonic glide vehicle that could be carried as a multiple independently targetable reentry vehicle or MIRV. Another hypersonic missile in the Russian arsenal is the Khinzal. Thus, by virtue of 3 different hypersonic weapons, it boasts itself as the largest hypersonic power in the world.
India, too, has hypersonic technology which it has indigenously developed. In September 2020, the Defence Research and Development Organisation (DRDO) successfully tested a Hypersonic Technology Demonstrated Vehicle (HSTDV) and demonstrated its hypersonic air-breathing scramjet technology.
The DRDO is also thought to be working on a hypersonic anti-ship missile known as the BrahMos-II. According to studies, hypersonic scramjet technology is projected to achieve speeds of almost six times that of sound.
As far as the latest North Korean test is concerned, whatever the new missile's true capabilities are, hypersonic boost-glide vehicles, particularly those with restricted range, are appropriate for North Korea's strategic needs.