North Korean leader Kim Jong Un's assertion on September 8 that his country will never abandon its nuclear weapons and the growing speculations that it is preparing for its seventh nuclear explosion has raised many questions in South Korea and its "Security Treaty partner" United States.
'Rafale Allies' India & Greece Continue To Buy Russian Oil; Are Western Sanctions On Moscow Losing Steam?
Do the two have any countermeasures, individually and at the alliance levels? Does a nuclear North Korea compel South Korea to go nuclear too? These are difficult questions, and their answers may not be fully satisfying.
Kim has now made his "rubber-stamp parliament" pass a new law that spells out conditions where North Korea would be inclined to use its nuclear weapons.
The law requires North Korea's military to "automatically" execute nuclear strikes against enemy forces, including their "starting point of provocation and the command," if Pyongyang's leadership comes under attack.
The new law also says that North Korea could use nukes to prevent an unspecified "catastrophic crisis" for its government and people. In other words, Pyongyang will not hesitate to use its nuclear weapons when threatened proactively.
Kim was referring to the region of the United States and its allies. His latest comments underscored the growing animosity in the area as he accelerates the expansion of his nuclear weapons and missiles program.
"The purpose of the United States is not only to remove our nuclear might itself but eventually to force us to surrender or weaken our rights to self-defense through giving up our nukes so that they could collapse our government at any time," Kim said in his speech in the North Korean parliament.
"Let them sanction us for 100 days, 1,000 days, ten years, or 100 years," he added. "We will never give up our rights to self-defense that preserves our country's existence and the safety of our people just to ease the difficulties we are experiencing temporarily."
Predictably, Kim's assertion has invited global reactions and concerns, mainly from South Korea, the United States, and Japan. These three countries are most affected if and when North Korea fires missiles and conducts nuclear tests.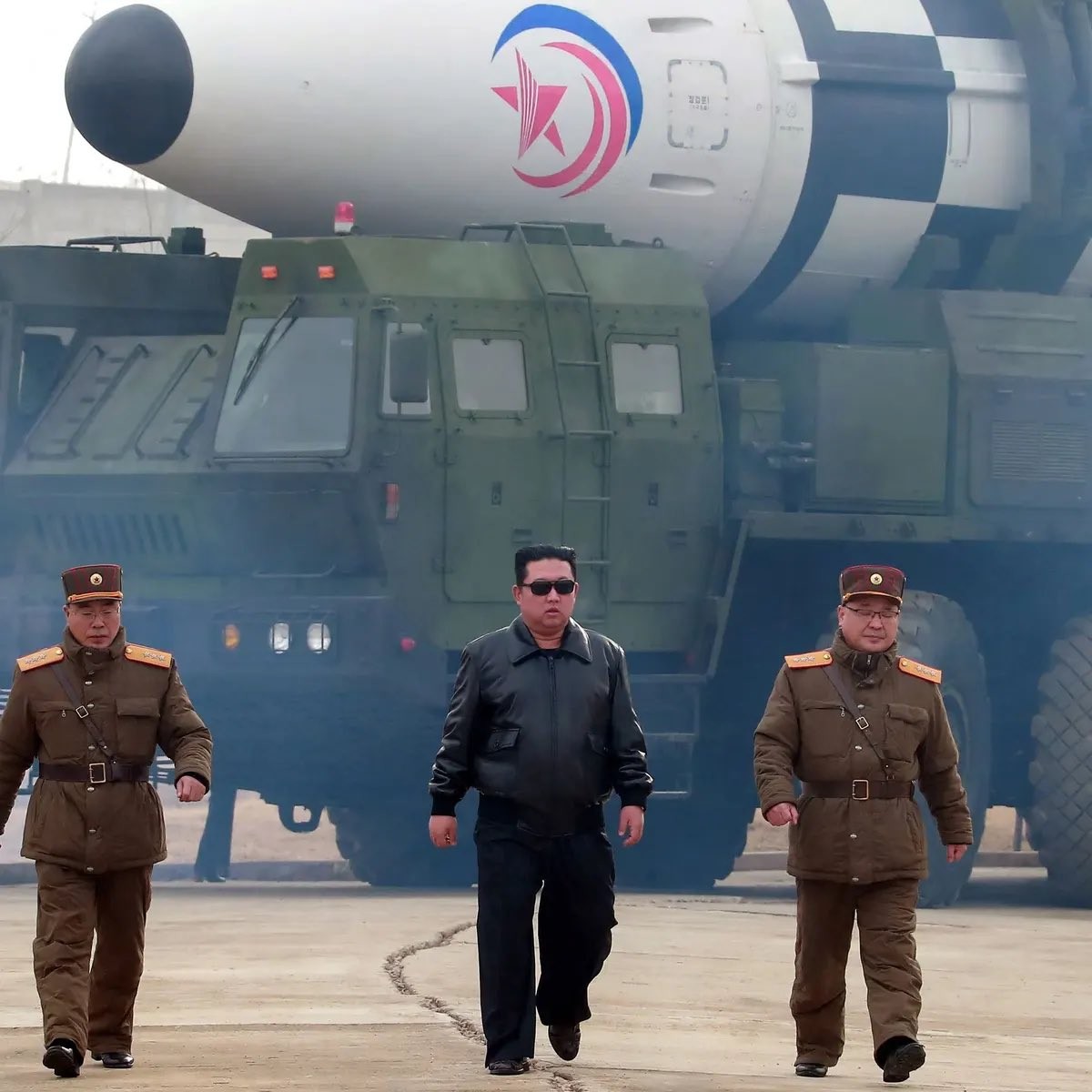 Incidentally, during the current calendar year, the North has already tested more missiles than in any other full calendar year and is on the cusp of a seventh nuclear test (the last one was done in 2017).
Strategic experts are waiting for the response of the officials of the United States and South Korea (Republic of Korea or ROC) when they hold their bilateral "Extended Deterrence Strategy and Consultation Group" (EDSCG) meeting on September 16, 2022. The United States delegation will be led by Ambassador Bonnie D. Jenkins, Secretary of State for Arms Control and International Security, and Dr. Colin Kahl, Secretary of Defense for Policy. The Republic of Korea delegation will be led by Cho Hyundong, First Vice Minister of Foreign Affairs, and Shin Beomchul, Vice Minister of National Defense.
The EDSCG allows the two governments to discuss peace and security on the Korean Peninsula and Indo-Pacific. President Joseph R Biden and President Yoon Suk Yeol of the Republic of Korea agreed to re-establish the EDSCG at the May 2022 Summit in Seoul. This will be the first EDSCG meeting since 2018.
It may be noted that there is the 1953 Mutual Defense Treaty between the United States and ROK, which, over time, has evolved into a comprehensive strategic partnership, serving as a linchpin for security and stability in the Indo-Pacific region.
Over 28,500 US military personnel are stationed in Korea and work closely with the ROK military and United Nations Command member countries to deter and defend against the threat from North Korea (the Democratic People's Republic of Korea or DPRK) and maintain the Armistice Agreement made to halt the Korean War (1950-53).
However, US-ROK security relations had received a big jolt under previous South Korean President Moon Jae-in, who believed in wooing North Korea and China. He stopped placing the American THAAD missiles on South Korean soil against North Korean missile attacks and down-scaled the joint US-ROK military exercises. After 2018, these exercises were reduced to "computer-simulated games."
And the American troops were forced to be redeployed in nearby US territories like Alaska and Hawaii for training. It is pointed out that this adversely affected interoperability, combat readiness, and allied deterrence.
However, under the newly elected President Yoon Suk-yeol, things look promising. He puts a premium on the South Korea-US security alliance and South Korea's onus as an ally. Under him, the suspended US-Joint military exercises have revived (the largest since 2017 concluded on September 1).
Apart from the revival of proper joint exercises, last month (August 16-17), the US and South Korea resumed the Korea-US Integrated Defense Dialogue (KIDD). During this dialogue, the US said it would consider deploying strategic assets to the Korean Peninsula — which could mean anything from nuclear-powered submarines, strategic bombers, or even tactical nuclear weapons — should North Korea issue nuclear threats.
"The two sides affirmed that should the DPRK (North Korea) conduct a nuclear test, the ROK (South Korea) and the US will engage in a strong and firm bilateral response, to include options to deploy US strategic assets to the region," said the Pentagon and South Korea's Defense Ministry in a joint statement.
The statement was in line with remarks made a week earlier by South Korean Defense Minister Lee Jong-sup that the allies would unleash a "high-intensity" response in the event of a nuclear test to demonstrate that Pyongyang's use of such weapons would be "futile." He added, "in case of a strategic provocation, we plan to mobilize not only South Korean military capabilities but also US strategic assets."
No information was provided about the type of strategic assets Washington would consider deploying. US President Joe Biden and his South Korean counterpart Yoon Suk-yeol have previously mentioned "nuclear capabilities" to respond to the North's nuclear threats. This means the assets likely to be deployed could include nuclear-powered submarines and aircraft carriers, strategic bombers, and possibly tactical nuclear weapons if needed.
During the KIDD meeting, Seoul and Washington also acknowledged the progress made toward revising the US-South Korean Tailored Deterrence Strategy (TDS) that was concluded in 2013, saying that this strategy, which is aligned with related US strategies, will enable "effective deterrence of the DPRK's nuclear, other WMD (weapons of mass destruction) and non-nuclear capabilities with strategic effects amidst a dynamic security environment of the region."
In addition, in this meeting, the US-South Korea session explored ways to strengthen capabilities further to deter and counter North Korea's evolving nuclear and missile threats, with Seoul confirming plans to enhance what is said to be its three-axis defense system. US officials reaffirmed the ironclad US commitment to the defense of the ROK, leveraging the full range of US military capabilities—including nuclear, conventional, missile defense, and other advanced non-nuclear capabilities.
Incidentally, South Korea's Defense Acquisition Program administration announced in early August that it has been working on nearly 200 defense projects, including new surveillance satellites, tactical ground-to-ground guided weapons, ballistic missile early warning radar, and long-range surface-to-air missile systems.
Reportedly,  the new South Korean administration under President Yoon has reinvigorated the military planning for preemptive and retaliatory strikes against the North Korean leadership under the so-called Korean Massive Punishment and Retaliation (KMPR) strategy.
Accordingly, South Korea would use conventional missiles to target, among other things, North Korea's leadership—including Kim Jong Un. Though the plan's specifics remain classified, it is understood that "Every Pyongyang district, particularly where the North Korean leadership is possibly hidden, will be destroyed by ballistic missiles and high-explosive shells as soon as the North shows any signs of using a nuclear weapon. In other words, the North's capital city will be reduced to ashes and removed from the map."
Similarly, with the coming of President Yoon, the trilateral security cooperation between Seoul, Washington, and Tokyo that talks of collective remedial measures have improved. Given the bitter history between Japan and South Korea, particularly the memory of the oppressions of the Koreans under Japanese colonial rule, South Korea under President Moon had found it politically incorrect to join hands with Japan.
But the truth is that Japan is critical to South Korea's national security. After all, the US, which also has a Security Treaty with Japan and where American troops (about 50,000) are present, requires rear bases to support forces and provide supplies to the Korean Peninsula during the war.
However, after President Yoon assumed office, diplomats from the United States, Japan, and South Korea confirmed their "commitment" to working together against possible threats from North Korea in a recent meeting. But the details of their plans are not public.
However, Seoul and Tokyo have agreed with the US that the General Security of Military Information Agreement (GSOMIA) they had signed in the past would play an essential role in enabling bilateral cooperation between the two countries and trilateral security cooperation with the US.
However, what is noteworthy in the context of North Korea threatening to use nuclear weapons is that President Yoon has categorically ruled out the possibility of the South going nuclear.
He has just told the press that Seoul would stay committed to an international treaty to prevent the spread of nuclear weapons. "I believe the NPT [Non-Proliferation Treaty] regime is a fundamental and necessary premise for permanent world peace," Yoon said, expressing hope that the US deterrence strategy for its allies could evolve to counter the North's growing threat.
However, it may be pointed out that on this point, President Yoon is not precisely reflecting South Korea's shifting domestic consensus regarding nuclear weapons. While South Korean public support toward nuclear weapons acquisition has ranged between 50 and 70% throughout the past decade, recent public opinion polls indicate that public support for nuclear weapons has surpassed 70%.
The Chicago Council on Global Affairs found that 71% of South Korean respondents supported the development of a domestic nuclear weapons program due to the need to defend South Korea from threats other than North Korea (39%), increase the prestige of South Korea to the international community (26%), and counter the growing threat from North Korea (23%).
Similarly, South Korea's Asan Institute for Policy Studies conducted an opinion poll in March 2022, revealing that 70.2% of South Koreans favor nuclear weapons development in South Korea (28.2% opposed). The data shows that a majority continue to support (min 55.6%, max 70.2%) indigenous nuclear development since 2010.
When asked about reintroducing US tactical nuclear weapons onto the Korean Peninsula, 59% of the respondents supported it in March 2022. The data suggests continued broad support for tactical nuclear weapons since 2013. These South Koreans would like to come again under the American nuclear umbrella.
It may be noted that the US had previously stationed tactical nuclear weapons, or non-strategic nuclear weapons, in South Korea between 1958 and 1991 to counter a potential renewed invasion by North Korea. At its height, the US nuclear arsenal in South Korea comprised eight weapons systems consisting of 950 nuclear warheads.
Besides, many South Koreans will like South Korea's independent acquisition of nuclear weapons.
These proponents argue that it is the only option for South Korea to possess and control nuclear weapons operations directly.
However, US support for either independent South Korean acquisition of nuclear capabilities or redeployment of their tactical nuclear weapons (their temporary use being brought from outside during a war is different) looks unlikely, as far as one could see.
Because the nuclearization of South Korea will further vitiate the global non-proliferation regime and trigger a similar nuclearization of Japan, besides, there will be operational problems if South Korea develops nuclear weapons. Will these be integrated into the US-South Korean Combined Forces Command and thus come under American control?
Would the Americans agree if they were under South Korea's independent command? And finally, will South Korean nuclear weapons not violate the Non-Proliferation Treaty of which South Korea is a member? If Seoul comes out of it like North Korea, will the US remain its ally? "NO" will be the common answer to all these questions.
Given this, any strategy to counter the North Korean nuclear threat will need South Korea and the United States to be on the same page.
Author and veteran journalist Prakash Nanda has been commenting on politics, foreign policy on strategic affairs for nearly three decades. A former National Fellow of the Indian Council for Historical Research and recipient of the Seoul Peace Prize Scholarship, he is also a Distinguished Fellow at the Institute of Peace and Conflict Studies. CONTACT: prakash.nanda@hotmail.com