The US has stationed its B-2 Spirit stealth bombers at the Australian Air Force's Amberley Airbase, aiming to improve interoperability between the US Air Force and the RAAF (Royal Australian Air Force).
1st Air Force With Laser Weapons? F-22-Developer Equips US Air Force With LANCE DEWs For Its Fighter Jets
The two stealth bombers were deployed from the 509th Bomb Wing at Whiteman Air Force Base, Missouri, to Australia. The US Air Force stated on July 10 that these bombers would participate in training and exercises with allies to support a free and open Indo-Pacific.
The issued statement noted that the bombers aircraft deployed as a part of a rotating Bomber Task Force to support the Enhanced Air Cooperation (EAC) initiative under the Force Posture Agreement between the United States and Australia.
JUST IN: 2 @usairforce B-2 Spirits from @Whiteman_AFB conducted a mission in #RAAF Amberley, Australia as part of a #BomberTaskForce, showcasing their ability to fly & operate #AnywhereAnytime! @Aus_AirForce @DeptofDefense
@INDOPACOM See the story here! https://t.co/bjO6bLnsjm

— PACAF (@PACAF) July 10, 2022
The EAC initiative was launched in February 2017 to expand on a wide range of ongoing air exercises and training activities between the two countries. Its goal is to enhance advanced air-to-air integration between Australian Defense Force and US air elements to allow for seamless cooperation between the two nations.
"This deployment of the B-2 to Australia demonstrates and enhances the readiness and lethality of our long-range penetrating strike force," said Lt. Col. Andrew Kousgaard, 393rd Expeditionary Bomb Squadron commander.
US Nuclear Bombers 'Roar & Soar' Over Critical Military Base Near China; USAF Shares Mesmerizing Images
"We look forward to training and enhancing our interoperability with our RAAF teammates, as well as partners and allies across the Indo-Pacific as we meet PACAF objectives." 
The Australian Ministry of Defense said that the B-2 Spirit aircraft would be supported by several Pacific Air Forces (PACAF) KC-135 Stratotanker aircraft. It will enable the visiting bomber aircraft to refuel while integrating with the Royal Australian Air Force to carry out various training exercises and activities.
The United States Strategic Command regularly conducts Bomber Task Force (BTF) operations worldwide to demonstrate the United States' commitment to collective defense and integrate with Geographic Combatant Command operations and activities. 
In August 2020, the USAF's statement noted that the B-2s were last deployed to the INDOPACOM area of responsibility as part of a BTF. 
In March, however, a B-2 stealth bomber flew a mission in the region alongside five different fighter aircraft from the US Air Force and the Royal Australian Air Force, as previously reported by the EurAsian Times. The aircraft flew from Whiteman Air Force Base, Missouri, to RAAF base Amberley, Australia.
The latest deployment is consistent with the objectives of strategic predictability and operational unpredictability outlined in the National Defense Strategy.
"The BTF enables different strategic bombers to operate forward in the Indo-Pacific region from a broad array of overseas and Continental US locations with greater operational resilience," read the statement from USAF.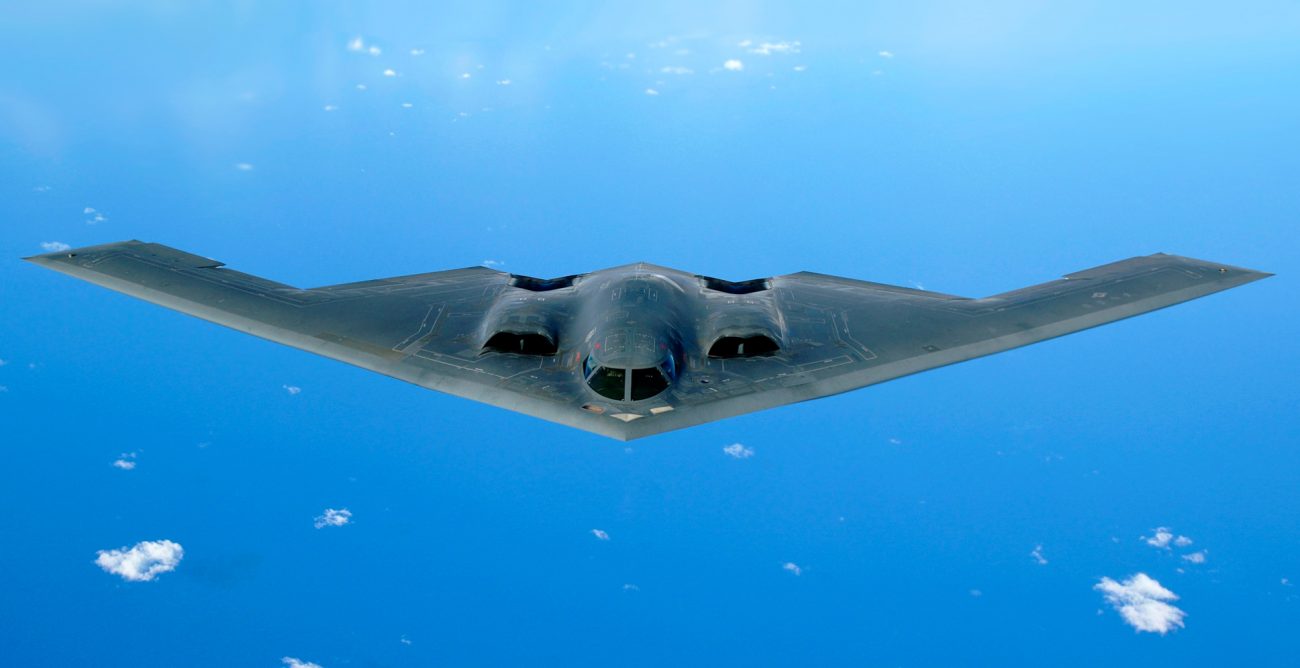 US And Australian Forces Hold Warfighting Drills
The bombers' arrival in Australia coincided with the start of the joint exercise Koolendong, which US Marines are conducting from the Marine Rotational Force-Darwin (MRF-D) and members of the Australian Defence Force. 
Australian Army's 1st and 13th Brigade, and Royal Australian Air Force's 36th, 37th, and 75th Squadrons are participating in this exercise. The exercise, which simulates a response to a regional security crisis, is being held at Defense training facilities in the Northern Territory and, for the first time, in Western Australia.
The three-week warfighting exercise, according to Australian Army Colonel Marcus Constable, Commander of Headquarters Northern Command, is based on recent successes of Exercises Southern Jackaroo and Crocodile Response. 
"This annual exercise allows the ADF to rehearse with the US Marines in a combined arms littoral combat scenario," Colonel Constable said. Koolendong advances and validates USMC-ADF interoperability solidifies US-Australian ties and demonstrates readiness to address a regional emergency. 
The Indo-Pacific region has become increasingly significant in recent years, and both nations have been working together to counter China's influence. Evidently, this goal calls for a diverse bilateral partnership. 
For instance, early in 2022, it was revealed that a large US oil storage facility was being built in Australia's Northern Territory to assist military operations in the Indo-Pacific region. The $270 million plan will establish northern Australia's largest purpose-built gasoline storage facility, with a 300 million liters capacity. 
The EurAsian Times had also earlier reported that the US dispatched more fighter jets, including F-22 Raptors and F-35s, to Australia in November of last year (2021) to fend off potential Chinese military aggression.