Armed with US tanks & NATO fighter jets, Ukraine seems ready to attack Russian territories. This conjecture has arisen after Ukraine tanks with a unique 'arrow' mark in the forward direction popped up on multiple social media platforms.
This sign is similar to the 'Z' sign, which can be seen on Russian tanks, ICVs, and other military vehicles since the Ukraine war began last year in February.
While going to war or invading the enemy space, armies put a special mark on their military vehicles to differentiate between 'friend and foe.' This has been a practice followed since the Second World War (WWII).
On February 24, 2022, when the Russian army invaded Ukraine, all its tanks and other military vehicles carried a particular sign of 'Z,' which later became the 'national symbol' of support to Russian President Vladimir Putin by his fellow countrymen.
Initially, military experts were too puzzled by this 'Z' sign and correlated it to the Nazi Hakenkreuz (Hooked Cross) sign. But as the war progressed, it became clear that this was a military sign to differentiate its own military platforms from that of Ukraine, which also uses similar weapons and platforms.
Similarly, some military vehicles were seen with the 'V' mark. Some experts have opined that these signs are for different theater commands ('Military District') of Russia going into the war zone.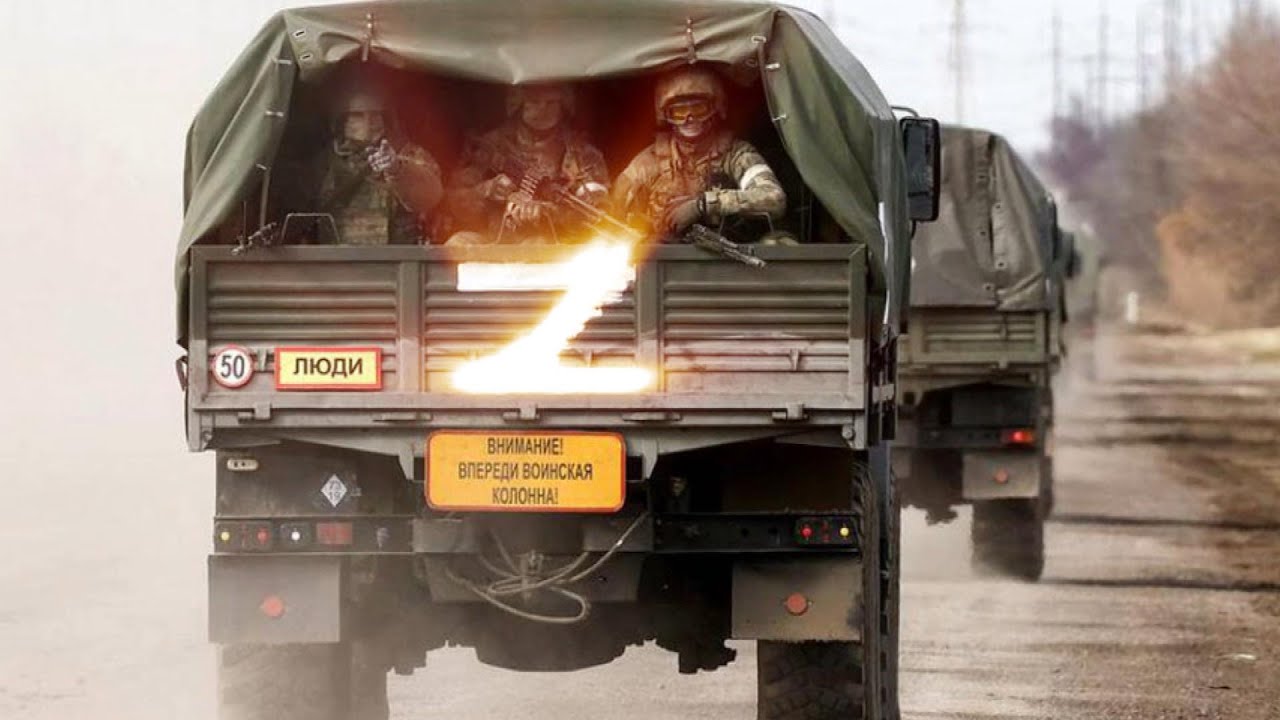 But the sign of 'V' didn't become as popular as 'Z' in Russia. While traveling in border regions of Russia adjoining Ukraine, the author found that Russians are using the 'Z' sign to support Putin in his war against Ukraine (and the US).
People residing in border areas had put this 'Z' sign on their personal cars and vehicles. In the Belgorod region, about 60 kilometers from Kharkiv, one can see hoardings and billboards with the symbol of 'Z' and written 'For Putin' on the roads leading towards Ukraine.
In Crimea, special concerts in support of Putin were organized, and this sign was openly flaunted. Even the national buildings and theatres in Sevastopol had giant banners of 'Z' on them.
Crimea was annexed by Russia from Ukraine in the year 2014. Ukraine had surrendered Crimea without firing a single bullet. Russian forces captured vital installations of Ukraine in Crimea without any resistance. Even the Ukraine Navy had surrendered before the Russian special forces.
But the situation has changed after eight years. When Russia attacked Kyiv and other major cities of Ukraine in February 2022, the Ukraine Armed Forces not only gave a tough fight to the Russian Army but also routed them by giving a big blow. That means Ukraine had learned its lessons well from the Crimean episode.
The US and other NATO forces had also actively supported Ukraine post-Crimean capture by Russia. The US and UK trained the Ukrainian Army, making it a professional army that could give a bloody nose to the army of a military superpower (Russia). That's the primary reason that Ukraine could recapture Kharkiv and Kherson from Russia and also give a tough fight in Bakhmut.
The Ukraine Army has got shot in its arms by receiving large amounts of weapons, tanks, and combat vehicles from the US, UK, and other NATO countries.
The US Department of State states that since January 2021, "the United States has invested more than US$36.1 billion in security assistance to demonstrate enduring and steadfast commitment to Ukraine's sovereignty and territorial integrity."  This includes US$35.4 billion since "Russia launched its premeditated, unprovoked, and brutal war against Ukraine on February 24, 2022."
A look at the number and kind of weapons supplied by the US to Ukraine in the past year will suggest why Zelensky's army can give a befitting reply to Putin's forces:
Over 1,600 Stinger anti-aircraft systems;
Over 10,000 Javelin anti-armor systems;
Over 59,000 other anti-armor systems and munitions;
160 155mm Howitzers and over 1,500,000 155mm artillery rounds;
Over 7,000 precision-guided 155mm artillery rounds;
Over 14,000 155mm rounds of Remote Anti-Armor Mine (RAAM) Systems;
100,000 rounds of 125mm tank ammunition;
Over 50,000 152mm artillery rounds;
Approximately 40,000 130mm artillery rounds;
40,000 122mm artillery rounds;
60,000 122mm GRAD rockets;
72 105mm Howitzers and over 450,000 105mm artillery rounds;
Over 300 tactical vehicles to tow weapons;
54 tactical vehicles to recover equipment;
30 ammunition support vehicles;
14 armored bridging systems;
38 High Mobility Artillery Rocket Systems and ammunition;
47 120mm mortar systems;
10 82mm mortar systems;
67 81mm mortar systems;
58 60mm mortar systems;
Over 345,000 mortar rounds;
Over 3,000 Tube-Launched, Optically-Tracked, Wire-Guided (TOW) missiles;
Over 1,800,000 rounds of 25mm ammunition;
Rocket launchers and ammunition;
Precision-guided rockets;
Ten command post vehicles;
One Patriot air defense battery and munitions;
Eight National Advanced Surface-to-Air Missile Systems (NASAMS) and munitions;
Two HAWK air defense firing units and munitions;
RIM-7 missiles for air defense;
12 Avenger air defense systems;
Nine c-UAS gun trucks;
Ten mobile c-UAS laser-guided rocket systems;
Anti-aircraft guns and ammunition;
Equipment to integrate Western air defense launchers, missiles, and radars with Ukraine's air defense systems;
Equipment to sustain Ukraine's existing air defense capabilities;
High-speed Anti-radiation missiles (HARMs);
Precision aerial munitions;
4,000 Zuni aircraft rockets;
20 Mi-17 helicopters;
31 Abrams tanks;
45 T-72B tanks;
120mm and 105mm tank ammunition;
109 Bradley Infantry Fighting Vehicles;
Four Bradley Fire Support Team vehicles;
Over 2,000 High Mobility Multipurpose Wheeled Vehicles (HMMWVs);
Over 100 light tactical vehicles;
60 trucks and 108 trailers to transport heavy equipment;
Eight logistics support vehicles;
89 heavy fuel tankers and 105 fuel trailers;
90 Stryker Armored Personnel Carriers;
300 M113 Armored Personnel Carriers;
250 M1117 Armored Security Vehicles;
Over 500 Mine Resistant Ambush Protected Vehicles (MRAPs);
Six armored utility trucks;
Mine clearing equipment;
Over 35,000 grenade launchers and small arms;
Over 200,000,000 rounds of small arms ammunition;
Over 100,000 sets of body armor and helmets;
Switchblade Unmanned Aerial Systems (UAS);
Phoenix Ghost UAS;
CyberLux K8 UAS;
Altius-600 UAS;
Jump-20 UAS;
Puma UAS;
ScanEagle UAS;
Two radars for UAS;
Laser-guided rocket systems and munitions;
Unmanned Coastal Defense Vessels;
Over 70 counter-artillery and counter-mortar radars;
20 multi-mission radars;
Counter-Unmanned Aerial Systems and equipment;
Counter air defense capability;
21 air surveillance radars;
Two Harpoon coastal defense systems;
62 coastal and riverine patrol boats;
Port and harbor security equipment;
M18A1 Claymore anti-personnel munitions;
Anti-tank mines;
C-4 explosives, demolition munitions, and demolition equipment for obstacle clearing;
Obstacle emplacement equipment;
Tactical secure communications systems and support equipment;
Four satellite communications antennas;
SATCOM terminals and services;
Thousands of night vision devices, surveillance systems, thermal imagery systems, optics, and laser rangefinders;
Commercial satellite imagery services;
Explosive ordnance disposal equipment and protective gear;
Chemical, Biological, Radiological, and Nuclear protective equipment;
100 armored medical treatment vehicles;
Medical supplies to include first aid kits, bandages, monitors, and other equipment;
Electronic jamming equipment;
Field equipment, cold weather gear, generators, and spare parts;
As per the State Department, "To date (April 19, 2023), nearly 50 allies and partner countries have provided security assistance to Ukraine. Among their many contributions to Ukraine, Allies and partners have delivered ten long-range Multiple Launch Rocket Systems (MLRS), 178 long-range artillery systems, nearly 100,000 rounds of long-range artillery ammunition, nearly 250,000 anti-tank munitions, 359 tanks, 629 armored personnel carriers and infantry fighting vehicles (IFVs), 8,214 short-range air defense missiles, and 88 lethal UAVs.
Since February 24, Allies and partners worldwide have provided or committed over US$13 billion in security assistance."
Besides, countries like Poland have also agreed to deliver MiG-29 fighter jets to Ukraine.
Such a vast arsenal of arms and ammunition has perhaps bolstered Ukraine for retaliatory attacks on Russia and, thus, the forward-looking arrow mark appeared on its military vehicles. If this happens, the Ukraine-Russia war can stretch for more time, and peace talks led by France and China can be jeopardized.
Penned By: Neeraj Rajput
Please email us at etdesk (at) eurasiantimes.com