The Lockheed Martin-built C-130J is called the 'Super Hercules,' not without reason. In a Kabul-style rescue during the Taliban takeover of Afghanistan, the C-130J, now also operated by the Indian Air Force (IAF), carried out a pitch-dark night operation on April 27 and 28 to evacuate 121 persons from a small unmanned airstrip in Sudan.
Without any aid from the ground, and amidst the threat of attacks on the aircraft, the Super Hercules, piloted by IAF officers, landed at the Wadi Sayyidna airstrip, about 40 km North of Khartoum in Sudan, to pick up the stranded passengers.
These passengers had no means of reaching Port Sudan to hop on to an Indian warship that was already carrying out evacuations from the wartorn nation in the northeastern part of the African continent.
"The passengers included medical cases, including a pregnant lady, besides those who had no means to reach Port Sudan," Indian Air Force spokesperson Wing Commander Ashish Moghe said in a statement on April 28.
India's defense attaché in Khartoum led the rescuing party to the Wadi Sayyidna airstrip. He was continuously in touch with the IAF authorities until they reached the airstrip to bring back the people, almost entirely Indian nationals, to safety.
"The airstrip in question had a degraded surface, with no navigational approach aids or fuel, and most critically, landing lights that are required to guide an aircraft landing at night," Moghe said.
Approaching the airstrip, the aircrew used their Electro-Optical/Infra-Red sensors to ensure that the runway was free from any obstructions and that no inimical forces were in the vicinity. Having ensured the same, the aircrew carried out a tactical approach on Night Vision Goggles on a practically dark night.
A daring rescue!

8th batch of 121 Indians arrived at Jeddah by IAF C 130 J from Wadi Seidna,Sudan.This evacuation was more complex as the location is in vicinity of Khartoum.

Family members of our Embassy Officials were also part of this group.

Warm welcome.#OperationKaveri pic.twitter.com/VcVnlmuQ1b

— V. Muraleedharan (@MOS_MEA) April 27, 2023
Upon landing, eight IAF 'Garud' commandos secured the passengers and their luggage into the aircraft even as the aero-engines were kept running. As with the landing, NVGs were used for the take-off from the unlit runway.
"This approximately two-and-a-half hour operation between Wadi Sayyidna and Jeddah will go down in the annals of IAF history for its sheer audacity and flawless execution — akin to that carried out in Kabul," Moghe said.
India currently operates two C-130Js as part of 'Operation Kaveri,' launched recently to evacuate Indian nationals stranded in the war-torn Sudan, where gunfights between rival groups seeking to gain ascendancy to power have been raging for a few weeks now.
The IAF C-130Js are flying out of Jeddah in Saudi Arabia to airports and airstrips in Sudan to evacuate the affected Indian nations.
"This operation in Sudan is very much the C130J aircraft and its crew, as it is that of the 'Garud' who went in to secure the passengers and the airstrip at Wadi Sayyidna," Moghe told EurAsian Times.
Special Operations
This is not the first time the IAF has carried out such as 'daring' operation at night. On August 2, 2021, as a part of 'Operation Devi Shakti,' an IAF's Super Hercules was tasked with a Special Operation into the destabilized war-torn nation of Afghanistan.
The embassy staff had already been evacuated on August 16, 2021, and hence there was no source to achieve reliable ground intelligence on the situation in Kabul or the areas around the Kabul airport.
Group Captain Ravi Nanda, the Commanding Officer of a C-130J Transport Squadron, led the mission to fly into the epicenter of the conflict zone of Kabul to insert a 'Specialised Government Team' for facilitating the swift evacuation of Indian diaspora under imminent threat to their lives. A high level of unpredictability and danger existed due to a lack of intelligence at the target airfield.
This high-risk midnight mission faced the utmost dangers of absolutely uncontrolled airspace, dense traffic of unknown aerial platforms, extremely limited visual cues in the middle of unforgiving mountainous terrain, and above all, a hostile ground situation with small arms, rocket-propelled grenades and shoulder-launched missiles.
"Nanda exhibited exceptional professional courage, grit, and leadership in flying this perilous mission with unprecedented threats emanating from a volatile war zone in the presence of radical militias," a gallantry citation awarded to the pilot read.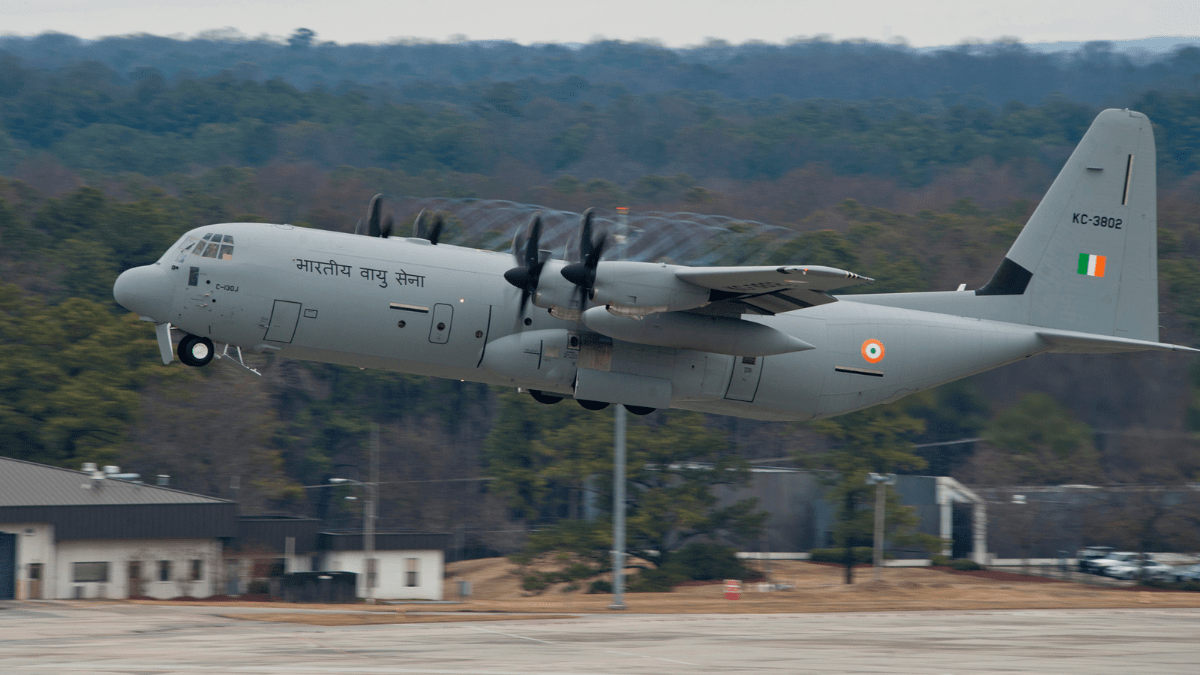 Amidst a chaotic ground situation, ongoing sporadic gunfire in the vicinity of the airport, and possible threat to life and equipment, the C130J and its crew led by Nanda effectively used Night Vision Goggles (NVG) to land safely at Kabul.
"He displayed sharp situational awareness and dynamic decision-making and controlled his team of Special Forces to ensure the safety of the aircraft for more than an hour. The officer planned an efficient tactical departure in the night and safely evacuated 87 Indians to Dushanbe," the citation for the medal awarded to Nanda said.
Indian Air Force Sets Multiple Records With 'Super Hercules'
IAF currently operates 12 Super Hercules as part of its transport fleet. These were procured in two tranches of six aircraft in 2008 and 2014 for nearly US$1 billion each time under the United States' Foreign Military Sales route.
India bought the C-130J primarily for specialist military operations in dangerous terrains under hostile conditions and based these aircraft in two squadrons — No. 77 'Veiled Vipers' and No. 87 'The Raptors' — at Hindon in Uttar Pradesh on the outskirts of Delhi and at Panagarh in West Bengal, essentially for operating against Pakistan and China respectively.
The C-130J is the most advanced production model of the legendary C-130 Hercules mid-sized tactical airlifter. True to its name Hercules, the mythological superhero, the aircraft is known for its ability to support many tasks and missions in the most challenging conditions.
There are now 25 operators in 21 nations that fly the C-130J, with India's fleet being one of the most famous and well-known Super Hercules fleets around the world for performing daring military operations from challenging terrains.
An IAF crew used one of the C-130Js to set a new record in August 2013, when the No. 77 Squadron landed one of the aircraft at the Daulat Beg Oldie Advanced Landing Grounds in Ladakh, a small airstrip in the Himalayan region that has the distinction of being the highest (at 16,614 ft./5,000m) — and most challenging — runways in the world.
This feat was a record for the IAF, which beat its own world record for high altitude operations, and for the C-130 and the C-130J, both of which claimed upwards of 100 world records in its 60 years of production, said Lockheed Martin's Director for International Business Development, Air Mobility & Maritime Missions Richard Johnston, in an article for an Indian publication.
In May 2020, IAF flew one of its Super Hercules non-stop from Srinagar in Jammu and Kashmir to Thiruvananthapuram in Kerala, covering the entire stretch of India from North to South in just over 10 hours, covering a distance of over 5,000 km. In 2017, the aircraft had done a 13-hour non-stop flight during an international sortie.
LONGEST FLIGHT -A Gruelling 13Hrs31Min non-Stop flight by #C130J crew is not only an #IAF record but also a feat by C130's Globally. The team got airborne at FirstLight on 18Nov2011 & landed only at 06:31PM.This required great Courage, Skill & Strength on part of the #TeamIAF . pic.twitter.com/xo29QYfmza

— Indian Air Force (@IAF_MCC) November 18, 2017
IAF deploys the C-130Js for various missions, including humanitarian aid, natural disaster support, airlift, search and rescue, and special operations. An IAF C-130J was the first aircraft to land and extend support during the Nepal earthquake in recent years.
The IAF's fleet of Super Hercules is equipped with an Infrared Detection Set (IDS), which enables the aircraft to perform precision low-level flying, airdrops, and landing in blackout conditions. Self-protection systems and other features are included to ensure aircraft survivability in hostile air defense environments.
The aircraft also is equipped with air-to-air receiver refueling capability for extended-range operations. The C-130J's capabilities can be expanded to support other critical needs, including tanking, search and rescue, border patrol, and even maritime security surveillance.
NC Bipindra is a 30-year veteran in journalism specializing in strategic affairs, geopolitics, aerospace, defense, and diplomacy. He has written extensively for the Times of India, New Indian Express, Press Trust of India, and Bloomberg News. He can be reached at 

ncbipindra (at) gmail.com