The missile attack at the Chongar Bridge connecting Crimea with the Kherson Region on Thursday morning has now led to questions about how and if Russia will retaliate.
According to the Russian Investigative Committee's Military Investigation Division for the Joint Group of Forces, the missile used in the attack was likely the British-French Storm Shadow air-launched cruise missiles developed by defense major MBDA.
Interestingly, the attack comes within two days of Russian defense minister Sergei Shoigu declaring intelligence assessments about Ukraine possibly hitting Russian-held Crimea with "long-range US and British missiles."
Even more coincidentally, Shoigu named the High-Mobility Artillery Rocket System (HIMARS) and Storm Shadow as possible weapons Ukraine will use during a meeting with military officials. He then warned that Russia would strike "decision-making centers" in Ukraine in response. 
Now that Shoigu's warnings and Russian intelligence have been proven right, questions arise about how can Moscow retaliate. 
Bridge Damaged But Repairable
The investigative committee said, "According to preliminary data, four unidentified missiles hit [the bridge]," he told reporters. According to the spokesman, missile fragments with "French markings" were found at the scene, pointing the finger of suspicion at the Storm Shadow. 
Acting Kherson governor Vladimir Saldo said the bridge would be repaired in a few days with the help of construction specialists from other Russian regions.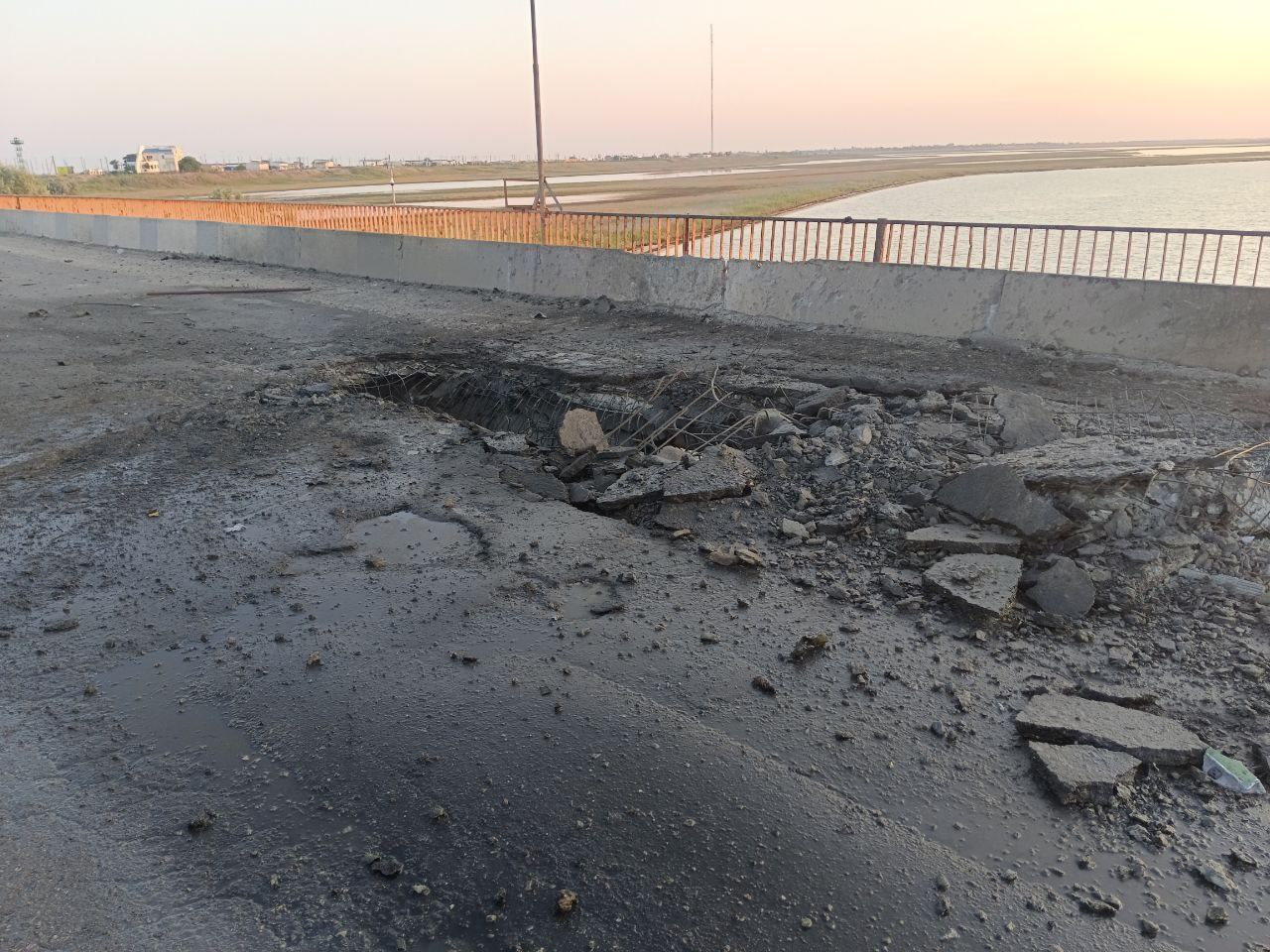 "Experts and builders from the Rostov Region have been dispatched here. As a construction engineer, I can see that regular traffic will be restored in a few days, and things will return to where they were before this morning," a TASS report quoted Saldo as saying. He added that there was an alternative backup route and that only the bridge's surface was damaged. 
Saldo also said four missiles were used in the attack, but videos of the strike showed only one missile diving down at high speed, hitting the bridge. 
Shoigu's Prophecy 
While mentioning the "decision-making centers," Shoigu pointed to bases and locations with Western and Ukrainian personnel in Ukrainian territory that coordinate strikes on the Russian-held territory.
Ukraine uses weapons like Storm Shadow now and before that, the HIMARS, High-Speed Anti-Radiation Missile (HARM), and the Joint Direct Attack Munition-Extended Range (JDAM-ER) on Russian targets. It also employs naval kamikaze drones to hit Russian warships in the Black Sea. 
The Western weapons are also supported by its reconnaissance, surveillance, and Electronic Intelligence (ELINT) airborne assets like the RQ-4B Global Hawk drone, RC-135 Rivets, and E-8 Joint Surveillance Target Attack Radar System (STARS) that provide targeting information.
Ukrainian Storm Shadow cruise missile strike on the Chongar Bridge between Crimea and Kherson region earlier this morning. pic.twitter.com/9Sh8wDOi0D

— Clash Report (@clashreport) June 22, 2023
Shoigu could therefore be effectively warning that locations in Ukraine having Western personnel training, assisting, and working with the Ukrainian military would be targeted.
Russia has conducted such attacks before, where NATO personnel have been unofficially present on the ground in command, control, and technical assistance roles in handling the communication with the above aircraft. 
"The use of these missiles outside the zone of our special military operation would mean that the United States and Britain would be fully dragged into the conflict and entail immediate strikes on decision-making centers in Ukraine territory," said Shoigu.
"Outside the zone" of the SMO means the Russian-held territory in Crimea since the other regions that acceded to Moscow in referendums (Donetsk, Lugansk, Zaporizhzhia, and Kherson) are still being contested militarily by Ukraine. This makes them part of the warzone. 
But this does not mean Russia will attack the Western aircraft or NATO bases outside Ukraine in NATO countries that would trigger the alliance's Article 5, which puts it on a straight warpath with the US and Europe. The clause legally mandates the entire bloc rush to aid the member country whose territory was attacked. 
This is because Russia still does not believe the West would allow Ukraine to target the Russian mainland with its weapons and surveillance information that would justify such a response from Moscow. If Shoigu wanted to say that Ukraine planned to attack official Russian territory, he would have mentioned it that way, possibly using the standard "within/inside Russian borders" framing. 
Previous Strikes On 'Decision-Making Centers'
The most recent and previous strikes on Ukrainian and Ukrainian-NATO combined "decision-making centers" might hint at the possible nature of the Russian response.
On June 16, Russia's Ministry of Defense (RuMoD) stated its military launched a long-range sea and air-based high-precision group strike against one of the decision-making centers of the Armed Forces of Ukraine. "The goal of the attack has been reached. The assigned target has been neutralized," it added. 
Before that, on May 29, Russia hit the Main Intelligence Directorate of the Ukrainian Defense Ministry in Kyiv, grievously injuring its head Kyrylo Budanov. 
But on October 18, during strikes on Ukraine's energy and power generation infrastructure, Russia hit the ground receiving stations in Kyiv that communicate with NATO aircraft. A RuMoD statement said, "Russian armed forces had destroyed the space communication station of the Communication Center of the Ukrainian Government, located in the Odesa region." 
According to Valentin Vasilescu, a Romanian defense expert, Russia achieved "strategic surprise" by "depriving the Ukrainian army of receiving real-time data from NATO on the movements of Russian troops." 
How Will Russia Respond?
Thus, Russia is likely to identify targets with the presence of Western personnel to send a political message. The immediate validation of Shoigu's declaration seemed almost prophetic and must not have gone unnoticed among the international community in general and Western capitals in particular.
The latter are probably embarrassed and are possibly unofficially distancing themselves from the attack by Ukraine. 
Thus, Moscow is likely to gather intelligence to identify a significant target with the presence of NATO military personnel inside Ukraine. If publicly declared, their deaths might further put NATO in the dock.
And assuming there is condemnation and calls for retribution for Russia killing Western military personnel, Russia can argue that it was striking legitimate military targets and can't be blamed if foreign armies were present there. If anything, it implicates the West in its proxy war from Russia's perspective. 
Another possibility is destroying the staging grounds for such attacks, which includes warehouses where Western ammunition is stored or the airbases from where Ukrainian fighters take off for such strikes.