Pictures of a new sea-borne Unmanned Surface Vessel (USV) have surfaced on social media pages, giving rise to speculation whether the Ukrainian maritime drones that attacked the Russian navy fleet in Sevastopol on Wednesday were of this design. 
Like the unsuccessful strike in late October, three drones were destroyed this time, as against the nine UAVs and seven USVs then. 
HI Sutton, a leading naval and underwater warfare analyst, revealed the images and observed the absence of protruding masts, communication antennas, electro-optical systems, propellers, water jet propulsion, etc.
"This does not mean that there aren't any as it may simply be efforts to protect key features and thus capabilities," Sutton said. Suggesting that it was only the timing of the surfacing of the USV's photos that made it suspect, he said it was still "unconfirmed whether this new design was directly involved in that incident." 
Teasers First, Confirmation Next
The pictures of the USVs following the October attack also circulated online similarly. They then began being featured in official Ukrainian government videos, publicizing their wartime domestic drone industry and a factory manufacturing the drones before asking for donations to a fund that supports Ukraine's defense manufacturing.
This fundraising advertisement confirmed that the initial leak of the photos was real and not a hoax. There is, therefore, every possibility that the current pictures and their origin might follow the same pattern.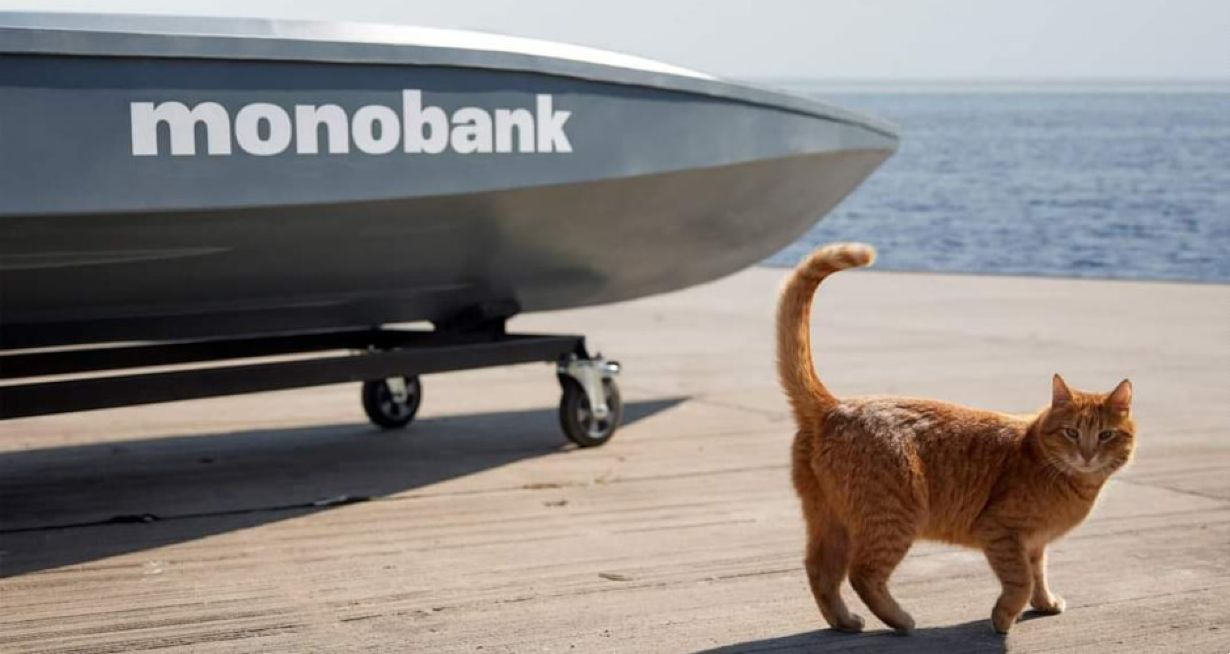 The USVs employed in the October strike are 5.5 meters long with a range of 400 kilometers, a 60-hour endurance, a gross weight of 1,000 kilograms, a warhead of up to 200 kilograms, and a maximum speed of 80 km/h.
But what stands out is the name 'monobank' written on the front right-hand side, which is the bank that collects donations from private citizens to fund the war effort.
Ukrainian Tactical, Technical & Geopolitical Calculations 
However, it also leaves several questions, beginning with whether Ukraine's fundraising initiative was successful. If yes, did it build more of the previous USVs – apart from the 28 to 30 visible in the photos of the publicity material at the time? Or did it come up with a new and improved design and decide to divert the money there? 
It is possible that it could be a combination of many reasons. One, Ukraine did manage to gain some technical expertise in developing drones. Former Russian space agency ROSCOSMOS chief Alexei Rogozin was dismissive of the drones, saying it was just an assembly of various components sourced internationally.
Nevertheless, the assembling and their use in the October attack must have given Ukrainian defense industry officials significant experience and test results, which they must have built upon. 
Secondly, after presumably improving the design, the attack might have been another test run to check their product. Based on Russian defense bloggers' claims on Telegram, it must have helped the US, too, to test its various technologies.
Ukrainian planners are likely to have been fully aware of Russian navy capabilities and knew that the crew on board the ships had been on alert for drone swarm attacks since October.
They were not expecting the strike to succeed anyway. That the earlier strike was so massive (nine UAVs and seven USVs) and unexpected, but was still beaten back, bore testimony to the level of alertness of Russian sailors. 
Lastly, Ukraine has been known to time its attacks with important international events and draw attention to the war to make a case for funding and arms transfers. The latest strike coincided with Japanese Prime Minister Fumio Kishida's visit to Ukraine and meeting with President Volodymyr Zelenskyy. 
Tokyo has been openly critical of Russia and has drawn parallels with Chinese threats on Taiwan while actively engaging the North Atlantic Treaty Organization (NATO) and helping it get a foothold in the western Pacific. It wouldn't be too far-fetched to imagine that Kyiv wants to convey to both Tokyo and Washington that it retains the ability to strike Russia.
Turning back the war this way in an attempt to dispel the general weariness countries are experiencing and wish the conflict to end earns rich political dividends for both Zelenskyy and the United States.