Former German Chancellor Angela Merkel had opined that NATO is "brain dead." The unwarranted and strategically insane decision of NATO, controlled by the US, has indeed proved that.
By welcoming Finland into the NATO fold, the US has actually, and not virtually, invited Russia to Europe's doorstep. Nordic nations Denmark, Finland, Norway, and Sweden provided a buffer zone to NATO in the North. Peace prevailed, and no offensive action from Russia was expected. However, April 4 changed all that.
With the hoisting of the Finnish flag at NATO headquarters in Brussels, Finland became the 31st nation to join the "brain dead" military alliance. Russia now has a genuine military option open to its forces.
Due to Finland's neutrality, the Russian Navy could not carry out offensive action in the Gulf of Bothnia between Sweden and Finland. That restriction became irrelevant after Finland joined NATO.
Strategic Significance
Most strategists have opined that Finland joining NATO will be disadvantageous to Russia militarily. However, the most radical strategic change that might take place will be Russia moving its nuclear arsenal to St Petersberg and even a few hundred kilometers West of it.
Last steps before joining #NATO.

FM @Haavisto signed Finland's instrument of accession to NATO.
#FinlandNATO pic.twitter.com/lRqOIVRDZ1

— Finland at NATO (@FinMissionNATO) April 4, 2023
Nordic nations have thus become vulnerable to Russian tactical nukes. A land border of nearly 1,300 kilometers with Finland would enable Russia to base Russian ground forces in strength at the Russo-Finnish border, reducing the launch time on Europe from the North.
Few pseudo-military strategists have said that Finland joining NATO is a strategic defeat for Putin. The expansion of NATO is yet another act of American hypocrisy. At the time of German unification, the then US Secretary of State James Baker had made a categorical assertion in the presence of his Russian counterpart Eduard Shevernadze that NATO expansion would cease henceforth.
But true to American philosophy and perception of "USA fighting fire with Gasoline," unabated expansion of NATO continues.
Sweden might become the 32nd nation to join NATO in the near future. The US will adopt its time-tested tactics of granting freebies through concessions to Turkiye and Hungary to buy their consent for Sweden to join NATO.
Finland's Military and Political Scenario
Finland's regular military strength can be enhanced rapidly by invoking extensive conscription provisions and might attain the strength of nearly a quarter million. F-18 Hornets are the mainstay of the Finnish Air Force. The Finnish Navy is essentially coastal. However, Finnish artillery resources are formidable.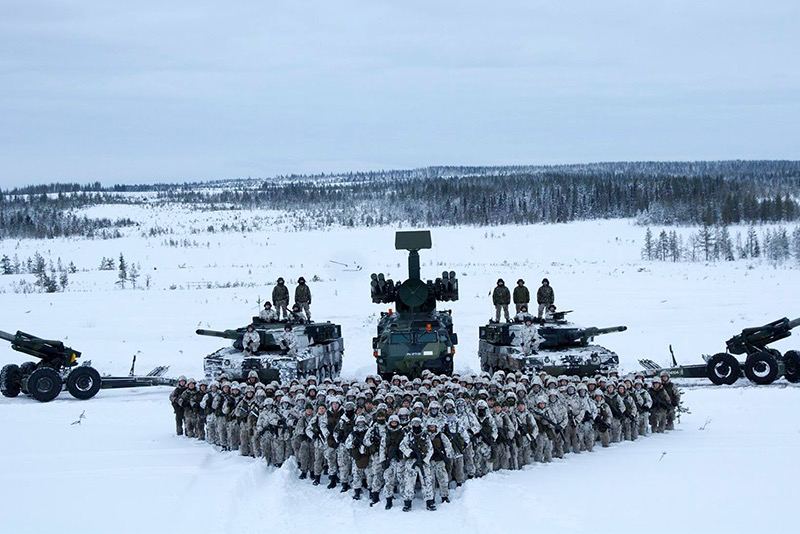 While it would be difficult to conclude with 100% assurance that the Finnish public did not approve of Finland shedding its neutrality, the results of general elections held a few days back perhaps convey the public mood. The sitting government of Sanna Marin, a proponent of Finland joining NATO, was defeated at the hustings.
An official of Finland's parliament reported that on April 4, the NATO joining day of Finland, its public website was hit by a denial of service attack. Strange coincidence indeed! Whether it was related to the NATO event cannot be concluded.
Apart from the political fallout, the Finnish military's most important drawback or limitation is its total lack of experience in actual war conditions due to the state policy of neutrality. How does an inexperienced military make NATO stronger? This is an issue worth considering.
Future Projections
Finland joining NATO is likely to enhance the naval presence of NATO and improve its status in the Arctic region. On the face of it, the assumption appears to be logical. But when viewed in the context of actual operations in the Arctic region, the most important weapon is ice breaker ships.
As of date, of the ten largest ice breakers, seven are owned by Russia and one each by the US, the UK, and the Japanese navies. Arktika, a Russian nuclear-powered ice breaker, is the largest such ship in the world.
The Russian Navy has overwhelming superiority with reference to operations in the Arctic region, touted as a future battlefield.
Russian Reaction
Needless to say, Russian reactions have been condemnatory. Russian Deputy Foreign Minister Sergei Ryabkov said, "Relations are ruined, and the USA is responsible for that." Kremlin spokesperson Dmitry Peskov was even more specific.
He said, "We will be watching closely what is happening in Finland and how the NATO alliance will use Finnish territory to deploy weapons and systems close to our borders. Depending on this, measures will be taken."
Global Significance
Finland's entry would in no way strengthen NATO, notwithstanding the utterances of the Finnish president. Instead, it will increase instability globally, taking the world towards global conflict, which might turn into a nuclear exchange.
The China-Russia axis, despite their differences, appears to be a distinct possibility. The US's bête-noire, North Korea, stands to gain from such an alliance in the long term. Whether American military strategists and decision-makers considered this aspect may never be known.
The inclusion of Iran in the Sino-Russian pact is also not ruled out. Should that happen, Putin would achieve the upper hand in global energy control. Saudi Arabian displeasure with the Biden regime is only too well known. The political fallout of such profligate US actions might impinge on Biden's 2024 elections.
In the long term, US' decision to coerce Finland into joining NATO might be a strategic victory for Putin by default.
Gp Cpt TP Srivastava (Retd) is an ex-NDA who flew MiG-21 and 29. He is a qualified flying instructor. He commanded the MiG-21 squadron. He is a directing staff at DSSC Wellington and chief instructor at the College of Air Warfare. VIEWS PERSONAL