Analysis By Senior War Journalist, Neeraj Rajput
While India has categorically told China that bilateral relations between the two Asian giants are solely premised on peace & tranquillity at the borders, the Dragon is trying to delink border issues for long-term relationships with India.
After the meeting of Chinese Defense Minister Gen Li Shangfu with Indian counterpart Rajnath Singh in Delhi on the sidelines of the SCO Conference, the Chinese PLA on Friday issued an official statement that says, "The two sides (India and China) should take a long-term view, place the border issue in an appropriate position in bilateral relations, and promote the transition of the border situation to normalized management."
As per the Chinese military statement, during his meeting with the Indian Defense Minister on Thursday, Gen Li said that "the two sides should view bilateral relations and each other's development from a comprehensive, long-term and strategic perspective, and jointly contribute wisdom and strength to the world and regional peace and stability."
While India maintains that since the Galwan Valley conflict happened along the Line of Actual Control (LAC) in Eastern Ladakh on June 2020, there have been "abnormal relations" with China, Gen Li on Thursday tried to convince his Indian counterpart that the situation on the "border is generally stable."
During the Galwan Valley clash, 20 Indian soldiers, including a colonel rank commanding officer, were killed in action. China, too, had suffered heavily but admitted to only four casualties. It awarded those soldiers with gallantry medals posthumously, besides one colonel rank officer who received grave injuries in the conflict.
Since then, India and China have deployed 50 thousand soldiers each along the LAC adjoining Eastern Ladakh beside the tanks, artillery guns, missiles, and fighter jets all lined up close to the border.
There has been disengagement at a few places, including the Finger Area adjoining Pangong Tso (Lake), Kailash Hill range, Hot Spring, Gogra, and Galwan Valley, as a result of more than a dozen rounds of military commanders meetings but flash points still exist at Depsang Valley and Demchok leading to heightened tensions.
On Thursday, when Rajnath Singh met Gen Li for the bilateral meeting, the first such in the past three years due to LAC tensions, Indian Defense Minister reiterated that "violation of existing agreements has eroded the entire basis of bilateral relations." He added that disengagement at the border would logically be followed by de-escalation.
The Indian Defense Minister mentioned the various border-related agreements inked between India and China in the past two decades for maintaining peace and tranquillity at the 3488 kilometers long borders.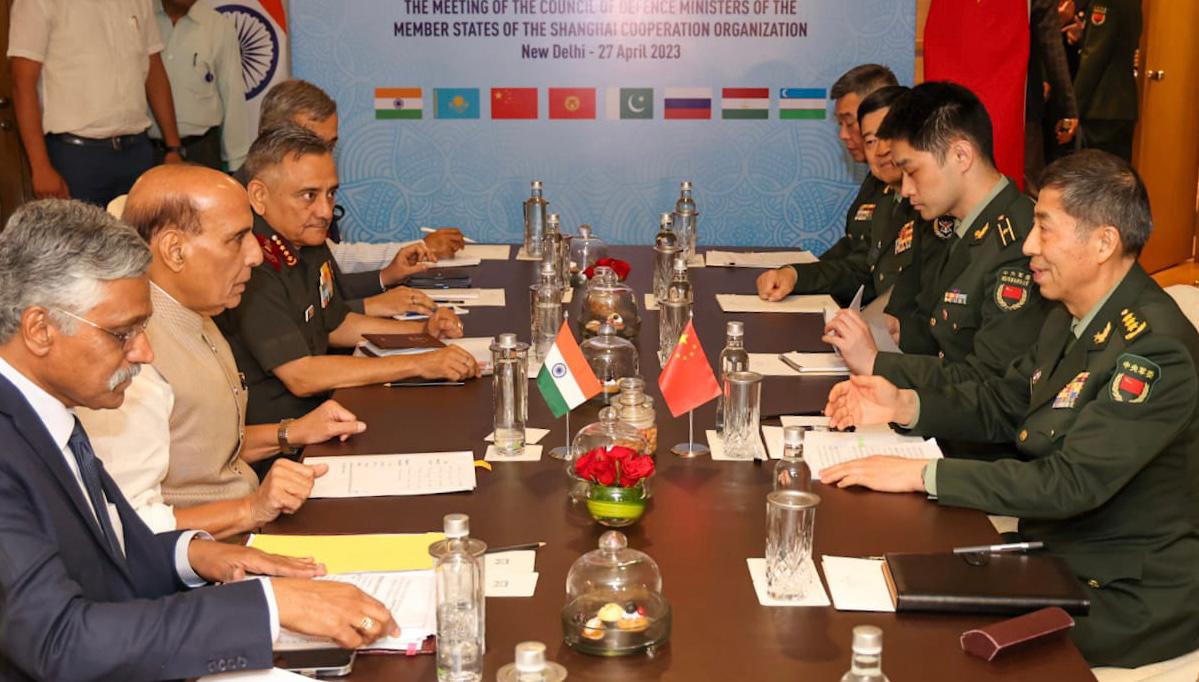 India maintains that during the coronavirus pandemic in May-June 2020, the Chinese PLA, in the name of a military exercise, camped its army close to the LAC to intrude into Indian territories, violating the existing agreements between the two neighboring countries.
This resulted in the Galwan Valley clash between the two biggest armies in the world. As such, India does not only insist on disengagement but on the de-escalation of troops too, i.e., Chinese soldiers should not only move back from the disputed areas, but PLA should also reduce the number of troops and military arsenal from the border areas.
On the other hand, Gen. Li said that "currently, the situation on the China-India border is generally stable, and the two sides have maintained communication through military and diplomatic channels." He was referring to 18 rounds of military commanders' meetings that have taken place at LAC along Eastern Ladakh in the past three years to resolve the border dispute.
Chinese State Councilor and Defense Minister General Li Shangfu are attending the meeting of the Council of the Defense Ministers of the Shanghai Cooperation Organization (SCO) member states in Delhi (27-28th April) these days.
Besides India and China, other member states include Russia, Pakistan, Kazakhstan, Uzbekistan, Kyrgyzstan, and Tajikistan. Iran and Belarus have joined the SCO conference as observer states this year.
Gen. Li said, "As major neighboring countries and important developing countries, China and India share far more common interests than differences." The two sides will work together to continuously enhance mutual trust between the two militaries and contribute appropriately to developing bilateral relations.
"It suits China not to resolve border issues with India (and Bhutan) to continue to prick India and yet maintain economic and trade relations," says India's well-known defense expert, Major Gen Sanjay Meston (Retired), while speaking to EurAsian Times.
But, Gen Meston, who had commanded a brigade along the China border and looked after the China Desk in the Military Operations wing of the Indian Army during his long career, said, "India wants to resolve the border issue with China first, and other (trade, etc.) relations will follow.
Otherwise, incidents like Galwan Valley or Tawang (Yangtse) skirmish will keep happening, which can further strain the ties between the two countries."
Rajnath Singh has also "categorically" conveyed to Gen Li that the "development of relations between India and China is premised on the prevalence of peace and tranquillity at the borders." As per the official statement released by the Indian Ministry of Defense (MoD), Rajnath Singh added, "All issues at the LAC need to be resolved in accordance with existing bilateral agreements and commitments."
"China has resolved border disputes with almost a dozen nations, including Vietnam and Russia but wants to de-hyphenate LAC issues and other relations with India because it (China) wants to linger border tension with a big nation (like India) for its own convenience," said Brigadier Sandeep Thapar (Retd), a well know Indian military analyst.
"China wants to keep the border issue with India alive because it wants 'future generations to resolve it. China knows it can't repeat the 1962 war scenario and capture more Indian territories as it did in Aksai Chin.
So, China wants itself to make it economically and militarily much stronger and advance than India before it takes on Indian Army and till then wants to keep the border issue alive", added Brig Thapar, who was Deputy Director General in the Indian Army's Strategic Communication (Strat Com) wing in South Block before hanging his boots.
Penned By: Neeraj Rajput
Email us at etdesk (at) eurasiantimes.com