The ongoing Ukraine war has brought several Ukrainian fighter pilots to the limelight with their stories and tales of inspiring heroism – from the myth of the 'Ghost of Kyiv' to the 'Shooter of Shaheds' who became the poster boy of the Ukrainian Air Force.
Early in the war last year, a flying ace fondly called "the Ghost of Kyiv" became the hero without a cape for a country whose fighter pilots were grossly outnumbered by those of the Russian Aerospace Forces (VKS). The mythical ghost was believed to have shot down at least 40 enemy planes.
However, the Ukrainian Air Force eventually conceded that the "Ghost of Kyiv" was a fictional character created by the people of Ukraine. It said the "Ghost of Kyiv" was "a collective image of pilots of the Air Force's 40th tactical aviation brigade, who defend the sky over the capital."
Several fighter pilots of the Ukrainian Air Force have since had their names etched in Ukrainian history for their acts of heroism and also thanks to Ukraine's propaganda machinery that works tirelessly.
In December 2022, on the occasion of Ukraine's Armed Forces Day on December 6, a pilot of the Ukrainian Air Force who sports the call sign – Karaya – posted a photo of his bloody face on the social media networking site Instagram showing moments before his ejection from a MiG-29. He was best known as the "Shooter of Shahed."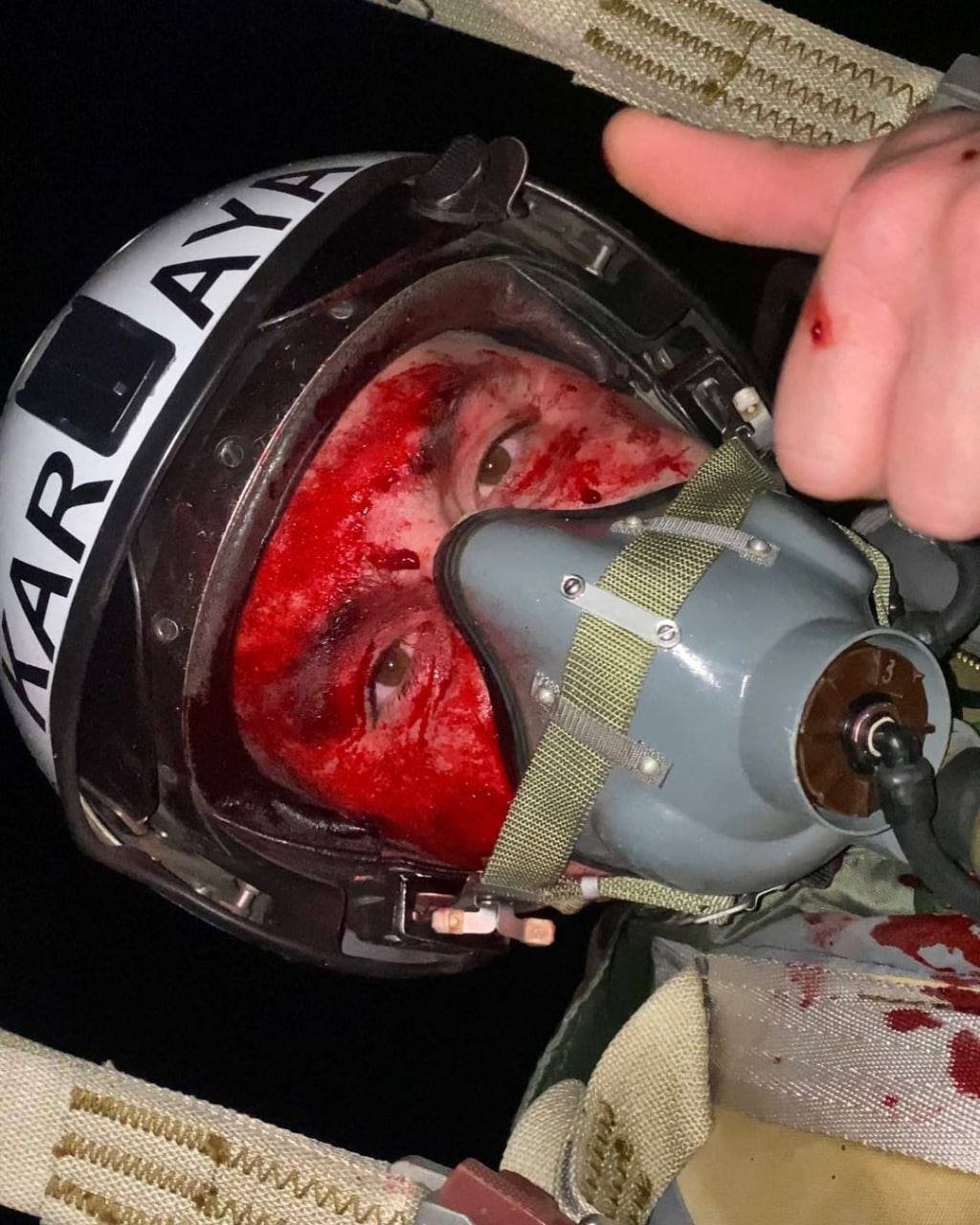 Several other fighter pilots, like one who goes by the callsign "Juice" and has been popular with the media. Then, some have been quietly conducting dangerous sorties, flying very low to evade the threat of Russian Surface-to-Air missiles to defend their country with limited air capabilities.
While these are stories of heroism of a country's Air Force that went to war with a much smaller and technologically inferior air fleet than the enemy it was faced with, it is the same country that produced legends like Ivan Kozhedub, whose heroism displayed in the second world war have led his legacy to continue till this day.
Legendary Ukrainian Pilot Ivan Nikitovich Kozhedub
Ivan Nikitovich Kozhedub was an ace fighter pilot of the Soviet Union during World War II. He is regarded as the most successful Soviet and Allied fighter pilot of World War II, earning over 60 solo victories to his credit.
Ivan was enrolled at a military pilot school close to Kharkiv in eastern Ukraine after enlisting in the Red Army in 1940. He finished the training program in less than a year, and as the top graduate, Kozhedub remained there to serve as an instructor.
The pilot school was moved to Central Asia after Nazi Germany attacked the USSR in June 1941.
Kozhedub pestered his superiors with demands for active duty for more than a year before his perseverance paid off. He made his first sortie as a chase pilot in March 1943, a few weeks after the infamous Battle of Stalingrad, and it was unfortunate: his Lavochkin La-5 was hit, and on the way back, he narrowly escaped from Soviet anti-aircraft weapons.
He was the first Soviet pilot to shoot down a Messerschmitt Me-262 fighter, making him one of the very few pilots to do it. Three times—on February 4, 1944, August 19, 1944, and August 18, 1945—he received the Soviet Union's highest civilian honor.
With a Junkers-87 bomber, Kozhedub achieved his first victory at Kursk on July 6, 1943. He downed two Messerschmitt Me-109 planes during the next two days and another one the day after.
In total, Ivan Kozhedub made 330 sorties during World War II. In 120 aerial battles, he shot down 62 enemy planes while remaining airborne, according to some estimates. However, some believe that he must have shot down more than that, considering he only reported the ones he witnessed them crashing.
Even when everyone praised him for one of his air-to-air triumphs by saying, "Why, we all saw you shoot down that one!" He would raise the question, "What if it landed safely?" Furthermore, he and his wingman never kept track of the planes they shot down. This earned him the respect of all his peers, besides his legendary stories that later became tell-tales.
Maj. Ivan Kozhedub shot down a Messerschmitt-262, the Luftwaffe's new secret weapon, over Frankfurt-am-Oder on February 15, 1945. Karl Lange, one of the most renowned aces of the Luftwaffe with 180 air victories to his credit, flew the Messerschmitt.
Kozhedub had been Lange's target for a while, but mastery triumphed over speed in the end, and Lange found himself the target. It was one of the first-ever jet fighters shot down in the air by another plane, notably a piston-engined, propeller-driven Lavochkin La-7.
Late in February 1945, Maj. Kozhedub and Lt. Gromakovsky were patrolling the frontline when they saw 13 Focke-Wulf aircraft. Before they knew what was happening, they attacked the Focke-Wulfs. Both Kozhedub and Gromakovsky successfully downed three and two shots, respectively.
On April 17, 1945, during his fifth sortie of the day, Maj. Kozhedub engaged in his final World War II battle above Berlin, shooting down two Focke-Wulf Fw-190 fighters.
Kozhedub continued to serve in the Air Force after World War II, this time as a jet fighter pilot. He received his diplomas from the Red Banner Air Force Academy in 1949 and the General Staff Academy in 1956. Col. Kozhedub oversaw a fighter division that downed 239 hostile aircraft during the Korean War.
Ivan Kozhedub held essential roles in the Defense Ministry and the Air Force from 1964 until his final days. He received a promotion to the position of Marshal of Aviation in 1985. Additionally, he was chosen to serve four consecutive terms in the USSR parliament.
On August 12, 1991, Ivan Kozhedub died and was buried in Moscow. However, his bravery, grit, and heroism lived on for several years after WW2.
Contact the author at sakshi.tiwari9555 (at) gmail.com