Pakistan Army's air defense unit has recently inducted a variant of the Chinese-made HQ-9 surface-to-air missile system most likely to be deployed along the LOC. China had earlier deployed these missiles along the Line of Actual Control (LAC), its de facto border with India.
The latest defense collaboration between the 'iron brothers', Pakistan and China, may be seen as a fresh threat to India, whose military has long been strategizing to tackle two-front war challenges.
The Hóng Qí-9 (HQ-9), literally the 'Red Banner-9', is a Chinese medium- to long-range, active radar homing SAM system. The weapon uses an HT-233 passive electronically scanned array (PESA) radar system, which has a detection range of 120 km with a tracking range of 90 km.
The system has four different types of radar — Type 120 low-altitude acquisition radar, Type 305A 3D acquisition radar, Type 305B 3D acquisition radar, and H-200 mobile engagement radar. In terms of capability, HQ-9 can be compared with the Russian S-300 and American Patriot air defense systems.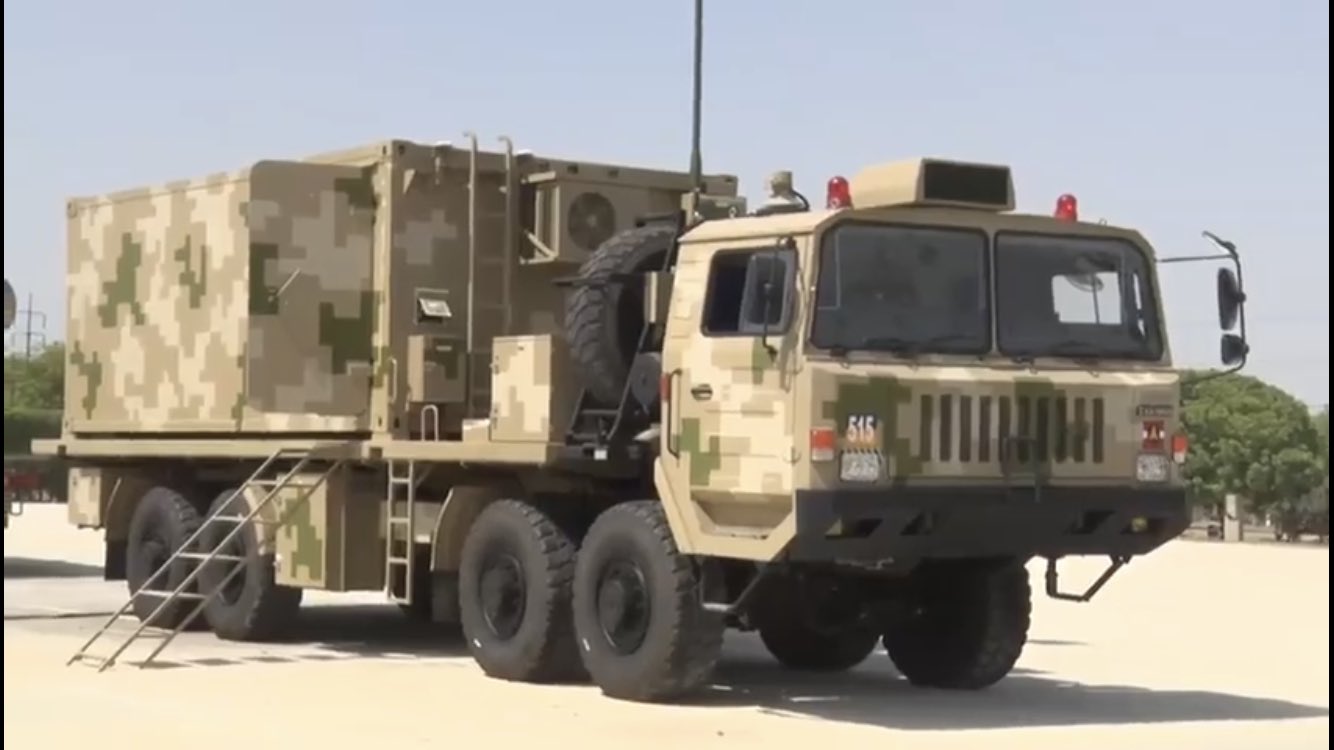 The EurAsian Times had earlier speculated that HQ-9 missile battery could feature one 200 kW Diesel generator truck, and eight transporter erector launchers (TELs) each with 4 missiles, totaling 32 rounds ready to fire.
A variety of equipment can be added to the system to make larger, more capable formations. Among the equipment that can be added is one TWS-312 command post, one site survey vehicle based on the Dongfeng EQ2050, additional transporter/ loader vehicles with each vehicle housing four missile TELs based on Tai'an TAS5380, etc.
Various units of these highly mobile systems have finished conducting long-distance maneuvers and drills.
HQ-9 which is considered one of most advanced surface to air missile system.#PakistanArmy #China #HQ9 pic.twitter.com/Otp1Jy6W3d

— ISI Defenders (@ISI_Defenders) October 16, 2021
Multiple Variants
China has developed multiple variants of this SAM system. The Hǎi Hóng Qí-9, literally the 'Sea Red Banner-9', is HQ-9's naval variant. It seems to be quite identical to the land-based version.
China's People's Liberation Army Navy (PLAN) has deployed the HHQ-9 in its Type 052C Lanzhou-class destroyer in Vertical Launch System or VLS tubes.
An anti-radiation variant of the missile system has also been designed and developed by China. The export designation for the air defense version is Fang Dun-2000 (FD-2000), literally meaning defensive shield. Its is developed by China Precision Machinery Import-Export Corporation (CPMIEC). It comes with anti-stealth capability.
Meanwhile, the HQ-9A version of the missile features advanced electronic equipment and software that provides it with increased accuracy and probability of kill. The HQ-9B has a longer range and is equipped with an extra seeker.
This new vertical launch, ground-to-air missile defense system has a target range of over 250 km and up to a height of 50km.
The naval variants of the missile are HHQ-9A and HHQ-9B. HQ-9C is currently under development. It is expected to be equipped with fully active radar homing.
The HQ-9/P
The HQ-9/P (P for Pakistan) high-to-medium air defense system (HIMADS) was inducted into the Pakistan Army at a ceremony held at the Army Air Defence Centre, Karachi. Pakistan's Chief of Army Staff (COAS) General Qamar Javed Bajwa was in attendance at the event.
Pakistani defense PR wing, ISPR, said that Gen. Bajwa was briefed by Commander Army Air Defence Command, Lieutenant General Hamooduz Zaman Khan, about the strategic weapon system while on a visit to Army Air Defence Centre Karachi.
"Induction of HIMADS will significantly enhance Comprehensive Layered Integrated Air Defence (CLIAD) shield of aerial frontiers of Pakistan as the system is fully integrated through a well-knit digitized system on its inventory," an official statement said.
Information regarding the number of HQ-9/P sets that have entered service, and whether additional sets are on order, was not provided.
HQ-9/P is viewed as a strategic long-range SAM with commendable precision and flexibility. It is considered capable of intercepting multiple air targets. This includes aircraft, cruise missiles, and beyond visual range (BVR) weapons at ranges over 100 km with what is called the single-shot kill probability.
Headache For India?
Mid-April this year, while India and China were still in talks to resolve their border standoff and find ways of further disengagement along the LAC, Beijing had reportedly deployed the HQ-9 system along the border.
Government officials had then highlighted how this weapon could pose a threat to Indian helicopters and aircraft operating in the region. The Indian Air Force maintains a strong presence of its air-superiority fighters, the Su-30MKI and the upgraded supersonic interceptors the MiG-21 'Bisons'  in the region.
Early in September 2020, in the midst of renewed tensions between Indian forces and Chinese PLA troops in the Ladakh region, PLA Ground Force (PLAGF) had deployed their HQ-9 SAM systems along the LAC.
There is no doubt that the Chinese anti-aircraft system is a threat to India. Now that Pakistan, India's regional adversary, is also in possession of the HQ-9, India's security concerns are likely to increase.
Pakistan is already marching ahead of India in terms of drone technology. In fact, a drone was intercepted over India's Jammu border region just a little over 3 months ago.
How much of a threat the HQ-9 system will be to India depends on the number of these missiles Pakistan has and the location of their deployment. This remains to be seen.