Taiwan has launched its first domestically-made diesel-electric submarine, the Haikun, as it boosts indigenous defense production and arms purchases from the United States to fend off a possible Chinese attack.
With another boat under production, Taiwan plans to build ten more such vessels to have a credible naval deterrent against the People's Liberation Army – Navy (PLA-N), the leading arm of a military takeover of the island.
In a separate development, Chinese private defense companies also revealed a rarely-seen twin-barreled grenade launcher quadcopter drone at an exhibition in China's Sichuan Province.
The aircraft seems configured for anti-infantry and anti-armor roles, hinting it can be used if China decides to launch an amphibious invasion of Taiwan and fight it out with Taiwanese troops in its cities and villages.
The submarine's launch comes as China has been undertaking exhaustive preparations for a military recourse on uniting the island with the mainland. This is in case its 'Peaceful Reunification' policy fails to yield a political agreement with Taipei's leaders to accede to Beijing. Military observers estimate the Chinese military to be fully ready and capable of successfully undertaking an invasion by 2027.
A maneuver that proved to experts that the People's Republic of China (PRC) was making concerted and foolproof efforts to strike the island was PLAN vessels and carrier battle groups operating on the eastern seaboard, indicating it would surround and enforce a blockade to prevent any external force from coming to the island's rescue.
Taiwan's Indigenous Submarine
The US$ 1.54 billion (£ 1.27 billion) diesel-electric powered submarine will undergo several tests and be delivered to the navy by the end of 2024, according to military officials quoted by the Saudi Gazette.
The head of the domestic submarine program, Admiral Huang Shu-kuang, told reporters last week that the goal was to fend off any attempt from China to encircle Taiwan for an invasion or impose a naval blockade, indicating Taiwan is fully seized of what the PLA would entail.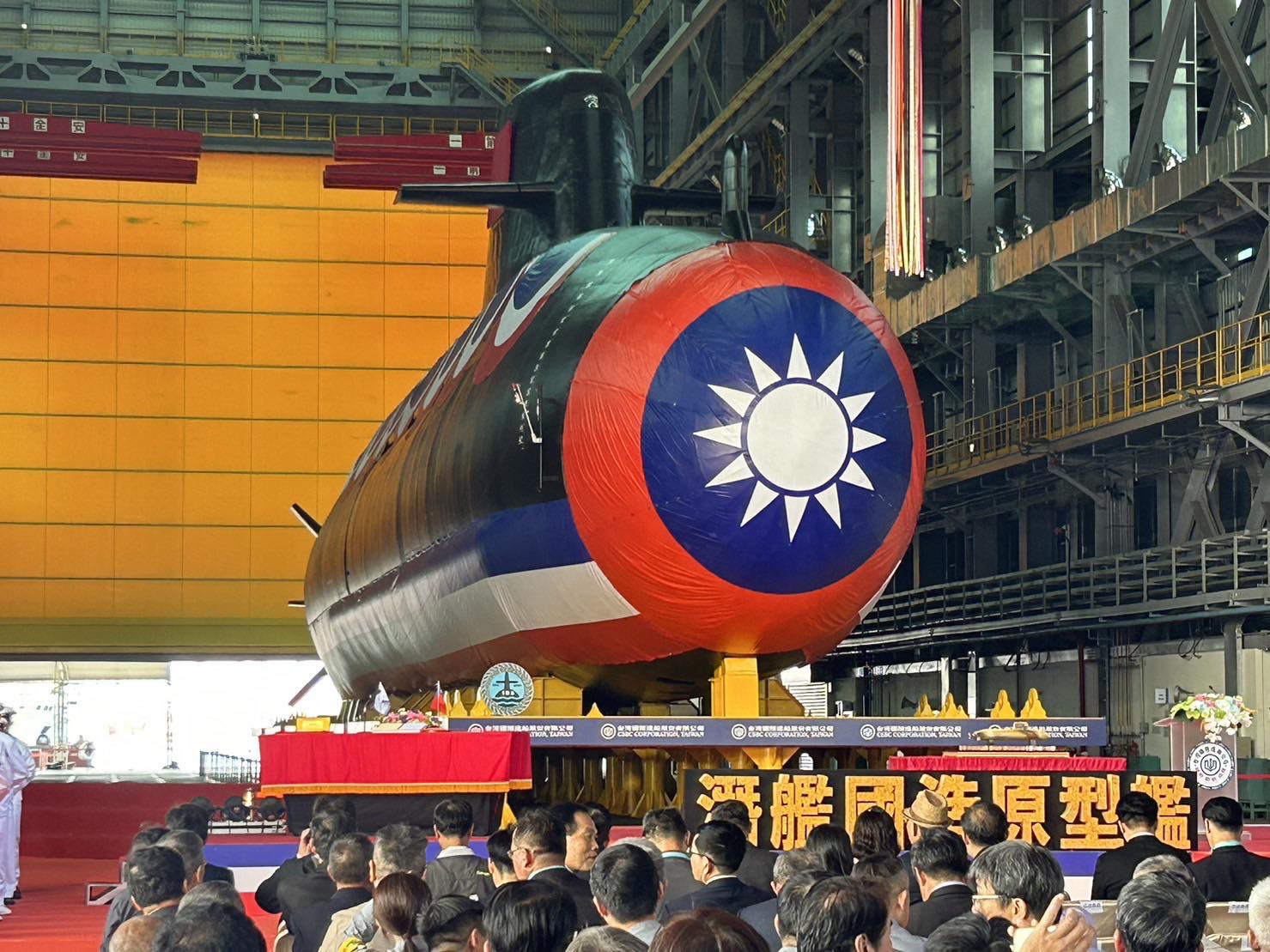 He added that it would also buy time until American and Japanese forces arrive to aid Taiwan's defense. Building their submarines has long been a critical priority for Taiwan's leaders, but the program accelerated under President Tsai Ing-wen, who nearly doubled the budget during her tenure.
China Isn't Impressed, Says PLAN Reigns Supreme
But in a piece published earlier this week, Global Times said Taiwan was "daydreaming," and the plan was "just an illusion." It also claimed China's military "has already constructed a multidimensional anti-submarine network all around the island."
The report apprised how the Republic of China (RoC, an alternative name Taiwan adopts to set itself politically apart from the PRC) plans to employ submarines to fight the PRC. "Huang claimed that the island's submarine forces will be deployed to the island's southwestern, southeastern, and eastern waters and waters between Suao and Japan's Yonaguni Island to cut off PLA forces' access to the Pacific Ocean from the first island chain, so the PLA cannot encircle the island of Taiwan."
It then pointed out how the PLAN has a more significant multidimensional force complete with Y-8 fixed-wing anti-submarine patrol aircraft and Z-9 vessel-borne anti-submarine helicopters in the air, anti-submarine warfare (ASW) corvettes, frigates, and destroyers on the sea surface, and submarines.
It implied that Taiwan doesn't possess these, and merely having submarines without a sizeable naval aviation force, maritime reconnaissance aircraft, a diverse range of drones, fighter-bombers, satellite cover, and warship fleet doesn't offer complete protection against an invading navy.
EurAsian Times had reported in several prior analyses that the military balance in the Taiwan Straits is heavily skewed in the PRC's favor, and even a full US intervention is unlikely given the domestic public aversion in Washington for a new war.
The Taiwanese submarines pose only "limited threats," and "the true potential targets of the PLA are submarines from external interference forces such as the US and Japan."
🔴 🛸 تم تقديم طائرة الاستطلاع والهجوم بدون طيار Tomahawk H16-V12 في مؤتمر حول تطوير صناعة الطائرات بدون طيار في مقاطعة سيتشوان الصينية

▪️ الخصائص التقنية موصوفة بالتفصيل هنا.

▪️ قادرة على حمل وحدات قتالية مختلفة لإطلاق القنابل الدخانية والمسيلة للدموع والقنابل الصادمة… pic.twitter.com/qE3626mNEL

— الصين بالعربية (@mog_china) September 28, 2023
Moreover, Chinese military observers also question the "self-developed" claim of the submarines since they use several foreign technologies, like the US-origin MK-48 heavyweight torpedoes and a combat management system developed by Lockheed Martin.
There are several cases of defense platforms encountering endemic maintenance and serviceability issues due to Western components' heavy presence. They are often unavailable for replacement and upgrade due to the prohibitive cost, supply chain, and geopolitical and diplomatic hurdles.
China's MoD spokesperson Wu Qian called the Haikun "just a praying mantis trying to use its arms as a chariot, and it will ultimately lead to its destruction."
"As for the talk about preventing the PLA Navy from entering the Pacific Ocean, this is nonsense. No matter how many weapons the Democratic Progressive Party authorities purchase, they will not be able to stop the general trend of reunification of the homeland," he said.
Grenade-Firing Quadcopter Drone
Chinese defense exhibitors also displayed the Tomahawk H16-V12 reconnaissance-attack drone at a conference on the drone industry in Sichuan, with posts on X (formerly Twitter) showing the aircraft on a stall.
Handles said the drone is "capable of carrying various combat modules for firing smoke, tear, shock bombs, grenades, automatic firing, target illumination, dropping leaflets for propaganda purposes, and conducting air combat."
It first emerged on social media in 2020 and claimed to be in service with the 75th Army Corps of the PLA. The two 38-mm stun grenade launchers have an effective range of 200 meters, while the drone can carry a maximum combat load of 25 kilograms. The Harwar company has developed the drone.
The UAV can also have diverse payloads slung on its undersides, with the various posts showing it carrying bags (suggesting a light logistical role) and what appears to be a light anti-tank guided missile (ATGM).
A picture also showed it flying right above a Type 08 wheeled armored personnel carrier (APC) with a 125 mm gun turret during a drill, hinting that it can be employed in combined arms maneuvers.
Such drones act as a force multiplier, where combined with the right tactics-training-procedures (TTP), they can share a lot of fire assault and target engagement tasks of tank and mechanized units during breakthrough roles.