The Indian Armed Forces deployed in the former state of Jammu and Kashmir have been put on high alert, the ANI news agency reported on Friday, citing official sources.
Pakistan Says Voice Of Kashmiri People Heard At UNSC; India Calls Kashmir 'Internal Matter'
"All Indian Army, Air Force and security forces' bases in Jammu and Kashmir asked to be on high alert against a possible attempt by Pakistan-backed terrorist groups to carry out attacks in view of Pakistani efforts to create disturbances in the Kashmir valley," the agency quotes the sources as saying.
On Thursday, the Pakistani army reported that at least five Indian and four Pakistani soldiers were killed in gunfire in Jammu and Kashmir on the Line of Control, which splits the territory between the two countries. The Indian Armed Forces rejected any deaths of its soldiers, but Pakistan was quick to confirm the death of four Pakistani soldiers.
UAE Strongly Supports Indian Revocation Of Article 370 In Jammu and Kashmir
On August 5, the Indian government revealed its decision to terminate the state of Jammu and Kashmir and create two union territories. To this end, the Indian parliament voted to revoke Article 370 of the Constitution that granted special, but unfair status to Jammu and Kashmir.
Kashmir Timeline
1947 – Partition of the sub-continent predominantly into Hindu-dominated India, and Muslim-dominated Pakistan indirectly started the Kashmir Dispute.
1947 – The King of Kashmir signs a treaty of accession with India after Pakistani tribals and army attack the independent state of Jammu and Kashmir, resulting in the first India- Pakistan war.
1948 – India presents Kashmir dispute in the UN Security Council, which in Resolution 47 calls for a referendum in Jammu and Kashmir. In the verdict, the resolution demands Pakistan to withdraw its troops completely from Jammu and Kashmir, while India to cut its military presence to and maintain law and order. A ceasefire is implemented, but Pakistan refuses to pull its troops and vacate Kashmir.
1951 – Elections in the Indian-controlled Jammu and Kashmir support accession to India. India says this makes a referendum pointless. Pakistan says a referendum needs to take into consideration the opinions of all voters in Jammu and Kashmir, including people in Pakistan controlled parts.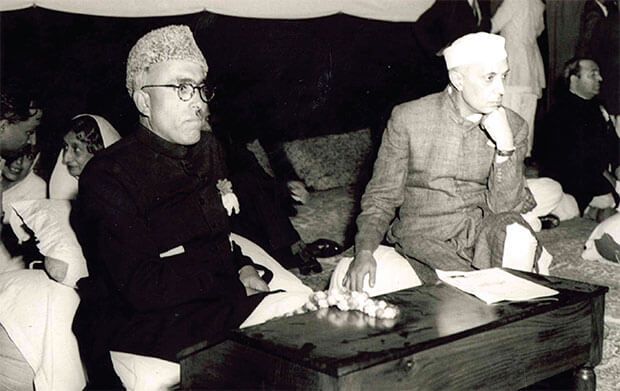 1953 – The Indian authorities terminate and arrest Prime Minister Sheikh Abdullah, leader of National Conference after he takes a pro-referendum stance and delays formal accession to India. A new Jammu and Kashmir government endorses accession to India.
1957 – The constitution of Indian-administrated Jammu and Kashmir defines Jammu and Kashmir an integral part of India.
1963 – Pakistan cedes the Trans-Karakoram Tract of Kashmir to China.
1965 – Second war over Kashmir erupts between Indian and Pakistan and ends in a ceasefire and a return to the previous positions.
1971-72 – Another Indo-Pakistani war, over Bangladesh, ends in the defeat of Pakistan and surrendering of 90,000 troops, leading to 1972 Simla Agreement. The Kashmir ceasefire line becomes the Line of Control, and both nations pledge to resolve their disputes through bilateral negotiations. The Simla Agreement forms the origin of Pakistani-Indian relations afterwards.
1974 – The pro-plebiscite parties in Jammu and Kashmir abandon the demand for a referendum, in return for greater autonomy in Jammu and Kashmir. Sheikh Abdullah becomes chief minister, and his dynasty continues to dominate the political process in Kashmir including his son Farooq Abdullah and grandson Omar Abdullah.
1984 – The Indian Army captures Siachen Glacier, an area not demarcated by the Line of Control. Pakistan makes repeated attempts to seize Siachen but in vain.
1987 – Disputed and allegedly rigged elections in the state of Jammu and Kashmir, gives momentum to a pro-independence rebellion. Pakistan stimulates the insurgency by sponsoring, training and dispatching terrorists to Jammu and Kashmir.
1990 – The insurgency and tensions escalate after terrorists start to massacre the minority Kashmir Pandit's and threaten them to leave Kashmir. After continued killings and threat to minority Kashmiri Pandits, almost all of the Pandits from the Kashmir Valley are forced in migration, living in miserable conditions in camps. India imposes Armed Forces Special Powers Act (AFSPA) in Jammu and Kashmir, giving them absolute powers in countering terrorists.
1990s – The insurgency continues, with Kashmiri and other militants training across the border in Pakistan and India deploying thousands of security forces to counter them in Jammu and Kashmir.
1999 – Fourth war erupts between India and Pakistan after militants along with Pakistan defence forces cross from Pakistani-administered Kashmir into the Kargil sector and seize upper heights. India aggressively repels the attack, and Pakistan finally pulls from Kargil after immense international pressure and aggressive bombing from Indian forces.
2001-2004 – Attempts to enhance relations between India and Pakistan are disrupted by constant violence, particularly an attack on the Indian parliament in New Delhi.
2010 Onwards: Major protests, which Indian blames on Pakistan, have been erupting in the Kashmir Valley after many demonstrators were killed. The mobs continue to pelt stones on security forces akin to Palestine demonstrations, while the Indian army continues to hunt Pakistani-backed and trained terrorists in the Indian-administered state of Jammu and Kashmir.
2011 Indian Human Rights Commission confirms the presence of unmarked graves near in the Kashmir valley. Activists claim many may belong to those people who went missing after being arrested by Indian defence establishments.
2013 Kashmir terrorist organization, Jaish-e-Mohammed activist Mohammad Afzal Guru hanged to death over the involvement of attack on Indian parliament in 2001, again triggering massive protests in Jammu and Kashmir.
2015 BJP party, led by nationalist PM Narinder Modi, is sworn into government in Jammu and Kashmir for the first time in alliance with People's Democratic Party. Mufti Mohammad Sayeed replaces Omar Abdullah as the Chief Minister.
2016 Mehbooba Mufti, the leader of the People's Democratic Party becomes the first female chief minister of Jammu and Kashmir after the death of her father and J&K CM, Mufti Mohammad Sayeed.
2016 Indian armed forces kill local terrorist Burhan Wani, a popular militant and top commander of the Hizbul Mujahideen terrorist group, which triggers massive agitation.
2016 India and Pakistan relations further plummet after 18 Indian soldiers were killed by terrorists after they strike Indian army base in Jammu and Kashmir.
2016 India claims to have carried out "surgical strikes" against suspected militants inside Pakistan-controlled Kashmir, which Pakistan denies.
2017 Pakistan trained terrorists groups start to target security established in Kashmir, killing local policemen and other local defence officials in an attempt to dissuade them from joining Indian armed forces.