The United States security establishment has sounded the alarm of a possible arms race over the latest Putin-Xi bilateral agreement for a critical technology transfer that China could use to produce nuclear warheads.
The US officials are on edge. The recent summit meeting between Russian President Vladimir Putin and his Chinese counterpart Xi Jinping led to a long-term deal aimed at the sustained development of the so-called fast-neutron reactors.
During the meeting in Moscow last Tuesday, Putin and Xi announced the nuclear deal as part of a slew of agreements their nations signed. Xi was in Russia for three days last week to press for Putin to agree to a 12-point peace plan to defuse the war in Ukraine, though the proposals haven't found takers among the western powers that back Kyiv.
US Secretary of State Antony Blinken is reported to have touched upon the China-Russia agreement and expressed concerns during a congressional hearing on Wednesday.
"They talked about a partnership with no limits," Blinken said, pointing out that the new area of concern for the Biden administration stems from the nuclear cooperation between Russia and China, according to Nikkei Asia.
Russia's nuclear technology giant Rosatom State Nuclear Energy Corporation reportedly supplied 25 tons of highly enriched Uranium to China's CFR-600, the first fast reactor facility, in December.
China's fast reactor facilities use liquid metal instead of water to moderate operations. These fast reactors are borrowed from Russian technology.
Bloomberg reported that analysts are worried that the Chinese facility could produce enough fuel to build around 50 nuclear warheads annually using Russian supplies.
The US Congress has raised red flags over the relationship between Rosatom and China National Nuclear Corporation that runs the CFR-600 facility, calling it "dangerous" and nudging the Joe Biden administration to crack the whip to stop such Russian transfers of nuclear material to the Chinese facility.
A year ago, the Biden administration was considering sanctions on Rosatom, while Republican senators had introduced a bill to ban US imports from the Russian company.
"Russia's and the People's Republic of China's (PRC's) nuclear cooperation goes much farther than just civilian projects," chairmen of Congress's armed services, foreign affairs, and intelligence committees jointly wrote a letter to National Security Advisor Jake Sullivan two weeks ago, according to the Bloomberg report.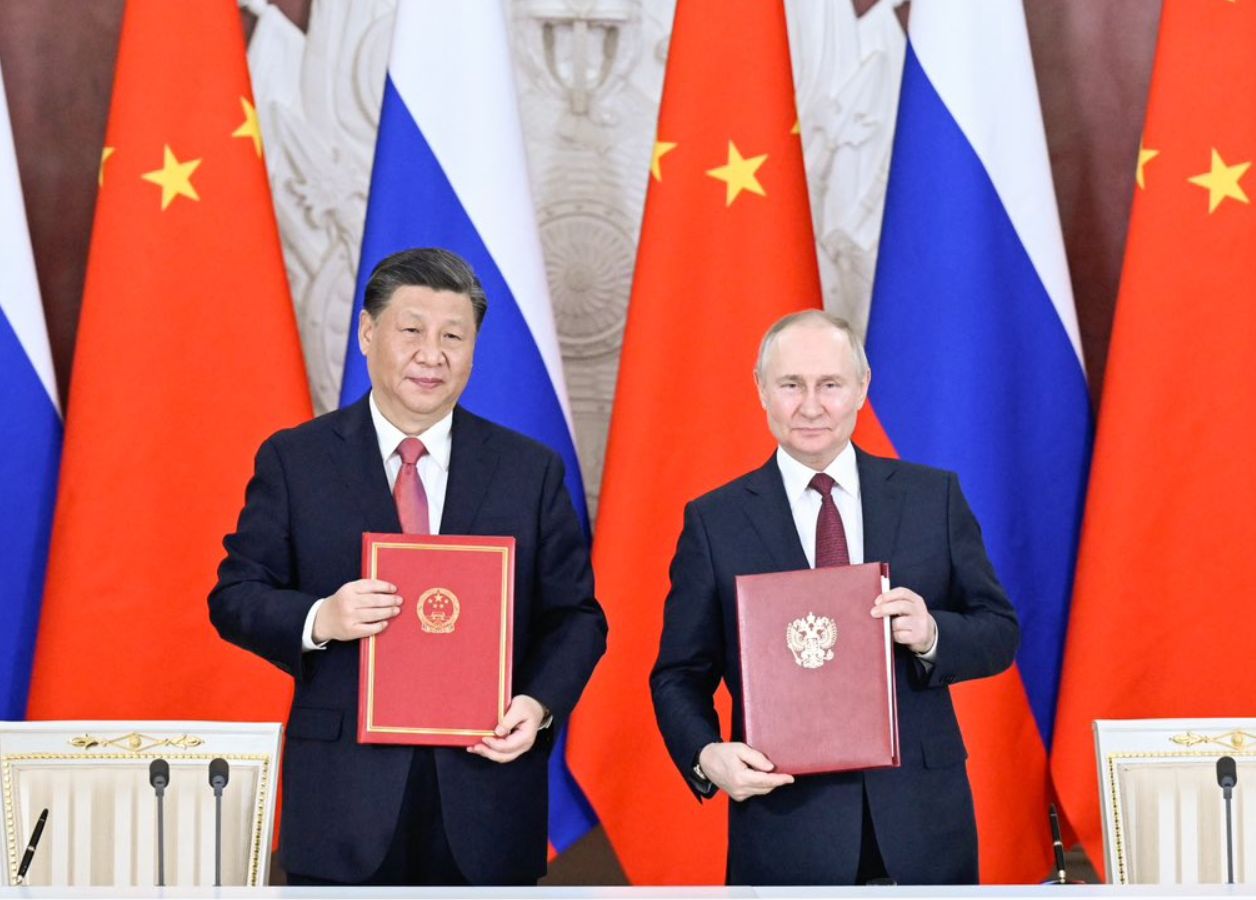 At a Congressional hearing in March, Nikkei Asia reported that John Plumb, US Assistant Secretary of Defense overseeing space and nuclear policy, called the nuclear cooperation between China and Russia "very troubling."
"They may have talking points around it, but there's no getting around the fact that breeder reactors are Plutonium, and Plutonium is for weapons," he said, highlighting the risk that Russia's provision of enriched uranium could result in China expanding its nuclear arsenal.
"Responsible nuclear states should not be feeding into [China's] nuclear programs with fissile material without understanding the escalatory potential, without understanding the destabilizing nature, without understanding the consequences of that transfer," Nikkei Asia quoted an unnamed senior US State Department official, as saying.
The US Department of Defense top brass, too, have been expressing concerns over the ambitions of China about its nuclear stockpile, and in a 2021 China Military Power Report to Congress, said: "The accelerating pace of the PRC's nuclear expansion may enable the PRC to have up to 700 deliverable nuclear warheads by 2027. The PRC likely intends to have at least 1,000 warheads by 2030, exceeding the pace and size the DoD projected in 2020."
It followed up with a new assessment in 2022 that said: "In 2021, Beijing probably accelerated its nuclear expansion. The Department of Defense estimates that the PRC's operational nuclear warheads stockpile has surpassed 400.
"If China continues the pace of its nuclear expansion, it will likely field a stockpile of about 1,500 warheads by its 2035 timeline," it concluded.
China has rejected US insinuations that CFR-600 was a nuclear weapon fuel-extracting facility. It has claimed that the unit was a power generation source linked to its power grid as part of an ambitious US$400 billion program to dislodge the US as the world's top nuclear-energy producer by 2035.
Chinese Foreign Ministry spokesman Wang Wenbin, at a regular press briefing in Beijing, hit back at the US. Wang said, "China and Russia conduct normal civilian nuclear energy cooperation in line with our respective due international obligations under the framework of intergovernmental agreements, which is perfectly normal, and we do not see anything wrong about it."
American military officials estimate that the CFR-600, to which Russia had supplied Uranium in December, would be the mainstay of China's nuclear weapons program for the future, enabling a nearly four-time jump in the nukes stockpile in about 12 years from now.
This has raised the hackles of US and other non-proliferation analysts, who see the possibility of returning to the Cold War era hostilities and an arms race between the US and China.
"The details of the latest agreement between China and Russia concerning Uranium supplies for the CFR-600 facility is not public yet, but the possibility of diversion of the fuel for making nuclear weapons and to increase the Chinese stockpile does exist," according to Rajiv Nayan, a senior research associate at India's state-run Manohar Parrikar Institute for Defense Studies and Analyses (IDSA).
"The implications of this Russia-China agreement become a concern when it turns out that Beijing has increased its stockpile of nuclear weapons using the CFR-600 facility, as assessed by the Americans, causing an arms race witnessed 30 years ago during the Cold War era.
"Until the uranium supplies and technology transfers are confined to the energy program, it is parred for the course under the non-proliferation norms," said Nayan, an expert on nuclear disarmament, export control, non-proliferation, and arms control.
Russia is the world's biggest supplier of nuclear reactors and fuel, and its nuclear exports have only increased since the Ukraine war, despite the consequent sanctions. Russia has sought and bagged new global buyers for its nuclear material and technology, with Hungary becoming its latest client in August 2022.
In this nuclear superpowers game, US, Russia, and China are all recognized nuclear weapons states under the Non-Proliferation Treaty (NPT). They are members of the Nuclear Suppliers Group (NSG). This multilateral export control regime regulates transfers of nuclear-related material and technology and prevents these from falling into the hands of non-member states.
The NSG is a closed club of nuclear supplier nations that seeks to promote the non-proliferation of nuclear weapons by implementing two sets of guidelines for nuclear exports and nuclear-related exports.
China has been the only one among the five nuclear weapons states – United States, Russia, United Kingdom, and France being the other four — that has put a brake on India's entry into the NSG, the only global export control regime that New Delhi is yet to be a part of.
India has, since 2017, joined the other three international export control regimes: the Missile Technology Control Regime, Wassenaar Arrangement, and the Australia Group.
NC Bipindra is a 30-year veteran in journalism with specialization in strategic affairs, geopolitics, aerospace, defense, and diplomacy. He has previously written extensively for the Times of India, New Indian Express, Press Trust of India, and Bloomberg News. He can be reached at:

ncbipindra (at) gmail.com