Chinese President Xi Jinping was on a three–day visit to Moscow, after which he is scheduled to land in Kyiv. In a joint statement issued at the end of the second day of the Xi-Putin meeting in Moscow, the two sides touched on various current and long-term issues and how they look at them.
The joint statement unravels their ambition of reaching almost the globe with their "peace plan," which stands on the central pillar of multilateralism. Of late, China has been vociferous about multilateralism, which in simpler terms, means challenging US-led unipolarity in the world order.
The two leaders have extensively talked about the resolution of disputes through dialogue and cementing of peace. Both countries have vowed to attach great importance to developing ties with Latin America and the Caribbean countries.
Also, an expansion of cooperation in Africa was touched upon, with both leaders seeking to maintain a "sound and healthy" climate for international cooperation.
Before leaving Beijing for his visit to Moscow, Xi issued a 12-point peace formula for Ukraine. It appears that the two leaders have discussed the draft formula, but Putin took a hard line at the joint press conference that capped the day of talks.
He noted that many of the provisions of a 12-point peace plan recently put forward by China dovetailed with Moscow's approach to any future tasks "when the West and Kyiv are ready for it." However, he added, "we have not seen such readiness from their side yet."
Making a case, Putin said that the Western allies continued to arm Ukraine with tanks and other weapons, mentioning an announcement by Britain on Tuesday that it planned to send armor-piercing shells containing depleted uranium to Kyiv.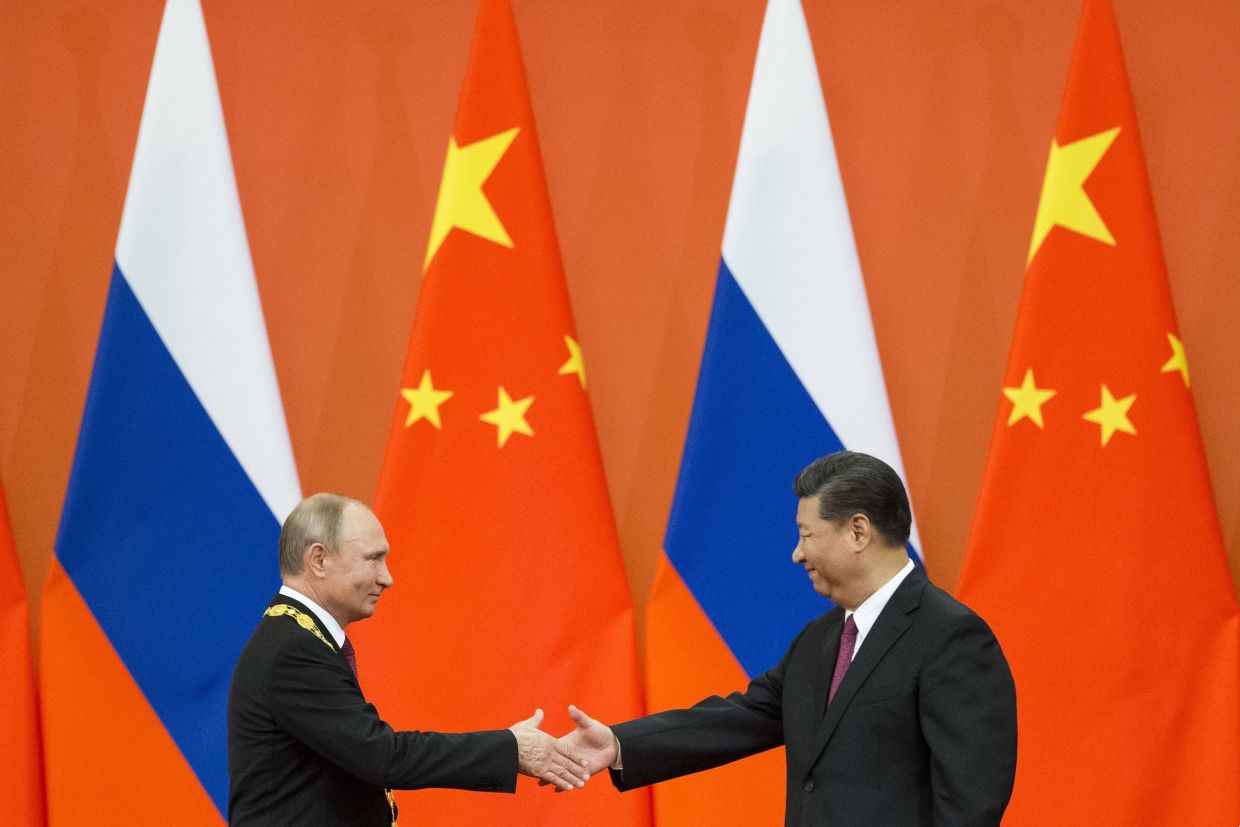 Putin asserted, "It seems that the West decided to fight with Russia to the last Ukrainian – no longer in words, but in deeds. If all this happens, Russia will have to respond accordingly. I mean that the collective West is already beginning to use weapons with a nuclear component."
Putin did not elaborate further than to say that China and Russia follow an independent foreign policy based on a "democratic, multipolar world order." The two leaders pledged to work together on various issues – from Southeast Asia to the Middle East and Latin America – to demonstrate their global interests and rising superpower rivalry.
Following their closely watched meeting on Tuesday, Chinese President Xi Jinping and Russian leader Vladimir Putin issued a joint statement that ushered in "a new era" of bilateral ties while calling for an expansion of cooperation in various fields.
These include boosting efforts to work with a multilateral framework involving India, Mongolia, and the 10-member Association of Southeast Asian Nations (ASEAN).
One reason why both China and Russia are trying to woo Africa and Latin America is that both have been isolated by the US and its allies in Europe, and they are seeking space provided by the developing world.
Curiously, the joint statement speaks about the Korean Peninsula and clearly references means for reducing tensions and creating an atmosphere of peace and mutual trust. Last week, North Korea fired a series of ballistic missiles, as South Korea and the US staged major military drills, indicating unease in the Peninsula.
Xi and Putin urged the parties to "maintain calm and restraint," calling on the US to take "concrete actions" to respond to North Korea's concerns and facilitate dialogue resumption.
The statement said, "The two sides have always insisted on maintaining peace and stability on the peninsula, including the realization of denuclearization, and jointly advocated the establishment of a peace and security mechanism."
The statement is silent on Taiwan and Sino-Indian border dispute in the Himalayan ranges. But the statement urged parties to respond to China's and Russia's efforts to promote peace talks and play a constructive role.
This is the fundamental approach expressed by India several times while conducting talks with China on resolving the border issue. China brokered a deal earlier this month to restore diplomatic relations between Iran and Saudi Arabia.
This success has encouraged China to seek a solution to the Ukrainian logjam, for which Xi will be undertaking a trip to Kyiv upon completion of his tour of Moscow.
Ukrainian leader Zelensky is already reported to have considered the Chinese 12-point peace formula when he found that the US may be unable to supply the ammunition required to fight the Russians, particularly with depleted manpower.
Russia welcomed China's willingness to play a positive role in resolving the Ukraine crisis through political and diplomatic means, a Xinhua readout said. "The Russian side reiterated its commitment to restart the negotiations as soon as possible."
After the Xi-Putin meeting on Tuesday, US State Department spokesman Vedant Patel said the US welcomed any meaningful peace agreement that respects the sovereignty and territorial integrity of all countries.
A professor at Cornell University said, "It will be very difficult for Xi to thread the needle between strengthening his partnership with Putin without doing greater damage to China's relations in Europe. And reports of Chinese munitions in Ukraine will create pressure for additional sanctions on Chinese entities."
KN Pandita (Padma Shri) is the former Director of the Center of Central Asian Studies at Kashmir University. Views expressed here are of the author's.
Mail EurAsian Times at etdesk(at)eurasiantimes.com