The Ukrainian military currently operates thousands of advanced Lithuanian counter-unmanned aircraft systems (C-UASs), bolstering their defense capabilities against Russian drones. 
Since the onset of the full-scale Russian invasion of Ukraine in February 2022, Lithuania has provided Ukraine with numerous anti-drone weapons, in addition to howitzers, helicopters, and various other weapon systems.
Shortly after the commencement of the conflict, the Lithuania-based company NT Service initiated the supply of Counter-Unmanned Aircraft Systems (C-UASs) to the Ukrainian armed forces.  
In June 2022, it was reported that the company dispatched 110 counter-unmanned aircraft systems (C-UAS) weapons, which were produced and transferred at a cost exceeding EUR 1.5 million (equivalent to $1.56 million). 
However, Ivan Sybyriakov, who serves as the manager of the unmanned systems center at Ukrainian state-owned SpetsTechnoExport (STE), was quoted saying that the Ukrainian army currently has "thousands" of operational Lithuanian counter-unmanned aircraft systems (C-UASs) in its possession. 
The C-UAS solutions discussed here include the Skywiper Electronic Drone Mitigation 4 – System (EDM4S) and the Skywiper Omni. 
Users highly regard the Skywiper EDM4S solution as the top choice for regular soldiers due to its impressive long-range capability (covering 3 to 5 kilometers in line-of-sight) and relatively lightweight, just 6.5 kilograms.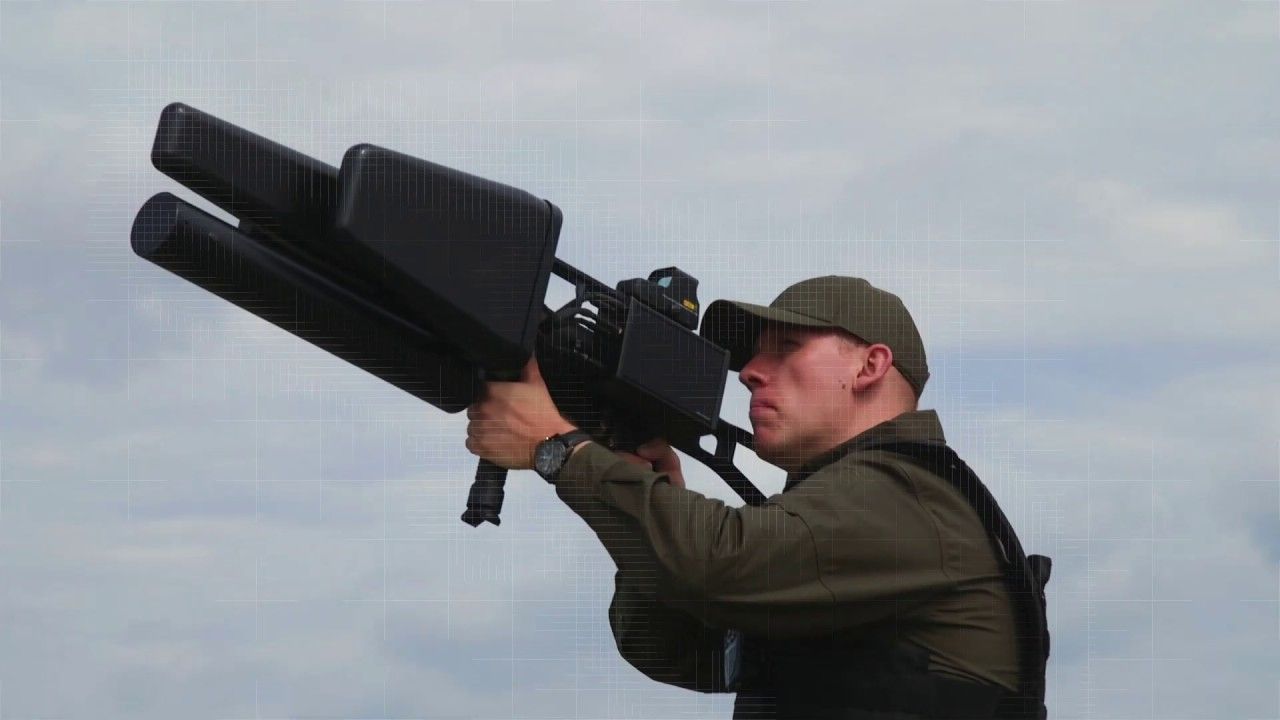 This system can remain operational for up to one hour and effectively disrupts unmanned aircraft systems (UASs) operating on various frequencies, including 900 MHz, 2.4 GHz, 5.8 GHz, and GNSS L1 1.5 GHz bands. 
Furthermore, custom frequencies can be incorporated based on specific customer requirements and local regulations, as noted by Sybyriakov.
Complementing the handheld jammer, the army deploys the Skywiper Omni, an omnidirectional jamming device weighing 11.3 kg with a domed range of 500 meters. It operates on the same frequency bands as the handheld jammer. 
Sybyriakov highlighted its user-friendliness and suitability for mobile groups or medical evacuation scenarios, particularly in cases where most vehicles are not armored.
Volunteers and activists have also facilitated the delivery of this C-UAS to Ukraine through various fundraising campaigns. For instance, Lithuanian journalist and activist Andrius Tapinas initiated a fundraising campaign to aid Ukraine in July.
The objective was to acquire and transport SkyWiper Omni anti-drone systems to supply these equipment to units stationed in the vicinity of Bakhmut and on the eastern bank of the Dnipro River.
Lithuanian-Made C-UASs
Lithuanian-manufactured counter-drone rifles have proven highly effective in the ongoing conflict by successfully countering Russian drones. 
In October 2022, a video released by the Ukrainian military showcased Ukrainian soldiers' effective use of the SkyWiper counter-drone rifle. 
The video depicted soldiers aiming the rifle at a small drone in the sky, causing the drone to descend towards them. One soldier skillfully intercepted and captured the drone before it touched the ground.
The Ukrainian military has been utilizing the SkyWiper counter-drone system since 2021, initially deploying it against Russian separatist forces in Donbas and currently using it against the Russian Army. 
Despite its earlier deployment, the anti-drone gun only gained significant attention in April when a photograph of Valeriy Zaluzhnyi, the Commander-in-Chief of the Ukrainian Armed Forces, holding the weapon circulated widely on social media.
Meanwhile, Ukrainian officials have also praised the anti-drone weapons manufactured in Lithuania, hailing them as the most effective rifles. 
In July 2023, Yurii Shchyhol, who leads the agency responsible for safeguarding Ukraine's information security and battle-tested cyber defenses, highlighted the value of anti-drone rifles in radioelectric combat. 
He emphasized their portability and ability to neutralize enemy UAVs when of high quality effectively. Shchyhol pointed out that the most effective anti-drone rifles are those produced in Ukraine and the Baltic states.
The term "Baltic" drone gun refers to the Lithuanian EDM4S Skywiper system, which weighs approximately 12 pounds and is equipped with four 10-watt antennas designed to disrupt both a drone's control signals and its access to satellite navigation systems such as GPS and GLONASS. 
These Skywiper systems, with a maximum range of two to three miles, have reportedly demonstrated effectiveness in countering Russia's Eleron-3 reconnaissance drones.
Nonetheless, the presence of thousands of Lithuanian counter-unmanned aircraft systems (C-UASs) within the Ukrainian army's arsenal significantly enhances their capabilities in countering enemy drone fleets.