OPED By: Amb. Gurjit Singh
The NATO Summit took place on July 11 and 12, 2023, in Vilnius, Lithuania, and had more than usual interest. There are several reasons for the importance attached to this summit in the current phase of international relations.
NATO's rising significance is because of its war with Russia, which altered the international order. Since February 2022, when Russia invaded Ukraine, NATO was still on the back burner. The Indo-Pacific gained interest because China-Taiwan and European powers sought autonomy.
The Ukraine crisis rejuvenated the NATO-led Western alliance. This pushed back European efforts at autonomy, brought in allies from the Indo-Pacific, and admitted new members from the Baltics. NATO now has 32 members and 39 associated countries.
Secondly, NATO had to deal with two important internal contradictions. The easier was the membership of Sweden, which Turkey held a veto on after earlier agreeing to the admission of Finland. Turkey attempted a late trade for its veto for gains.
These included delivering F16s from the US and NATO's EU members and facilitating Turkey's frozen application for EU membership. The combined efforts of US President Biden and NATO Secretary General facilitated Sweden's entry without further conditions though the F16s are now cleared.
Turkey is emboldened after Erdogan's re-election. This is an internal challenge for NATO. Turkey has made good business from the sanctions against Russia, playing the middle ground wherever it could profit.
The other contradiction within NATO is what to do with Ukraine. It is not winning the war nor degrading Russian capabilities adequately. Yet Ukraine keeps asking for more. The US has persuaded Europe to provide Ukraine with more material than Europe can produce.
These additional materials were to help Ukraine win through its latest offensive. The Leopard tanks, APCs, et al. have lost their sheen in battle. Now the US is considering sending cluster bombs to Ukraine, which several NATO members of Europe oppose.
A sense of desperation appears among NATO on how to continue support for Ukraine and how long they can sustain Ukraine's crusade against Russia. NATO approved a collective defense plan if a NATO member faced a major attack by Russia. NATO members say they will invest at least 20 percent of their defense budgets on equipment and related R&D.  This will be in 'conjunction with a minimum of 2 percent of GDP annual defense expenditure'.
Ukraine wants to be fast-tracked into NATO, which the US and Germany are unprepared for. Zelensky was there, and NATO also backed him but against Russia, not for membership! He was allowed to participate in a new NATO Ukraine Council forum. Foreign Ministers of Georgia, Moldova, Bosnia, and Herzegovina were at Vilnius to keep up their engagement. Finland participated for the first time as a full member.
NATO has perhaps not adequately considered the emerging supply chains. The currency challenges to the dollar and the need for guard rails against unilateral sanctions at the whim of US strategy.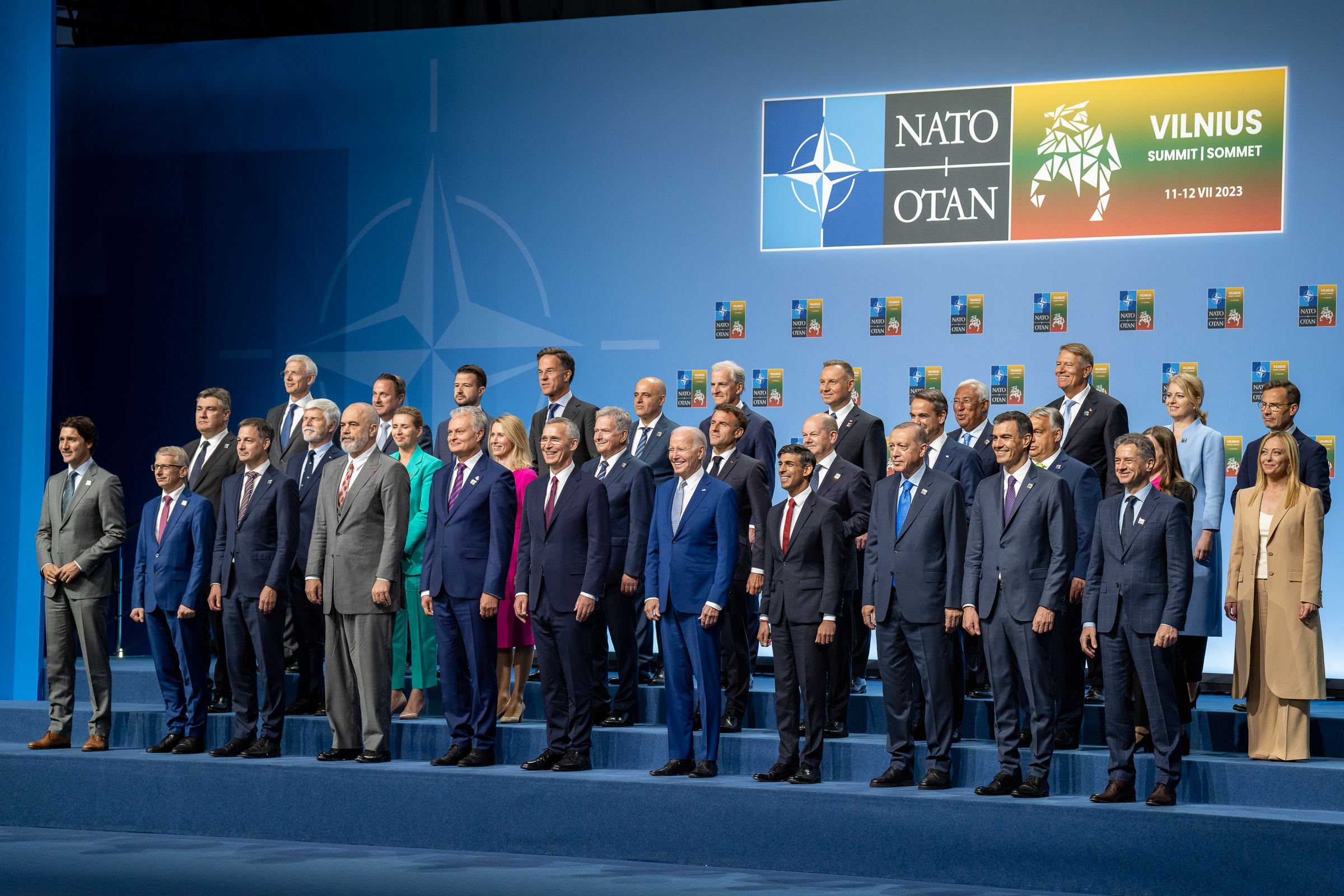 In the past, NATO has stepped out of the Euro-Atlantic zone through unlabelled operations in Iraq and Afghanistan. Now NATO is in a rush towards the Indo-Pacific. US treaty allies Japan, Korea, Australia, and New Zealand (AP4) attended the last NATO Summit in Madrid and the summit at Vilnius.
They also held their summit on the sidelines, focusing on SCS, the East China Sea, and the South Pacific. Australia is sending surveillance aircraft to Germany to help support Ukraine by protecting supply lines. Germany will buy 100 Australian-made Boxer APCs, among Australia's largest defense export deals.
240 German soldiers, including 170 paratroopers, will participate in the US-Australia Talisman Sabre exercise from July 22 to August 4. A NATO office in Japan was expected to open in 2024, but references to it did not make it to the final communique due to some European opposition.
NATO being a military alliance, its linkage is with its military allies in the Indo-Pacific, two of which are members of Quad. India remains cautious about NATO's participation in the Indo-Pacific. India has been the moderate voice in the Quad, encouraging regional functional cooperation and putting military coordination on a quieter note.
For India and some ASEAN countries, the show of NATO in the Indo-Pacific is perhaps unnecessary. This will raise anxieties in ASEAN, particularly since NATO lacks functional collaboration.
The NATO outlook on the Indo-Pacific ostensibly is to counter China. It coincides with the US being seen as making up with China and wooing them back into a practical relationship. European members of NATO are inexorably linked to China economically.
The NATO strategy paper of 2023 describes China as a strategic challenge and declares that developments in the Indo-Pacific affect the security of the NATO allies.
The 2022 Strategic Concept explicitly criticizes Chinese action, including hybrid and cyber operations, disinformation campaigns, and efforts to "control key technological and industrial sectors, critical infrastructure, and strategic materials and supply chains."
Is this an effort to better coordinate the US with its regional military allies? Is it an expansion of the arena where NATO countries with Indo-Pacific policies in Europe will also show their military flags in the region?
This was already happening in the Indo-Pacific. Now NATO is trying to take advantage and show itself as the leader of these efforts. The problem with these efforts is they do not raise the cost of irresponsible Chinese behavior in the region.
Bilaterally, most of the NATO members are seeking accommodation with China while strategically calling it out. This is evident in the communique, which says China's ambitions and coercive policies challenge NATO interests, security, and values. NATO is open to constructive engagement with China, including building reciprocal transparency, to safeguard NATO's security interests.
In its primary focus, the communique said: The Russian Federation is the most significant and direct threat to Allies' security, peace, and stability in the Euro-Atlantic area. Terrorism, in all its forms and manifestations, is the most direct asymmetric threat to the security of our citizens and international peace and prosperity. The threats we face are global and interconnected.
For India, NATO is becoming a reality closer to home and evolving strategic preferences. This is due to diminishing Russian power and closeness to the US, but it does not confront China adequately.
Bilateral bonhomie with NATO and its members, regional congruence in the Indo-Pacific, and global aloofness from NATO will be the strategic autonomous policy that India evidently pursues.
Gurjit Singh is a former Ambassador to Germany, Indonesia, Ethiopia, ASEAN, and the African Union Chair, CII Task Force on Trilateral Cooperation in Africa, Professor, IIT Indore.
Contact EurAsian Times at  etdesk@eurasiantimes.com