Sweden will sell the United States (US) its locally-built version of the American AIM 120D Advanced Medium-Range Air-to-Air Missile (AMRAAM), which will, in turn, transfer it to Ukraine to be used by the National Advanced Surface-to-Air Missile (NASAMS).
In return, the US government will offer Sweden a more advanced variant of the same class of AAMs. The Swedish arms transfer is part of a Krona 3.4 billion (US$314 million) defense assistance that the Scandinavian nation's Parliament approved on August 15.
This is also the 13th package of military assistance to Ukraine from Sweden since the start of the war in February 2022. "The government has decided on a new package of support for Ukraine.
The assistance includes ammunition and spare parts for several technical systems that Sweden previously transferred to Ukraine," the press release from the Swedish government said.
This involves spare parts and ammunition for infantry combat vehicles CV9040C (Stridsfordon 90) and tank Stridsvagn 122, the Swedish version of the German Leopard 2A5 tank. Sweden will also provide transport vehicles, emergency rescue equipment, and demining equipment. The number of missile units Sweden plans to send to Ukraine (via the US) is not known.
But the fact that such a decision has been taken means that Russian claims about having destroyed one of the NASAMS platforms and previous analyses that its cruise and missile strikes deep into Ukrainian territory were meant to deplete its stocks (or both) are accurate.
The platform has been developed by Norway's Kongsberg and the US's Raytheon (now RTX). It has been previously praised by US Secretary of Defense Lloyd Austin and Ukrainian officials for having "100% success" against Russian cruise missile and drone strikes.
Sweden Arms Ukraine
According to a report in Military Ukraine, the Swedish Parliament authorized the government to sell Jaktrobot Rb 99 air-to-air missiles to the United States on August 15, 2023.
"The United States, in turn, will donate these missiles to Ukraine and offer Sweden a more modern version of the same class of air-to-air missiles. Presumably, these missiles will be used in the NASAMS air defense systems, which are in service with the Ukrainian Air Force," the report said.
The Rb 99 medium-range air-to-air missile is a licensed version of the American AIM-120B (AMRAAM) missile with a range of up to 70 kilometers, previously assembled in Sweden. Swedish JAS 39 Gripen multirole fighters are armed with these missiles.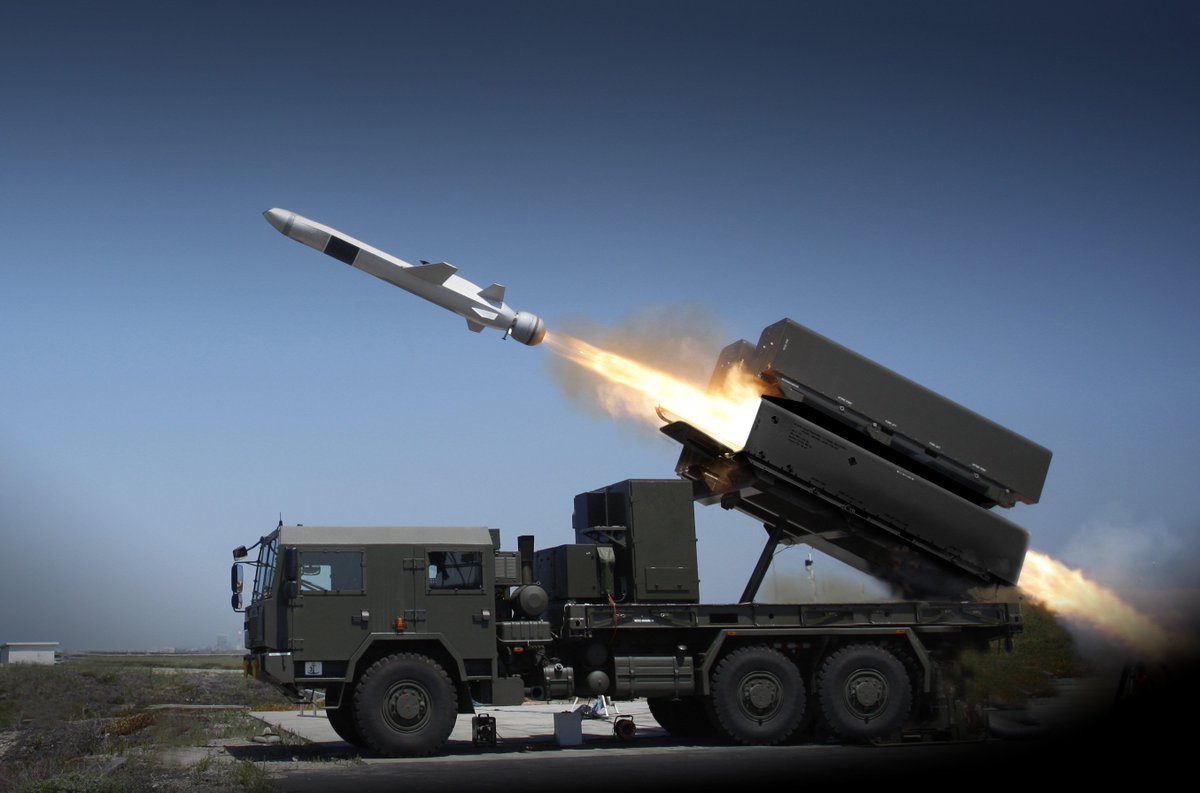 Advanced Missile
NASAMS sports some advanced features like a net-centric design, numerous simultaneous engagements, beyond visual range (BVR) capabilities, and can be tightly integrated and tailored to an integrated air and missile defense system if a country adopts such an approach.
Essentially a point defense system used to defend sensitive civilian and military targets that can come under attack from drones, helicopters, cruise missiles, and aircraft, it is said to be employed to defend the White House in Washington, DC.
The Norwegian system employs the AIM-120 AMRAAM AAM for the purpose, which has been modified for ground launch and has an engagement range of about 30 kilometers. Possibly, changes have been made in the missile's propulsion motor that gives it extended reach.
Interestingly, it was also offered to India a few years ago as a part of a triple US air defense system to protect the national capital in New Delhi, which also included the Terminal High-Altitude Air Defense System (THAAD) and the Patriot platform – the later also used by Ukraine.
NASAMS Is Capable, But Not Enough
The first two NASAMS batteries reached Ukraine in late-2022, following which Russia claimed to have hit one of them on February 3 in the settlement of Krasnoarmeysk in the Donetsk People's Republic, according to a report by RIA Novosti. Assuming the Russian claim was true, Ukraine had only one NASAMS.
Ukraine has likely received the NASAMS-2 variant, which has a Link-16 data link and maybe cued toward the target by an airborne surveillance asset like the E-3 Sentry AWACS, which monitors Ukraine's airspace. However, neither Ukraine nor the US has confirmed the variant and type of NASAMS in service with Kyiv.
However, Western-supplied SAM systems risk being expended by Russian missile strikes, which are meant to draw fire and deplete its ammunition, as a previous EurAsian Times analysis showed.
Thus, even reports of 100 percent interceptions of Russian strikes need to be seen because Russia's functioning and stable defense industry can keep churning out weapons.
In contrast, Ukraine's defense industrial base has largely been destroyed and solely depends on Western arms transfers.