The stunning Hamas offensive early morning on October 7 that ran over Israeli bases and cities not only came on the 50th anniversary of the October 1973 Yom Kippur war but also deflated Israeli military invincibility exactly as Egypt and Syria did half a century ago. On both occasions, Israel was caught entirely by surprise, where the attackers made staggering territorial gains. 
On October 6 that year, Egypt and Syria launched a sudden, coordinated offensive in the Sinai desert and the Golan Heights that took Israel entirely by surprise and busted its celebrated military might. This was especially true when the Egyptians managed to cross the Suez Canal — something the Israelis had bragged was impossible.
The morning of October 7, too, saw history repeating itself. Analysts on both sides of the political fence recognized how the Israeli security machinery was aghast at the scale and magnitude of the Hamas operation, baring the group's tremendous military capabilities. Most also point to a complete "failure" in intelligence and "military preparedness" for Hamas's success.   
When this report was filed, Israel lost 250 citizens to Hamas "infiltrators," according to Haaretz. Hamas launched a second barrage of rockets into Israel by Saturday night in response to an Israeli Air Force (IsAF) air raid into Gaza that brought down the Palestinian Tower building.
Israeli officials claimed the building housed senior Hamas leadership that was involved in planning operations besides being used for storing ammunition and weapons.    
October 1973 Yom Kippur War
During Yom Kippur, the Egyptians crossed the "impenetrable" Bar-Lev line in just three hours, far quicker than the Israeli assessment of 12. The 150-kilometer (93-mile) sand embankment that stretched from the Gulf of Suez to the Mediterranean Sea was a 21-meter (70-feet) tall wall of sand dotted with heavily armored strongholds.
The half-a-day that the Israelis thought would be needed to breach it would be enough to gather and send reinforcements and push back the attacker.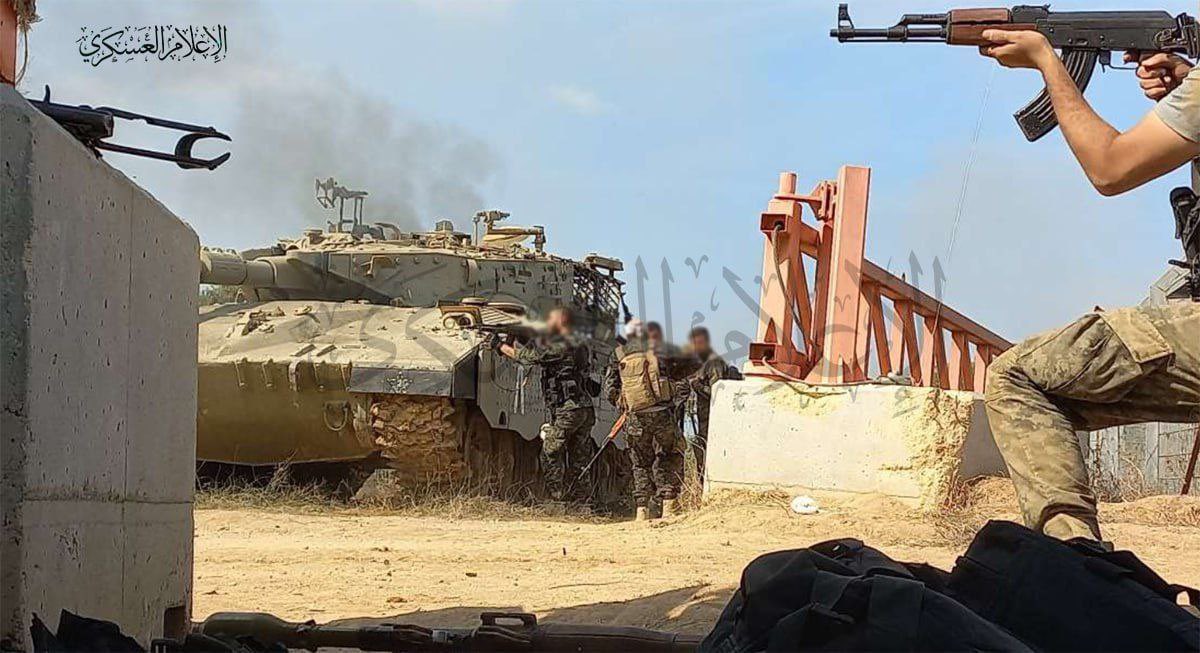 But the Egyptians used water pumps and brought it down in three hours, which came as a rude shock to Prime Minister Golda Meir and Defense Minister Moshe Dayan. "The attack was timed with another in the north, a battalion of Syrian forces that launched an assault to take back the Golan Heights," said an article on Al Jazeera. 
However, Israel improved its positions and reversed many Arab gains in a nearly week-long counteroffensive. This involved the outskirts of Damascus being shelled, repelling the Egyptian attempt at two strategic mountain passes on the Sinai Peninsula, pushing back the Egyptians and crossing the Suez Canal, and encircling Suez City, while coming within 100 kilometers (62 miles) of Cairo.   
Prisoner Exchange Likely Hamas Objective?
According to Israel's Channel 13, communities including Sderot, Nahal Oz, Kfar Haza, Magen, and Sufa Beheri were under Hamas control by Saturday afternoon. Videos show Israeli counter-terrorist and hostage rescue tactical teams entering buildings to clear out the invaders.
Naturally, this cannot be the main focus of the Israeli response, with a more significant emphasis on striking Hamas in Gaza with aerial bombardment and launching a ground war possibly unfolding in the coming days.  
Hamas captured enough Israeli soldiers to exchange them for all the Palestinian prisoners in Israeli prisons. Capturing Brigadier General Nimrod Aloni – former commander of the IDF's Gaza Division and current commander of the Depth Corps – increases Hamas's leverage even more. 
Israel cannot ignore Hamas having the higher ground through their captivity of such a top military commander, among hundreds of other military Prisoners of War (PoW), when backdoor negotiations begin for prisoner exchanges.  
This Merkava IV, fitted with Trophy APS (destroyed)https://t.co/aCD2gqz3hX

— Iran Defense|نیروهای مسلح جمهوری اسلامی ایران (@IranDefense) October 7, 2023
Hamas Seems In It For The Long Haul
Lastly, statements attributed to Hamas leaders said they were "preparing for a wider" confrontation/war. This means they had realistically anticipated that their operation would trigger an angry and massive retaliation from Israel, possibly a counterattack that could last months. Hamas is probably preparing for a long war of its own by positioning its reserves and missile stocks to face a massive Israeli combined air and ground operation. 
Typically, an attacking force anticipates a sweeping, decisive strike to overwhelm and deter an enemy from counter-attacking psychologically. China's sweeping attack across Ladakh and Arunachal Pradesh (then North-East Frontier Agency) in October 1962 put the Indian political and military leadership in this state of mind. 
What Are Hamas's Objectives?
But the statement also suggests that Hamas and the Palestinian Islamic Jihad (PIJ) did not have a political or strategic/narrative as one of the goals, like the May 2021 clash with Israel. Tel Aviv calls it 'Operation Guardian of the Walls.' 
That massive rocket barrage included 4,360 rockets and mortar shells fired at southern and central Israel in the 11 days of fighting, averaging 400 rockets daily. But Hamas's goal behind that operation was primarily political, not military or territorial. 
Primarily, it wanted to establish itself as the sole legitimate champion of Palestinian rights in both Gaza and the West Bank, among other Palestinian factions. It also served as a political and moral victory over its rival, the Fatah-dominated Palestinian Authority (PA), which it has long accused of betraying Palestinian causes by acting as an extended arm of the Israeli government. 
Israeli media does not recognize Guardian of the Walls as a "resounding victory the IDF had hoped for" and only assesses it as a military triumph in destroying Hamas and PIJ's tunnels and rocket dumps. They acknowledge the more significant strategic threat from Hamas and PIJ's ability to manufacture and fire endless rockets that can overwhelm the Iron Dome. That reading is confirmed with the rocket barrage on October 7, coordinated with an unexpected ground operation. 
Hamas's latest Operation Al Aqsa Flood seems to have a clear territorial motive — to take back native indigenous Palestinian lands and drive away Jewish settlers who have allegedly been displacing Arab residents. They are fully aware of an angry and unrestrained Israeli response, where Tel Aviv will bring to bear down its full military might. 
Indeed, the latest operation did severely embarrass the IDF. These were videos of Al Qassam Brigade fighters walking freely on the Nahal Oz military base, abandoned rows of Namer IFVs, and the capture and destruction of Merkava tanks by cheap drone-dropped explosives. 
Conclusion – Hamas Has Won Round One
But this primarily accepted consensus among the media and military observers about the IDF not being as invincible seems to be merely an unintended by-product of a well-coordinated and executed operation. It doesn't seem to be a secondary priority for Hamas's leaders. 
Israel may very well be able to push back Hamas in an equally devastating counteroffensive. But the Palestinian resistance notched a clear, undisputed, and decisive victory in the first round, achieving complete operational and tactical surprise. Hamas's calculations and strategy will become more evident in the coming days.