The former UK Defense Secretary Ben Wallace has called on Germany to arm Ukraine with its long-range Taurus KEPD 360 missiles as pressure mounts on the Olaf Scholz government to decide on the transfer.
Writing on Platform X, Wallace argued that "Every time Russia strikes civilians and breaks international law by targeting civilian infrastructure in Ukraine, there needs to be a response. We did that with Starstreak and Storm Shadow. Germany should now send their Taurus missile systems to Ukraine and join the UK and France."
The appeal by the former British Defense Secretary came in the wake of a massive missile campaign launched by Russia. Ukrainian officials said a Russian missile struck a cafe and a grocery store in a hamlet in northeastern Ukraine on October 5, killing 51 people as locals gathered to mourn a dead Ukrainian soldier.
Regarding the deadly missile strike, Ukrainian President Volodymyr Zelenskiy said the incident was a deliberate attack on civilians and "no blind strike." It is being touted as the deadliest in the Kharkiv region since Russia's invasion and one that caused the biggest civilian casualty in a single stroke.
This attack likely served as a motivation for Wallace to make a very public appeal to Berlin. The message from Wallace is significant as it was under his leadership that the UK became the first country to supply long-range Storm Shadow missiles to Kyiv, paving the way for a similar transfer by France of its SCALP-EG missiles.
Every time Russia strikes civilians & breaks international law by targeting civilian infrastructure in Ukraine there needs to be a response. We did that with Starstreak and Storm Shadow. Germany should now send their Taurus missile systems to Ukraine and join the UK and France.

— Rt. Hon Ben Wallace MP (@BWallaceMP) October 5, 2023
The Ukrainian Air Force has deployed these long-range missiles to attack high-value Russian targets. On its part, Ukraine has continued to lobby for the Taurus missile, which would further bolster its capability to attack targets under Russian control far away from the frontlines.
However, recent reports have revealed that the Olaf Scholz administration remains reticent due to fears of escalation. A report in the German publication Bild earlier this week said Berlin did not intend to supply Taurus missiles to Ukraine.
The Scholz administration was partly hesitant due to concerns that Kyiv's forces might employ the missile to strike the Kerch Bridge that connects the Russian mainland to Crimea, which was seized by Moscow in 2014.
According to Bild, the chancellor was worried that Berlin would need to supply geo-data about Russian targets for Ukraine to employ the Taurus missiles, increasing its involvement in the conflict while asserting that France and Britain contribute the geodata on targets directly themselves and are involved with their personnel.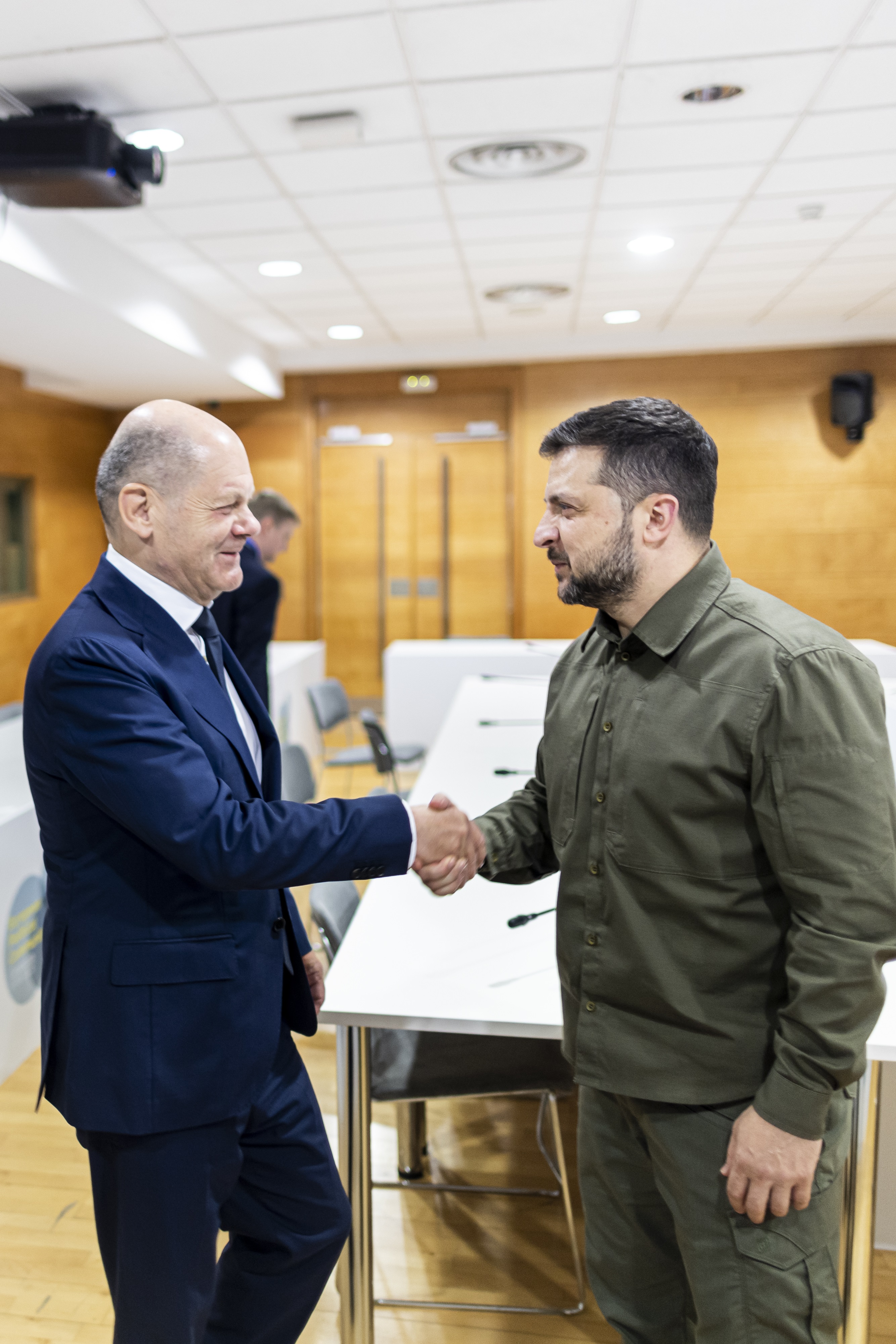 Scholz said at a press conference on the sidelines of the European Political Community summit in Spain: "After all when a war lasts so long, these considerations can't stop at once. The government must always consider what the constitution requires of us and our options for action."
He added: "This includes in particular the fact that we must, of course, ensure that there is no escalation of the war and that Germany does not become part of the conflict. It is also my task as chancellor to ensure that."
Despite repeated calls, Olaf Scholz said his government was not keen on supplying the Taurus missiles as they were not comparable to the cutting-edge Storm Shadow and SCALP EG missiles.
Despite Having Storm Shadow, Kyiv Hung Up On Taurus Missiles
Storm Shadow, produced by MBDA Systems, is a long-range air-launched missile primarily used by the UK and French armed forces under SCALP-EG. Since Ukraine secured their delivery, they have been fired from the modified Su-24MR on targets under Russian control.
The Storm Shadow/SCALP-EG missiles are designed to operate in diverse conditions, including day and night, and possess deep-strike capabilities with a firing range exceeding 250 kilometers (155 miles).
In an audacious attack last month, a Storm Shadow missile reportedly blew a hole through the roof of Russia's naval headquarters in the Crimean city of Sevastopol.
Storm Shadow/Scalp hit the Russian Black Sea Fleet headquarter – Ai upscaled 150% + dehalo + compression reverse + 30 to 60 FPS + 300% Slow Mo https://t.co/CHhPzhc7YF pic.twitter.com/vXEOoL4FYY

— Dariusz Zawadzki (@Military_oO) September 22, 2023
However, despite being armed with these advanced missiles, Kyiv has not stopped calling for the German Taurus missiles that have been constantly denied. Taurus KEPD 350 is a Swedish-German air-to-ground cruise missile with a more than 500-kilometer flight range.
The Taurus missiles are meant to be used in exact attacks against heavily fortified and underground targets without exposing the aircraft to opposing air defense. The high-precision stand-off guided missile is sought after as it can penetrate dense air defense systems and destroy stationary and semi-stationary military targets buried inside the ground.
Getting hands on this German missile matters so much to Kyiv because this air-to-ground long-range cruise missile can potentially threaten leading Russian Air Defense (AD) systems and be fired from existing Ukrainian Su-27 and Su-24 fighters.
Across the spectrum, it is believed that the Taurus could potentially endanger Russian supply lines and command center in the rear because it is heavier and has a more extended range than the Storm Shadow and the SCALP-EG.
Although the Storm Shadows have been used to carry out several successful attacks, Russian air defenses have also shot down many of these missiles.
A new missile that can threaten Russian air defenses could, thus, bolster Ukraine's offensive, which has hit a rock in recent days. The missiles can attack Air Defense platforms like the S-300, S-400, Buk, Tor, or Pantsir, even if S-400s can identify them, as military expert Vasily Dandykin noted.
The expert said that the Taurus also poses a serious threat to Russian ground targets, particularly its air defenses along the entire lines. This would compel Russia to withdraw them and let Ukrainian aircraft fly closer to support its forces.
The targets of the missile attacks include air base structures, command, control, and communication centers, bunkers, ships in ports, and bridges. The Taurus missile can be fired at any time of day and in any weather.
It offers minimal observability and terrain-masking abilities for survival, and its modular architecture and dependability reduce the system's lifecycle costs.
The missile has a twin-stage, 481-kilogram MEPHISTO (advanced and target-optimized) inert multi-effect penetrator warhead system. The blast and fragmentation forces eliminate collateral damage to neighboring civil infrastructure.
Moreover, the missile's stand-off, pinpoint accuracy, and deployment range of more than 350 kilometers ensure maximum safety for the aircraft and crew. Most importantly, it could also be used on Russian targets in Crimea, part of a larger strategy to make the peninsula 'untenable' for Moscow.
Ironically, this is why Germany hesitates to send the Taurus from its arsenal to Ukraine's forces.
Contact the author at sakshi.tiwari9555 (at) gmail.com