The United States will not be deterred by China's risky intercept of US aircraft in international airspace, Defense Secretary Lloyd Austin said during remarks at the Shangri-La Dialogue in Singapore.
"We won't be deterred by dangerous operational behavior at sea or in international airspace," Austin said on Friday.
"The People's Republic of China (PRC) continues to conduct an alarming number of risky intercepts of US and allied aircraft flying lawfully in international airspace. And we've all just clearly seen another troubling case of aggressive and unprofessional flying by the PRC."
On Tuesday, the US Indo-Pacific Command said a Chinese J-16 fighter jet performed an "'unnecessarily aggressive maneuver" while intercepting a US Air Force RC-135 aircraft over the South China Sea last week.
The United States is committed to ensuring that every country is free to conduct lawful activities in the Indo-Pacific region, US Defense Secretary Lloyd Austin said.
"We're committed to ensuring that every country can fly, sail, and operate wherever international law allows. And every country, large and small, must remain free to conduct lawful maritime activities," Austin said.
According to Austin, the United States is modernizing its presence in the Indo-Pacific so that it can continue to conduct activities in the region daily where international law permits.
Moreover, the US defense chief noted that President Joe Biden's 2024 budget request includes a 40 percent increase over last year's request for the Pacific Deterrence Initiative, proposing an all-time high of $9.1 billion.
Earlier on Friday, Austin and Chinese Defense Minister Li Shangfu briefly greeted each other at the Shangri-La forum's dinner reception but did not exchange any meaningful dialogue. Austin said in May that he expected to engage with his Chinese counterpart on the sidelines of the Shangri-La Dialogue forum, but China declined.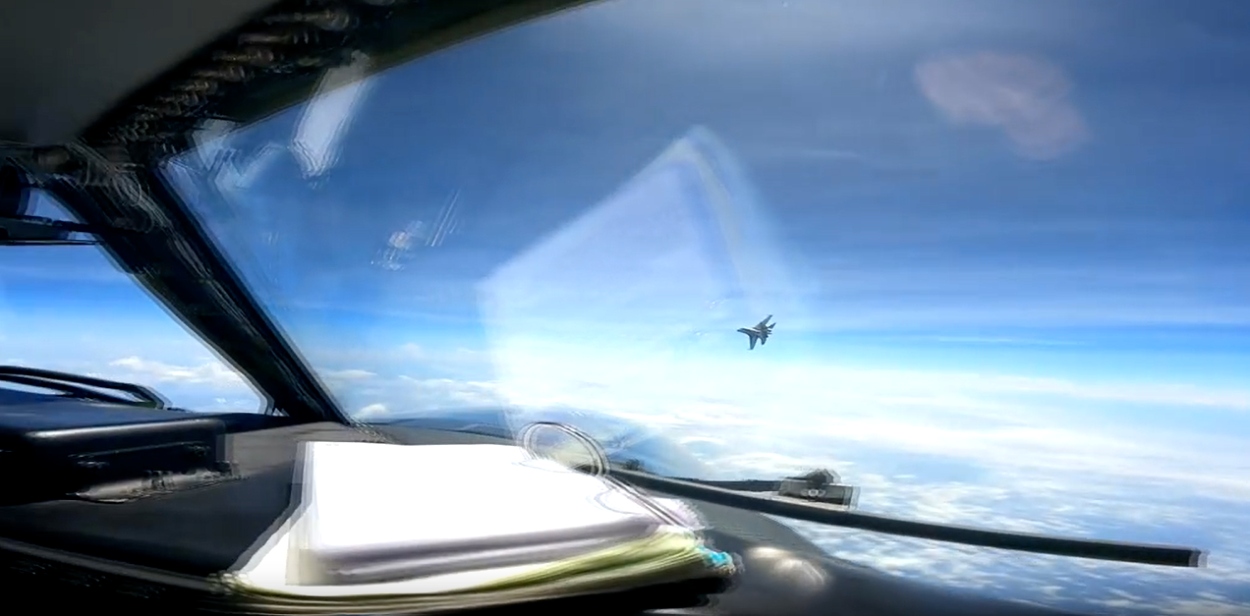 US-Russia Tiff
Days after the US Central Command (CENTCOM) reported dangerous interceptions of its fighter jets by Russian aircraft in Syria, Moscow has alleged that the US has been breaking the "deconfliction protocols" agreed upon by the two parties to prevent escalation.
The deputy head of the Center for the Reconciliation of Warring Parties, Rear Admiral Oleg Gurinov, said that the US Air Force pilots violated deconfliction protocols in Syria by activating weapons systems when approaching Russian aircraft, RIA Novosti reported.
"Gross violations of the deconflict protocols and the bilateral Memorandum on Flight Safety in Syria by the US-led so-called international coalition continue. The activation of weapons systems by US Air Force pilots is still noted when approaching Russian Aerospace Forces aircraft performing scheduled flights in eastern Syria," the rear admiral told the news agency.
The US-led International Coalition was established in 2014 to fight the Islamic State. Since 2015, the Autonomous Administration of North and East Syria and its armed wing, the Syrian Democratic Forces (SDF), have received material, monetary, and logistical backing from the United States.
Russia, on the other hand, is a part of the alliance that backs Syria's Assad government and its military, along with Iran and Hezbollah. Russia came to Syria's aid in 2015, which helped the military make quick progress across the nation that extremists had previously controlled.
Due to their extensive involvement in the Syrian War, the US and Russia have established specific mutually agreed-upon guidelines to prevent disputes. One is the need to notify authorities of a potential flight through coalition airspace above the United States, which was ostensibly disregarded.
The accusations made by the Russians come at a time of escalating tensions between the opposing sides. Last month, US officials claimed Russian jets and drones are increasingly harassing the US troops deployed in Syria, raising the possibility of a fatal miscalculation or "escalation" between the two sides.
US-Russia Sparring In Syria
The Russian accusation comes days after the Russian Foreign Intelligence Service alleged that the United States was preparing terrorist attacks in crowded places in Syria, coordinated by the American military base at Al-Tanf.
The report went so far as to say that numerous ISIS fighters were being trained at the military base, and the group's ranks were frequently restocked by "terrorists" who have been freed by the Americans from detention facilities in the region of northeastern Syria.
The Foreign Intelligence Service stated that the militants were carrying out sorties in the troubled southern provinces of Suwayda and Deraa.
According to the intelligence chief, "This criminal activity is being directed from the American military base at Al-Tanf, near Syria's borders with Jordan and Iraq. Dozens of ISIS fighters are being trained there, and their ranks are regularly replenished by the Americans, who release terrorists from prisons in the occupied northeastern part of Syria. Small arms, ammunition, and anti-tank missile systems are being delivered by truck to the training camps."
However, Russia has been accused of violating the mutually agreed 'deconfliction protocols.' According to statements made by US officials on April 24, armed Russian jets had been routinely violating long-standing agreements with the US by flying dangerously close to American jet fighters over Syria and over US troops stationed there during the previous two months.
The statement was made days after US Central Command (CENTCOM) released videos of two separate encounters between American aircraft and fully equipped Russian Su-35 Flanker-E fighter jets over Syria, as previously reported by EurAsian Times.
In one video allegedly captured on April 18, a Russian Su-35 aircraft was performing an intercept mission when it came within 2,000 feet of an unidentified US aircraft.
Although there have been instances when the aircraft of the two sides have been even closer than this, the maneuvers are nonetheless terrifying and have been labeled provocative by US officials.
The second video was captured by an F-16 Viper in the first week of April. It showed a Russian Su-35 undertaking a dangerous and careless intercept while flying in what US-Russian procedures identify as Coalition-controlled airspace over Syria.
The head of the US Air Forces Central Command, Lt. Gen. Alexus Grynkewich, who is responsible for directing American military activities over Syria and 20 other countries in the Middle East and Southeast Asia, said, "It's a ripe situation for us to see some sort of miscalculation. It signals a breakdown in professionalism that I have never seen out of the Russian Air Force."
The General noted that starting March 1, Russian forces had violated the agreement more than 60 times. He emphasized that Russian aircraft, required to fly at least three nautical miles away from American aircraft, had at least twice flown within 500 feet of American pilots.
He further stated it was especially concerning that armed Russian aircraft have flown over American troops in southern Syria more than twenty times since the beginning of March.
Earlier, EurAsian Times had reported that armed Russian jets flew over the Al-Tanf US military garrison in Syria almost every day in March, breaching a 2019 agreement between the US and Russia regarding using Syrian airspace in areas where each country maintains military facilities. Russian Su-34 Fullback fighter planes were also seen flying above the American military installation.
Russia has also, on its part, accused the United States military of provocations in the northeastern part of Syria. The latest claims could likely spark another military and diplomatic storm, raising tensions in war-torn Syria.