In a neatly-made trailer featuring clips from the movie Mad Max and footage from the Australian Army's armored corps maneuvers, Ukraine has appealed to Canberra to lend its older US-made M1A1 main battle tanks as it prepares for a counteroffensive. 
Australia's military contribution to Ukraine's war effort includes sending Bushmaster armored tactical vehicles, M777 lightweight field howitzers, ammunition, M113AS4 armoured personnel carriers (APC), amored logistics vehicles, tactical drones and a few instructors as part of a foreign training team. 
But Ukraine has launched another PR offensive with the need for heavier capital platforms like F-16 fighters and more tanks becoming imperative to make some concrete change in the battlefield. 
Chic Video Striking A Cord With The Aussie Outback
The video shows popular scenes from the famous 2015 post-apocalyptic action-thriller Mad Max: Fury Road, of modified and armed vehicle-bound gangs and bandits riding across the desert.
Possibly trying to appeal to Australia's rough outback culture to connect with the nation's people directly, the advertisement says, "Aussies know a road warrior when they see one." The promotional video was released on the official Defense of Ukraine Twitter handle. 
It then asks the nation's military to part with the 59 M1A1 "hand-me-down" MBTs it received in 2006 from the US Army and US Marine Corps to be diverted to Ukraine.
It supports its demand by pointing out that Australia is now getting a brand new fleet of M1A2 Abrams, implying it would make sense to transfer the older tanks to Ukraine. "And we have to wonder, what's it going to do with the hand-me-downs?" the advertisement says.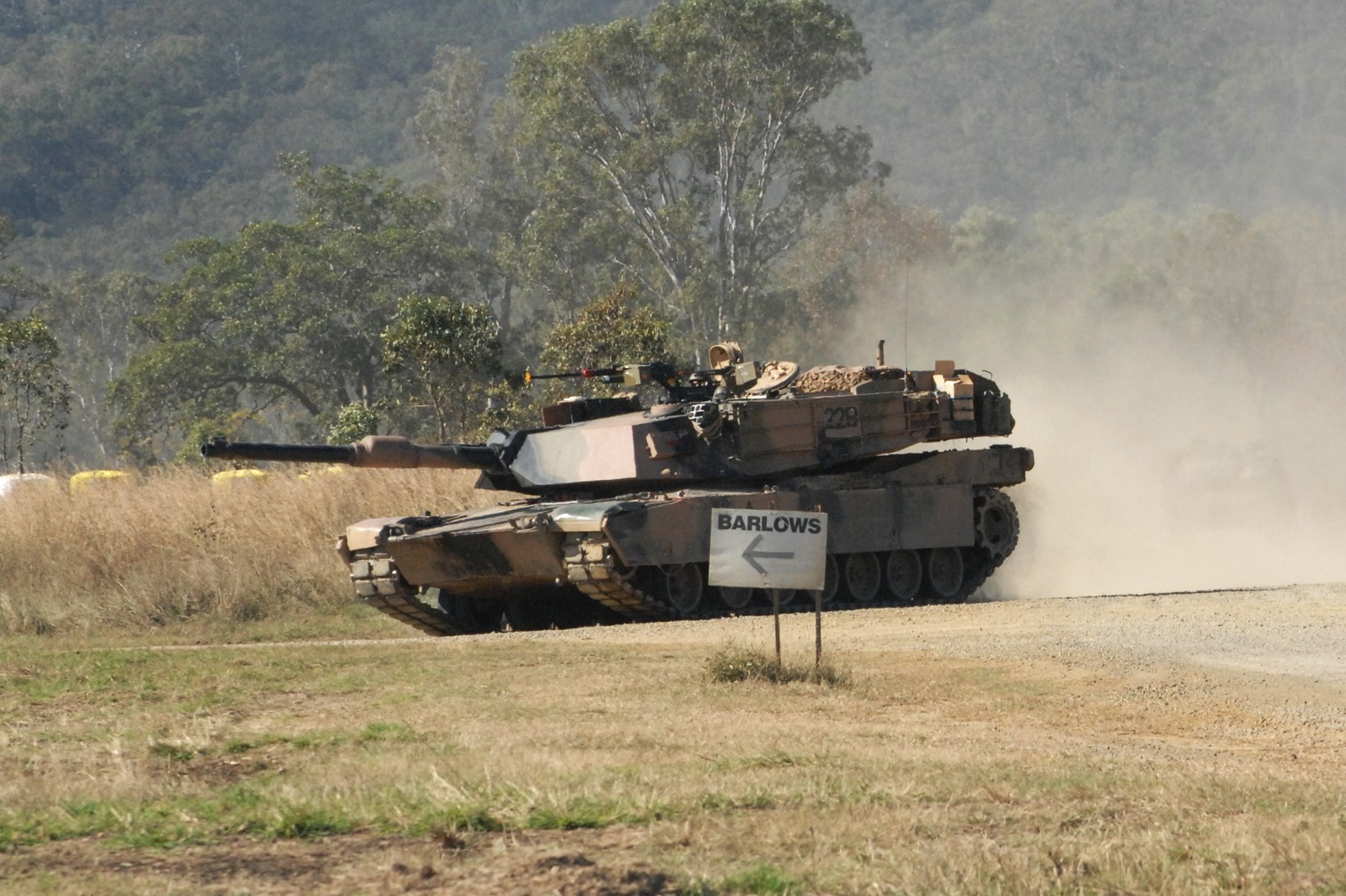 The video is interspersed with exciting clips from the movie and of Australian Abrams tanks participating in drills and firing their guns in the desert. It ends with the appeal to "Let the Abrams live again," possibly reaching out to defense commentators and former tank crews who have developed an affinity with the popular tank. 
Australian Tanks Are Spare, Technically
Australia has spare MBTs in the form of a current fleet of 59 M1A1 Abrams tanks. They are presently not deployed and may see only a secondary role in operations. Thus, they will likely be replaced as the country will procure the newer M1A2 variant beginning in 2024. 
It is not clear whether the acquisition is meant to phase out the M1A1s gradually, but a general practice among militaries is to decommission older weapons and outdated versions when newer systems arrive. If not retired, such heavy weapon systems are mothballed into storage to be used as reserves for contingencies. 
Moreover, it can also be said that the transfer of older Leopard 2, T-72s, MiG-29s, Patriot PAC-3 missiles, and Challenger 2s from Poland, Czech Republic, Germany, United Kingdom (UK) and billions of dollars worth of American artillery and ammunition from their own inventory has set a precedent for Ukraine.
'You Want Us To Defeat Russia, Then Keep Arming Us' 
Thus, President Volodymyr Zelensky's government's thinking could be that of expecting countries not facing pressing security needs to part with their weapons. This is especially if it is older stock and is slated to be replaced with newer systems. 
We need Australia in the tank coalition of free nations.

Dear Australians, this message is for you:

Each and every tank we receive from Australia will help us break through the enemy's defenses – and as a result, regain our land and save the lives of our people. pic.twitter.com/AgHKurHdYz

— Defense of Ukraine (@DefenceU) June 1, 2023
These replacements could be compensatory, where arms manufacturing countries like Germany or the US replenish their stocks for having sent their wares to Ukraine. If not, there could be existing arms purchase deals waiting to be concluded. 
For instance, by March this year, Poland agreed to transfer 14 Leopard 2 tanks to Ukraine when it received 144 Abrams tanks from the US. Of these, 116 were older used M1A1 tanks reported to have been transferred by April. Before that, in 2022, it received 28 M1A2 SEPv2 tanks from the US. 
It also has another separate $4.75 billion agreement with the US, where it has contracted 250 M1A2 SEPv3 tanks, expected to be delivered by 2024.