India's rather cozy relations with Myanmar's junta regime, which many analysts have labeled as a strategic move to counter China in its neighborhood, may not yield positive results if the latest developments in the Southeast Asian nation are anything to go by.
It is reliably learned that Tatmadaw or the Myanmar military has reached a "secret deal" with northeast India's separatist rebel outfits operating from the country, a development which could be a serious setback for New Delhi's efforts to strengthen defense and security cooperation with the current regime in Naypyidaw.
India-Myanmar Security Cooperation
It's only last month that India's Foreign Secretary Harsh Vardhan Shringla visited the neighboring country and held wide-ranging discussions with military regime leader Min Aung Hlaing, members of the civil society and political parties, including the National League For Democracy (NLD).
"Both sides reiterated their commitment to ensure that their respective territories would not be allowed to be used for any activities inimical to the other," India's Ministry of External Affairs had said in a statement released in connection with the Foreign Secretary's visit.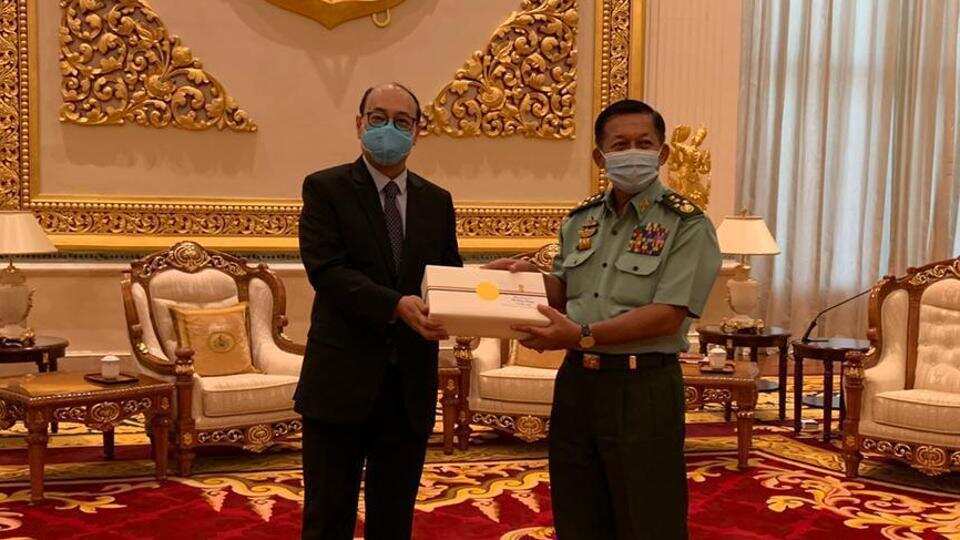 It's pertinent to mention here that Myanmar's military generals had staged a coup on February 1, 2021, overthrowing a democratically-elected government of the National League For Democracy (NLD). NLD leader, Nobel laureate Aung San Suu Kyi, President U Win Myint, cabinet ministers, the chief ministers of many states, opposition leaders, writers, and activists were detained before the announcement of the national emergency by the military.
This sparked massive protests across the country and the military launched a brutal crackdown. More than 1,400 people have been killed by the junta and over 8,000 arrested, charged, or sentenced since the coup, according to Assistance Association for Political Prisoners, a monitoring group.
In the wake of the coup, NLD lawmakers and their ethnic allies formed a parallel 'National Unity Government' to challenge the junta regime's legitimacy. Additionally, they formed an armed wing called People's Defense Force (PDF), comprising hundreds of civilian resistance groups from across the country. 
"Their activities range from deadly hit-and-run attacks to planting bombs at military targets to gunning down regime-appointed officials and collaborators and ambushing junta troops. The regime has branded them as terrorist groups," The Irrawaddy reported.
Tatmadaw's New Strategy
India shares a porous, 1,643-km-long border with Myanmar. The rugged terrain in the border region proves to be a boon for the Indian rebels who can easily slip back and forth between their camps and launch attacks on the Indian side. Needless to say, cross-border insurgencies have remained a major security threat to India's northeast region for several decades.
New Delhi looks to the Tatmadaw to flush out Northeast India's rebels from Myanmar's soil. In April and May last year, as many as 22 rebels were handed over to India by Myanmar following their arrest in Taga in the Hukwang Valley.
Recently, five Manipuri insurgents belonging to the People's Liberation Army (PLA) were handed over to India. The rebel group has been fighting for secession from India since 1978.
But the latest reports suggest many of these militant outfits are regrouping over two years after their camps and training facilities were dismantled in 'Operation Sunrise'. A senior Indian government official has confirmed this development to The Diplomat.
'Operation Sunrise' was conducted jointly by Indian and Myanmar militaries between January and May 2019 in the border areas targeting rebel groups from Assam, Manipur, and Nagaland. There were at least 50 rebel camps belonging to northeast India's militant groups in Myanmar until 2018, The Hindu had then reported quoting security officials.
Later, some of these groups moved to other regions, including the Sagaing Division in southern Myanmar and the Pangmi Naga area.
A Twist In The Tale
India has been actively seeking Myanmar's assistance to drive out these militants from its soil. But last year's military coup has drastically altered the situation. Tatmadaw is now busy tackling its domestic turmoil in the form of armed rebellion by the civilian groups. There have been many coordinated attacks on junta troops and military installations by PDFs in recent days. Heavy casualties are being reported from both sides on a regular basis.
The Tatmadaw is looking to make optimum use of resources, so they may have zeroed in on northeast India's rebels. It is learned that Tatmadaw has deployed some "friendly Manipuri rebel groups" to Sagaing Division and Chin state to fight against PDFs, Rajeev Bhattacharyya, an insurgency expert and author of Rendezvous With Rebels: Journey to Meet India's Most Wanted, told this writer.
This indicates that the military has reached some kind of understanding with Indian insurgents, according to Bhattacharyya. Nevertheless, the development does not augur well for New Delhi, which has until now maintained a friendly relationship with the junta regime, probably to wean it off Beijing's influence even though China has already made deep inroads into Myanmar.
India needs cooperation from Myanmar to push its 'Act East' policy aimed at strengthening ties with Southeast Asia. But the ongoing civil war in the country casts a shadow over New Delhi's ambitious plan.
Besides, the Tatmadaw's purported "secret pact" with Indian rebels will definitely pose a fresh challenge to New Delhi's foreign policy strategists. It is yet to be seen how the Indian security establishment reacts to the rapidly evolving situation in the neighboring country. 
Jayanta Kalita is a senior journalist and Editor of The EurAsian Times. A former Associate Editor at Hindustan Times, Jayanta has worked for ThePrint, The Times of India, Mail Today among other media outlets. Jayanta has done his MA in English Literature from the University of Delhi and is an alumnus of the prestigious Asian College of Journalism. He can be reached at editor.eurasiantimes@gmail.com / editor@eurasiantimes.com