Taiwan is set to receive four US-made MQ-9 Reaper drones, this time the A variant, apart from the four MQ-9B Sea Guardian versions they had ordered during former US President Donald Trump's administration.
This is ostensibly to strengthen maritime reconnaissance and surveillance capabilities against China. The MQ-9As are also used by India, two of which it leased from the US in November 2020.
Reports, however, specify that the Unmanned Aerial Vehicles (UAV) would be sent after being stripped of their essential components, raising questions about the reasons behind such an action.
One is that the US anticipates China to capture the aircraft and study them. Another reason, a Chinese defense and foreign affairs commentator concludes, could be preventing Taiwanese military officers from leaking their secrets to the mainland, as many of them had been caught in several incidents spying for Beijing.
The third could result from Taiwan's denial of having plans to share tactical battlefield data with Japanese and US militaries using American-made data link systems. Thus, Taipei could follow through on its actions and request that such devices be removed from the UAVs.
The developments come at unprecedented tensions in the Taiwan Straits, with the People's Liberation Army (PLA) practicing and exercising comprehensive attack plans in unusually concerted and specific patterns.
Four More Reapers For Taiwan
Taipei Times reported the $345 million military aid package from Washington on July 28 for Taiwan, including four MQ-9A reconnaissance drones, training programs, and ammunition for the Republic of China (RoC) military.
The package will be delivered under a Presidential Drawdown Authority (PDA) approved last year by the US Congress and permits up to US$1 billion of weapons aid to be sent to Taiwan in fiscal 2023.
The PDA enables the US president to direct a drawdown to provide military assistance to US allies in crises. It allows for the speedy delivery of defense articles and services from the Pentagon's existing stock to foreign countries and international organizations to respond to "unforeseen emergencies," the US Department of State said.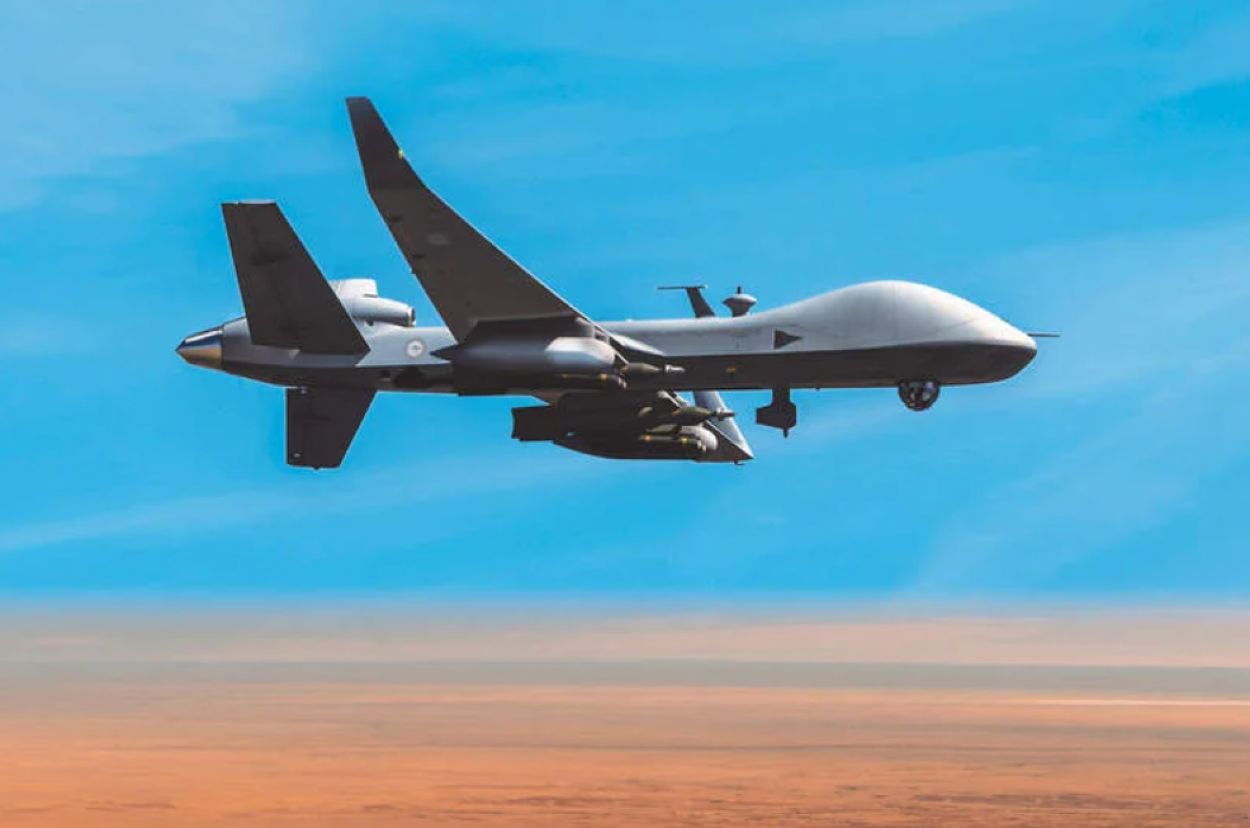 The report quoted Lin Ying-yu, an assistant professor at Tamkang University's Institute of Strategic Studies, saying that the drones would significantly boost Taiwan's overall intelligence, surveillance, and reconnaissance capabilities, as they can swiftly pass and receive intelligence via a satellite link.
China Firms Up Invasion Drills
The drones render vital Intelligence-Surveillance-Reconnaissance (ISR) capability, especially at a time when the People's Liberation Army Air Force (PLAAF) and Navy (PLAN) began and have normalized exercises even on Taiwan's eastern seaboard.
It adopted this paradigm shift and aggressive posture after former US Speaker Nancy Pelosi visited Taiwan in August last year when Beijing's retaliatory exercises saw several firsts.
While being the first live-fire drills around the island, fighters like the stealth J-20 were also pressed into service for the first time. China also fired missiles and rockets that flew over Taiwan and fell into its eastern seas, which had never happened before.
In April, the PLAN's Shandong carrier was exercising 200 nautical miles east of Taiwan in a three-day mega drill that followed President Tsai Ing-wen's meeting with US House Speaker Kevin McCarthy in California. China has also sent drones like the TB-001 in routes that completely circled Taiwan.
Before August 2022, PLA drills only faced Taiwan's western coast, but now they can entirely encircle the island, launching attacks from multiple directions or enforcing a total blockade.
Why Are Reapers Useful?
The Reapers, with their nearly 25-hour endurance, sophisticated multi-mode electro-optical sighting systems, and communications technology, can coordinate with naval and air assets, relaying information of enemy surface warships, provide targeting data for missile crews, and possibly even guidance and course correction when the missiles are in flight.
The Indian Navy was looking at these capabilities to watch PLAN movements in the Indian Ocean Region (IOR) when it leased the Reapers from the US. It already operates US-made Boeing P-8I Poseidon maritime reconnaissance aircraft (MRA) as a part of its fleet.
The two Medium Altitude Long Endurance (MALE) drones completed 10,000 flight hours with the Indian Navy on November 2022, covering 14 million square miles of operating area.
Chinese warships enter the Indian Ocean Region (IOR) from the Straits of Malacca and the southern end of the Bay of Bengal and the southern Indian Ocean, either heading to their base at Djibouti on the east African coast or their naval base at Gwadar in Pakistan's Balochistan.
Reason 1 Behind Downgraded Drones – Chinese Capture
But India does not face the same security threat from China as Taiwan, and certainly not from the sea. As previous EurAsian Times analyses and even mainstream reports have concluded, such singular systems do little to tilt the military balance in the Taiwan Strait in Taipei's favor.
This is even more so if the US "is working on removing some of the more advanced and sensitive components" of the MQ-9A drones, as the Taipei Times reports note.
Effectively being downgraded, the types of components the drones would lose are unclear, but experts offer an informed guess about the American motivations. According to Chinese People's Armed Police (PAP) Propaganda Bureau handle Zhao DuShuai, the US is apprehensive of the drones "falling into Chinese hands," which would unlock US military technologies.
These are satellite communications, radio transmission, and optical devices. This assessment aligns with that of independent Chinese military analyst Ben Lewis. "The US is concerned that if China was to recover a drone, they might reverse engineer it or gain other intel about US operations."
Reason 2 – Taiwanese Military Men Spying for China
If the Chinese don't capture it, Taiwanese military officers can expect to leak some secrets to the mainland, which the US has long viewed with "suspicion," according to Zhao. This year alone, the Taiwanese authorities arrested five personnel, including an air force Colonel and an army Lieutenant Colonel for allegedly spying for Beijing.
In March, it charged retired Rear Admiral Hsia Fu-Hsiang and former Member of Parliament (MP) Lo Chih-ming for arranging 13 free trips to mainland China for 48 former officers from 2013 to 2018.
The encounters allegedly allowed the Chinese to "contact and even recruit" ex-military officers. Zhao attributes their actions to the Taiwanese military's traditional distrust of the ruling Democratic People's Party (DPP), as the RoC top brass have historically harbored pro-unification sentiments rooted in the Chinese Civil War.
Taiwanese Military & The Kuomintang Are Pro-Unification
"Taiwan's military brass is an entrenched interest group, made up of mostly descendants of those who came from the Mainland in 1949," Zhao said while speaking to the EurAsian Times. Called the 'Waishengren' in Taiwanese society, this was when the Chinese Civil War ended after the Communist Party of China (CPC) defeated the rival Kuomintang (KMT), which shifted to Taiwan.
"They don't see eye to eye with the DPP, and as the DPP pushes for more anti-China policies, the Taiwanese military is increasingly sympathetic to the mainland's call for ethnonationalism. The US thus suspiciously views the Taiwanese military as being a Swiss cheese in terms of intel leaks," Zhao added.
Even more interestingly, one of the reasons why former Chief of General Staff (CGS) Admiral Lee His-ming's radical Overall Defense Concept (ODC) doctrine is being resisted by the Taiwanese leadership is it risks a possible electoral fallout the DPP might.
A previous EurAsian Times analysis noted how implementing such defense reforms implies a conflict with the PRC is imminent, and the KMT can paint the DPP's mainland policy as a failure, endangering Taiwanese lives. The ODC proposes investing in asymmetric weapons like mass-manufactured, low-cost, attritable drones, missiles, and attack boats instead of legacy platforms like jets and tanks.
The KMT itself has often hinted and sometimes directly exhibited support for unification and compromising with their Civil War Communist rivals. After sweeping last November's local elections in Taiwan, where it won four of the six municipalities in a landslide victory, the KMT poses a severe threat to the DPP. The devastating defeat forced President Tsai Ing-wen to resign as the head of the DPP.
Its leaders also periodically visit the mainland. In February, former senior Taiwanese diplomat Andrew Hsia, KMT Vice Chairman and one-time head of its Mainland Affairs Council (MAC), visited Beijing. He clarified that he was not meeting President Xi Jinping and only meeting his counterpart in China's Taiwan Affairs Council (TAC).
In March, former Taiwanese President and KMT member Ma Ying-jeou visited Beijing in the face of protests and outrage from the DPP. Ma was in office from 2008 to 2016.
Taiwan Doesn't Want To Share Data
Lastly, another reason behind stripping down the drone could be consistent with Taiwan's denial of having plans to fuse their MQ-9B Sea Guardians that are on their way with Japan and the American military to share tactical battlefield data.
The drones are expected to reach Taiwan by 2025. But in an exciting turn of events, besides condemnation from China, both US and Taiwanese officials vehemently denied having plans to trade data between them and Japan after the Financial Times carried the news.
On June 8, Taiwan's Ministry of National Defense (MND) posted on X (formerly Twitter), "The MND has not yet been informed of plans to share real-time data from naval reconnaissance drones with the US and Japan as has been reported by some media outlets. We kindly request that due diligence be exercised in verifying the source of information to prevent misleading the public."
Lewis also suggests both Washington and Taipei could also be exercising restraint. "Intelligence sharing may be too provocative a move for the US and Taiwan right now," he said. However, Zhao does not believe the US denials of such plans, implying it will eventually share data. "Washington has a habit of underhanded tactics concerning Taiwan – say one thing and do another."