On the same day (Monday) that Russian President Vladimir Putin presided over a Victory Day parade in Moscow, Ukraine staged its own "parade," showcasing destroyed and captured Russian tanks in an attempt to mock its neighbor.
Taking to Twitter, the Ukrainian ministry of defense stated on 9 May that its army's 93rd Mechanized Brigade organized a "parade of trophy Russian tanks" to ruin the Russian holiday, in reference to Victory Day. 
"Maybe aggressors think that by arming #UAarmy with Russian trophy equipment, it will affect the turn of NATO-style armament? New clever plan," The Ukrainian defense ministry mocked in a tweet. 
On May 9, Russia observes Victory Day, commemorating the Soviet Union's victory over Nazi Germany in World War II. However, the Victory Day extravaganza in Moscow's Red Square was shadowed by a cloudy sky. President Putin oversaw the annual parade, which featured 131 pieces of military equipment.
The 93rd #UAarmy Brigade held a parade of trophy russian tanks, ruining the holiday for the occupiers. Maybe aggressors think that by arming #UAarmy with russian trophy equipment, it will affect the turn of NATO-style armament? New clever plan. pic.twitter.com/oJS7jfmm3x

— Defence of Ukraine (@DefenceU) May 9, 2022
Despite being billed as a possible location for Putin to provide an update on Russia's military operation in Ukraine, his 11-minute speech offered no such information. Previously, experts said the president may have used the event, which included a massive military parade and a flyover, to declare victory in Ukraine.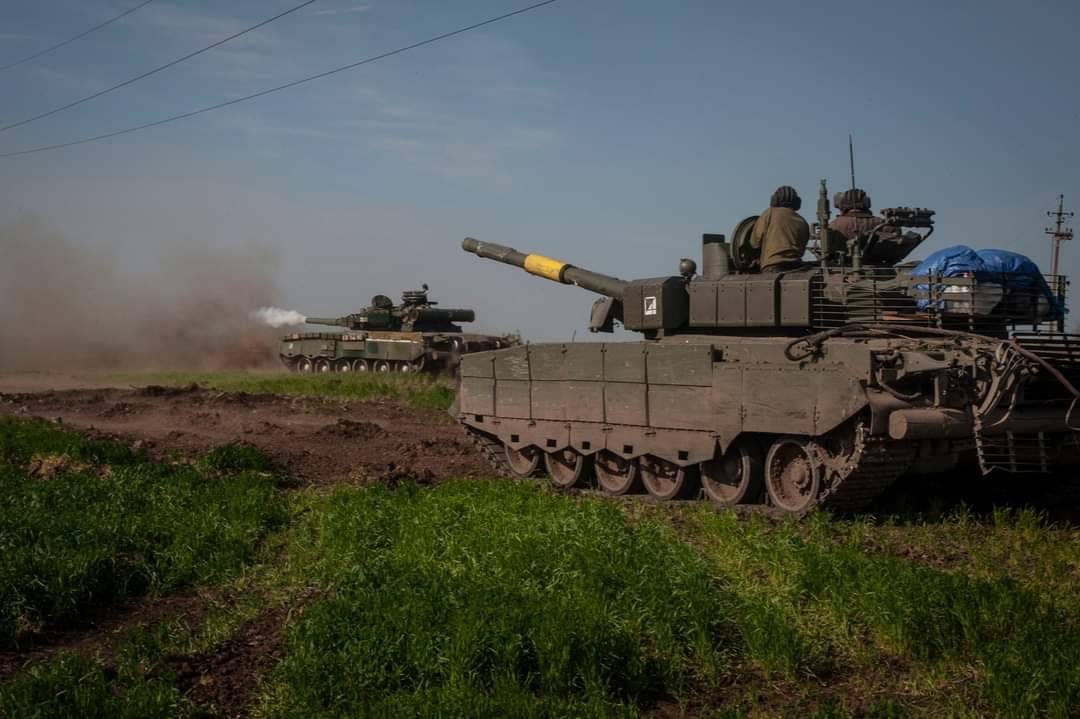 During his speech, the Russian President slammed NATO expansion, accused the US of aggression, and referred to Ukraine and its leaders as Nazis. He backed what he has called a "military operation" on Ukraine to "de-Nazify" it by claiming that Russia had no alternative because the west was "preparing for the invasion of our land, including Crimea."
"That is absolutely unacceptable to us," he added. "The danger was rising by the day," Putin said. "Russia has given a preemptive response to aggression. It was forced, timely and the only correct decision." 
Ukrainian president Volodymyr Zelensky, on the other hand, compared Putin to Adolf Hitler because the Russian leader is "following Nazi philosophy, copying everything they did." He prophesied that Ukraine would win the conflict, saying, "Very soon, there will be two Victory Days in Ukraine. And someone will not have even one left."
On February 24, Russia began the invasion of Ukraine, killing thousands of people on both sides, including many civilians. Meanwhile, after failing to conquer the Ukrainian capital  Kyiv, Russian troops have concentrated their attacks in Ukraine's eastern Donbas area in recent weeks.
Russian Kids Dressed as Soldiers, Tanks
In a video posted on social media prior to Moscow's Victory Day celebration, Russian children were seen marching in military uniforms, outfitted in cardboard tanks and fighter jets.
The video was widely shared on Twitter. Young Russian children were led in a parade preparing for Monday's national celebration. The video, which was first published by the account @RedLinkedIn, has been seen 1.7 million times. 
Ну как и ожидалось. Зачем нам день памяти ? Ужас. У меня нет подходящих слов для этого мракобесия. pic.twitter.com/wzHs64zaQE

— RED (@RedLinkedIn) May 8, 2022
The children appeared to be around Kindergarten age and were dressed in Soviet-style military outfits. A little boy led the procession in a cardboard tank painted with a white "Z," the emblem that has recognized Russia's military equipment in Ukraine. A Russian flag flanked his "vehicle." 
Other kids followed in mock tanks bearing the "Z" and Soviet red stars. Two girls walked down the road dressed as fighter jets. A flock of children costumed as army doctors, holding white balloons with the red cross, brought up the rear. Three women, possibly teachers, marched alongside the kids in Soviet-style costumes. 
Shaun Walker, a reporter for The Guardian, reposted the video with the caption "Child abuse." Twitter users were outraged by the "indoctrination" of Russian children and the "normalization" of the war in Ukraine in the comments area underneath Walker's post.
"Grooming if I ever saw it," said one comment. "They obviously don't know about drones and javelins. It's a pity to see these children being manipulated like this," said another.
A third comment added, "This may be a new level of nationalistic ghoulery." However, several other users argued that labeling the march "child abuse" was excessive, given that Victory Day commemorates a historic event in Russia every year.
"Sorry, I missed something. How is this child abuse?" asked one user. "As a small kid, I'd do the same every year in the USSR for the anniversary of the country, and May 9th was also very dear to us, as most of us lost family in WWII."