Taiwan's Air Force has relocated its Indigenous Defense Fighter (IDF) and Dassault Mirage-2000 fighter jets to Penghu in the Taiwan Strait and Taitung on the east coast, presumably in reaction to increased Chinese intrusions in its air defense identification zone (ADIZ).
In the last few years, Beijing has not only increased economic and political pressure on Taiwan but has also flown warplanes across the mutually respected median line. 
It has become a pattern for the Chinese air force to infiltrate the island's ADIZ while also deploying its naval forces to conduct drills. The repeated flouting of norms has prompted Taiwan to regularly dispatch its fighter jets to intercept Chinese planes.
On Friday, the island's Air Force stated that it had relocated IDF jets to its base in Magong, Penghu County, and French-built Mirage jets to Taitung in the southeast, reported Taiwan's Liberty Times.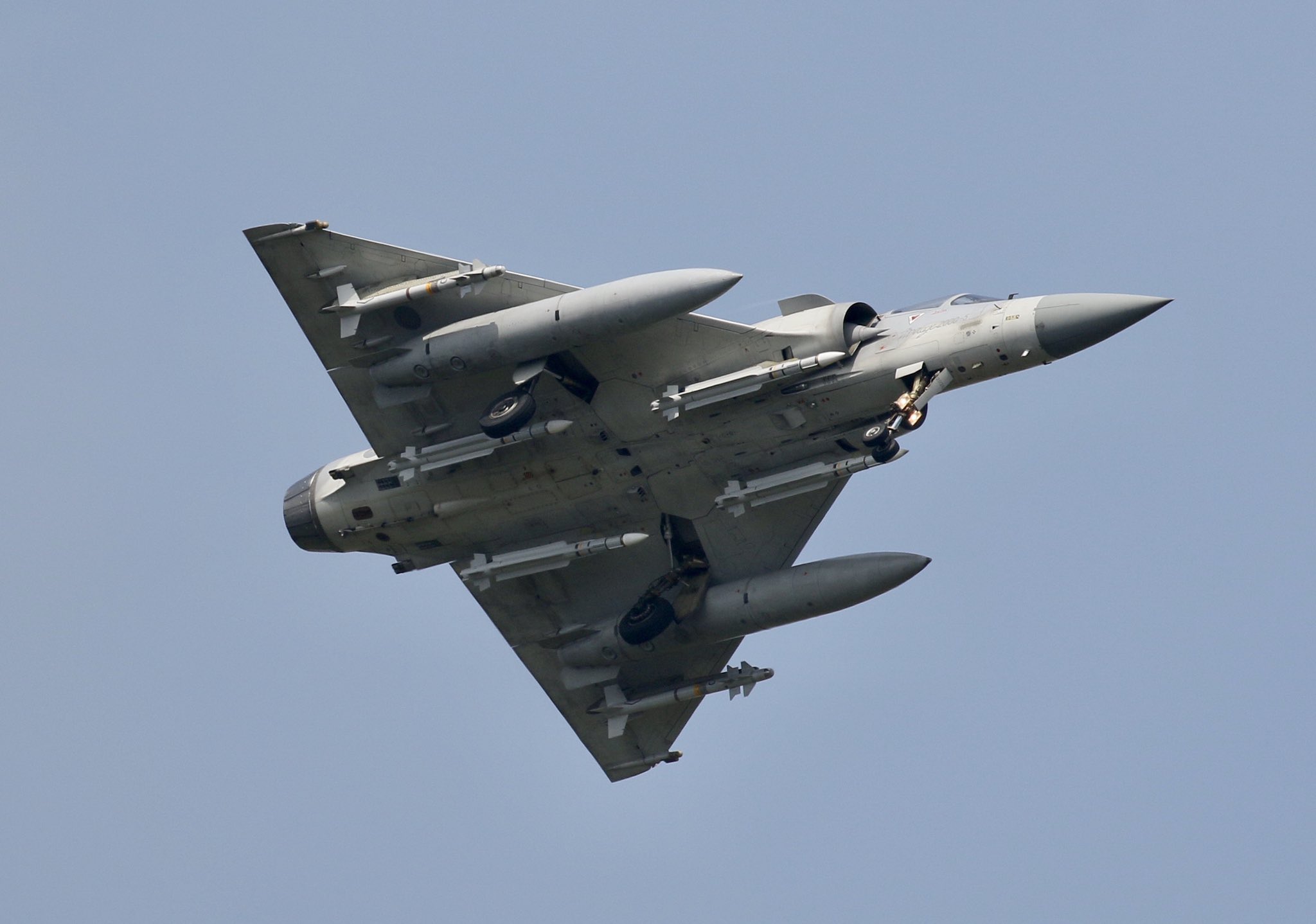 On the same day, 14 Chinese military jets flew into ADIZ. Five Shenyang J-16 fighter planes, four Shenyang J-11 fighter jets, three Xian H-6 bombers, one Shaanxi Y-8 electronic warfare plane, and one KJ-500 airborne early warning and control aircraft from the People's Liberation Army Air Force (PLAAF) crossed into Taiwan's ADIZ, according to the Ministry of National Defense (MND).
Defense analysts believe the repeated incursions aim to collect intelligence and strain the Taiwanese Air Force. Meanwhile, this week, a delegation of MPs from the Foreign and National Defense Committee toured the Zhihang Air Force Base in Taitung.
While most incursions happened southwest of Taiwan's main island, they highlighted that several Chinese warplanes breached the ADIZ's southeast sector.
Nonetheless, the latest move reflects Taiwan's rising concerns about Chinese military power. Taiwan's Mirage 2000s are critical for high-altitude offshore interception missions.
A few months ago, a Taiwanese Mirage-2000 fighter jet crashed during a routine training mission. The Global Times quickly used the incident for propaganda purposes, claiming that the crash exposed the Taiwan military's lack of competency in its attempts to resist reunification by force. 
China's state-run media labeled the French-made fighter jet as a "second-class" weapon that is no match for the Chinese People's Liberation Army's overwhelming capabilities. 
Despite what China claims, the French Mirage-2000 fighter jet has earned a reputation for its capabilities and combat power on the world stage. Besides Taiwan, Mirage 2000 is also employed by France, Egypt, the United Arab Emirates, Peru, Pakistan, India, Greece, and Brazil.
In 2019, the aircraft made headlines when India dispatched several Mirage 2000 fighter jets into Pakistani airspace to unleash 1,000-kg laser-guided bombs on Jaish-e-Mohammed terror launch facilities on the Pakistani side of the Line of Control.
Taiwan-China Equation
China has intensified its use of gray zone tactics by flying aircraft into Taiwan's ADIZ regularly. The majority of events occur in the southwest corner. According to the MND, Chinese military jets violated Taiwan's ADIZ 961 times in 2021, for a total of 239 days. 
Taiwan, on the other hand, has been concentrating on strengthening its defensive capabilities. It is extending its attempts to create asymmetrical defensive capabilities to compensate for the growing gap between its forces and China's military might. 
According to Taiwan's 2021 National Defense Report, Beijing's anti-access, area-denial campaign to block international support forces from reaching the island is nearly complete. 
To deal with a potential invasion situation, Taiwan seeks to restructure its military into a consolidated force capable of cooperating across domains. One of the primary components of this initiative is the restructuring of the military into regional commands, each with forces from all three major services. 
During a war, the regional commands would organize an asymmetric defense of Taiwan. China regards Taiwan as a rogue province, and Taiwan intends to thwart any potential invasion before it reaches land or even while it is amassing an invasion force. 
The island nation is also strengthening its domestic defense industry. It recently reported that long-range flight tests of its indigenous Teng Yun 2 drone were completed this month, representing a crucial step in improving its defenses and achieving self-sufficiency in weapon production.