Russia's invasion of Ukraine has had a wide-ranging impact on the entire world but most significantly on Europe. The vulnerability faced by states vis-a-vis Russia has led to a significant rise in military spending. However, this has become a golden opportunity for defense giants like Lockheed Martin, making billions of dollars off the war.
The US Department of Defense (DoD) agreed with Lockheed Martin Corp on July 18 to build about 375 F-35 fighter jets over three years. The agreement comes amid expectations that the price of the most common variant of the aircraft F-35A would increase due to inflation and slower production.
The 'handshake agreement' worth $30 billion is just a starting point for determining the contract's final price and award, which won't likely be set in stone for several weeks or months. Thus, it is still unknown how much the contract will ultimately be worth and how much each jet variant would cost.
The F-35A was $221 million per unit when it entered final series production in 2007. Since then, as more nations joined the program, manufacturing volumes and technological advancements have helped to drive down the cost of the stealthy fifth-generation fighter to $79 million per aircraft, as earlier noted by EurAsian Times.
Before the pandemic, 478 jets were supposed to be bought over three years, but the 22% reduction to 375 units increased the F-35A's overall cost. While this weighs heavily on the pockets of the United States, it is a definite rise in the fortunes of the contractor Lockheed Martin.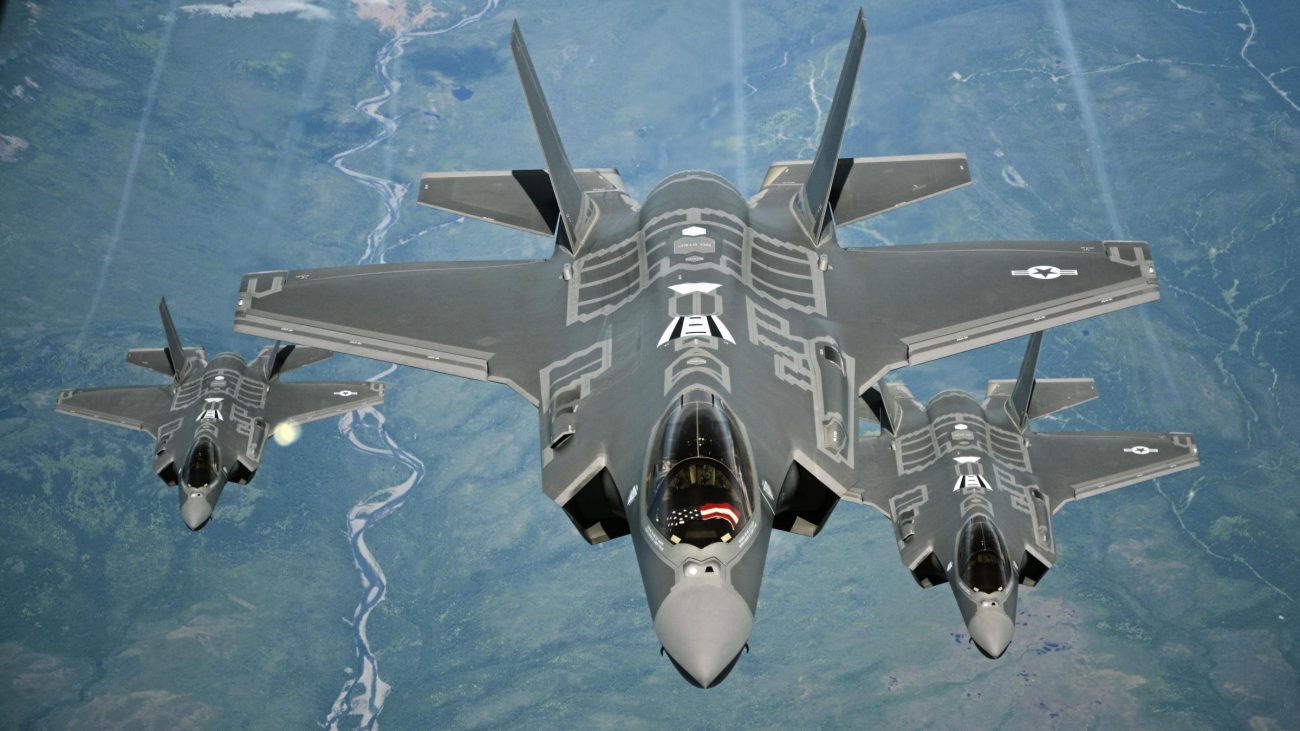 Lockheed Martin has recently won many jet fighter contracts, including Germany, Finland, and Switzerland. Recently, the Czech Republic also announced that it had decided to buy the F-35 fighter jets, while countries like Greece have shown interest.
The Russian invasion of Ukraine has significantly driven the sales of the fifth-generation stealthy F-35 aircraft, and it is the best-selling warplane in the world today.
The Pentagon serves as a middleman between the defense contractor (in this case Lockheed) and a foreign government in government-to-government transactions like the F-35 foreign military sales.
The F-35 program of Lockheed Martin has never bid against other jets in a competitive auction up to this point, potentially because of the unique capabilities of the fighter jet along with the political leverage that the United States enjoys in the world.
The F-35 jet program accounts for about 27% of Lockheed's revenue, which is set to rise given the current and potential sales driven by the Russian war. While the F-35 is surely the cornerstone of the American giants burgeoning profits, other systems have also driven a significant contribution.
Top Drivers Of Lockheed's Profits
F-16 Fighter Jets
About $26.7 billion were generated by Lockheed Martin's Aeronautics product category, including tactical and lift aircraft, marking the highest net sales. An aircraft that has remained a consistent revenue source for Lockheed over several years is the F-16 fighter.
F-16 is regarded as the most capable 4th generation multi-role fighter jet. It is highly maneuverable and has proven itself in air-to-air combat and air-to-surface attack. It provides a relatively low-cost, high-performance weapon system for the United States and allied nations.
A total of 4,588 F-16s have been built, and there are now about 3,000 operating F-16s in 25 countries. Recently, Taiwan purchased more than 60 F-16 Vipers in 2021, while a sale was approved for Jordan in February 2022. Another potential sale was approved for Bulgaria in April.
Turkey has also been lobbying for F-16 fighters from the United States to maintain its aging fleet. That decision in the US, however, hangs in the balance.
Further, the fighter jet remains a hot favorite among countries whose security needs do not warrant a fifth-generation fighter jet.
High Mobility Rocket Artillery System (HIMARS)
This year's profits from the company's Missiles and Fire Control Unit, which makes the High Mobility Artillery Rocket System (HIMARS), currently used heavily by Ukraine, were $418 million, up 4%.
In 2019, Lockheed Martin was awarded a $492 Million Contract for High Mobility Artillery Rocket System Launchers.
The M142 High Mobility Artillery Rocket System (HIMARS) is a wheeled precision strike weapons system that is full-spectrum, combat-tested, all-weather, lethal, and responsive. HIMARS is a wheeled launcher that can be transported by a C-130 aircraft.
HIMARS supports a force that is expeditionary, deadly, resilient, and tactically adaptable. It is the main reason it has become Ukraine's most-favored weapon. The US, Romania, Singapore, Jordan, the UAE, and Ukraine have purchased the weapon, and several others have expressed interest in it.
THAAD & Patriot Air Defense Systems
Lockheed Martin generated approximately $11.7 billion in 2021 sales in the Missiles and Fire Control category, including the Terminal High Altitude Area Defense System and PAC-3 Missiles (Patriot).
The Chief Financial Officer of Lockheed Martin, Jay Malave, said in June that the top US defense contractor anticipates a rise in demand for its anti-missile systems, including PATRIOT and Terminal High Altitude Area Defense (THAAD), as reported by EurAsian Times.
"PAC-3 [The PATRIOT Advanced Capability-3], THAAD, we expect some interest, but again, it's just really early stages there. You know, PAC-3 already has penetration in Europe. It is 14 countries that we export PAC-3.
Five of those are in Europe today," Malave said during the 38th Annual Strategic Decisions Conference.
Patriot is a long-range defense system for countering ballistic and cruise missiles and advanced aircraft. Germany, Greece, Israel, Japan, Kuwait, the Netherlands, Saudi Arabia, Poland, Sweden, Qatar, the United Arab Emirates, Romania, Spain, and Taiwan have deployed the systems.
THAAD can intercept and shoot down short, medium, and intermediate-range ballistic missiles. It has been installed in South Korea, Israel, Romania, and the United Arab Emirates.
In addition, Lockheed Martin was awarded a $1.4 billion modification contract extension in April to construct more THAAD interceptors for the US and Saudi Arabia. As European countries feel the insecurity from Russia and Indo-Pacific countries from China, the sales of these defense systems could rise further.
Black Hawk Helicopters
Lockheed Martin made sales worth $16.8 billion in 2021 in the product category 'Rotary and Mission Systems', including Sikorsky helicopters. One of the most iconic and widely produced and used Sikorsky helicopters is the Black Hawk and its modified variants.
A subsidiary of Lockheed Martin, Sikorsky Aircraft produces the Sikorsky UH-60 Black Hawk, a four-bladed, twin-engine, medium-lift utility military helicopter. At least a dozen countries have operated it besides the United States itself.
In June, Lockheed Martin Corp won a $2.3 billion contract to build at least 120 H-60M Black Hawks. The Army and other US agencies and allies will access an additional 135 aircraft through the five-year contract's option clauses, which may bring the contract's total potential value to $4.4 billion with options.
Javelin Anti-Tank Missiles
Lockheed Martin describes Javelin as the best shoulder-fired anti-armor system in the world. After launch, Javelin self-directs to its intended destination, allowing the gunner to hide and evade enemy fire.
After firing, the troops can move to a new location or reload to take on another threat. Javelin soars above its target for better visibility. It uses an arched top-attack profile to hit where the armor is most vulnerable.
Ukrainian forces have deployed mobile, self-guided missiles to confront Russian armor. In the early stages of the invasion, they were credited for aiding Ukraine in stopping a massive column of Russian tanks headed for Kyiv, the country's capital.
The US Army granted the Javelin Joint Venture two production contracts totaling $309 million for Javelin missiles and related equipment and services in May 2022. The Ukraine Supplemental Appropriations Act provided funding for more than 1,300 Javelin missile contracts and orders for many foreign clients, including Norway, Albania, Latvia, and Thailand.
In addition, Lockheed Martin CEO James Taiclet's announced in May 2022 that the company would produce 4,000 Javelin anti-tank missiles annually, roughly doubling its current output.
These weapon systems covered by EurAsian Times are just the tip of the iceberg and make just a chunk of the total capacity of the American defense giant.
The revenue of this company could be expected to rise several times as the insecurity caused by the Russian war and Chinese belligerence encourage countries to increase military spending and buy sophisticated systems from Lockheed Martin.