The US Army is planning to award a production contract for light tanks this summer, according to reports. In 2018, BAE Systems and General Dynamics Land Systems (GDLS) were selected to compete for the Army's lightweight tank deal, officially called Mobile Protected Firepower (MPF) vehicle.
The two companies were awarded a rapid prototyping contract of $376 million that involved building and delivering 12 MPF prototypes for developmental and operational testing; and a Soldier Vehicle Assessment (SVA).
In 2021, systems went through the SVA with the 82nd Airborne Division at Fort Bragg, North Carolina, during which soldiers were tasked with providing feedback on how the service should develop tactics, techniques, and procedures for fighting with this capability.
The two prototypes differed significantly. GDLS offered a new, lightweight chassis with a high-performance power pack and an advanced suspension, combined with a turret featuring the latest version of the fire control system found in the Abrams main battle tank.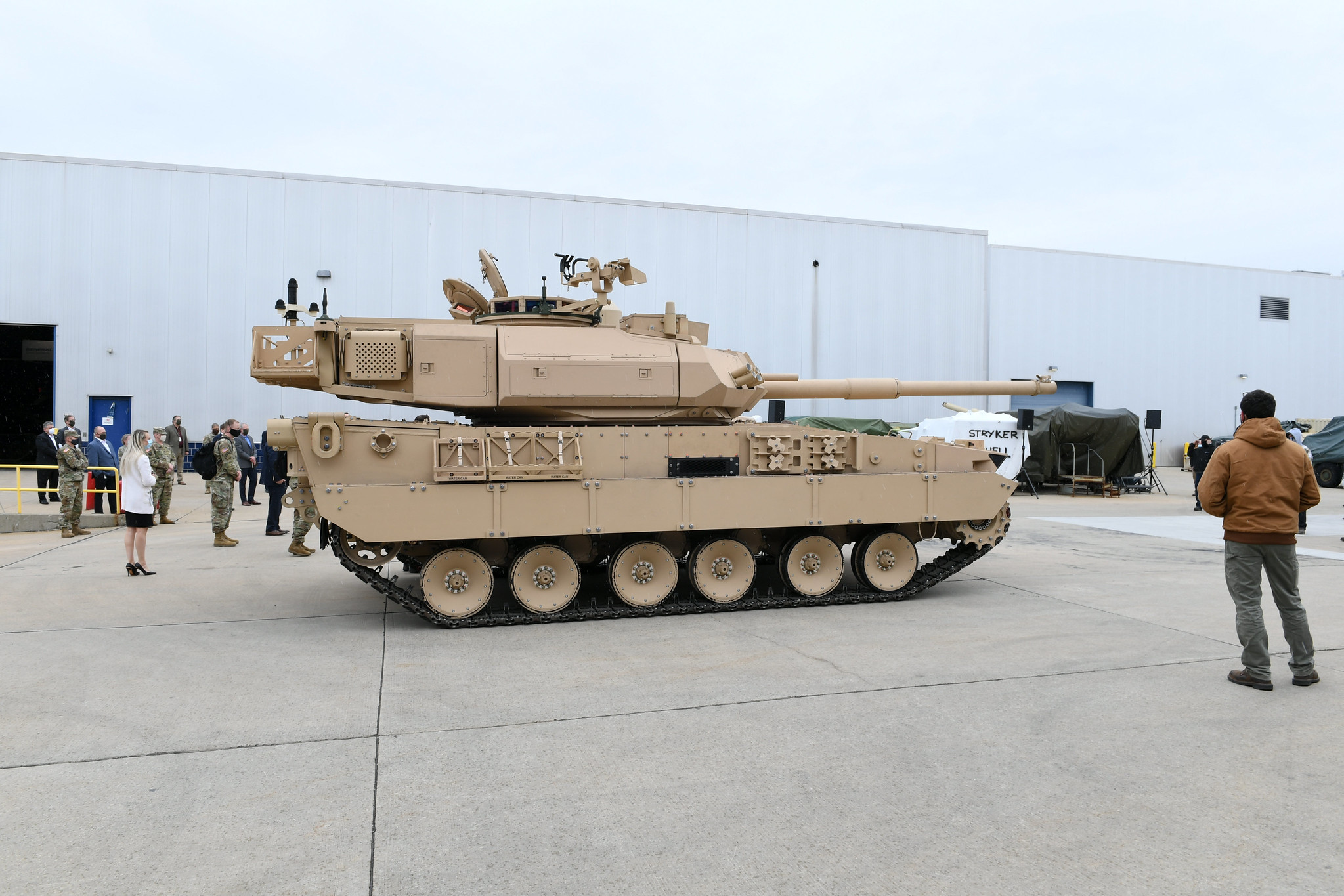 BAE Systems' design is an updated M8 Buford armored gun system with new capabilities and components. The company experienced some delays in prototype production due to the coronavirus pandemic, and it delivered systems for the SVA months later than GDLS.
Janes Defense reported earlier this month that BAE System had been eliminated from the competition, leaving just GDLS contending for the contract, with a few months left before the Army plans to select a winner.
Russian Navy Joins Invasion! Images Of Amphibious Warship Arriving In Seized Ukrainian Port City Go Viral
The Army would not confirm the validity of the reports but the service's program executive officer for ground combat systems Brig. Gen. Glenn Dean told Defense News that the Army is committed to the MPF program to fill a capability gap to provide mobile, protected, direct-fire capability to infantry soldiers.
Dean further said that the final production decision is expected to be taken in the third quarter of 2022 and the plan is to equip the first unit with MPF by the fourth quarter of 2025.
The SVA was completed in August 2021, according to Jim Miller, BAE's senior director of business development for combat mission systems.
While BAE struggled to get its prototypes to Bragg, once there, "everything went great", Miller said. "We got really great feedback on the vehicle from the soldiers that operated it."
Bob Lennox, GDLS' vice president of strategy and global growth, told Defense News last fall that the soldier assessment "was very valuable to us … because we were there earlier than others, we were able to get the full benefit of that time of having the soldiers on the vehicle."
Threats From Russia, China
The US Army anticipates that in the 2030–2050 timeframe it will face near-peer competition from the emerging regional powers such as Russia, China, Iran, and North Korea who would attempt to restrict US freedom of maneuver and challenge its superiority across multiple domains — air, sea, land, space, and cyber.
For example, Russia's invasion of Ukraine and potential expansion westwards or China's build-up of anti-access/area denial (A2/AD) capabilities in the South China Sea (SCS) may require the US forces to go to war in urban and rural areas in Eastern Europe or dense jungles in the Pacific, etc.
Therefore, the Army is shifting its focus from counterinsurgency to large-scale combat operations (LSCOs) and is interested in developing a lightweight battle tank to accompany Infantry Brigade Combat Teams (IBCTs) to keep them relevant for LSCOs against these near-peer threats.
The MPF's purpose is to destroy targets that could compromise the IBCT's effectiveness such as bunkers, fortified houses, machine gun nests, and the occasional enemy armored vehicle, thereby ensuring freedom of maneuver and action for the infantry.
Also, a light infantry tank is easier to deploy rapidly across the globe, and once in the theater, the smaller vehicles could cross lighter bridges, pass through narrower city streets, and wade through marshier terrain than huge 70-ton M1 Abrams main battle tanks that are currently in use.
However, the US is not the only country interested in rapidly-deployable light battle tanks. As The Eurasian Times recently reported, India has recently given approval for the design and development of light battle tanks in the wake of increased Chinese aggression in the Himalayas, particularly after the conflict that broke out in the summer of 2020.
The T-72s and T-90s fielded by India that weigh in the range of 45-46 tons are not suitable for high altitudes and difficult topography.
Therefore, Indian armored battalions struggled to transport their heavy tanks across mountain passes as high as 17,500 feet, while China's ZTQ-15 light tanks that weigh roughly 33-36 tons, effortlessly zipped through.