India has long been harboring hopes of emerging as a key player in the defense export market. Years after its first helicopter export to Ecuador went bust, India is looking to foray into the Latin American market by offering its Light Combat Helicopter (LCH) 'Prachand' (Fierce) to Argentina.
A team of Hindustan Aeronautics Ltd (HAL) is in Argentina to negotiate with the Argentinian Air Force to make a pitch for its LCH, along with its indigenously developed LCA Tejas fighter jets.
The team comprising the Indian Ambassador to Argentina, Dinesh Bhatia, and officials of HAL met the FAA Chief Brigadier General Xavier Isaac. It remains to be seen if IAF will clinch its "breakthrough" deal.
The LCH is India's first indigenous multi-role combat helicopter with potent ground attack and aerial combat capability. It has been customized as per the Indian armed forces' requirement to operate in deserts and mountains.
It is the only helicopter operating at 5,000 meters with a considerable load of weapons and fuel.
After its Russian Mi-25 and Mi-35 proved ineffective during the Kargil Conflict against Pakistan in 1999, the Indian defense establishment started building a lighter, stealthier, and more maneuverable attack helicopter. During its testing, the LCH landed at a forward base in the region, 4,700 meters above sea level, and 500-kg load.
"The negotiations are going on, and nothing concrete can be said at the moment. The Indian team is still in Argentina. But the Argentinians had shown interest in the LCH during the Aero-India air show in 2023," a HAL official said, requesting anonymity.
India Tapping African, Latin American, & ASEAN Countries To Sell Military Hardware
In its quest to become an arms exporter, India has been tapping Latin American, African, and South East Asian countries.
Its foray into Latin America by selling the Advanced Light Helicopter (AHL) 'Dhruv' to Ecuador ended in a fiasco.
After a slew of crashes, Ecuador grounded its fleet of Indian-made helicopters and put the choppers up for sale. The country also unilaterally canceled its order for more ALHs from India. India, in turn, took the Ecuadorian government to court over the matter.
India has introduced a holistic approach to push military exports to Africa, combining pitch for weapon sales with finance, training, infra development, and soft-power.
The new initiative also calls for synergy between India's development efforts and strategic outreach through the Line of Credit (LoC) in 42 African Union countries.
India would be assisting in building IT & technical training institutes, schools, health centers, roads, railways, ports, etc., paving the way for supplying Made-in-India armaments.
The Fiercest Chopper
LCH is powered by twin Shakti engines, produced as part of a collaboration between HAL and France's Safran company. The helicopter can fly at a maximum speed of 288 mph and has a combat radius of 500 km and a service ceiling of 21,000 feet, which means it can operate at the world's highest battleground – the Siachen Glacier.
The pilot and co-pilot, known as the Weapon Systems Operator (WSO), sit in tandem in a glass cockpit and are protected by armored panels.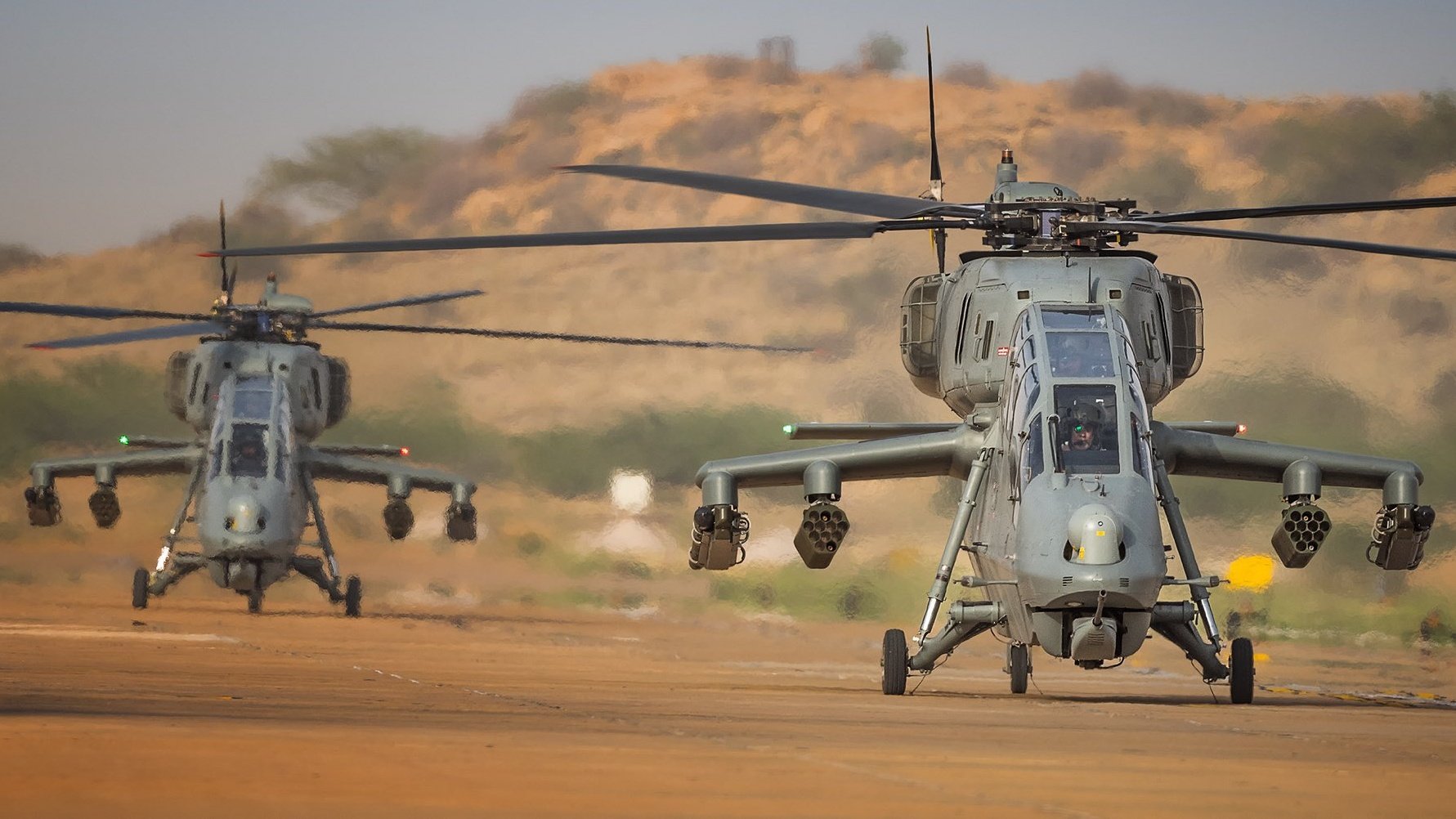 The weapon complement includes a 20mm nose gun in the front, capable of firing 800 rounds per minute from a range of up to 2 km. A 70mm rocket pod is mounted on the stub wing, with a direct firing range of up to 4 km and indirect up to 8 km.
Above the gun is an electro-optical pod for long-range day and night surveillance and target tracking. Anti-tank guided missile 'Dhruvastra' and French air-to-air missile 'Mistral-2' have a maximum interception range of 6.5 km.
The LCH was inducted into the Indian Air Force and Indian Army in 2022. The Army intends to deploy these aircraft on its border with Pakistan and China.
Ritu Sharma has written on defense and foreign affairs for over a decade. She holds a Master's Degree in Conflict Studies and Management of Peace from the University of Erfurt, Germany. Her areas of interest include Asia-Pacific, the South China Sea, and Aviation history.
She can be reached at ritu.sharma (at) mail.com