Just two weeks after India's indigenously-built aircraft carrier, INS Vikrant finished its sea trials, pictures of China's third under-construction aircraft carrier surfaced on social media, driving home the realization of Beijing's staggering success in trying to match the naval might of the US.
---
Vikrant was developed over a decade, with still two years away from being fully operational, and no sign of the government approving a third – which itself will take another decade and a half, only if approved now – especially under the current economic situation.
China's Aircraft Carrier Might
China's PLA Navy (PLAN) on the other hand already has two functional carriers, and is well on its way to being a three-carrier navy, while already being the largest navy in the world.
The first carrier, Liaoning, was a Soviet-era Kuznetsov-class carrier bought from Ukraine which was refurbished and joined service in 2012.
The second, Shandong, improved upon the Liaoning and learning lessons from its extensive modifications, was completed within five years of beginning construction on April 2018, joining service a year later.
Shandong is still broadly considered a knock-off of the Liaoning, but a notable evolution in the speed, expertise, and capability of the Chinese industrial base. Both have the same ski-jump on the deck that prevents carrier-borne fighters from being launched with the full payload capacities.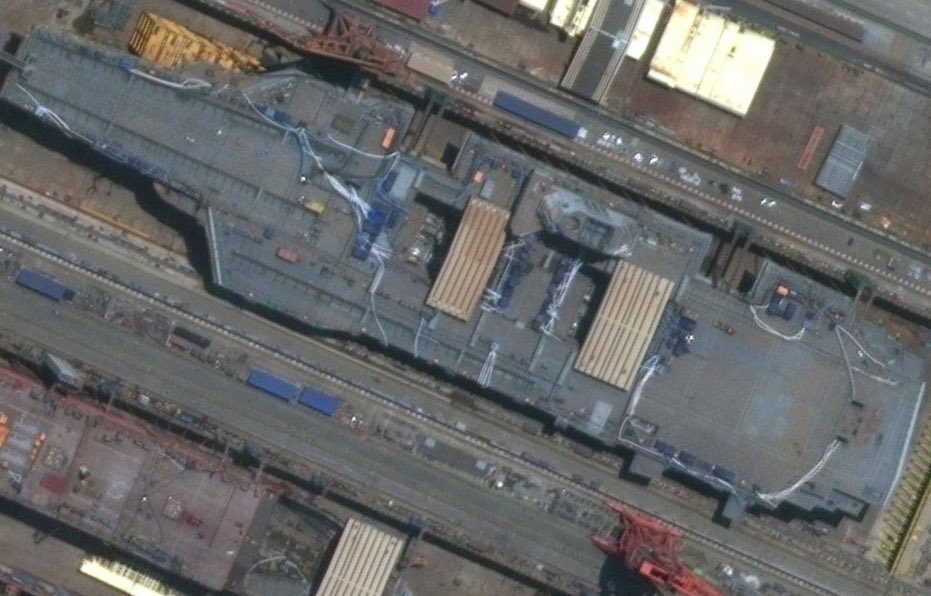 The third one, called Type 003 for now, is a different beast altogether. Ten meters longer than her predecessors, it is likely to be the largest non-American aircraft carrier in the world.
Even better, China took a leap from the Short Take-Off But Arrested Recovery (STOBAR) system directly to the Electro-Magnetic Launch System (EMALS).
EMALS functions on powerful magnetic fields generated by electromagnetic induction motors to propel objects. It skipped the steam-powered Catapult Assisted Take-Off But Arrested Recovery (CATOBAR) transition that can launch fully armed and loaded jets and even heavier Early Warning Aircraft, not having to depend on helicopters with limited range for the purpose.
They are a maintenance nightmare nevertheless.
DECODED! Why China's Stealth J-20 Jets Are Unlikely To Engage In Direct Combat With Rafale, F-35 Fighters
PLAN for A 4th Aircraft Carrier?
China's fourth carrier is said to be a step ahead. Experts assume Beijing might decide to make it a nuclear-powered one, where it can stay out at sea longer, carry more fuel, cargo, ordnance, and aircraft, because of the space created with the loss of a large gas turbine.
Nuclear power can also power more powerful EMALS systems and possibly even Directed Energy Weapons (DEW) for shooting down missiles, jets, and a variety of other purposes.
Used in combination with regular weapons, the carrier can even better protect itself from airborne threats, possibly reducing the load on escorting destroyers and frigates. The possibilities are endless, and China seems to be determined to attain all of those.
The powerful EMALS can also launch larger and heavier Airborne Early Warning (AEW) planes, like the Chinese Xi'an XJ-600, or planes of the same type purposed for Anti-Submarine Warfare (ASW) or air-to-air refueling.
This extends its reach, reducing the overall load on other warships of the Carrier Battle Group (CBG). Currently, China is possibly dependent on such aircraft operating on shore-based facilities. 
The possibilities are endless, and China seems to be determined to attain all of those.
While the US estimates China to operate four carriers by 2025 and Britain believes it might have five by 2030, the consensus amongst China military watchers is that the Communist state will have somewhere between 6 and 10, directly matching the US Navy's fleet of 11 carriers.
From a naval aviation perspective, the People's Liberation Army Navy (PLAN) air arm might rival most air forces at more than 3,000 aircraft – a position currently held by the US Navy.
Why India Lagging Behind 
In comparison, India's fleet is likely to remain unenviable at least for the next decades, given the dire economic situation that has forced the Indian Navy to curtail its acquisition plans and the infamous bureaucratic red tape that clears projects.
The Vikrant will fly the MiG-29ks off its deck – themselves ridden with several problems with their RD-33 turbofan engines – or the Twin-Engine Deck Based Fighter (TEDBF) that is expected to take its first flight by the 2030s.
The LCA Navy is ruled out as it was rejected by the Indian Navy in December 2016.
By the time Vikrant is commissioned (tentatively in 2023), Type 003 will have been launched, making China a 3-carrier navy.
India will be a 2-carrier navy, with INS Vikramaditya and INS Vikrant. China's stealth-capable FC-31 will have been inducted with the changes customized to the PLAN's needs.
DECODED: How The US Itself 'Punctured' Afghan Military Capabilities To Hand Easy Victory To The Taliban
While 2035 – the deadline set by Xi Jinping to build a 'world class' military – is still far away, India and the US can still take respite in the PLAN's inexperience with carrier operations.
It takes decades to master the complexity of operating aircraft from a moving sea platform while also shepherding other surrounding ships in myriad sea conditions. However, if this is how far Beijing can catch up industrially and technologically, the mere experience won't be far off.
Parth Satam is a Mumbai-based journalist who has been covering India's defense sector for more than a decade. He maintains a keen interest in defense, aerospace and foreign affairs and can be reached at satamp@gmail.com