About five years after it was first commissioned in the US Navy, the USS Gerald R Ford (CVN-78), which has been in the eye of the storm for several years, is finally nearing its operational deployment.
But first, it is setting sail on a short cruise to test the waters and cooperate with NATO allies.
The USS Gerald R Ford (CVN-78) aircraft carrier, the first in this class and the lead vessel, will shortly depart for a brief voyage before embarking on its initial deployment under the Defense Department's global force management system next year, USNI News reported.
Global Force Management (GFM) instructs the Services to make ready and available the necessary number of forces to carry out the National Defense Strategy and incorporates complementary directed readiness, assignment, allocation, apportionment, and assessment (DR4A) data into force management and force-planning.
According to Ford Commanding Office, Capt. Paul Lanzilotta, the upcoming cruise would take the first-in-class Ford across the Atlantic Ocean and also involve a stop at a foreign port. However, he did not specify which foreign port would get a port call from this mammoth vessel.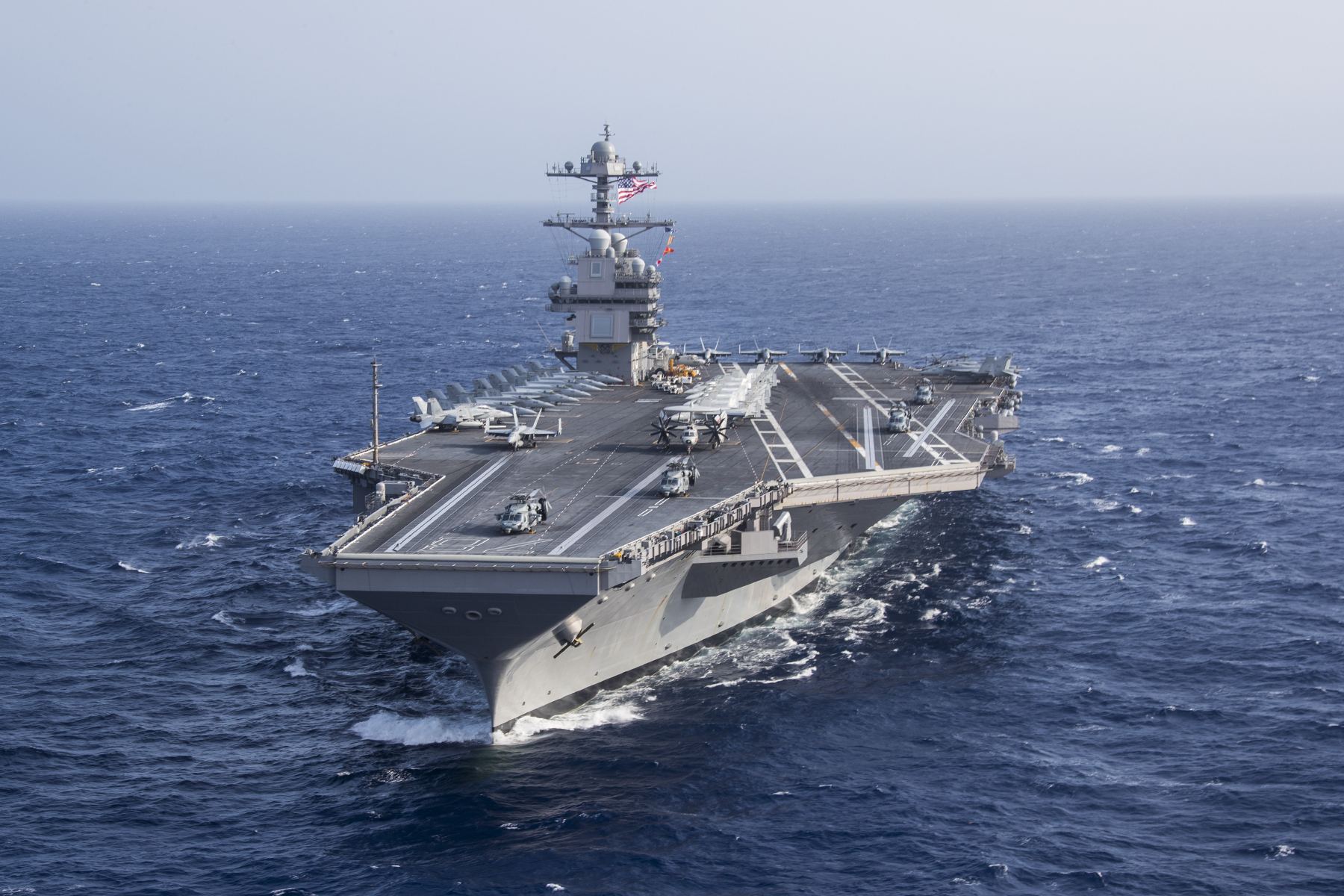 The Atlantic deployment will occur amid escalating hostilities between the US and Russia and expanding maritime rivalry. Just a few days ago, the Nordic Gas pipelines were sabotaged in the Baltic Sea, which is the route that connects Russia to the Atlantic Ocean.
The US Navy, on its part, reactivated the 2nd Fleet to handle new problems in the Atlantic just four years ago. "The Atlantic, especially for US 2nd Fleet headquarters, is an area of strategic importance, not only for the US and our allies and partners to strengthen the transatlantic link between North America and Europe but also for homeland defense," said  Vice Adm. Daniel Dwyer, US 2nd Fleet commander.
According to Dwyer, Ford will undergo eight training phases to prepare for a more routine deployment in 2023. These phases will involve conducting exercises for air defense, maritime domain awareness, long-range maritime strikes, distributed maritime operations, anti-submarine warfare, and naval integration.
All eight Carrier Air Wing 8 squadrons are made up of F-18 Super Hornets, E-2D Advanced Hawkeyes, and EA-18G Growlers, as well as the MH-60 Sierra and MH-60 Sea Hawk helicopters, which will be on board the Ford aircraft carrier.
US carrier GERALD R FORD CVN78 will begin a shakedown cruise Monday 3 Oct with an embarked air wing and accompanying strike group. Cruise will extend to the North Atlantic and include at least one foreign port call plus a hefty dose of foreign participation https://t.co/DS0CtBfq6X

— Chris Cavas (@CavasShips) September 30, 2022
The Ford's carrier strike group includes the destroyers Ramage, McFaul, and Thomas Hudner, the cruiser Normandy, the replenishment oiler Joshua Humphreys, dry cargo ship Robert E Peary and US Coast Guard cutter Hamilton.
Thousands of soldiers, 17 ships, one submarine, and at least 60 aircraft from nine nations will participate in military drills in the Atlantic, an area of growing strategic importance while the Ford is stationed at sea, noted Business Insider.
The deployment is significant because it comes after several years of fixing snags and marks the penultimate phase of its actual deployment in 2023.
USS Gerald R Ford – The Largest Ship Ever Built
The Navy's CVN 78 program will include ten carriers that would replace the present Nimitz-class carrier. It has been constructed by Huntington Ingalls Industries Newport News Shipbuilding and measures 1,092 feet in length, 134 feet in beam, and 256 feet in width at the flight deck.
The USS Gerald R Ford has two nuclear reactors with four shafts that displace almost 100,000 long tons, allowing the carrier to travel at a rate of more than 30 knots. Gerald R Ford, a battleship larger than the Nimitz-class carriers, could operate with a smaller crew because of a greater emphasis on automation.
The flattop will accommodate the most cutting-edge American Navy aircraft, such as the F-35C Lightning II Joint Strike Fighter, F/A-18E/F Super Hornet, E-2D Advanced Hawkeye, EA-18G Growler electronic attack aircraft, MH-60R/S helicopter, as well as unmanned air and combat vehicles. The vessel will be able to carry almost 90 aircraft.
The United States Marine Corps F-35B Lightning II and other Short Take-Off and Vertical Landing (STOVL) aircraft will be able to be recovered and launched by Ford.
The largest and most expensive battleship ever constructed, USS Gerald R Ford (CVN-78),  attained essential operational capability in December before starting her six-month repair availability period, which began in March after explosive shock trials.
The lead ship of a new class of nuclear-powered supercarriers for the United States Navy, costing $13.3 billion, was finally "completely delivered" this week, five years after it was commissioned, and is now prepared for deployment.
Even though CVN-78 is only prepared for her first deployment, she has already sailed for 250 to 300 days. The carrier has been working steadily off the United States East Coast with Carrier Air Wing 8 since just emerging from the maintenance period.