As if the list of Indian traitors was not already long enough, India has added renowned journalist Karan Thapar to the ever-growing list. Thapar received a barrage of criticism in India after he dared interview Pakistan's national security advisor, Moeed Yusuf, on behalf of The Wire, on October 12.
Why Pentagon's Plan For Lightweight Aircraft Carrier Could 'Severely Weaken' The World's Mightiest US Navy?
He was dubbed 'anti-India jihadi.' The list includes a dozen Kashmiri leaders, including Farooq Abdullah, Gautam Navlakha, Goa Institute of Management professor Anand Teltumbde, Delhi University associate professor Hany Babu, artistes of Kabir Kala Manch Sagar Gorkhe, Ramesh Gaichor, Jyoti Jagtap, human rights activist Stan Swamy and CPI(Maoist) leader Milind Teltumbde.
Navalakha's seditious sin was to write to the US court seeking clemency for Dr. Ghulam Nabi Fai. Since Fai had accepted a donation from Pakistan, so by corollary, Navalakha also was pro-Pakistan.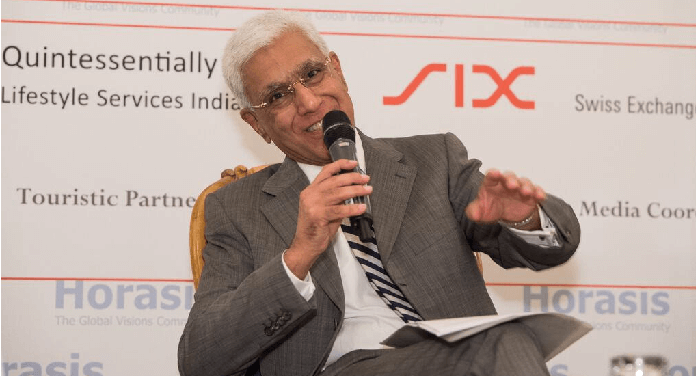 A leader becomes a traitor the moment he stops singing paeans for 'secular democracy.' Take the case of Sheikh Abdullah, for instance. Barkha Dutt recalls (This Unquiet Land, p. 154), 'In a 1948 speech to the United Nations, Sheikh Abdullah … made a blistering defence of the accession to India. Sher-e-Kashmir (Lion of Kashmir) roared: I had thought all along that the world had got rid of Hitlers and Goebbels, but what is happening in my poor country I am convinced that they have transmigrated their souls into Pakistan. I refuse to accept Pakistan as a party in the affairs of Jammu and Kashmir.'
Dutt says, "Sheikh Abdullah [later] began to talk about the possibility of independent Kashmir…Soon after he changed his stance, he was jailed and dismissed from office and was not able to lead the state for another twenty years.'
Why is India chagrined at the mention of Kashmir by Moeed Yusuf? There are 53 UN resolutions relating to the plebiscite. Stanley Wolpert and Alastair Lamb (Kashmir – A disputed legacy 1846-1990, Birth of a Tragedy) also doubt the existence of Instrument of Accession (October 26, 1947).
The Instrument of Accession is actually a myth unregistered with the United Nations. Subsequent accession resolution, passed by the Jammu and Kashmir's 'constituent assembly,' is also void. This resolution violates the Security Council's resolutions forbidding India from going ahead with the accession farce.
Aware of India's intention to get the 'Instrument of Accession' rubber-stamped by the puppet assembly, the Security Council passed two resolutions to forestall the 'foreseeable accession' by the puppet assembly.
Security Council's Resolution No. 9 of March 30, 1951, and affirmative Resolution No. 122 of March 24, 1957 outlaws accession or any other action to change the status of the Jammu and Kashmir state.
In contrast with India's atoot-ang mantra (integral part recitation), Moeed's resilience to include Kashmir as a third party is understandable.
Pakistan gives an iron-clad constitutional assurance to Kashmiris to re-craft their relation with Pakistan under Article 257 of its Constitution even if they decide to accede to Pakistan.
The article states: 'When the people of the state of Jammu and Kashmir decide to accede to Pakistan, the relationship between Pakistan and that state shall be determined in accordance with the wishes of the people of that state'.
India has denied it is willing to talk to Pakistan.
How could such a country aspire to become a permanent member of the Security Council?
OPED: Views Personal