Poland became the first country to deliver the first tranche of Leopard-2 main battle tanks to Ukraine on the first anniversary of the Russian invasion / military operation.
Polish Prime Minister Mateusz Morawiecki, who visited Ukraine on the first anniversary of Ukrainian resistance, announced that the first four of fourteen Leopard-2 tanks pledged by his country were now on Ukrainian soil.
The Prime Minister tweeted: "Poland, as the country that was the first to successfully build this coalition of Leopards, today also wants, as the first European country, to give you @ZelenskyyUa the first 4 Leopards."
Poland has also announced that the country would arm Ukraine with 60 PT-91 Twardy tanks "within a few days," as the Polish PAP news agency reported. Other countries that have pledged their tanks are yet to decide on a timeline for delivery, which is expected to be staggered and erratic. Experts caution that the numbers and speed of delivering these tanks are still less than desirable.
The transfer of Leopard-2 tanks to Ukraine is significant for the nation. It follows months of diplomatic and political pleading with NATO members, particularly the reticent Germany, whose consent was required for other countries to deliver their Leopard-2 tanks to Ukraine.
Together with PMs @Denys_Shmyhal and @MorawieckiM met new beasties in our Ukrainian military zoo – 4 Leopard2A4!
We are looking forward to hosting more of them. Food and leisure will be provided.
Thank you to our Polish friends @AndrzejDuda @mblaszczak and Polish people.
????? pic.twitter.com/NFm8NsHSPS

— Oleksii Reznikov (@oleksiireznikov) February 24, 2023
The jubilation was evident in Kyiv, with the Ukrainian and Polish officials posing in front of the tanks.
The Ukrainian Defense Minister Oleksii Reznikov even climbed on top of one of these tanks and tweeted: "Together with PMs @Denys_Shmyhal and @MorawieckiM met new beasties in our Ukrainian military zoo – 4 Leopard2A4!" Reznikov tweeted Friday. "We are looking forward to hosting more of them. Food and leisure will be provided."
The delivery follows reports that over 100 Ukrainian soldiers were in Poland for intensive training on Leopard-2 MBTs.
More importantly, though, the delivery comes after the Munich Security Conference in which the German Chancellor Olaf Scholz urged NATO allies to rise to the occasion and send their tanks to Ukraine as soon as possible.
Besides the Leopard-2, Ukraine is set to receive the US Abrams and the British Challenger-2 tanks in the coming months.
The Russian military is preparing to "obliterate" these western tanks as soon as they are deployed on the battlefield. Officials have allegedly gone so far as to say that Russian troops that destroy western tanks will be rewarded.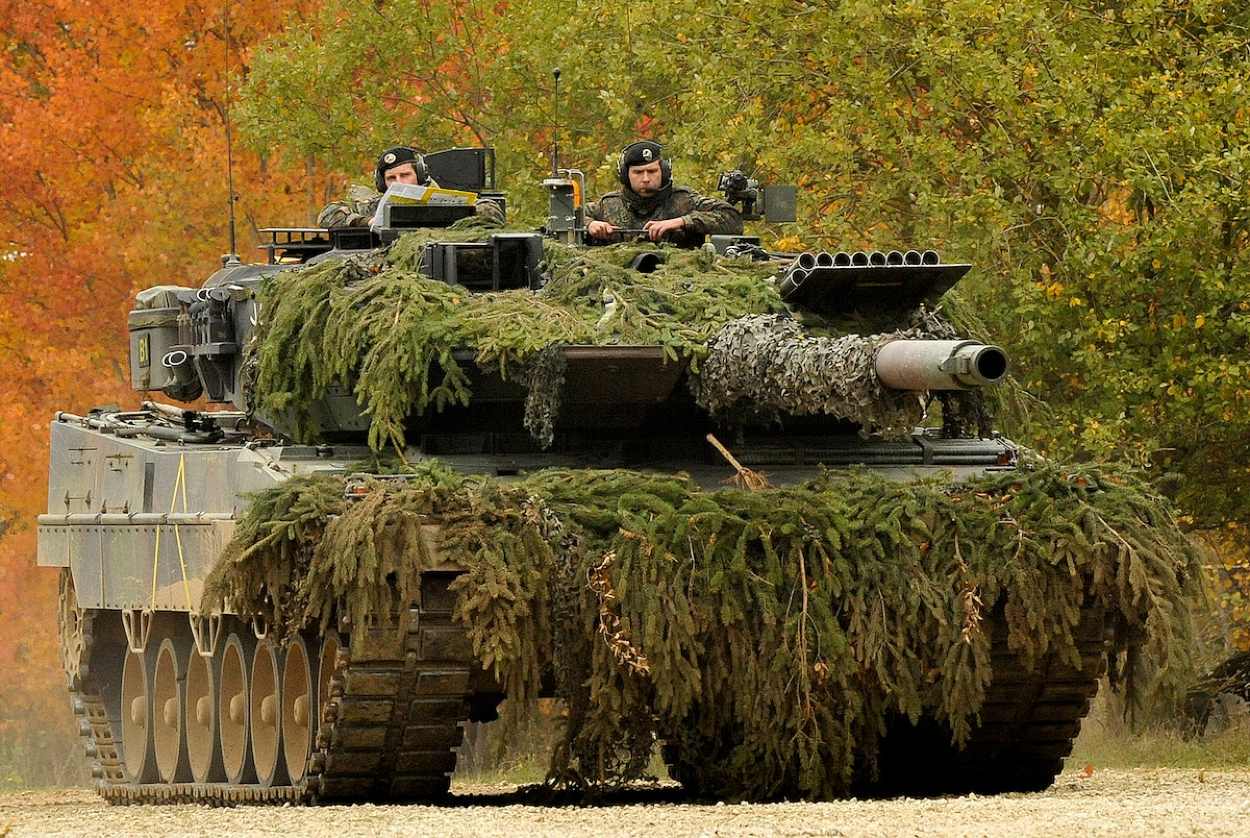 Not just that, military preparations have been ongoing in full earnest. Earlier this month, Moscow's Marker combat robots debuted on the battlefield and were assigned to take on western tanks like Leopards and Abrams. Anti-tank crews are reportedly training to destroy these tanks.
Earlier, there were concerns that the number of Leopard-2 tanks being delivered was fewer than pledged and would not make for game-changer equipment on the battlefield. However, other NATO allies are slowly stepping up and promising tanks out of their fleets, hoping to change that.
NATO Allies Join Forces To Make Leopards Count!
Earlier this month, German Defense Minister Boris Pistorius claimed that the western allies were encountering trouble assembling two battalions (about 80 tanks) of Leopard 2 tanks to deliver to Ukraine as promised in late January. The numbers have reportedly fallen grossly short now.
On his part, Chancellor Sholz said in an emotionally charged speech at the Munich Conference that commitment from other Leopard suppliers appears to have waned significantly since Berlin gave official approval for the transfer of Leopard-2 tanks from inventories of third countries.
He said, "all those who can supply battle tanks of this kind should now actually do so." The Leopard-2 tanks are the most widely used in Europe, with military experts emphasizing on several occasions that a sizeable number could be put together for Ukraine if allies make decent contributions.
Several allies are now rising to the occasion and offering different variants of the Leopard-2 tanks from their respective stocks. On the first anniversary of the Russian invasion, Sweden's Prime Minister Ulf Kristersson and defense minister Pal Jonson announced Stockholm's decision to send up to 10 Leopard 2A5 tanks.
"The Swedish tanks reinforce the Leopard 2 contribution other European countries make. Coordination of support is ongoing with international partners donating Leopard 2 or other tanks," the Swedish government said in a statement.
Earlier, Canada had promised to deliver four Leopard-2A4 tanks to Ukraine from its arsenal. However, it has now doubled its contribution and pledged four additional tanks.
The Canadian Prime Minister Justin Trudeau's office said in a statement, "Prime Minister Trudeau announced that Canada will provide four additional Leopard 2 main battle tanks to support the Armed Forces of Ukraine in defense of their country, growing our contribution to eight tanks in total."
Two European countries made their pledges on the eve of the anniversary. Spanish Prime Minister Pedro Sánchez announced he would send 10 Leopard-2 tanks to Ukraine on his second visit to Kyiv.
On the same day, Finland announced it would transfer three Leopard-2 tanks from its stock. Norway has also announced that it would donate eight vehicles and four "special purpose tanks."
Taking the lead and setting a precedent again, the German Defense Ministry announced on February 24 that it would send 18 Leopard-2 main battle tanks to Ukraine, four more than initially planned. Berlin is also working with allies to assemble the advanced A6 variant of the tanks for dispatch.
It is noteworthy that several media reports and military analysts have cautioned that a few western tanks would not be a game changer in combat against Russia, particularly given that the latter has escalated its ground offensive, ostensibly to seize territories in the eastern Ukraine region.
Against that backdrop, NATO countries joining forces and increasing their tank contribution to the "tank coalition" has been flagged as the need of the hour.
Contact the author at sakshi.tiwari9555 (at) gmail.com