As tensions continue to soar in the Indo-Pacific region, China unveiled a naval version of the Guizhou WZ-7 "Soaring Dragon" High Altitude Long Endurance (HALE) drone. In contrast, its bitter regional rival and a stern US ally, Japan, unveiled a laser-based anti-drone system.
Last week, the People's Liberation Army's Southern Theater Command (PLANAF) published a fresh set of pictures of the naval Guizhou WZ-7 "Soaring Dragon" High Altitude Long Endurance (HALE) drone, Naval News reported.
The development comes months after a Chinese WZ-7 was spotted on January 1, passing through the Miyako Strait and conducting operations outside the first island chain. Last year, PLA stepped up military activity near the Miyako Strait, leading to the broader western Pacific.
Further, the report of a new drone comes after a Beijing-based think tank accused the United States of undertaking a record number of reconnaissance sorties in the Chinese neighborhood, especially in the contested South China Sea, where it flew an estimated 1,000 sorties.
As noted by EurAsian Times, the WZ-7 Soaring Dragon drone, which is already operational with the PLA, is a long-range, high-altitude drone with ISR (Intelligence, Surveillance, and Reconnaissance) capability. It is essentially believed to be an answer to the famous US ISR drone RQ-4 Global Hawk.
The drone has been pressed on duty to scan the western Pacific, Taiwanese, and Japanese naval assets. The WZ-7, which gives China unprecedented surveillance capabilities, in line with its 'Intelligentized Warfare,' was displayed in public for the first time at Zhuhai Air Show 2022.
The Naval News report postulated that the WZ-7's navy version would be comparable to the US Navy's MQ-4C Triton, a naval version of the RQ-4 with a broad maritime surveillance mission capability. There has been no official communication from the Chinese Defense Ministry on these claims.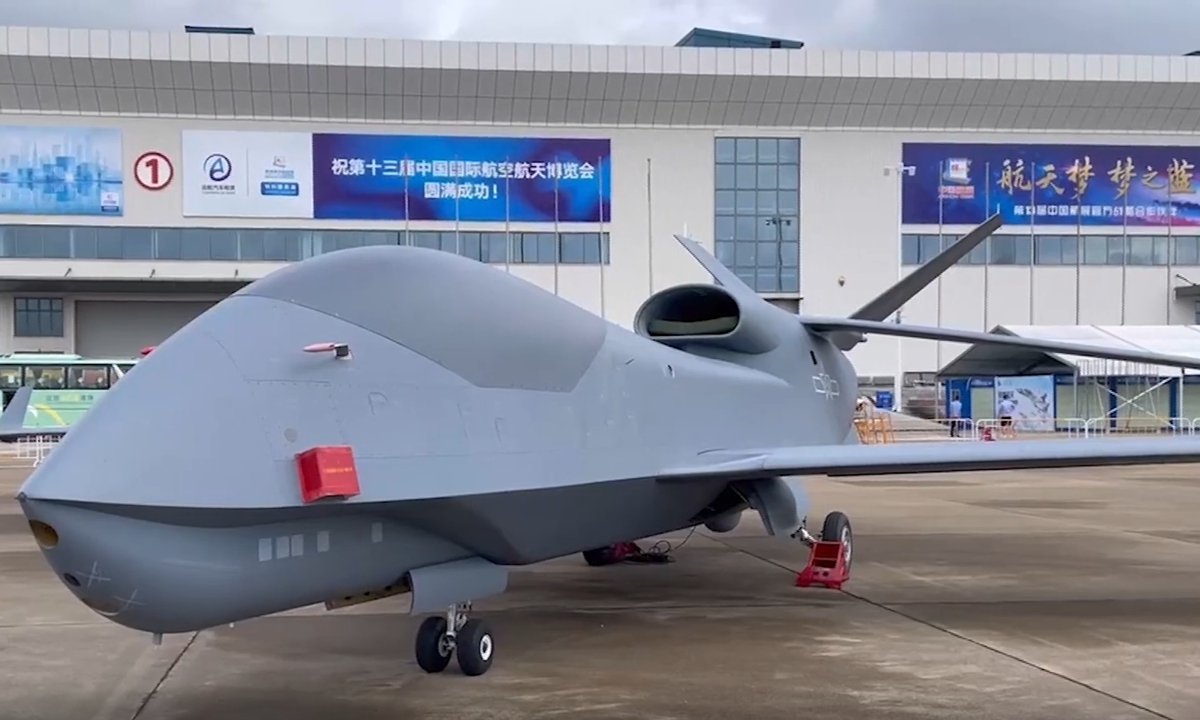 The WZ-7 has a length of 14.3 meters, a wingspan of 24 meters, and a height of 5.4 meters. It is a high-altitude drone that can cruise at about 60,000 feet and has a maximum cruising speed of about 750 kilometers per hour. The drone can carry a payload of about 650 kilograms, adding to its lethality.
As seen in the photographs made public, the naval version of the WZ-7 features Wave Transmitting Material installed in the upper portion of the forward fuselage, both wing bases, and nose.
China maintains a formidable Anti Area/Access Denial (A2/AD) system on its shores in the face of the threat faced by its adversaries closer home. The naval variant of the WZ-7 drone would bolster its system by adding to the capabilities of PLAN's kill chain ecosystem.
To conduct long-range ISR, relaying tactical maritime image, and developing situation awareness to offer up-to-date targeting information for the anti-ship units, this model of WZ-7 might employ its radar and ESM suite to enhance the current Chinese Maritime ISR network. However, more details on this brand-new drone would become public with time.
Meanwhile, on course to shed its self-defense posturing and bolster its combat capability, China's rival and age-old adversary in the region, Japan, has unveiled the prototype of a laser-based anti-drone system.
Japan's Laser-Based Anti-Drone System Unveiled
As Japan embarked on military modernization and acquiring sophisticated equipment to deter China and North Korea, two Japanese firms unveiled cutting-edge laser-based anti-drone systems.
For the first time, Kawasaki Heavy Industries (KHI) and Mitsubishi Heavy Industries (MHI) unveiled their respective laser systems for shooting down approaching hostile Unmanned Aerial Vehicles (UAVs) at the DSEI Japan 2023 show, which took place from March 15 to 17 in Chiba Prefecture.
The development comes as Tokyo has expressed concerns that the Chinese military might use drone swarm attacks to target key Self-Defense Forces (SDF) bases and the disputed Senkaku/Diaoyu Islands in the event of an emergency.
According to MHI officials, during the past two years, the business has conducted numerous outdoor field testing on Tanegashima in Kagoshima prefecture, an islet south of Japan's southernmost major island, using the prototype of its laser energy-based Counter-Unmanned Aircraft System (C-UAS).
Japan has developed for the first time a counter-UAV (C-UAV) laser system, capable of eliminating enemy drones. Mitsubishi Heavy Industries is developing the CUAV system, and the company has unveiled a model of the system at the ongoing DSEI event.https://t.co/7FrrmX4Pw1 pic.twitter.com/gJNSxxIa19

— Global Business Press (@GBP16691446) March 17, 2023
A 10 kW (kilowatt) fiber laser can shoot down a drone from 1.2 kilometers distant in 2 to 3 seconds, according to a video MHI showed at their stand at DSEI. A representative from MHI stated that the company intends to send the prototype to the Japanese MoD in December.
The C-UAS may be mounted on ground vehicles for mobility, according to MHI officials, who also noted that the Ground Self-Defense Force and the land bases of the Maritime and Air Self-Defense Forces could use this system.
Meanwhile, KHI is creating a 100-kW vehicle-mounted shoot-down system designed to be mounted on a larger, trailer-type vehicle. As laser power output rises, a large power supply and cooling water circulation systems are needed.
Kawasaki develops C-UAS laser system for Japanese military https://t.co/WEUTmzYBCD #Kawasaki #C-UAS pic.twitter.com/88vloU8Q4V

— Shephard News (@ShephardNews) March 16, 2023
Only a 2-kW laser is employed in the KHI prototype displayed at DSEI. According to the officials, the 100-kW and 2-kW laser systems use the same 1-micrometer (1/1,000,000 of a meter) band fiber laser, and the laser in this prototype can destroy UAV targets up to a range of several hundred meters.
With the help of an infrared (IR) camera, Kawasaki's shoot-down system locates the drone. It then follows, locks onto, and fires a laser at it. According to KHI officials, evaluation tests will begin in April 2023.
The MoD earmarked 2.8 billion Yen for the vehicle-mounted laser system demonstration expenditure in the budget for 2021. In one of its budget documents, it explained, "regarding high-power lasers, which are expected to respond efficiently to future airborne threats, we will utilize the results of our ongoing research on high-power laser systems and demonstrate the implementation of laser systems in vehicles."
Regarding military defense, Directed Energy Weapons (DEWs), which eliminate targets by irradiating them with laser-like radiation, are reported to provide considerable cost advantages. With China unveiling one lethal drone after another, the laser-based anti-drone system will bolster Japanese defenses against these drones.
Contact the author at sakshi.tiwari9555 (at) gmail.com